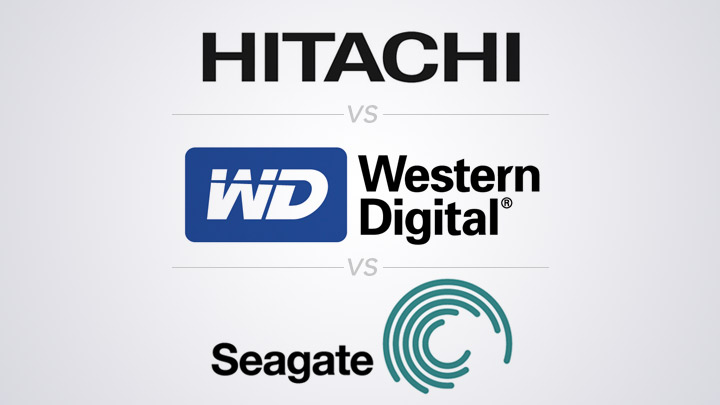 For the most recent
Hard Drive Reliability Statistics
, as well as the raw hard drive test data, visit
Hard Drive Data and Stats
.
My last two blog posts were about expected drive lifetimes and drive reliability. These posts were an outgrowth of the careful work that we've done at Backblaze to find the most cost-effective disk drives. Running a truly unlimited online backup service for only $5 per month means our cloud storage needs to be very efficient and we need to quickly figure out which drives work.
Because Backblaze has a history of openness, many readers expected more details in my previous posts. They asked what drive models work best and which last the longest. Given our experience with over 25,000 drives, they asked which ones are good enough that we would buy them again. In this post, I'll answer those questions.
Drive Population
At the end of 2013, we had 27,134 consumer-grade drives spinning in Backblaze Storage Pods. The breakdown by brand looks like this:
Hard Drives by Manufacturer Used by Backblaze

Brand
Number
of Drives
Terabytes
Average
Age in Years
Seagate
12,765
39,576
1.4
Hitachi
12,956
36,078
2.0
Western Digital
2,838
2,581
2.5
Toshiba
58
174
0.7
Samsung
18
18
3.7
As you can see, they are mostly Seagate and Hitachi drives, with a good number of Western Digital thrown in. We don't have enough Toshiba or Samsung drives for good statistical results.
Why do we have the drives we have? Basically, we buy the least expensive drives that will work. When a new drive comes on the market that looks like it would work, and the price is good, we test a pod full and see how they perform. The new drives go through initial setup tests, a stress test, and then a couple weeks in production. (A couple of weeks is enough to fill the pod with data.) If things still look good, that drive goes on the buy list. When the price is right, we buy it.
We are willing to spend a little bit more on drives that are reliable, because it costs money to replace a drive. We are not willing to spend a lot more, though.
Excluded Drives
Some drives just don't work in the Backblaze environment. We have not included them in this study. It wouldn't be fair to call a drive "bad" if it's just not suited for the environment it's put into.
We have some of these drives running in storage pods, but are in the process of replacing them because they aren't reliable enough. When one drive goes bad, it takes a lot of work to get the RAID back on-line if the whole RAID is made up of unreliable drives. It's just not worth the trouble.
The drives that just don't work in our environment are Western Digital Green 3TB drives and Seagate LP (low power) 2TB drives. Both of these drives start accumulating errors as soon as they are put into production. We think this is related to vibration. The drives do somewhat better in the new low-vibration Backblaze Storage Pod, but still not well enough.
These drives are designed to be energy-efficient, and spin down aggressively when not in use. In the Backblaze environment, they spin down frequently, and then spin right back up. We think that this causes a lot of wear on the drive.
Failure Rates
We measure drive reliability by looking at the annual failure rate, which is the average number of failures you can expect running one drive for a year. A failure is when we have to replace a drive in a pod.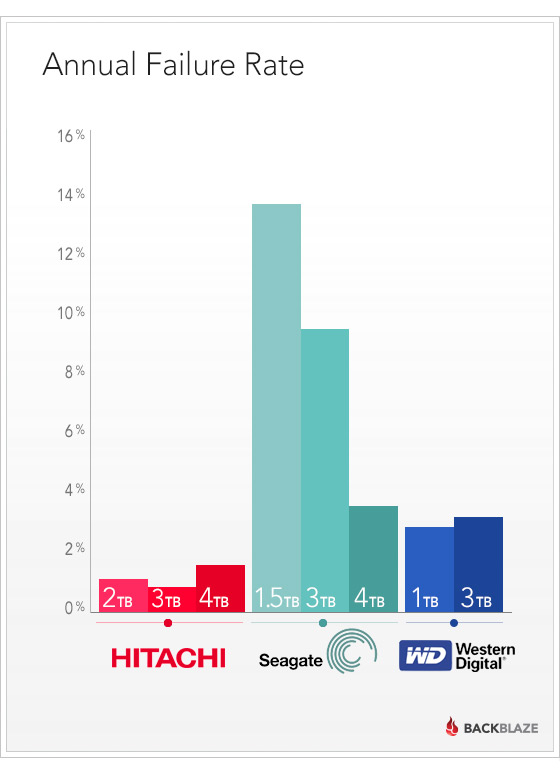 This chart has some more details that don't show up in the pretty chart, including the number of drives of each model that we have, and how old the drives are:
Number of Hard Drives by Model at Backblaze

Model
Size
Number
of Drives
Average
Age in
Years
Annual
Failure
Rate
Seagate Desktop HDD.15
(ST4000DM000)
4.0TB
5199
0.3
3.8%
Hitachi GST Deskstar 7K2000
(HDS722020ALA330)
2.0TB
4716
2.9
1.1%
Hitachi GST Deskstar 5K3000
(HDS5C3030ALA630)
3.0TB
4592
1.7
0.9%
Seagate Barracuda
(ST3000DM001)
3.0TB
4252
1.4
9.8%
Hitachi Deskstar 5K4000
(HDS5C4040ALE630)
4.0TB
2587
0.8
1.5%
Seagate Barracuda LP
(ST31500541AS)
1.5TB
1929
3.8
9.9%
Hitachi Deskstar 7K3000
(HDS723030ALA640)
3.0TB
1027
2.1
0.9%
Seagate Barracuda 7200
(ST31500341AS)
1.5TB
539
3.8
25.4%
Western Digital Green
(WD10EADS)
1.0TB
474
4.4
3.6%
Western Digital Red
(WD30EFRX)
3.0TB
346
0.5
3.2%
Seagate Barracuda XT
(ST33000651AS)
3.0TB
293
2.0
7.3%
Seagate Barracuda LP
(ST32000542AS)
2.0TB
288
2.0
7.2%
Seagate Barracuda XT
(ST4000DX000)
4.0TB
179
0.7
n/a
Western Digital Green
(WD10EACS)
1.0TB
84
5.0
n/a
Seagate Barracuda Green
(ST1500DL003)
1.5TB
51
0.8
120.0%