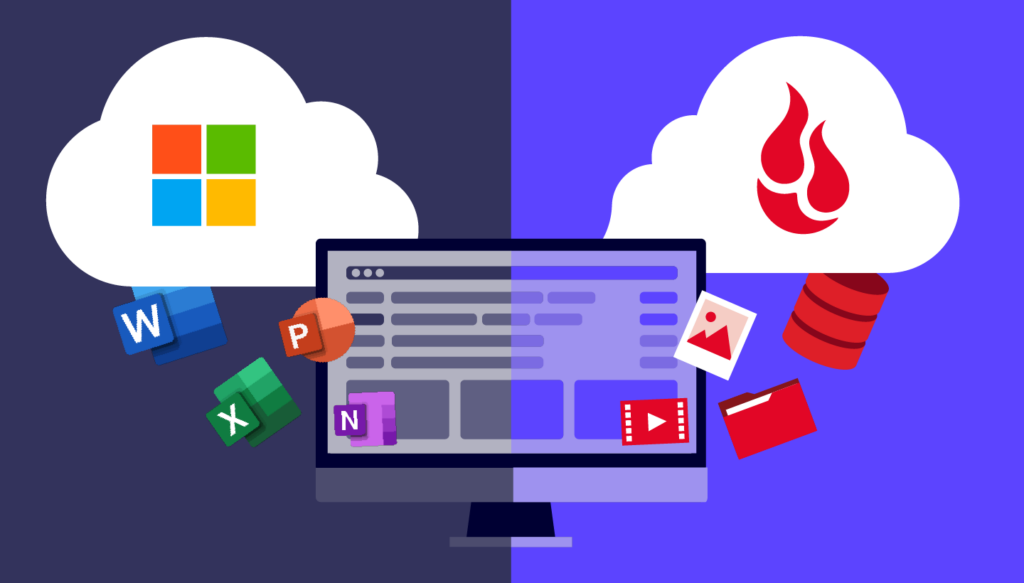 Have you ever had that nagging feeling that you are forgetting something important? It's like when you were back in school and sat down to take a test, only to realize you studied the wrong material. Worrying about your business data can feel like that. Are you fully protected? Are you doing all you can to ensure your data is backed up, safe, and easily restorable?
If you aren't backing up your Microsoft 365 data, you could be leaving yourself unprepared and exposed. It's a common misconception that data stored in software as a service (SaaS) products like Microsoft 365 is already backed up because it's in a cloud application. But, anyone who's tried to restore an entire company's Microsoft 365 instance can tell you that's not the case.
In this post, you'll get a better understanding of how your Microsoft 365 data is stored and how to back it up so you can reliably and quickly restore it should you ever need to.
What Is Microsoft 365?
More than one million companies worldwide use Microsoft 365 (formerly Office 365). Microsoft 365 is a cloud-based productivity platform that includes a suite of popular applications like Outlook, Teams, Word, Excel, PowerPoint, Access, OneDrive, Publisher, SharePoint, and others.
Chances are that if you're using Microsoft 365, you use it daily for all your business operations and rely heavily on the information stored within the cloud. But have you ever checked out the backup policies in Microsoft 365?
If you are not backing up your Microsoft 365 data, you have a gap in your backup strategy which may put your business at risk. If you suffer a malware or ransomware attack, natural disaster, or even accidental deletion by an employee, you could lose that data. In addition, it may cost you a lot of time and money trying to restore from Microsoft after a data emergency.
Why You Need to Back Up M365
You might assume that, because it's in the cloud, your SaaS data is backed up automatically for you. In reality, SaaS companies and products like Microsoft 365 operate on a shared responsibility model, meaning they back up the data and infrastructure to maintain uptime, not to help you in the event you need to restore. Practically speaking, that means that they may not back up your data as often as you would like or archive it for as long as you need. Microsoft does not concern itself with fully protecting your files. Most importantly, they may not offer a timely recovery option if you lose the data, which is critical to getting your business back online in the event of an outage.
The bottom line is that Microsoft's top priority is to keep its own services running. They replicate data and have redundancy safeguards in place to ensure you can access your data through the platform reliably, but they do not assume responsibility for their users' data.
All this to say, you are ultimately responsible for backing up your data and files in Microsoft 365.
M365 Native Backup Tools
But wait—what about Microsoft 365's native backup tools? If you are relying on native backup support for your crucial business data, let's talk about why that may not be the best way to make sure your data is protected.
Retention Period and Storage Costs
First, there are default settings within Microsoft 365 that dictate how long items are retained in the Recycle Bin and Deleted Items folders. You can tweak those settings for a longer retention period, but there is also a storage limit, so you might run out of space quickly. To keep your data longer, you must upgrade your license type and purchase additional storage, which could quickly become costly. Additionally, if an employee accidentally or purposefully deletes items from the trash bin, the item may be gone forever.
Replication Is Not a Backup
Microsoft replicates data as part of its responsibility, but this doesn't help you meet the requirements of a solid 3-2-1 strategy, where there are three copies of your data, one of which is off-site. So Microsoft doesn't fully protect you and doesn't support compliance standards that call for immutability. When Microsoft replicates data, they're only making a second copy, and that copy is designed to be in sync with your production data. This means that an item gets corrupted and then replicated, the archive version is also corrupted, and you could lose crucial data. You can't bank on M365's replication to protect you.
Sync Is Not a Backup
Similarly, syncing is not backup protection and could end up hurting you. Syncing is designed to have a single copy of a file always up-to-date with changes you or other users have made on different devices. For example, if you use OneDrive as your cloud backup service, the bad news is that OneDrive will sync corrupted files overwriting your healthy ones. Essentially, if a file is deleted or infected, it will be infected or deleted on all synchronized devices. In contrast, a true backup allows you to restore from a specific point in time and provides access to previous versions of data, which can be useful in case of a ransomware attack or deletion.
Back Up Frequency and Control
Lastly, one of the biggest drawbacks of relying on Microsoft's built-in backup tools is that you lack the ability to dial in your backup system the way you may want or need. There are several rules to follow in order to be able to recover or restore files in Microsoft 365. For instance, it's strongly recommended that you save your documents in the cloud, both for syncing purposes and to enable things like Version History. But, if you delete an online-only file, it doesn't go to your Recycle Bin, which means there's no way to recover it.
And, there are limits to the maximum numbers of versions saved when using Version History, the period of time a file is recoverable for, and so on. Some of the recovery periods even change depending on file type. For example, you can't restore email after 30 days, but if you have an enterprise-level account, other file types are stored in your Recycle Bin or trash for up to 93 days.
Backups may not be created as often as you like, and the recovery process isn't quick or easy. For example, Microsoft backs up your data every 12 hours and retains it for 14 days. If you need to restore files, you must contact Microsoft Support, and they will perform a "full restore," overwriting everything, not just the specific information you need. The recovery process probably won't meet your recovery time objective (RTO) requirements.
Compliance and Cyber Insurance
Many people want more control over their backups than what Microsoft offers, especially for mission-critical business data. In addition to having clarity and control over the backup and recovery process, data storage and backups are often an essential element in supporting compliance needs, particularly if your business stores personal identifiable information (PII). Different industries and regions will have different standards that need to be enforced, so it's always a good idea to have your legal or compliance team involved in the conversation.
Similarly, with the increasing frequency of ransomware attacks, many businesses are adding cyber insurance. Cyber insurance provides protection for a variety of things, including legal fees, expenditure related to breaches, court-ordered judgments, and forensic post-break review expenses. As a result, they often have stipulations about how and when you're backing up to mitigate the fallout of business downtime.
Backing Up M365 With a Third Party Tool to the Cloud
Instead of the native Microsoft 365 backup tool, you could use one of the many popular backup applications that provide Microsoft 365 backup support. Options include:
Note that some of these applications include Microsoft 365 protection with their standard license, but it's an optional add-on module with others. Be sure to check licensing and pricing before choosing an option.
One thing to keep in mind with these tools: if you store on-premises, the backup data they generate can be vulnerable to local disasters like fire or earthquakes and to cyberattacks. For example, if you keep backups on network attached storage (NAS) that doesn't tier to the cloud, then your data would not be fully protected
Backing your data up to the cloud puts a copy off-site and geographically distant from your production data, so it's better protected from things like natural disasters. When you're choosing a cloud storage provider, make sure you check out where they store their data—if their data center is just down the road, then you'll want to pick a different region.
Backblaze B2 + Microsoft 365
Backblaze B2 Cloud Storage is reliable, affordable, and secure backup cloud storage, and it integrates seamlessly with the third party applications listed above for backing up Microsoft 365. Some of the benefits of using Backblaze B2 include:
Check out our Help Center for Quick-Start Guides from partners like Veeam and MSP360.
Start backing up your Microsoft 365 data to Backblaze B2 today.
Protect Your M365 Data for Peace of Mind
Whether you are a business professional or an IT director, your goal is to protect your company data. Backing up your Microsoft 365 data to the cloud satisfies your RTO goals and better protects you against various threats.
Relying on Microsoft 365 native tools is inefficient and slow, which means you could blow your RTO targets. Backing up to the cloud allows you to meet retention requirements, ensuring that you retain the data you need for as long as required without destroying your operational budget.
Your business-critical data is too important to trust to a native backup tool that doesn't meet your needs. In the event of a catastrophic situation, you need complete control and quick access to all your files from a specific point in time. Backing your Microsoft 365 data up to the cloud gives you more control, more freedom, and better protection.