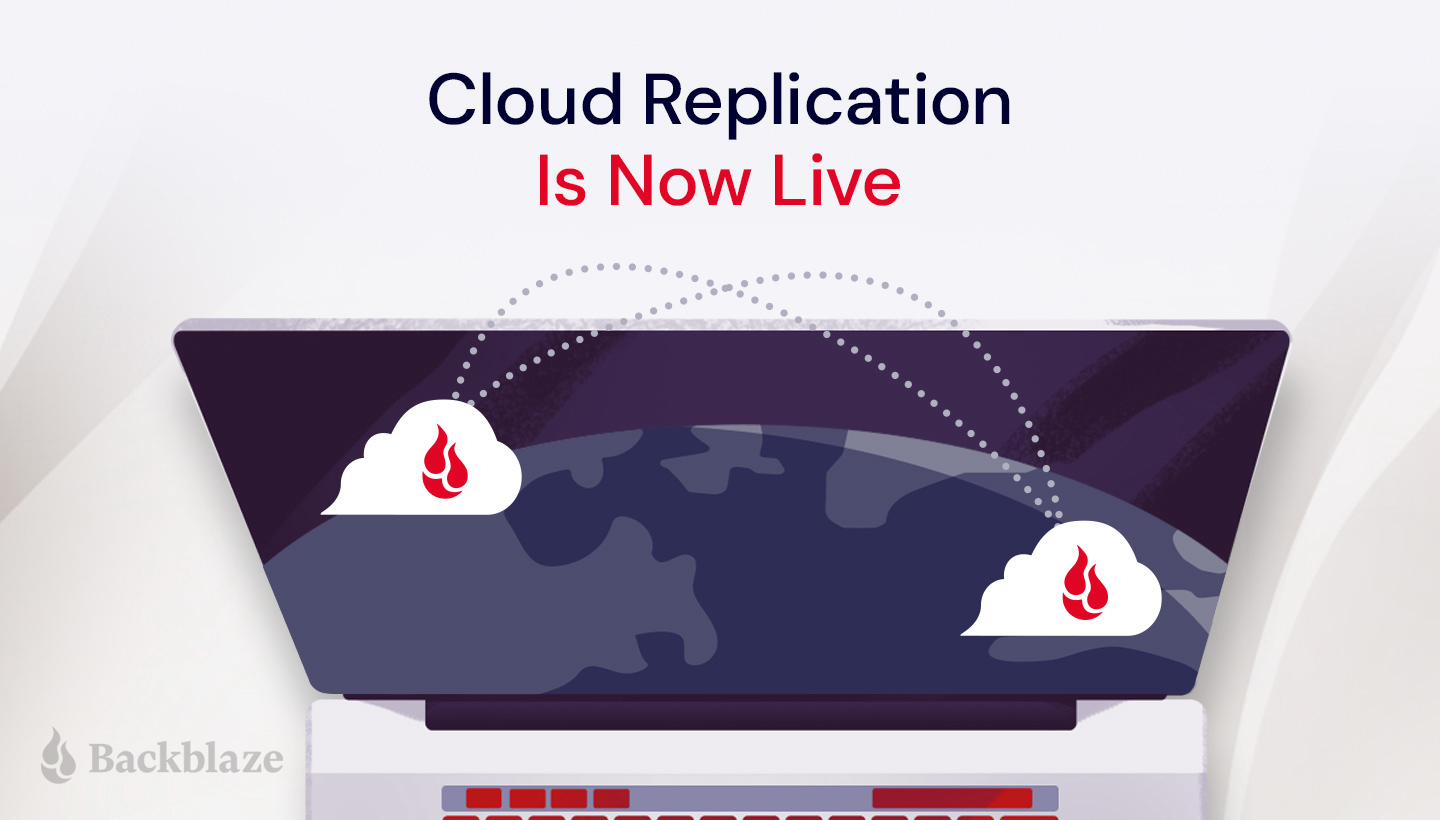 Cloning is a little bit creepy (Seriously, you can clone your pet now?), but having clones of your data is far from it—creating and storing redundant copies is essential when it comes to protecting your business, complying with regulations, or developing apps. With Backblaze Cloud Replication—now generally available—you can get set up in just a few clicks to automatically copy data across buckets, accounts, or regions.
Editor's Note
This post was originally published on June 7, 2022. On December 13, 2022, Backblaze announced our U.S. East Data Region and free data egress for Cloud Replication. This post has been updated to reflect that information.
Existing customers can start using Cloud Replication immediately by clicking on Cloud Replication within their Backblaze account or via the Backblaze B2 Native API.

Not a Backblaze customer yet? Sign up for a Backblaze B2 Cloud Storage account and set up Cloud Replication today. Data egress for Cloud Replication is free, so you can easily store replicated datasets to two or more cloud locations for compliance, continuity, and blazing fast local delivery speeds. Read on for more details on how this feature can benefit you.
Unbox Backblaze Cloud Replication
Unbox all the capabilities of Cloud Replication with Art Okamoto, Senior Director of Product Management at Backblaze, in our on-demand webinar.
What Is Backblaze Cloud Replication?
Backblaze Cloud Replication is a new service that allows customers to automatically store to different locations—across regions, across accounts, or in different buckets within the same account. You can set replication rules in a few easy steps.
Once the rules are set on a given bucket, any data uploaded to that bucket will automatically be replicated into the destination bucket you choose.
What Is Cloud Replication Good For?
There are three main reasons you might want to use Cloud Replication:
Data Redundancy: Replicating data for security, compliance, and continuity purposes.
Data Proximity: Bringing data closer to distant teams or customers for faster access.
Replication Between Environments: Replicating data between testing, staging, and production environments when developing applications.
Data Redundancy
Keeping redundant copies of your data is the most common use case for Cloud Replication. Enterprises with comprehensive backup strategies, especially as they are increasingly cloud-based, will likely find Cloud Replication immediately applicable. It can help businesses:
Recover quickly from natural disasters and cybersecurity threats.
Support modern business continuity.
Reduce the risk of data loss and downtime.
Comply with industry or board regulations centered on concentration risk issues.
Meet data residency requirements stemming from regulations like GDPR.
Data redundancy has always been a best practice—the gold standard for backup strategies has long been a 3-2-1 approach. The core principles of 3-2-1—keeping at least three copies of your data, on two different media, with one copy off-site—were originally developed for an on-premises world. They still hold true, and today they are being applied in even more robust ways to an increasingly cloud-based world.
Backblaze's Cloud Replication helps businesses apply the principles of 3-2-1 within a cloud-first or cloud-dominant infrastructure. By storing to multiple regions and/or multiple buckets in the same region, businesses virtually achieve an "off-site" backup—easily and automatically protecting data from natural disasters, cyberattacks, or even run-of-the-mill compliance headaches.
Data Proximity
If you have teams, customers, or workflows spread around the world, bringing a copy of your data closer to where work gets done can minimize speed-of-light limitations. Especially for media-heavy teams in industries like game development and postproduction, seconds can make the difference in keeping creative teams operating smoothly. And because you can automate replication and use metadata to track accuracy and process, you can remove some manual steps from the process where errors and data loss tend to crop up.
Replication Between Environments
Version control and smoke testing are nothing new, but when you're controlling versions of large applications or trying to keep track of what's live and what's in testing, you might need a tool with more horsepower and options for customization. Backblaze Cloud Replication can serve these needs.
You can easily replicate objects between buckets dedicated for production, testing, or staging if you need to use the same data and maintain the same metadata. This allows you to observe best practices and automate replication between environments.
Want to Learn More About Backblaze Cloud Replication?
Regardless of whether you're a new or existing customer, it's easy to set up Cloud Replication, and data egress for Cloud Replication is free. You can sign up for a new account on our Cloud Replication page, on our B2 Cloud Storage page, or by contacting our Sales team. Feel free to comment below if you have any questions, or want to discuss how Cloud Replication can work for your team.