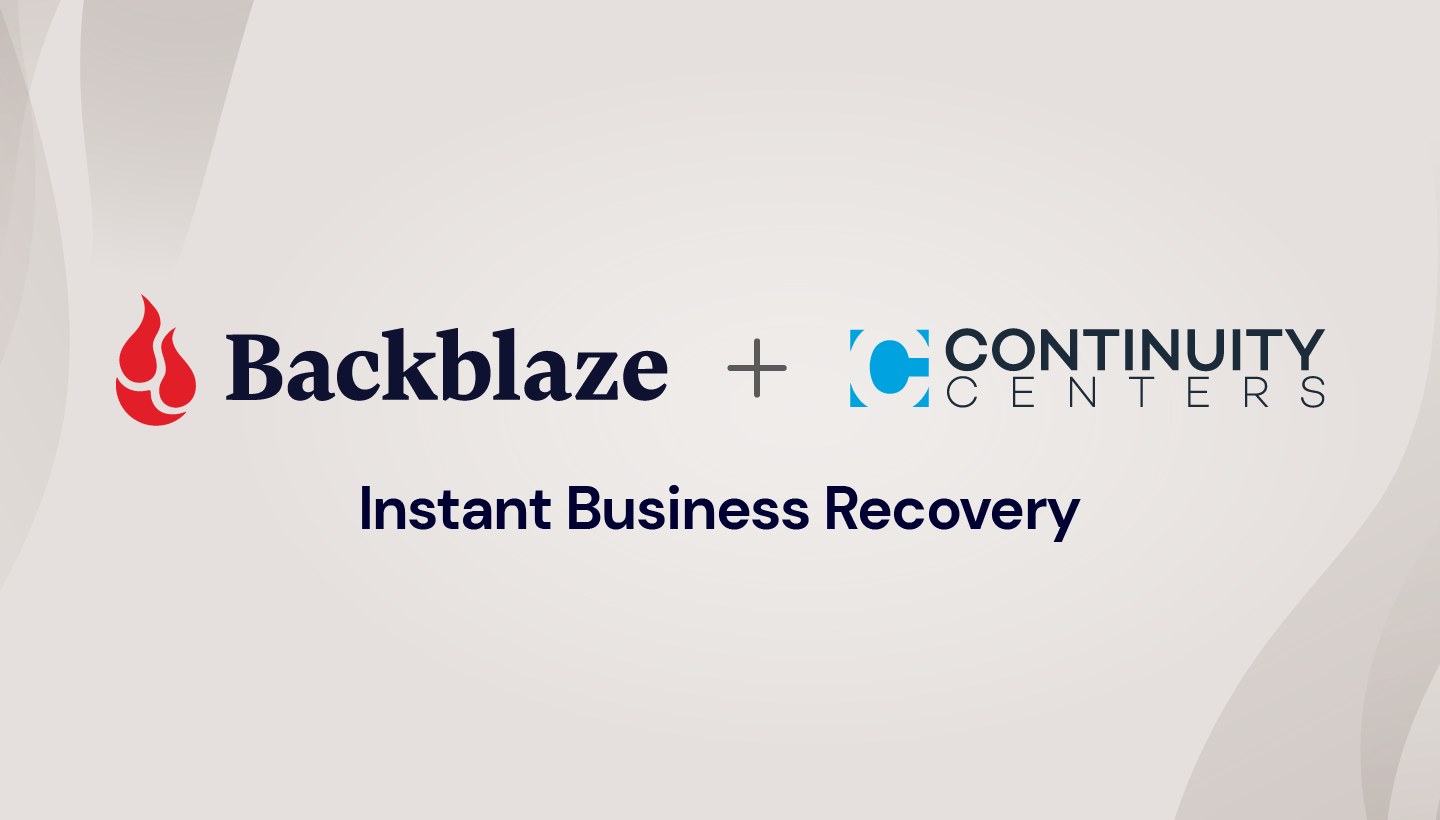 Business disruptions can be devastating, as any business owner who has been through one will tell you. This stat isn't meant to stoke fear, but the Atlas VPN research team found that 31% of businesses in the U.S. are forced to close for a period of time as a consequence of falling victim to ransomware attacks.
It's likely some, if not most, of those businesses had backups in place. But, having backups alone won't necessarily save your business if it takes you days or weeks to restore operations from those backups. And true disaster recovery means more than simply having backups and a plan to restore: It means testing that plan regularly to make sure you can bring your business back online.
Today, we're sharing news of a new disaster recovery service built on Backblaze B2 Cloud Storage that's aimed to help businesses restore faster and more affordably: Continuity Centers' Cloud Instant Business Recovery (Cloud IBR) which instantly recovers Veeam backups from the Backblaze B2 Storage Cloud.
Helping Businesses Recover After a Disaster
We launched the first generation version of this solution—Instant Recovery in Any Cloud—in May of 2022 to help businesses complete their disaster recovery playbook. And now, we're building on that original infrastructure as code (IaC) package, to bring you Cloud IBR.
Cloud IBR is a second generation solution that further simplifies disaster recovery plans. The easy-to-use interface and affordability make Cloud IBR an ideal disaster recovery solution designed for small and medium size businesses (SMBs) who are typically priced out of enterprise-scale disaster recovery solutions.
How Does Cloud IBR Work?
Continuity Centers combines the automation-driven Veeam REST API calls with phoenixNAP Bare Metal Cloud platform into a unified system, and completely streamlines the user experience.
The fully-automated service deploys a recovery process through a simple web UI, and, in the background, uses phoenixNAP's Bare Metal Cloud servers to import Veeam backups stored in Backblaze B2 Cloud Storage, and fully restores the customer's server infrastructure. The solution hides the complexity of dealing with automation scripts and APIs and offers a simple interface to stand up an entire cloud infrastructure when you need it. Best of all, you pay for the service only for the period of time that you need.
Cloud IBR gives small and mid-market companies the highest level of business continuity available, against disasters of all types. It's a simple and accessible solution for SMBs to embrace. We developed this solution with affordability and availability in mind, so that businesses of all sizes can benefit from our decades of disaster recovery experience, which is often financially out of reach for the SMB.

—Gregory Tellone, CEO of Continuity Centers.
Right-Sized Disaster Recovery
Previously, mid-market businesses were underserved by disaster recovery and business continuity planning because the requirements and efforts to create a disaster recovery (DR) plan are often foregone in favor of more immediate business demands. Additionally, many disaster recovery solutions are designed for larger size companies and do not meet the specific needs for SMBs. Cloud IBR allows businesses of all sizes to instantly stand up their entire server infrastructure in the cloud, at a moment's notice and with a single click, making it easy to plan for and easy to execute.
Learn more about Cloud IBR at the Cloud IBR website.
Access Cloud IBR Through B2 Reserve
In addition to being a stand-alone offering that can be purchased alongside pay-as-you-go cloud storage, the Cloud IBR Silver Package will be offered at no cost for one year to any Veeam customers that purchase Backblaze through our capacity-based cloud storage packages, B2 Reserve. Those customers can activate Cloud IBR within 30 days of purchasing Backblaze's B2 Reserve service.