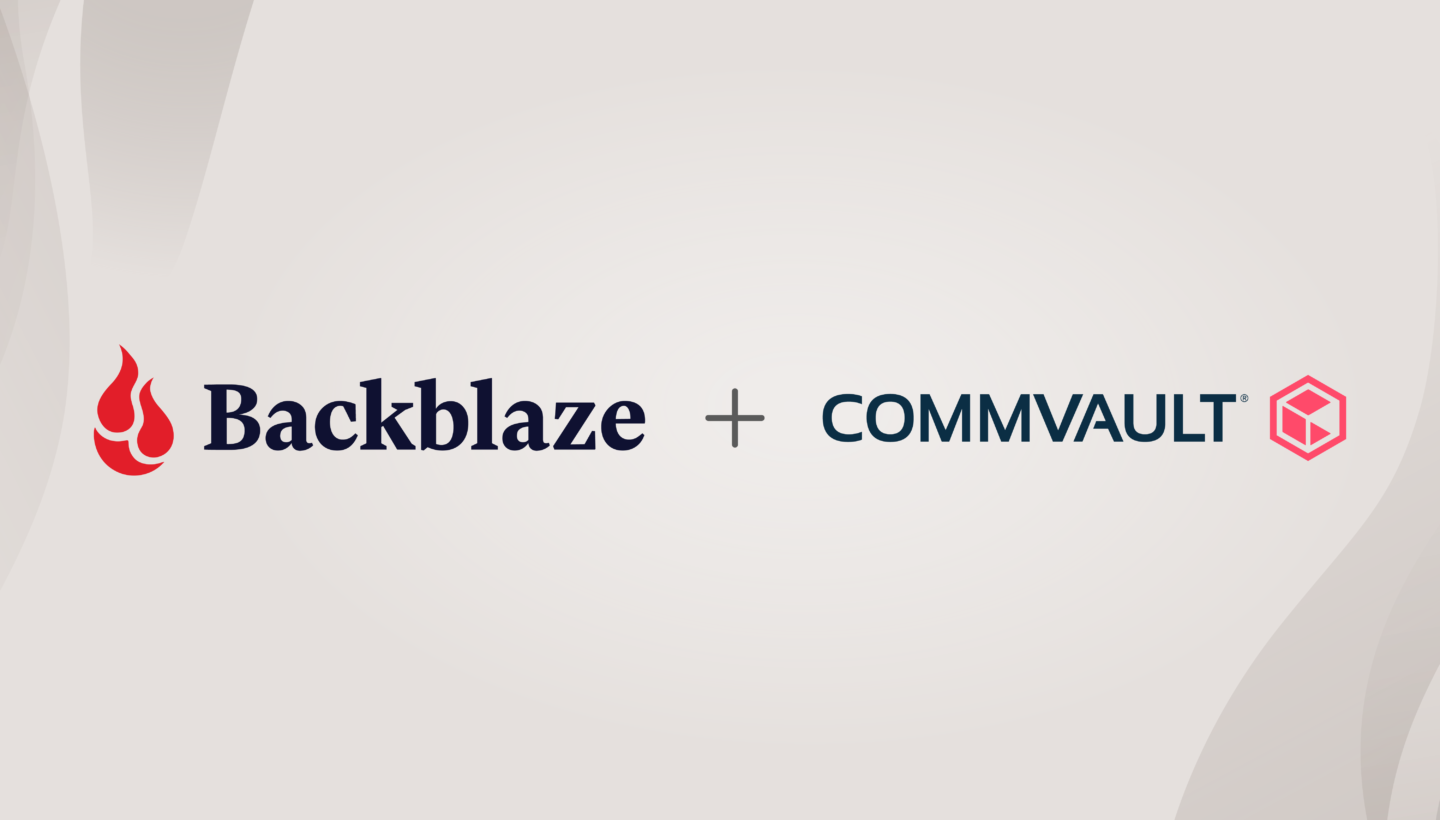 The most effective backups are the ones you never have to think about—It's that simple. For anyone in charge of data protection—IT Admins, IT Directors, CTOs and CIOs, managed service providers, and others—driving to that level of simplicity is always the goal. A new partnership between Backblaze and Commvault brings you one step closer to achieving that goal.
Now, Commvault customers can select Backblaze B2 as a cloud storage destination for their Commvault backups and data management needs. Read on to learn more about the partnership.
What Is Commvault?
Commvault is a global leader in data management. Their Intelligent Data Services help organizations transform how they protect, store, and use data. They offer a simple, unified data management platform that spans all of a company's data, no matter where it lives—on-premises, or in a hybrid or multi-cloud environment—or how it's structured—in legacy applications, databases, virtual machines, or in containers.
How Does This Partnership Benefit Joint Customers?
Joint customers gain access to easy, affordable cloud storage that integrates with Commvault's software. The partnership benefits joint customers in a few key ways:
Quick setup: Get started with a seamless integration.
Easy administration: Manage data in one platform.
Better backups: Protect your data from ransomware risks, equipment failure, damage, theft, and human error.
Faster recoveries: Restore your environment quickly in the event of a disaster.
Affordable storage: Backblaze is ⅕ the cost of major cloud providers.
Take Advantage of Capacity-Based Pricing with Backblaze B2 Reserve
Joint customers who prefer predictable cloud spend rather than consumption-based pricing can take advantage of Backblaze B2 Reserve. The Backblaze B2 Reserve offering is capacity-based, starting at 20TB, with key features, including:
Free egress up to the amount of storage purchased per month.
Free transaction calls.
Enhanced migration services.
No delete penalties.
Upgraded Tera support.
Customers can purchase B2 Reserve through our channel partners. If you're interested in participating or just want to learn more, contact our Sales team.
If you're a channel partner and Commvault is in your suite of offerings, we'd love to engage with you. Register on our Partner Portal to get started with offering Backblaze B2 as a backup target.
Customer Spotlight: How Pittsburg State Protects Data in Tornado Alley
Pittsburg State University, located in the heart of Tornado Alley in Kansas, took steps to protect their data by deploying private cloud infrastructure via Commvault Distributed Storage. They established two nodes on-premises and a third across the state for geographic separation, but they wanted another layer of protection. They added Backblaze B2 Cloud Storage giving them peace of mind that their data would be better protected from threats like ransomware. Since Backblaze is integrated with Commvault, Commvault de-duplicates the data, then sends a copy to Backblaze nightly.
"Backblaze B2 had the capability we lacked. I bolted it onto our system, so now I have off-site backup that is safe and well-protected from a regional disaster in Kansas."
—Tim Pearson, Director for IT Infrastructure and Security, Pittsburg State University
Getting Started with Backblaze B2 and Commvault
Ready to simplify your Commvault backup storage? Check out our Commvault Quickstart Guide for a walk through on how to set up Backblaze B2 as your Commvault cloud storage target.