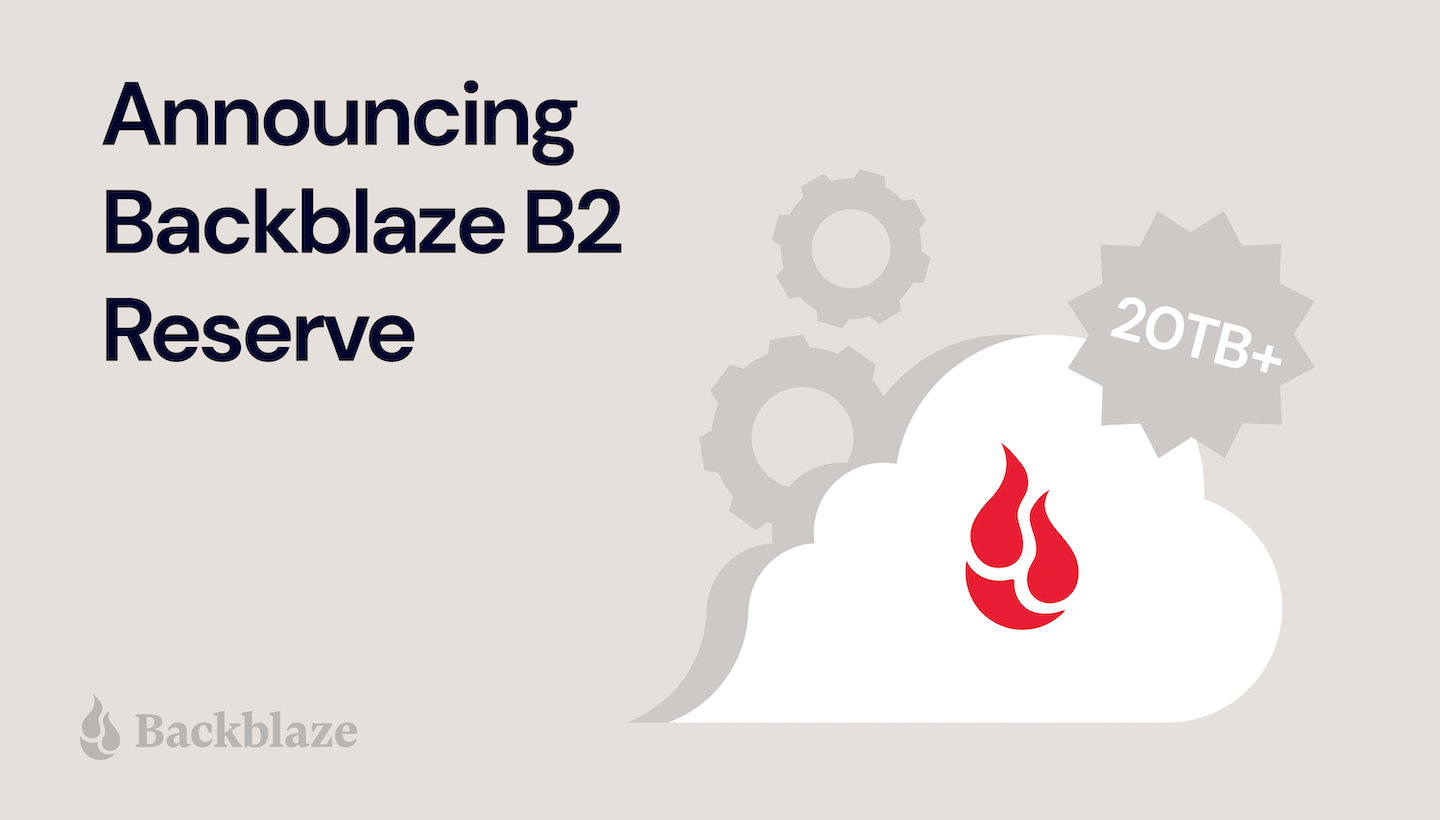 Yesterday, we announced enhancements to our partner program that make working with Backblaze even easier for current and prospective partners. Today, we're digging into a key offering from that program: Backblaze B2 Reserve. Backblaze B2 Reserve brings more value to the Backblaze community of Channel Partners and opens up our easy, affordable cloud storage to many more.
Read on to learn more about Backblaze B2 Reserve and what it means for existing and potential Channel Partners.
What Is Backblaze B2 Reserve?
Predictable, affordable pricing is our calling card, but for a long time our Channel Partners have had a harder time than other customers when it came to accessing this value. Backblaze B2 Reserve brings them a capacity-based, annualized SKU which works seamlessly with channel billing models. The offering also provides seller incentives, Tera-grade support, and expanded migration services to empower the channel's acceleration of cloud storage adoption and revenue growth.
Why Launch Backblaze B2 Reserve?
Short story, we heard a lot of feedback from our partners about how much they loved working with Backblaze B2 Cloud Storage, except for the service's pricing model—which limited their ability to promote it to customers. Backblaze B2 is charged on a consumption-based model, meaning you only pay for what you use. This works great for many of our customers who value pay-as-you-go pricing, but not as well for those who value fixed, predictable, monthly or annual bills.
Customers who are more accustomed to planning for storage provisioning want to pay for cloud storage on a capacity-based model similar to how they would for on-premises storage. They buy what they expect to use up front, and their systems and processes are set up to utilize storage in that way. Additionally, the partners who include Backblaze B2 as part of packages they sell to their customers wanted predictable pricing to make things easier in their sales processes.
Backblaze B2 Reserve is a pricing package built to answer these needs—serving the distributors and value-added resellers who want to be able to present B2 Cloud Storage to their current and prospective customers.
How Does Backblaze B2 Reserve Work?
The Backblaze B2 Reserve offering is capacity-based, starting at 20TB, with key features, including:
Free egress up to the amount of storage purchased per month.
Free transaction calls.
Enhanced migration services.
No delete penalties.
A customer can purchase more storage by buying 10TB add ons. If you're interested in participating or just want to learn more, you can reach out to us via email to schedule a meeting.
How Is Backblaze B2 Reserve Different From Backblaze B2?
The main difference between Backblaze B2 Reserve and Backblaze B2 is the way the service is packaged and sold. Backblaze B2 uses a consumption model—you pay for what you use. Backblaze B2 Reserve uses a capacity model—you pay for a specific amount of storage up front.
"Backblaze's ease and reliability, paired with their price leadership, has always been attractive, but having their pricing aligned with our business model will bring them into so many more conversations we're having across the types of customers we work with."
—Mike Winkelmann, Cinesys
Ready to Get Started?
If you're going to NAB, April 23-27th, we'll be there, and we'd love to see you—click here to book a meeting. We'll also be at the Channel Partners Conference, April 11-14th. Otherwise, reach out to us via email to schedule a chat. Let's talk about how the new program can move your business forward.