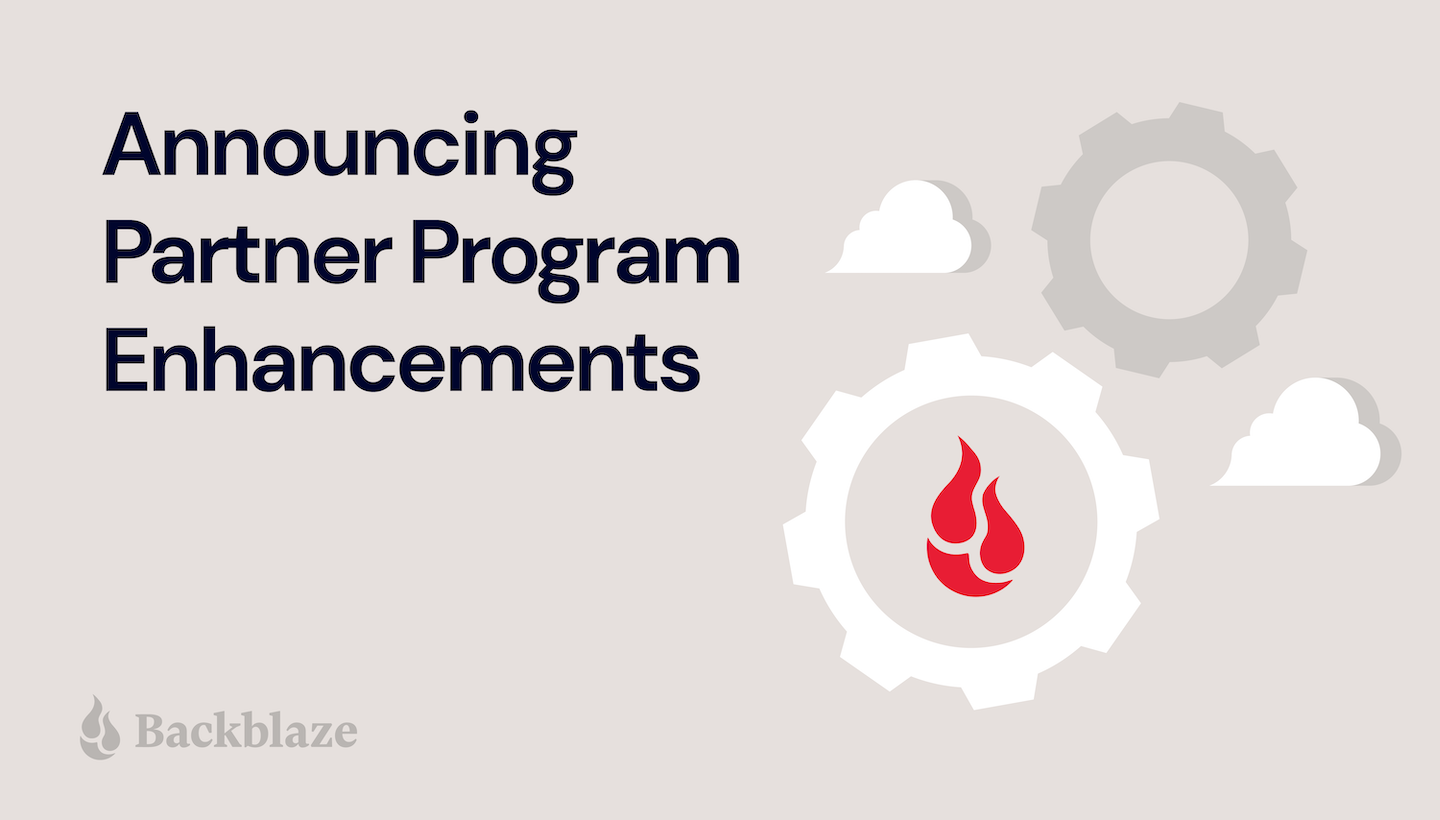 Here at Backblaze, we can definitively say that we get by with a little (okay, a lot of) help from our friends. We've always been committed to building an open, transparent, and interoperable ecosystem which has helped us grow an incredible partner network. We provide easy, affordable, and trusted cloud storage as a neutral partner, and they provide all manner of services, products, and solutions that use our storage. But there's always room for improvement, right?
Which is why, today, we're enhancing our partner program with two major new offerings:
Backblaze B2 Reserve: A predictable, capacity pricing model to empower our Channel Partners.
Backblaze Partner API: A new API that empowers our Alliance Partners to easily integrate and manage B2 Cloud Storage within their products and platforms.
Read on to learn a bit more about each component, and stay tuned throughout this week and next for deeper dives into each element.
Capacity Pricing With Backblaze B2 Reserve
Backblaze B2 Reserve is a new offering for our Channel Partners. Predictable, affordable pricing is our calling card, but for a long time our Channel Partners had a harder time than other customers when it came to accessing this value. Backblaze B2 Reserve brings them a capacity-based, annualized SKU which works seamlessly with channel billing models. The offering also provides seller incentives, Tera-grade support, and expanded migration services to empower the channel's acceleration of cloud storage adoption and revenue growth.
The key benefits include:
Enhanced margin opportunity and a predictable pricing model.
Easier conversations with customers accustomed to an on-premises or capacity model.
Discounts and seller incentives.
The program is capacity based, starting at 20TB, with key features, including:
Free egress up to the amount of storage purchased per month.
Free transaction calls.
Enhanced migration services.
No delete penalties.
It's all of the same great functionality folded in. Partners get more margin, seller incentives, and a predictable growth model for customers.
"Backblaze's ease and reliability, paired with their price leadership, has always been attractive, but having their pricing aligned with our business model will bring them into so many more conversations we're having across the types of customers we work with."
—Mike Winkelmann, Owner of CineSys Inc.
User Management and Usage Reporting With the Backblaze Partner API
The Backblaze Partner API empowers independent software vendors participating in Backblaze's Alliance Partner Program to add Backblaze B2 Cloud Storage as a seamless backend extension within their own platform, where they can programmatically provision accounts, run reports, and create a bundled solution or managed service for a unified user experience. By unlocking an improved customer experience for the partner, the Partner API allows Alliance Partners to build additional cloud services into their product portfolio to generate new revenue streams and/or grow existing margin.
Features of the Partner API include:
Account provisioning.
Managing a practically unlimited number of accounts or groups.
Comprehensive usage reporting.
In using the Partner API, partners can offer a proprietary branded, bundled solution with a unified bill, or create a solution that is "Powered by Backblaze B2."
"Our customers produce thousands of hours of content daily, and, with the shift to leveraging cloud services like ours, they need a place to store both their original and transcoded files. The Backblaze Partner API allows us to expand our cloud services and eliminate complexity for our customers—giving them time to focus on their business needs, while we focus on innovations that drive more value."
—Murad Mordukhay, CEO at Qencode
Other Benefits
To unlock the value inherent in Backblaze B2 Reserve and the Partner API, Backblaze is offering free migration to help customers painlessly copy or migrate their data from practically any source into B2 Cloud Storage.
This service supports truly free data mobility without complexity or downtime, including coverage of all data transfer costs and any egress fees charged by legacy vendors. Stay tuned for more on this feature that benefits both partners and all of our customers.
The addition of Tera support brings the benefit of a four-hour target response time for email support and named customer contacts to ensure that partners and their end users can troubleshoot at speed.
What's Next?
These are the first of many features and programs that Backblaze will be rolling out this year to make our partners' experience working with us better. Tomorrow, we'll dive deeper into the Backblaze B2 Reserve offering. On Monday, we'll offer more detail on the Backblaze Partner API feature. In the coming months, we'll be sharing even more. Stay tuned.
Want to Learn More?
Reach out to us via email to schedule a meeting. If you're going to the Channel Partners Conference, April 11–14th, we'll be there and we'd love to see you! If not, reach out and we'd be happy to start a conversation about how the new program can move your business forward.