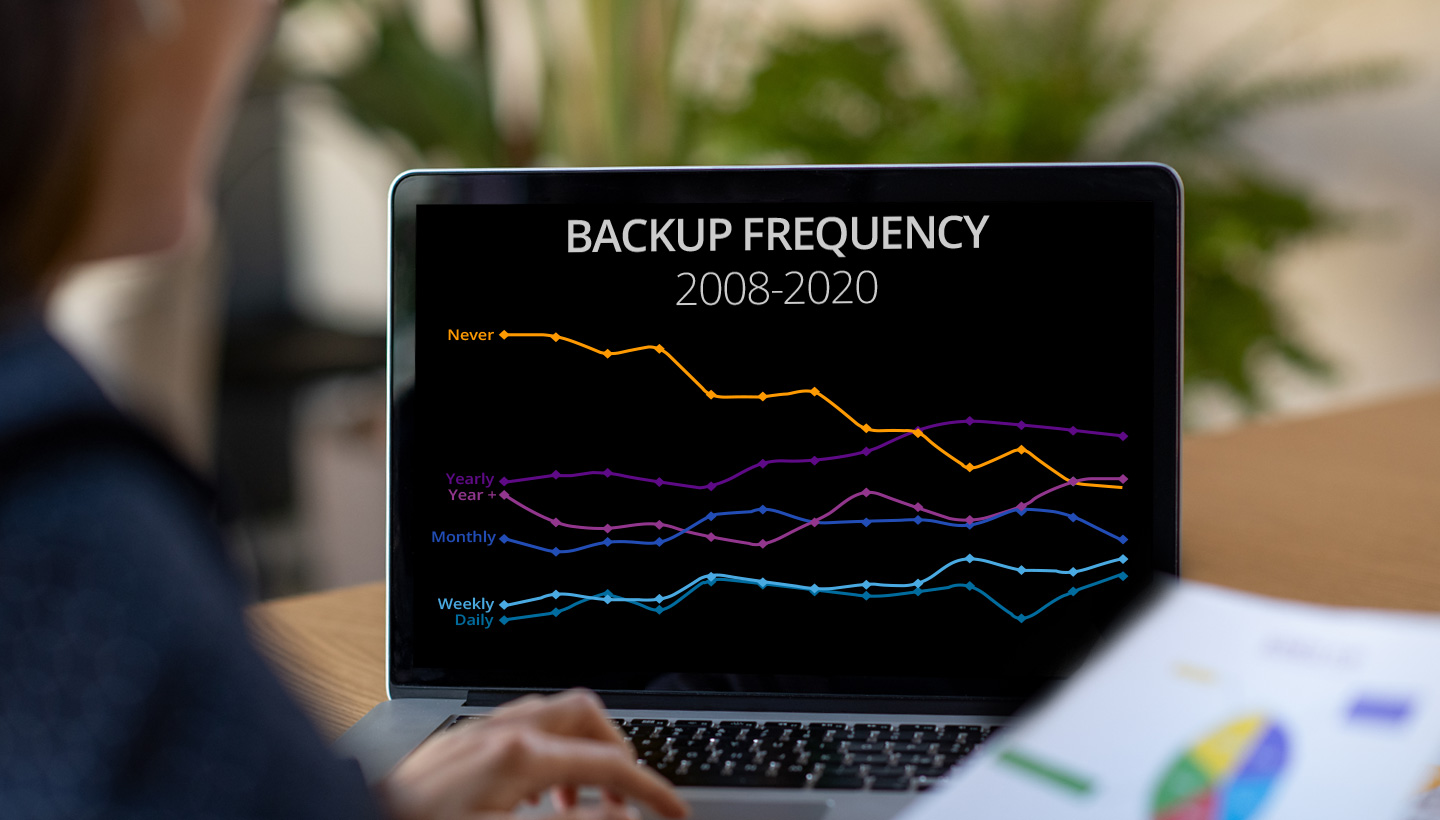 For the past twelve years we've commissioned an annual poll conducted by The Harris Poll asking people the simple question, "How often do you backup all the data on your computer?" and published the results here on the blog. In 2009 we decided to make this an annual event and declared June to be Backup Awareness Month.
We're curious to see how the changes we've seen in the world since the beginning of this year have affected our behavior when it comes to backing up. This year we also asked if people understood the difference between cloud backup and cloud storage—spoiler alert: many don't. Let's dig into the numbers!
Are We Backing Up?
There's good news in this year's report! Among those who own a computer the percentage who state that they "never" back up all the data on their computer continues to decrease. Even better, the number of people backing up once a year or more frequently is increasing. Even with all that good news though, there's still work to be done. Roughly one fifth of those who own a computer (19%) say they have "never" backed up all their data. If you add that to those who back up all the data on their computer less than once a year, that number balloons to one in three (33%).
The fact that almost one in five of those who own a computer have never backed up all the data on the computer is still alarming, as they are vulnerable to losing important documents, photos, and other files. We still have work to do to reach all those people to convince them how easy and economical it is to protect their data through regular backups.
But let's look more closely at the data: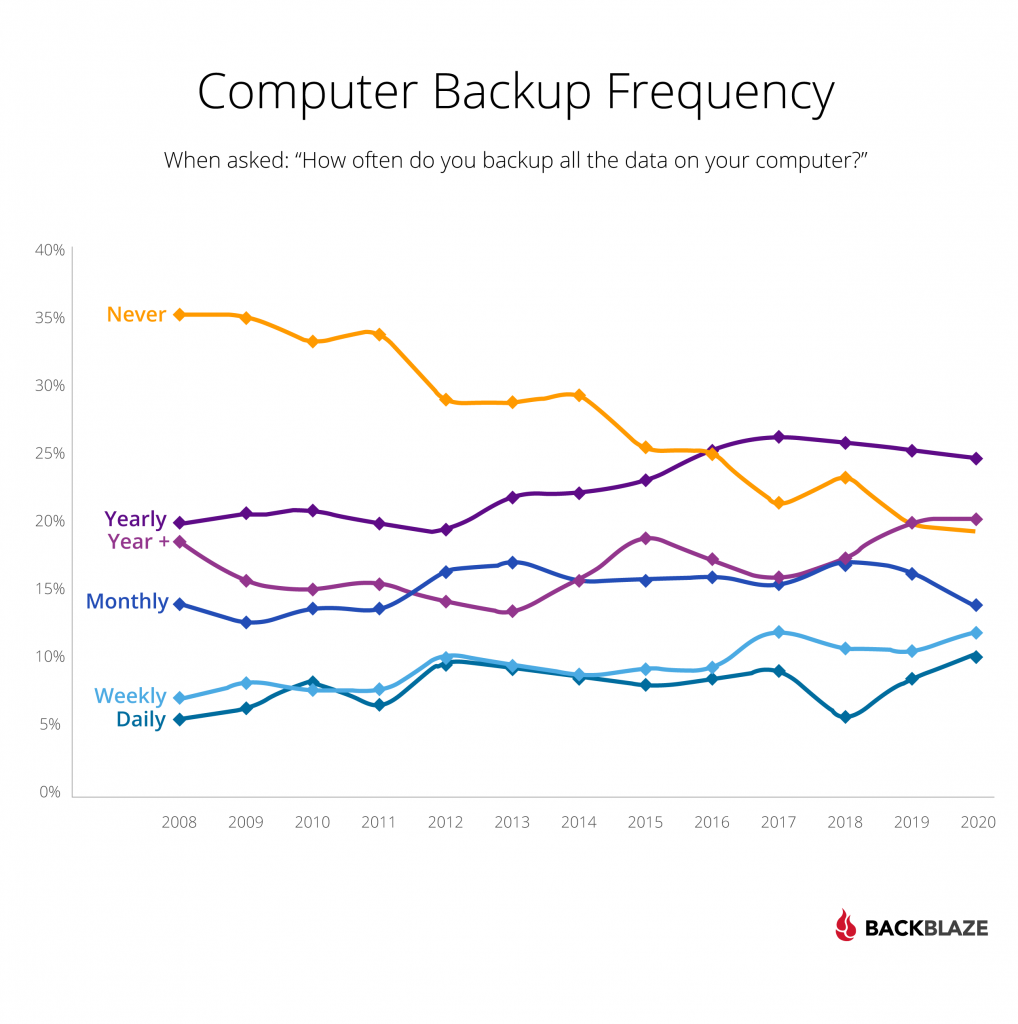 We love seeing that "daily" and "weekly" number increasing. Those are positive trends and more proof that simple backup solutions are causing more people to take action and protect their data.
Trending Upwards
You can see that the number of people who are backing up frequently has increased substantially over the years. As the "daily," "weekly," "monthly," and "yearly" categories increase, we'd expect to see the "never" category decrease, and that's a great sign of awareness.
Here's a detailed look at the numbers from our surveys in 2008 through 2019.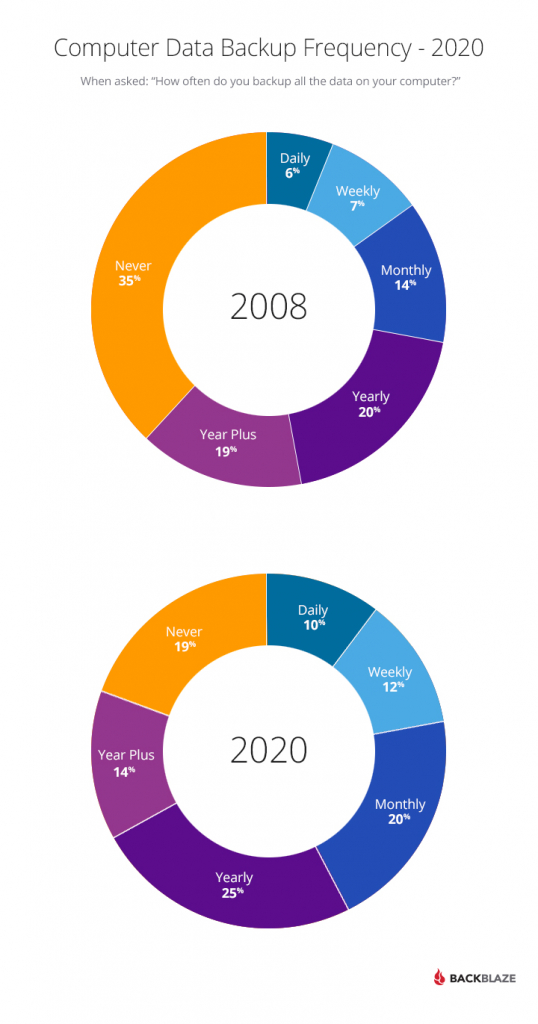 Key Takeaways and Fun with Numbers
Every year after the poll is conducted, we sift through the poll data to see what conclusions we can draw from the results. Our pollster gives us demographics about the subjects surveyed such as the region of the U.S. where they live, level of education, household income, and whether they own a computer or not (kind of important, we think, for this poll). Here's what stood out:
Almost one in five (19%) of those who own a computer have never backed up all the data on their computer. We're making some progress, but with almost 50% of people losing data each year, we want to get that number down much further!
10% of those who own a computer say they back up all the data on their computer once a day or more. That's the highest daily backup percentage we've ever recorded.
There's still a lot of cloud confusion out there with 41% of Americans saying they do not understand the difference between cloud backup and cloud storage. (And for even more nuance: cloud backup vs. cloud sync.)
The age group with the highest rate of daily or more backup was the 35-44 year old group at 15%—a mix between Gen X and Millennials. (Who'd of thunk it?)
The Northeast region of the United States has a high rate of daily backup or more with 15% vs. 9% in the Midwest and only 8% in the West.
A few years back, seniors (65+) were the best at backing up, but now as a group they've slid back. 30% have never backed up their computer and only 8% back up once a day or more.
It seems the folks in the Midwest who own a computer are the most at risk to lose data, with 26% having never backed up all the data on their computer versus 18% each in the Northeast and West, and 17% in the South.
Want to back up more often? Think outside the box and have children. Those who are not parents of children under 18 are more likely than those who are to have never backed up all the data on their computer (23% vs. 12%). It would seem that backing up is necessary with children running around…
Past Surveys and Findings
Here are links to our previous blog posts on our annual Backup Awareness Survey:
2019 – More People Than Ever Are Backing Up
2018 – Computer Backup Awareness in 2018: Getting Better and Getting Worse
2017 – Backup Awareness Survey, Our 10th Year
2016 – Data Backup: Are You a Hero or a Zero?
2015 – Computer Backup: Pick a Card, Any Card
2014 – Seniors are the Kings of Data Backup
2013 – The Survey Says: Apathy is Winning
2012 – 10% now back up daily, 90% to go!
2011 – 94% of computer users still risk data loss
2010 – Backup Awareness Month – June 2010
2009 – June is Backup Awareness Month
2008 – In 2008 we did the survey, but did not write a blog post.
Our Backing Up Action Plan
The best way to succeed at a task that's sometimes neglected is to make it so easy that it gets done. Fortunately, computers are good at automation and backing up can be configured to happen quietly and automatically in the background.
We believe that the reason more people are successful at backing up is that they have discovered automated backup solutions such as Backblaze Personal Backup.
Backblaze Personal Backup can be installed on a Mac or PC and in less than a couple of minutes will be on the job continuously backing up your data. In many situations, the default settings are fine so there's nothing else to do.
If more people use solutions like Backblaze Personal Backup and automate their backups, the poll results will continue to improve, but more importantly, people will be less likely to lose their valuable photos, messages, financial records, and other important files and documents.
It will be interesting to see whether the poll results next year show even more people backing up. We hope so.
How You Can Help!
One of the things we're trying to do is educate people on the different types of cloud services and storage options available. The links above are a great way to learn the differences so that you can choose the right solution for you. Those solutions are important considering that almost 20% of people still don't back up their computers. We need to get that number down as far as we can!
You can also help improve the results for next year's survey. If you're already a Backblaze customer, you can let your friends and family know that backing up is important. You can even refer them to Backblaze using our Refer a Friend feature which allows you to invite your friends to an extended free trial of Backblaze Personal Backup. It's perfect because they get peace of mind knowing that Backblaze is backing up their computers, and you'll get a free month of service if they sign up with us! If you're not a Backblaze customer, consider signing up for a free trial, and help us ensure that no one ever loses data again.
• • •
Survey Method:
These surveys were conducted online by The Harris Poll on behalf of Backblaze among U.S.
adults ages 18+ who own a computer in June 1-3, 2020 (n=1,913), June 6-10, 2019 (n=1,858),
June 5-7, 2018 (n=1,871), May 19-23, 2017 (n=1,954), May 13-17, 2016 (n=1,920), May 15-19,
2015 (n=2,009), June 2-4, 2014 (n=1,991), June 13–17, 2013 (n=1,952), May 31–June 4, 2012
(n=2,176), June 28–30, 2011 (n=2,209), June 3–7, 2010 (n=2,051), May 13–14, 2009
(n=2,154), and May 27–29, 2008 (n=2,723). These online surveys were not based on a
probability sample and therefore no estimate of theoretical sampling error can be calculated. For complete survey methodology, including weighting variables and subgroup sample sizes, please contact
Backblaze
.