For the past twelve years we've conducted an annual poll asking people the simple question, "How often do you backup all the data on your computer?" and published the results here on the blog. In 2009 we decided to make this an annual event and declared June to be Backup Awareness Month.
How We Are Doing
The good news from this year's poll is that more computer owners than we've ever surveyed (four out of five) have backed up all the data on their computer. That's up 4 percent from last year and up 15 percent from our first poll in 2008.
The fact that 20 percent of those who own a computer have never backed up all the data on the computer is still alarming, however, as they are vulnerable to losing important documents, photos, and other files. We still have work to do to reach all those people to convince them how easy and economical it is to protect their data through regular backups.
The trend is positive however, as according to the poll, most people back up more frequently now (whether yearly, monthly, weekly, or daily) than they did in 2008.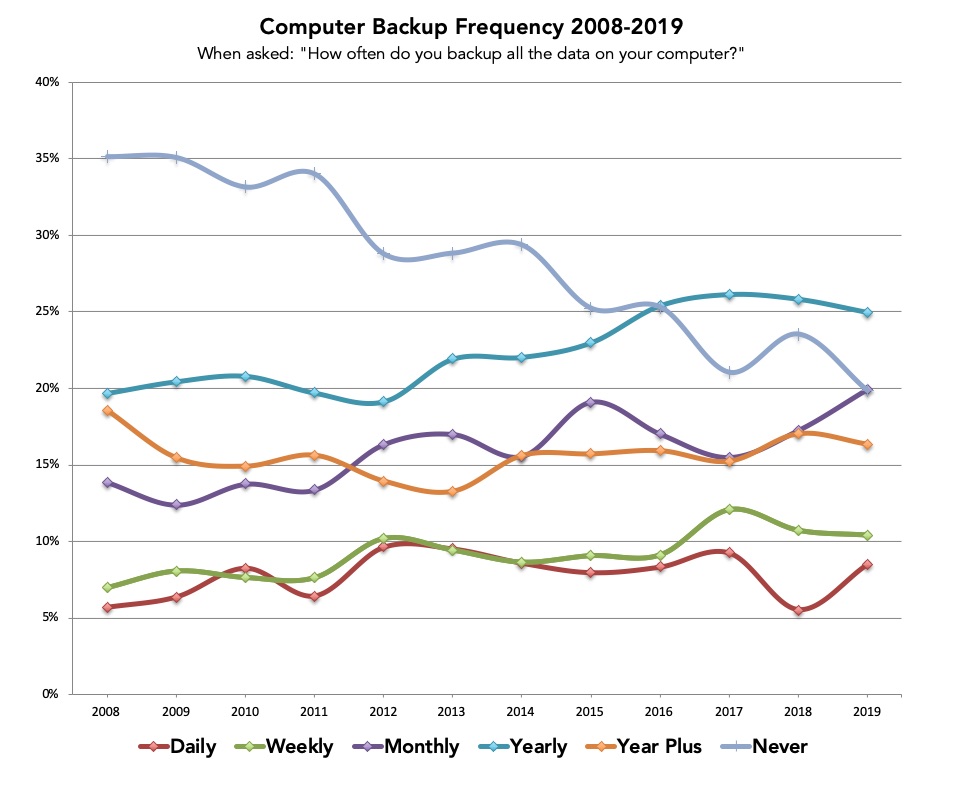 Key Takeaways From Our Latest Poll
Four in five Americans who own a computer (80 percent) have ever backed up all the data on their computer, which is up from roughly three-quarters (76 percent) in 2018.
9 percent who own a computer back up their computer once a day or more often.
Among those who have ever backed up all data on their computer, nearly three in five (58 percent) use the cloud as the primary method to back up all of the data on their computer, 38 percent use an external hard drive, and just 5 percent use network-attached storage (NAS).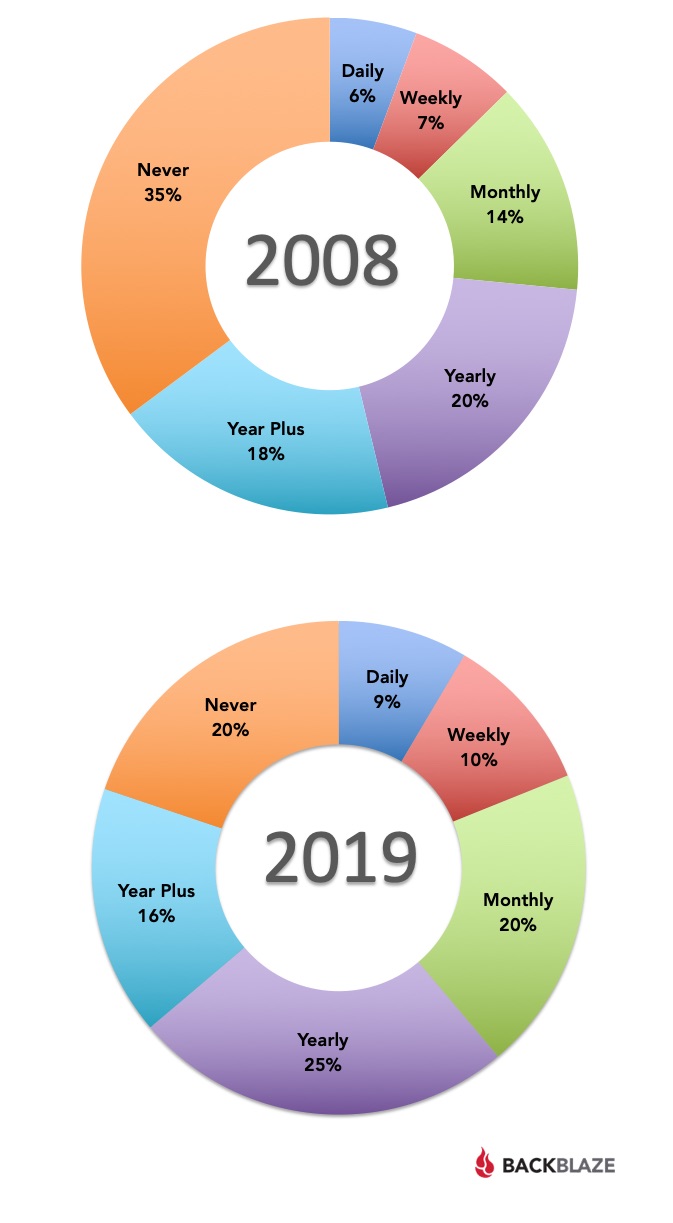 Here's a detailed look at the numbers from our surveys in 2008 through 2019.

How We Can Improve
Every year after the poll we sift through the poll data to see what conclusions we can draw from the results. Our pollster gives us demographics about the subjects surveyed, such as the region of the U.S. where they live, level of education, income, and whether they own a computer or not (kinda important, we think, for this poll).
What stood out for us is that more people in 2019 backed up more frequently than in 2008, and we wondered why.
There are a lot of things that get in the way of backing up: managing a household, job(s), taking care of children, travel, and social activities. The fact that more people are backing up more often tells us that they have found a way to make backing up easier and a part of their regular lives.
Our Backing Up Action Plan
The best way to succeed at a task that's sometimes neglected is to make it so easy that it gets done. Fortunately, computers are good at automation and backing up can be configured to happen quietly and automatically in the background.
We believe that the reason more people are successful at backing up is that they have discovered automated backup solutions such as Backblaze Personal Backup.
Backblaze Personal Backup can be installed on a Mac or PC and in less than a couple of minutes will be on the job continuously backing up your data. In many situations, the default settings are fine so there's nothing else to do.
If more people use solutions like Backblaze Personal Backup and automate their backups, the poll results will continue to improve, but more importantly, people will be less likely to lose their valuable photos, messages, financial records, and other important files and documents.
It will be interesting to see whether the poll results next year show even more people backing up. We hope so.
How You Can Help!
You can help improve the results for next year's survey. If you're already a Backblaze customer, you can let your friends and family know that backing up is important and can even refer them to Backblaze using our Refer-a-Friend program. If you're not a Backblaze customer, consider signing up for a trial, and help us ensure that no one ever loses data again.
Note:   Read more about our 2019 backing up survey in our post, More From Our Annual Survey: Choosing the Best Cloud for Backing Up.
•  •  •
Survey Method
These surveys were conducted online by The Harris Poll on behalf of Backblaze among U.S. adults ages 18+ who own a computer in June 6-10, 2019 (n=1,858), June 5-7, 2018 (n=1,871), May 19-23, 2017 (n=1,954), May 13-17, 2016 (n=1,920), May 15-19, 2015 (n=2,009), June 2-4, 2014 (n=1,991), June 13–17, 2013 (n=1,952), May 31–June 4, 2012 (n=2,176), June 28–30, 2011 (n=2,209), June 3–7, 2010 (n=2,051), May 13–14, 2009 (n=2,154), and May 27–29, 2008 (n=2,723). These online surveys were not based on a probability sample and therefore no estimate of theoretical sampling error can be calculated. For complete survey methodology, including weighting variables and subgroup sample sizes, please
contact Backblaze
.