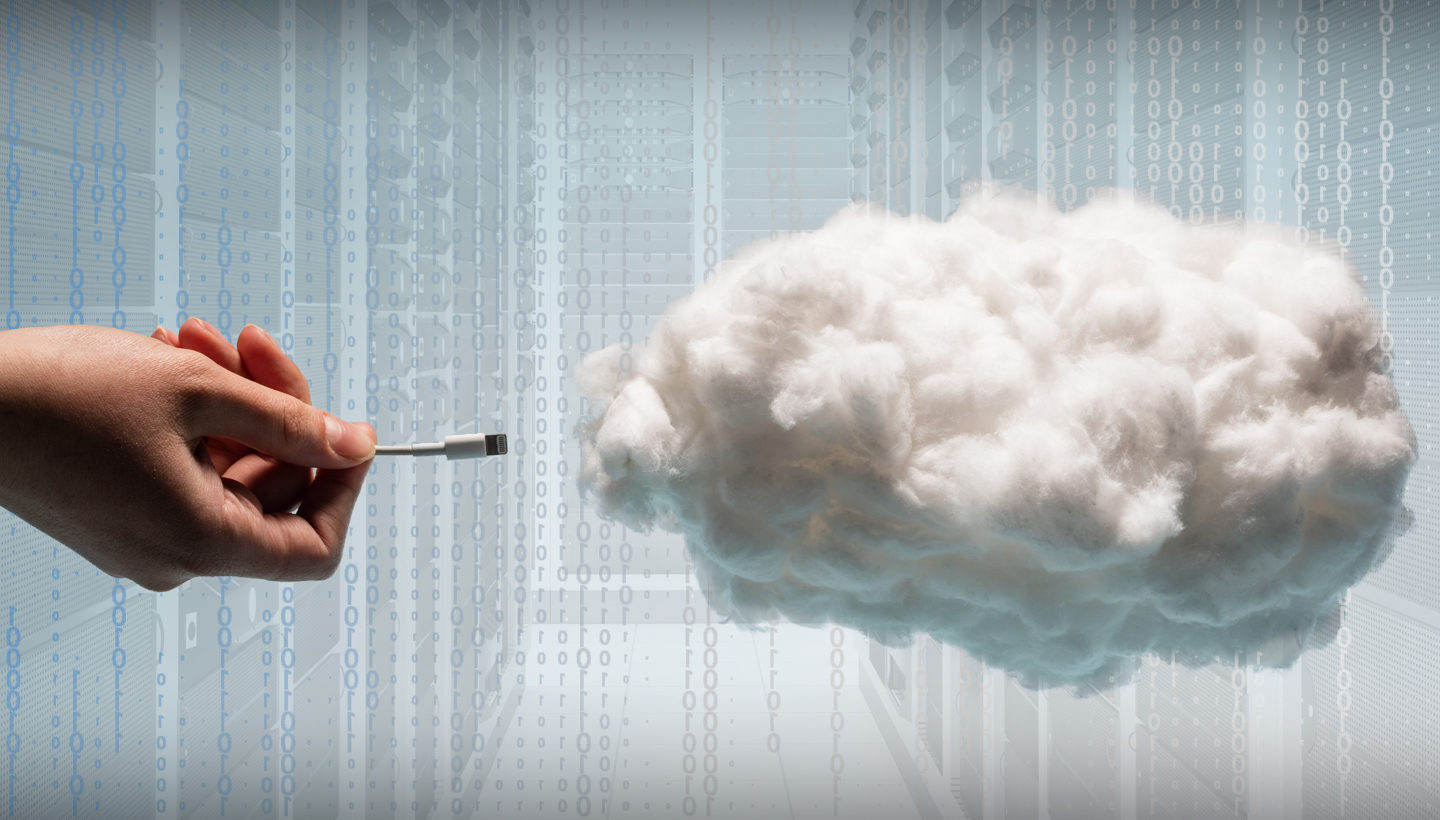 Which cloud is best for backing up?
This is one of the most common questions we get asked at Backblaze, and we've addressed it many times on this blog, on our website, and at trade shows and conferences.
There are many uses for the cloud, and many services that provide storage drives, sync, backup, and sharing. It's hard for computer users to know which service is best for which use.
Every spring for the past twelve years we've commissioned an online survey conducted by The Harris Poll to help us understand if and how computer users are backing up. We've asked the same question, "How often do you backup all the data on your computer?" every year. We just published the results of the latest poll, which showed that more surveyed computer owners are backing up in 2019 than when we conducted our first poll in 2008. We're heartened that more people are protecting their valuable files, photos, financial records, and personal documents.
This year we decided to ask a second question that would help us understand how the cloud compares to other backup destinations, such as external drives and NAS, and which cloud services are being used for backing up.
This was the question we asked:
What is the primary method you use to backup all of the data on your computer?
1 Cloud backup (e.g., Backblaze, Carbonite, iDrive)
2 Cloud drive (e.g., Google Drive, Microsoft OneDrive)
3 Cloud sync (e.g., Dropbox, iCloud)
4 External hard drive (e.g., Time Machine, Windows Backup and Restore)
5 Network Attached Storage (NAS) (e.g., QNAP, Synology)
6 Other
7 Not sure
Where Computer Users are Backing Up
More than half of those who have ever backed up all the data on their computer (58 percent) indicated that they are using the cloud as one of the primary methods to back up all of the data on their computer. Nearly two in five (38 percent) use an external hard drive, and just 5 percent use network attached storage (NAS). (The total is greater than 100 percent because respondents were able to select multiple destinations.)
Backup Destinations
(Among Those Who Have Ever Backed Up All Data on Their Computer)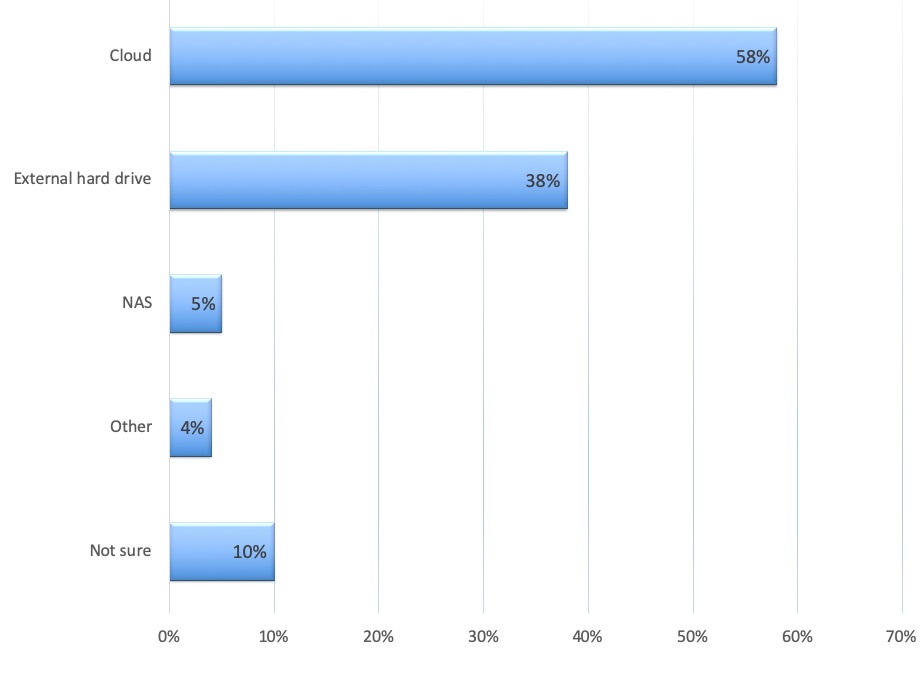 What Type of Cloud is Being Used?
The survey results tell us that the cloud has become a popular destination for backing up data.
Among those who have ever backed up all data on their computer, the following indicated what type of cloud service they used:
38 percent are using cloud drive (such as Google Drive or Microsoft OneDrive)
21 percent are using cloud sync (such as Dropbox or Apple iCloud)
11 percent are using cloud backup (such as Backblaze Computer Backup)
Cloud Destinations
(Among Those Who Have Ever Backed Up All Data on Their Computer)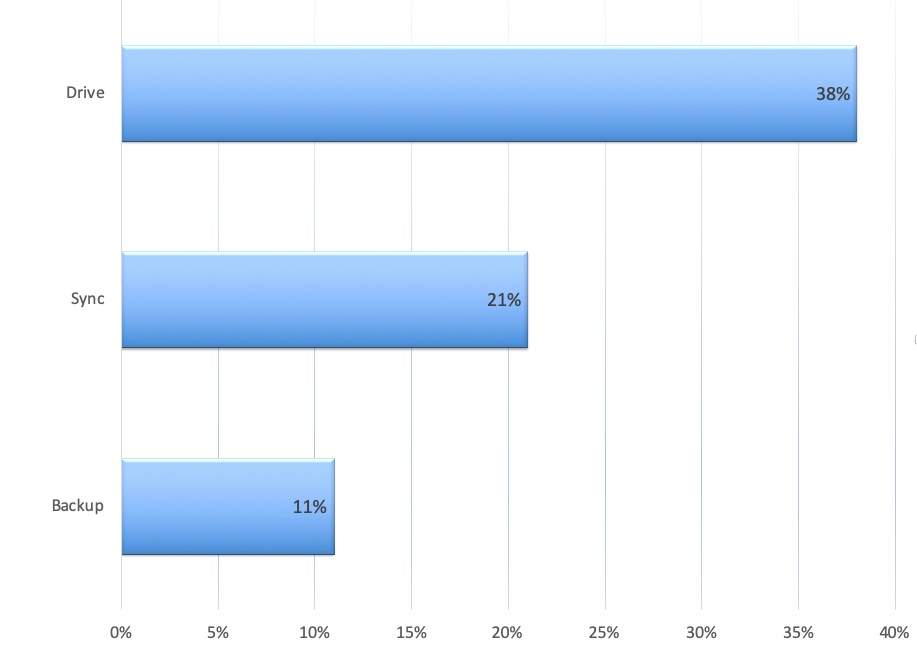 Choosing the Best Cloud for Backups
Backblaze customers or regular readers of this blog will immediately recognize the issue in these responses. There's a big difference in what type of cloud service you select for cloud backup. Both cloud drive and cloud sync services can store data in the cloud, but they're not the same as having a real backup. We've written about these differences in our blog post, What's the Diff: Sync vs Backup vs Storage, and in our guide, Online Storage vs. Online Backup.
Put simply, those who use cloud drive or cloud sync are missing the benefits of real cloud backup. These benefits can include automatic backup of all data on your computer, not being limited to just special folders or directories that can be backed up, going back to earlier versions of files, and not having files lost when syncing, such as when a shared folder gets deleted by someone else.
Cloud backup is specifically designed to protect your files, while the purpose of cloud drives and sync is to make it easy to access your files from different computers and share them when desired. While there is overlap in what these services offer and how they can be used, obtaining the best results requires selecting the right cloud service for your needs. If your goal is to back up your files, you want the service to seamlessly protect your files and make sure they're available when and if you need to restore them due to data loss on your computer.
As users have more time and experience with their selected cloud service(s), it will be interesting in future polls to discover how happy they are with the various services and how well their needs are being met. We plan to cover this topic in our future polls.
•  •  •
Survey Method
This survey was conducted online within the United States by The Harris Poll on behalf of Backblaze from June 6-10, 2019 among 2,010 U.S. adults ages 18 and older, among whom 1,858 own a computer and 1,484 have ever backed up all data on their computer. This online survey is not based on a probability sample and therefore no estimate of theoretical sampling error can be calculated. For complete survey methodology, including weighting variables and subgroup sample sizes, please contact
Backblaze
.