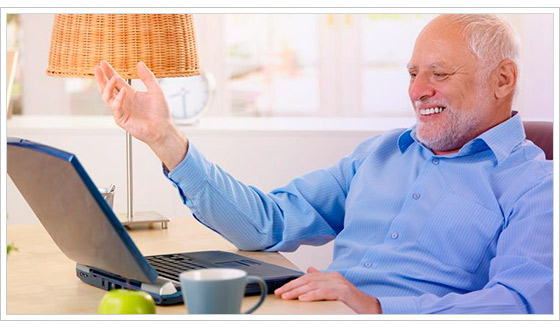 June is Backup Awareness Month and the results from our annual Backup Awareness Survey are in. Say what you want about your supposedly technically challenged grandparents, but they backup their computers. It's not even close. Grandpa in particular is a backup fiend when compared to the 18-44 year old crowd. He's more than twice as likely to backup his computer at least once a day. Grandma is no backup slouch either, as she is 80% more likely to backup her computer each day versus the 18-44 year old survey respondents. Let's face it; the older generation is kicking your collective youthful butts when it comes to regularly backing up computer data.
This is the 7th year Backblaze has commissioned Harris Interactive to conduct our annual Backup Awareness Survey. Each year 2,000 or so random computer users are asked how often they backup all the data on their computer. The results are tabulated across a multitude of demographic dimensions and then we get the data to review. For 2014, the breakdown of how often people backup their data is below: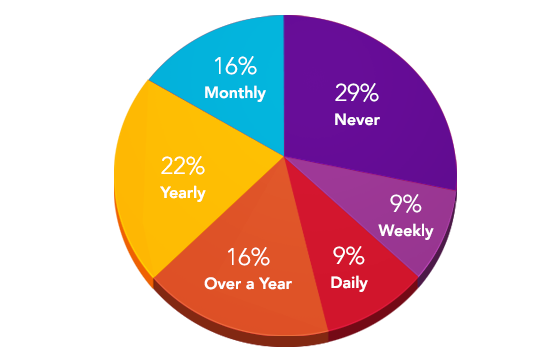 Question: How often do you backup all the data on your computer?
Over the years we've focused on how many people report that they are backing up their computers each day or more often. Typically this would be someone with an automated backup solution such as Backblaze, Time Machine or a similar product. In the 2014 survey that figure is 9%. This is about the same as last year (within the margin of error for the survey) as seen in the table below:
| | | | | | | | |
| --- | --- | --- | --- | --- | --- | --- | --- |
| | 2014 | 2013 | 2012 | 2011 | 2010 | 2009 | 2008 |
| Daily or more | 9% | 10% | 10% | 6% | 8% | 6% | 6% |
| Weekly or more | 18% | 19% | 20% | 14% | 16% | 14% | 12% |
| Monthly or more | 33% | 36% | 36% | 27% | 30% | 27% | 26% |
On the other hand, 14% of senior males over 55 reported that they backup daily or more often. This compares to the almost anemic 7% rate for males 18 to 44 for the same reported backup schedule — daily or more often. Young women are even worse when compared to senior women, as 18-44 year old females backup daily or more often at a rate of 5% as compared to 11% for their 55 and older counterparts.
I can almost hear the excuses being formulated in your head as to why Grandma and Grandpa are better than you at backup, let's see if we can address some of your questions…
You: Grandma and Grandpa have plenty of time so they can backup everyday.
Good online backup and local backup solutions work automatically and continuously. Grandpa does not have to remember to press the Backup Now button every day at 5:00pm to backup his computer.
You: Setting up a backup solution is a pain.
Backblaze takes three steps and 5 minutes to install and get running. Many other daily backup solutions are similar, taking only a few minutes to set up. Pause your King of Thrones binge watching for 5 minutes and give your Grandpa a call, he can walk you through it.
You: Young people don't own computers they only have phones and tablets.
The survey specifically gathered data from people who owned a computer. There were 798 people from 18-44 and 838 people 55 and older.
You: If my computer fails, my data is online somewhere.
The average data restore from Backblaze for a given customer contains over 30,000 files and includes, photos, videos, music, documents, spreadsheets, email, source code, and many other different types of data. So, yes, your files may be online somewhere, let's hope you don't actually have to try to find all of them.
You: I don't have time to drag files and folders to my backup.
Then don't. The better online backup and remote backup solutions are built to discover all the data on your system and back it up automatically. This includes files like MS Office temp files and application data located in non-standard folders and directories. You shouldn't have to spend your time trying to manually locate and select files so your backup solution will work right.
You: Who are these survey respondents anyway?
The survey is an online survey conducted by Harris Interactive during the period of June 2-4, 2014. All the data cited was based on the 1987 respondents (weighted base) who said they owned a computer and answered the question; "How often do you backup all of the data on your computer?"
You: I'm already a Backblaze customer so why does this matter to me?
First, thanks for being customer. Second, 54% of the people who become Backblaze customers have either personally lost or know someone who has lost computer data. Yes, 54%. We'd like it to be 0% so tell your friends and family to backup. Better yet, use our new refer-a-friend program to get them started.
You: Anything else interesting in the survey?
Here are a couple of additional observations from the survey:
1) Income is related to how often you backup your computer. In the survey, the percentage of people who have backed up their computer at least once is:

62% for people who make less than 50K per year
71% is the average for everyone
83% for people who make more than 100K per year

2) Education level is related to how often you backup your computer. In the survey, the percentage of people who have backed up their computer at least once is:

63% for High School Education or less
71% is the average for everyone
79% for a College Graduate
We could probably think of a hundred other reasons as to why Grandma and Grandpa do a better job at regularly backing up their data. It really doesn't matter though, the simple fact is only 9% of all computer users do it. This means 91% are leaving to chance the continued existence of their digital photos, videos, documents, spreadsheets and more. Grandpa doesn't like those odds, that's why he backs up.