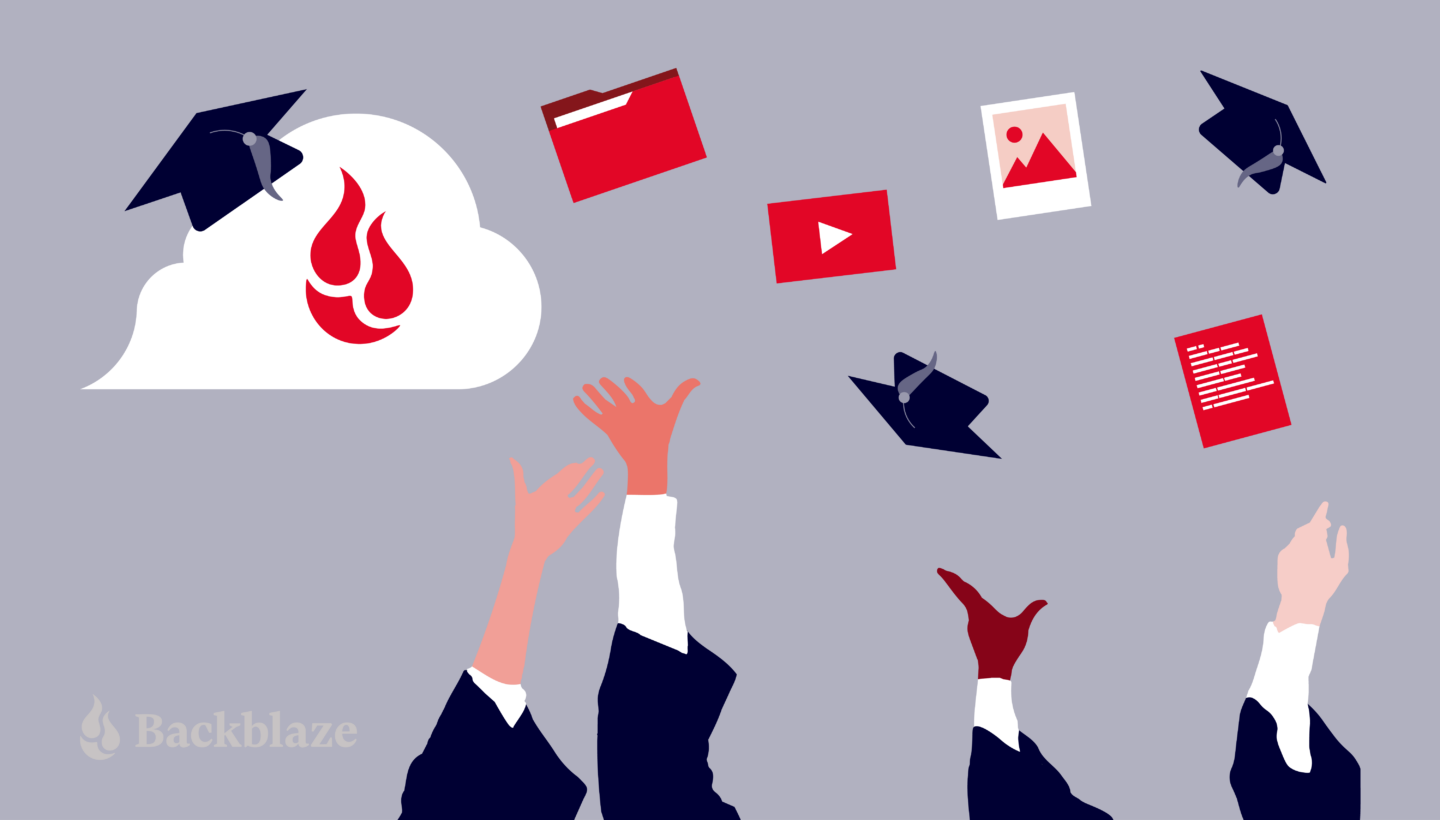 When the COVID-19 pandemic pushed classrooms into virtual spaces, cloud adoption in higher education institutions accelerated. In fact, the global market for cloud computing in higher education is expected to reach $8.7 billion by 2027, up from $2.1 million in 2020.
Cloud storage is a powerful tool in higher education's modern toolbox, since it enables core IT functions like back up and archive that support many aspects of day-to-day operations, from delivering lessons and collecting coursework to the administrative lift of running an educational institution. In this article, we'll look at the benefits of cloud storage for higher education, study some popular use cases, and explore best practices and provisioning considerations.
The Benefits of Cloud Storage in Higher Education
Cloud storage solutions present a host of benefits for organizations in any industry. For higher education in particular, the most important benefits include cost effectiveness, accessibility, security, and scalability. Let's take a look:
Cost-effective storage: Higher education generates huge volumes of data each year, spanning students, educators, administrators, and other critical stakeholders. Keeping costs low without sacrificing usefulness is a key priority for these institutions, across both active data and archival data stores. Cloud storage helps higher education institutions use their storage budgets effectively by not paying to provision and maintain on-premises infrastructure they don't need. It can also help higher education institutions migrate away from linear tape-open (LTO) which can be costly to manage.
Data accessibility: Making data easily accessible is important for many aspects of higher education. From the funnel-filling efforts of university marketing teams to the on-the-ground impact of scientific researchers, the increasing quantities of data that higher education creates needs to be easy to access, use, and manage. Cloud storage makes data accessible from anywhere, and with hot cloud storage, there are no delays to access data like there can be with storage formats like cold cloud storage or LTO tape.
Enhanced security: Security is an increasingly pressing concern as the threat of ransomware grows, and higher education institutions have emerged as one of attackers' favorite targets—64% of higher education institutions were hit with ransomware in 2021, averaging a cost of $1.5 million per incident. Data backups are a core part of any organization's security posture, and that includes keeping those backups protected and secure in the cloud. Using cloud storage to store backups strengthens backup programs by keeping copies off-site and geographically distanced, which adheres to the 3-2-1 backup strategy (more on that later). Backup can also be made immutable using tools like Object Lock, meaning they can't be modified or deleted.
Improved scalability: The ability to scale along with changing needs is particularly appropriate for higher education today. As digital data continues to grow, it's important for those institutions to be able to scale up and down along with their usage needs. Cloud storage allows higher education institutions to avoid potentially over-provisioning infrastructure with the ability to scale up or down on demand.
How Higher Ed Institutions Can Use Cloud Storage Effectively
There are many ways higher education institutions can make effective use of cloud storage solutions. The most common use case is cloud storage for backup and archive systems. Transitioning from on-premises physical servers and archive solutions like tape to cloud-based solutions is a powerful way for higher education institutions to protect their most important data, both for real-time use and for posterity. To illustrate, here are some examples from real-life use cases:
Gladstone Institutes, a nonprofit that partners with UCSF, for example, moved from an outdated legacy tape system to reliable and affordable cloud-based backups in order to better support and protect their team of biomedical research scientists.
Running adjacent to the core learning component of higher education, university marketing and media teams also have their own data needs. Cloud storage is a key aspect of modern media management, and higher education institutions' media workflows need to keep pace with the best content networks out there. Keeping files active and accessible is crucial, so that creatives and managers alike can work with files without delays, downtime, or exorbitant data transfer and egress fees. For example, the University of California Santa Cruz—Silicon Valley (UCSC) needed to find an archive solution for UC-Scout, their online learning platform. They adopted a hybrid cloud solution with a media storage system and media asset manager (MAM) on-premises combined with Backblaze B2 as their storage backend.
Best Practices for Data Backup and Management in the Cloud
Higher education institutions (and anyone, really!) should follow basic best practices to get the most out of their cloud storage solutions. Here are a few key points to keep in mind when developing a data backup and management strategy for higher education:
Provisioning Cloud Storage for Universities: Some Considerations
Adopting cloud solutions can be challenging for higher education institutions and other organizations in the public sector. Complex procurement procedures and incompatible budget cycles can put cloud storage's subscription model at odds with standardized university systems. With that in mind, there are two main ways higher education institutions can purchase cloud storage solutions without reinventing the wheel.
The first method is to pay as you go for cloud storage services, which allows CIOs to reduce their CapEx costs and easily scale up or down seasonally, but typically does not satisfy established buying program requirements.
The second method is capacity-based pricing, which may be more in line with universities' existing procurement protocols. Backblaze B2 Reserve, for example, offers budget predictability and increased scalability compared to on-premises solutions, while also satisfying public sector procurement procedures.
Cloud Storage Is Critical for Higher Education Institutions
Institutions of higher education were already on the long road toward digital transformation before the pandemic hit, but 2020 forced any reluctant or hesitating parties to accept that the future was upon us. The combination of schools' increasing quantities of sensitive and protected data and the growing threat of ransomware in the higher education space reinforce the need for secure and robust cloud storage solutions.
Universities that leverage best practices like designing 3-2-1 backup strategies, conducting frequent and regular backups, and developing disaster recovery plans before they're needed will be well on their way toward becoming more modern, digital-first organizations. And with the right cloud storage solutions in place, they'll be able to move the needle with measurable business benefits like cost effectiveness, data accessibility, increased security, and scalability.
Cloud Storage Answer Key
Ready to implement a cloud storage solution that works with your institution's procurement procedures and budget cycle constraints? Get started with Backblaze today.
And learn more about our integrations that benefit higher education institutions, including: