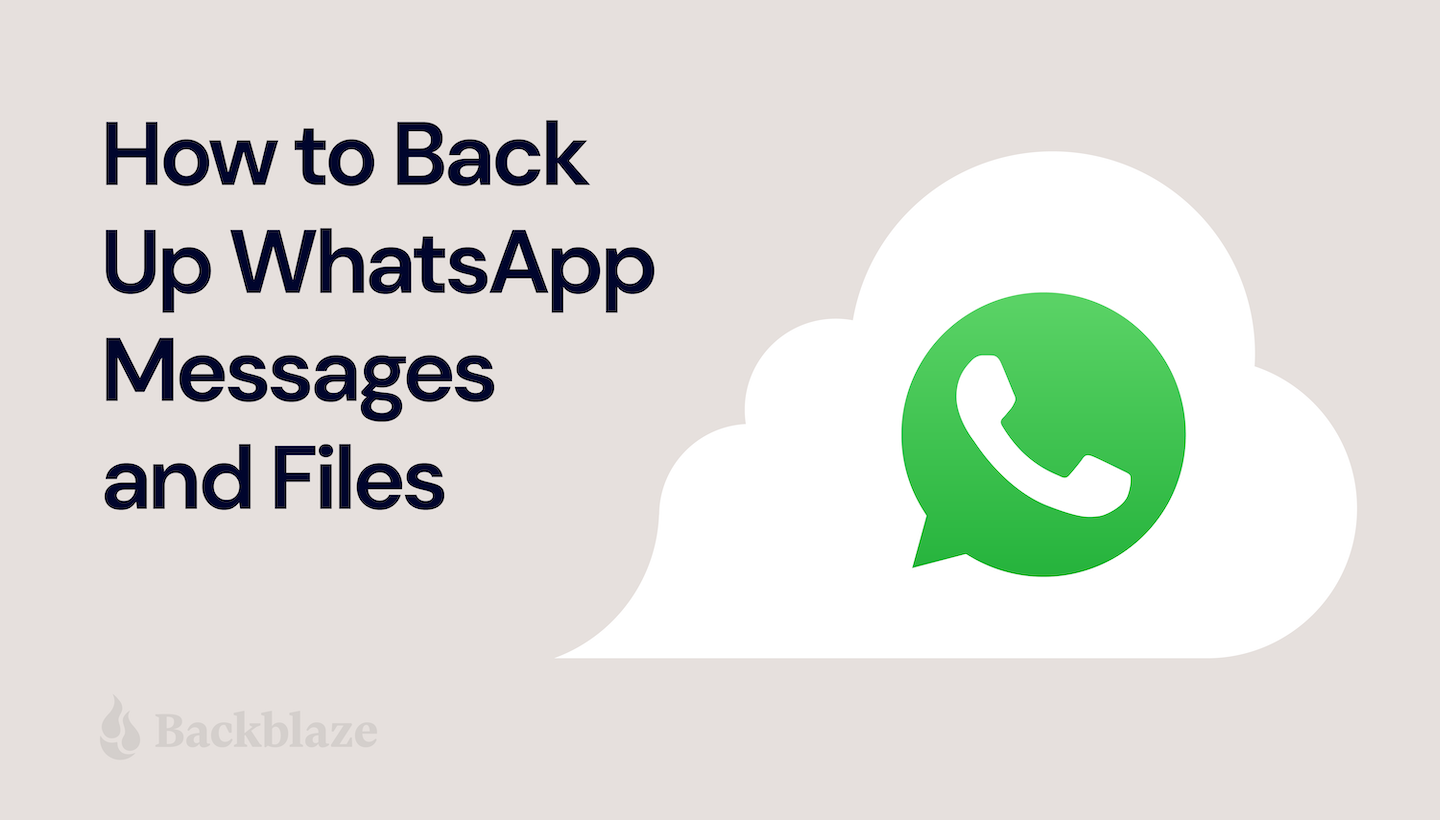 June is Backup Awareness Month and we're kicking it off with the next installment in our series of guides to help you protect social content across many different platforms. We're working on developing this list—please comment below if you'd like to see another platform covered.
Some of your most valuable digital assets are memories, scattered across the digital ether. For a lot of us, these mementoes of our meta life are tied up in one of Meta's most popular apps, WhatsApp. The last group chat you had with old college friends. An inspiring note from a loved one. A funny meme that proves your weird uncle does, in fact, have a sense of humor. They're all out there, drifting through the cloud.
These are treasured memories, and worth preserving, especially in the always uncertain world online. You might find yourself gravitating towards a new messaging app as the technology changes. You might get locked out of your account. It might even be that your country winds up banning the app. (So far, it's only happened in places like Cuba and Uganda, and while those were temporary, the app was "temporarily" blocked in China in 2017 and is still blocked. The point being, you never know which way the wind is going to blow).
So obviously, it's worth it to make sure you have some kind of backup for these treasured memories. Now it's just a matter of creating those backups, and finding somewhere (or, more accurately, several somewheres) to securely store them.
How to Create Backups of Your WhatsApp Data
Back Up Individual Messages and Group Chats
By default, WhatsApp automatically archives your chats every day onto your device, with the option to back them up to Google Drive. As you'll see, this is not quite sufficient if you really want to preserve those memories. To create a backup that you can preserve elsewhere, use the following steps:
Tap the three vertical dots within an individual message or group chat.
Tap More, and then Export Chat.
You can then choose whether to export with or without media, with the most recent media being added as attachments.
From here, you can choose how to share the attachments, which will consist of a .txt file as well as individual attachments for each piece of media in the chat.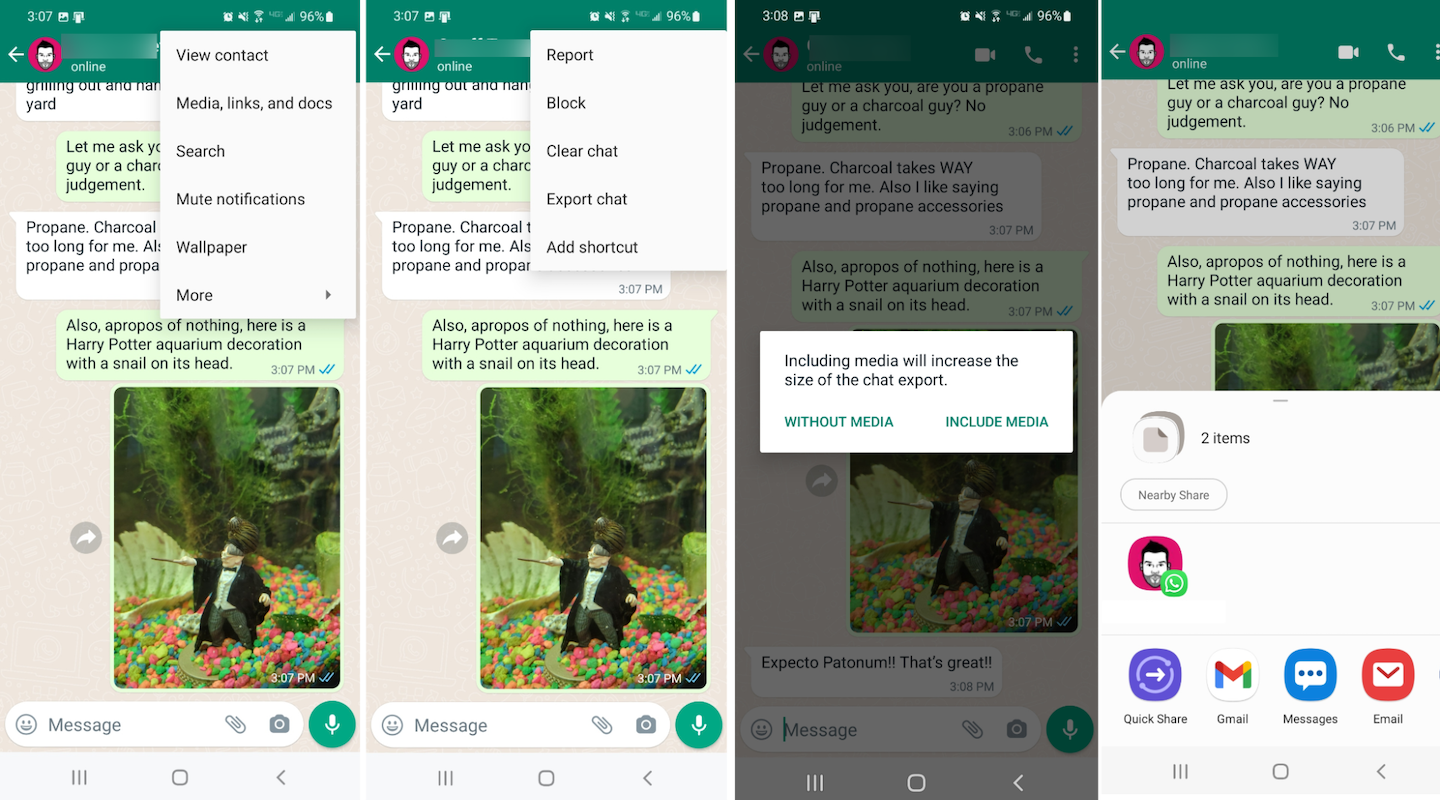 Choose Your Backup Destination
We suggest downloading your backup to your device at this point. This step creates a local backup on your phone. From here, you can either download the attachment onto your computer from that same email, or connect your phone and make a copy from local storage onto your desktop. This will create two copies, but we're just getting started.
Initiating Backup in 3…2…1…
As with anything you back up, the best strategy to employ is the classic 3-2-1 backup strategy. In essence, this is creating a trio of redundant copies, giving your backups their own backups in case anything should go wrong. Typically, you'll want two copies stored on two different local devices and a third in the cloud.
Is this a little bit of overkill? Absolutely, and we mean that in the best possible way. You'll thank us when a spilled cup of coffee doesn't wipe out some of your favorite WhatsApp chats.
Backup #1: Local Storage (i.e., PC)
If you've followed the directions so far, you'll now have a copy of your chats on your phone as well as on your desktop. This constitutes your first local copy.
Backup #2: Options
For your second local copy, you have a few options:
Flash drive: Your computer is prone to any number of breakdowns, outages, or viruses that a flash drive simply isn't, providing a safe, secondary, local place to store those all-important chats. As anyone who has ever accidentally sat on, stepped on, lost, or otherwise accidentally mutilated a flash drive can tell you, it's not the end-all-be-all solution. However, having this redundant safety measure could be the thing that saves you from losing your data forever.
External hard drive: An external hard drive is another good option to house a second copy of your data, and we know a little bit about them—we monitor 203,168 hard drives used to store data in our data centers. If you're new to using an external hard drive, check out this handy guide.
SSD: Like flash and hard drives, external SSDs are another form of external storage you can use to keep backup copies of your data. If you really want to get into the weeds on external storage, check out our guide on the difference between SSD vs. NVMe vs. M.2 drives.
Backup #3: Cloud Storage
We'll admit to being a bit biased here, but for true peace of mind that your backups will survive any number of disasters and mishaps, you have to incorporate cloud storage into your 3-2-1 solution. (If for no other reason than without it, you have a 2-1 situation which doesn't quite have the same ring to it. But believe us, there are plenty of other reasons, mainly so you don't lose your data when your computer suddenly dies or you drop your flash drive down the sewer.)
If you are one of the millions of extraordinarily clever people who use Backblaze Personal Backup, this might just be the easiest step in the process because it's all done automatically. Simply by having your WhatsApp backups on your computer, you'll rest easy knowing that the software is one step ahead of you, storing your chats and online memories safely in the cloud.
If space is limited locally, and you don't necessarily need the WhatsApp files on your own computer, Backblaze B2 Cloud Storage gives you plenty of space in the cloud to stash them until they're needed. Paired with local copies elsewhere, you could also use this method to achieve a 3-2-1 strategy without taking up a huge amount of space locally on your machine.
Bonus Pro Tips: Transferring Your WhatsApp Data to a New Phone
While it's all well and good to have your data securely tucked away using the 3-2-1 strategy, what happens when you get a new phone and want to have easy access through the app to all of your old chats? When that happens, you're going to be glad you squirreled it away, and thrilled that we've outlined step-by-step how to get your new phone up and running with all of your old memories intact.
How to Restore Your Backup to an Android Phone
Restoring your WhatsApp backup to an Android phone takes a few steps. In these steps, we will assume you have reinstalled WhatsApp on your new phone.
Install a file manager app on your Android phone.
Copy the backup file to your Android phone.
Open the file manager app.
Copy the backup file to WhatsApp > Databases.
Remember to restore the most recently created backup file to the device's Databases folder.
Restore your WhatsApp backup from local storage.
How to Restore Your Backup to an iPhone
The restore process for WhatsApp on an iPhone is similar. We will assume you do not have WhatsApp installed with the Android steps.
Connect your iPhone to your computer.
Open iTunes.
Back up your iPhone using iTunes. This step will create a WhatsApp backup (along with your other phone data) to your computer.
Back up your iTunes backup to the cloud. Backing up your iTunes data to a cloud storage service is advisable because your PC's local storage might fail. For detailed guidance, see our post: "A Quick Guide to iCloud and iTunes Backups for Your iPhone and iPad."
Restore data to your iPhone using iTunes. Restoring your WhatsApp data to your iPhone is simple. Connect your iPhone to the computer where you ran the backup. Open iTunes and use the "restore a backup" feature.
Keep Your WhatsApp Archive Safe
When it comes to your digital assets, backups matter. Even the most mundane conversations you engage in on WhatsApp now might end up being a treasured memory of old friends later on. Preserving them is important, and if you've followed these steps and backed up your memories to your computer and to the cloud, you'll have those memories available at a moment's notice wherever you are.