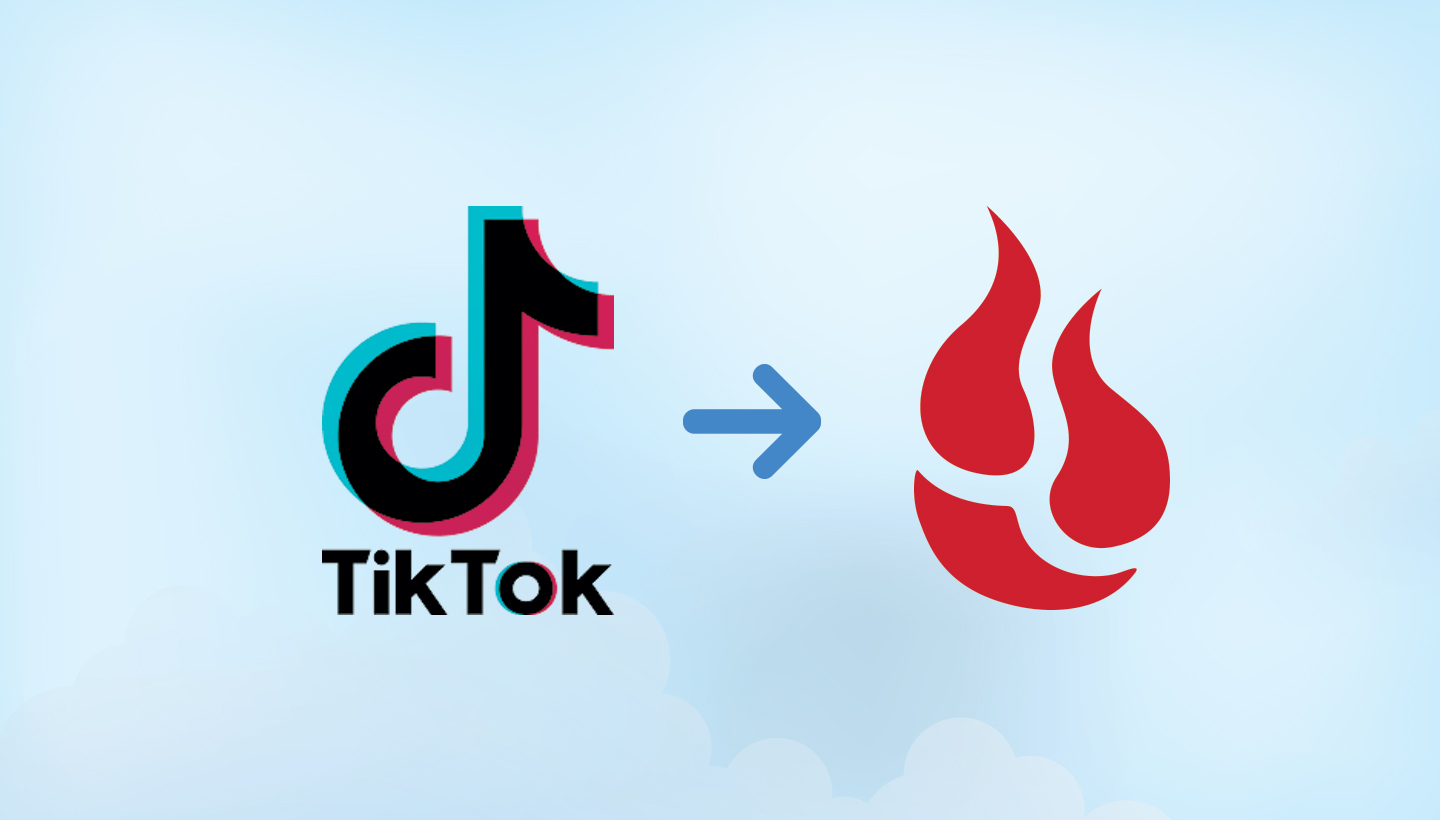 This post was originally published in September 2020 and has been updated to align with recent news about the TikTok app and how to download content.
Back in 2020, there was speculation about the U.S. banning TikTok due to privacy concerns about its parent company, ByteDance. Although the app has not been banned to this day, social media is one place where things you want to hold on to can suddenly disappear or become inaccessible for reasons beyond your control.
We've gathered a handful of guides to help you protect social content across many different platforms. We're working on developing this list—please comment below if you'd like to see another platform covered.
We don't know if there will ever be a TikTok ban in the future, but at Backblaze, we are all about being proactive and saving precious memories. And in the more common case of accidentally getting locked out of your account or if an update wreaks havoc on your apps and their data, having your videos and your favorite creators' videos downloaded and backed up will save you the stress of losing your data.
Today, we're focusing on saving the 15 to 60 second clips you know and love on TikTok. In this post, we walk you through how to download your own TikTok videos and your other favorite content and create a backup.
How to Download Your Personal TikTok Data
You can request a copy of your TikTok data and download information like your profile (username, profile photo, profile description, and contact info), your activity (videos, comment history, chat history, purchase history, likes, and favorites), and your app settings (privacy settings, notification settings, and language settings). The steps to download your TikTok data are the same for both iPhones and Androids.
Keep in mind that your TikToks are not automatically downloaded once you receive a copy of your data—you will have to open the data file and download each video manually. We'll explain that in detail in step 13.
1. Open TikTok on your phone and go to your profile.

2. Click on the three dots that appear at the top right corner.

3. Under "Account," select "Privacy."

4. Click on "Personalization and data" → "Download your data."
5. In "Download your data" you will see more information about what you can download. Scroll to the bottom and click "Request data file."

6. In the second tab titled "Download data," you will see that your request is pending.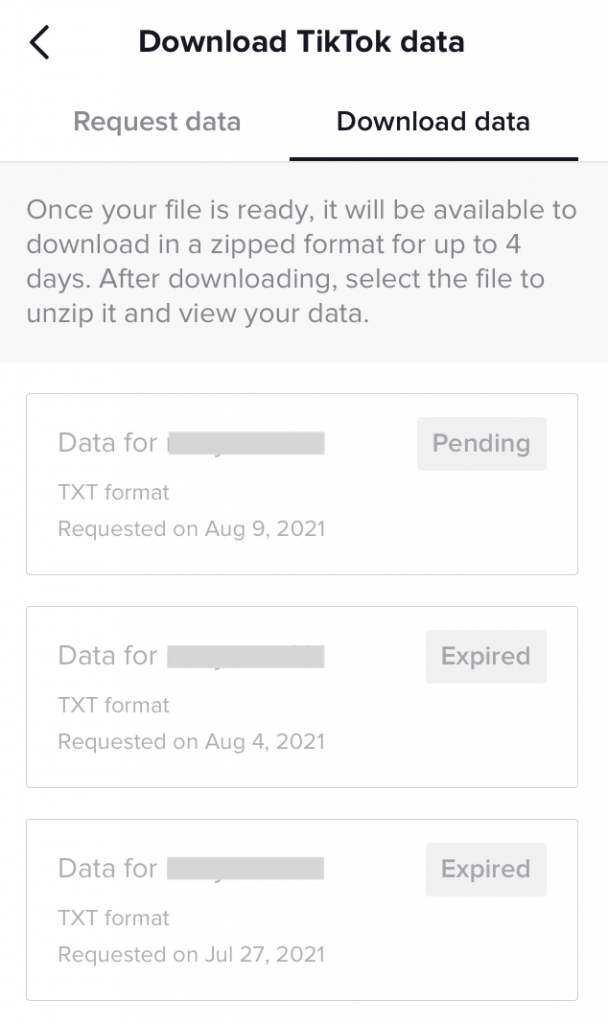 7. Once your data is ready for download, you will receive a message in your TikTok inbox that says "System Notifications: The file you've requested containing your Tiktok information is now ready for you to download." Tap that message and select "Download."

Note:

The file will be available to download for up to four days. If you don't download the file within that time frame, it will expire and you will have to request your file again.

8. Once you click download, you will be redirected to a login page on your mobile browser. After you log in and verify your password, you'll receive a popup message to download the ZIP file.

9. Click "Download" and then you'll notice the file getting downloaded at the top right corner. You'll be redirected back to the login page.

10. Once the file has been downloaded, click on the button with the down arrow at the top right corner.

11. Choose the ZIP file you want to download. This file will open in your "Files" app.

12. Here, you can find all your activity, comments, direct messages, profile, videos, and more.

13. Warning: You are not done yet! The file you've received has information about your TikToks like the date you published them, the video link, and the number of likes you got. But it doesn't include the actual video itself. To archive the video, you need to copy and paste the video link into your web browser, then download the TikTok to your device. Yes, it will take some time to download all your videos, but if they're worth it, they're worth the time!

Keep in mind that these are the steps to download the TikToks that you have personally created and uploaded to your account. If you'd like to save TikToks made by other people, keep reading.

How to Download TikToks by Other Creators

The process of downloading other peoples' TikToks is a little more manual, but unlike requesting your TikTok data like above, there's no waiting time. Here's what you've got to do:

1. Open TikTok on your phone and go to the video you want to save.

2. On the right side of the video, click on the arrow which indicates the "Send to" button.

3. Under "Share to," click "Save video."

4. That's it—the video is now saved to your phone!

Note: Some people may have set their videos to be non-downloadable. They probably have a good reason for that! It should go without saying, if you're downloading other people's content, don't use it for any purposes they might not offer consent for.

You can also use this TikTok Scraper & Downloader for a faster way to download all of your data or other users' videos that you want to save in bulk. While it's a more technical option, all of the documentation for how to install and use the Scraper is available on GitHub.

How to Back Up Your TikToks

Once you've got all your TikTok data on your phone, it's time to back it up. Those of you with iCloud may think you're in the clear. Unfortunately, iCloud is not a backup service; it simply syncs your data with your other Apple devices. This means that if your Mac and iPhone are synced and you lose the saved TikToks on your iPhone, you will lose them on your Mac too. You can read more about using iCloud here.

Since iCloud shouldn't be used as a backup service, we recommend you use a computer backup or cloud storage service instead. To do this, you first need to transfer your TikToks from your phone to your computer. And then, it's time to back it up!

Lucky for you, we already have a detailed blog post about backing up your social media content. The post covers the difference between computer backup vs. cloud storage and how you can use Backblaze B2 Cloud Storage to archive your social media data. With Backblaze, you can store as much data as you'd like with no limitations. So whether you're an avid TikToker with thousands of videos or just getting started on the social media platform, we've got you covered.