Backing up your computer is important, and so is backing up your mobile devices. A single drop to your iPhone or your iPad, a spill or a moment of carelessness can destroy the device forever, but if your data is backed up, you won't lose any of your precious info. It's also a really good idea to back up your device before you upgrade it to the latest version of iOS.
If you're using iCloud Backup or iTunes to back up your iPhone, iPad, or iPod Touch, you might want to read this to understand how those backups work, and what else you can do to protect your data.
How Does iCloud Backup Work?
Apple's tried to make backup less of a chore with iCloud Backup. iCloud Backup, a feature of iOS, lets your iPhone, iPad, or iPod touch back up its contents to the cloud.
iCloud Backup happens automatically when your device is getting power, locked, and is connected to Wi-Fi. Once you've configured your device for iCloud Backup, you should just be able to rely on the backups to happen periodically when you're charging.
How to Use iCloud Backup on Your iPhone, iPad, or iPod Touch
Tap

Settings

.
Tap

iCloud

.
Tap

Backup

.
Make sure

iCloud Backup

is turned on.
You can get a backup started right away by tapping on

Back Up Now

.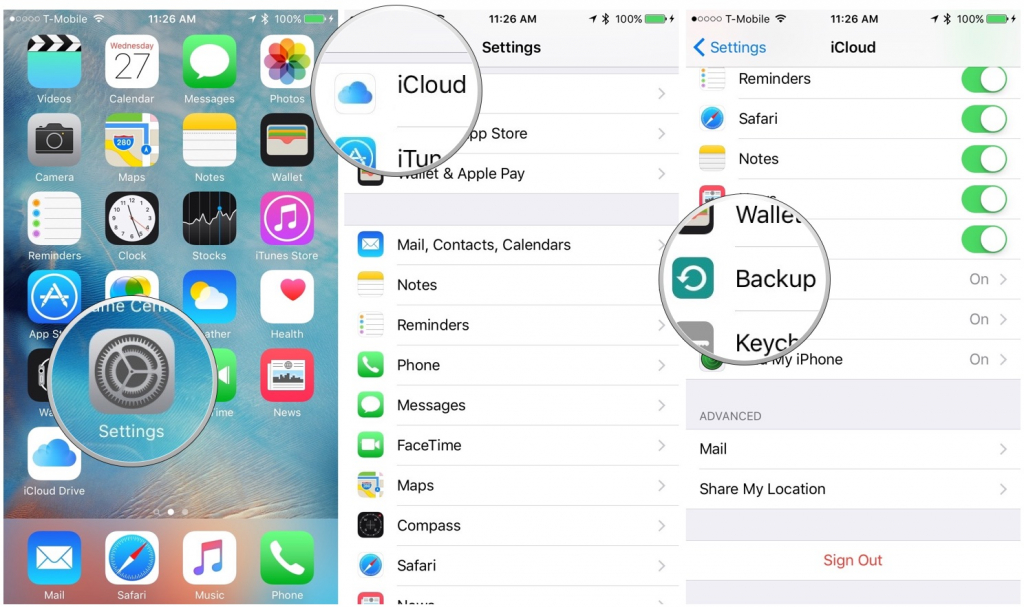 Just make sure to stay on your Wi-Fi network until the backup is done. Here's how to check your backup's progress:
Tap

Settings

.
Tap

iCloud

.
Tap

Storage

.
Tap

Manage Storage

.
Select your device. iOS will show you details about when it was last backed up, and the backup file size.
If you're looking for the most frictionless way to back up your devices, this is it.
The nice thing about iCloud Backup is that you set it and forget it.
iCloud Backup lets you restore your device from almost anywhere. It also makes upgrading a breeze. When you set up a new iOS device, for example, the system will ask you if you want to restore from an iCloud backup.
I did this the last time I bought an iPhone, and by the time I walked out of the store, my new iPhone was already populated with the same data (and had downloaded the same apps) as my old phone.
There is a downside to iCloud Backup that you need to be aware of. It's very dependent on a specific set of actions to work:
Your device needs to be connected to a power supply.
Your device needs a Wi-Fi connection (and needs to be connected to the internet).
Your device needs to be locked.
You have enough space in iCloud to store the backup.
This last item is the killer. Apple only gives you 5GB of free space with the basic iCloud account. iPhone and iPads can have up to 256GB of storage. If you have a lot of stuff on your iOS device or in the cloud, it's trivially easy to exceed your free 5GB iCloud allowance. Which means your backups won't happen unless you pay Apple for additional iCloud space.
If you have both an iPhone and an iPad? Forget about it. You have to pay Apple or you won't have enough space to back up both. iCloud storage ranges from 99 cents per month for 50GB to $19.99 a month for 2TB.
There's another caveat, too. iCloud Backup doesn't back up everything on your phone. Things that aren't backed up include:
Data that's already in iCloud: Contacts, calendar appointments, notes, your Photo Stream, and iCloud Photo Library, for example.
Data stored on other cloud services. Gmail, for example, or Microsoft Exchange mail.
Your Apple Pay info, and your Touch ID info (if your device is so equipped).
Imported media files, like e-books, music and videos you've acquired from services besides Apple's own iTunes, e.g. Amazon.
Any App Store or iTunes in the Cloud content (that stuff is still available for re-download in your Purchased Content tab, it's just an inconvenience to reload).
Most of this makes a lot of sense. Since data is already synced in iCloud and other cloud services, there's no need to duplicate it in the backup. And as a matter of security, Apple Pay and Touch ID info shouldn't be kept in a backup either—that info remains the sole domain of specialized hardware on compatible iOS devices called Secure Enclave.
As long as you understand the limits of iCloud Backup, it's an enormously helpful tool that makes backup, recovery, and upgrading a lot easier.
There's an alternative that doesn't require you to buy any more space in the cloud and isn't dependent on a network connection, either: Backing up locally. To do that, you can use iTunes.
How Does iTunes Backup Work?
With iTunes, data on your iPhone or iPad is backed up on your computer—so to be clear, you're going to need a Mac or Windows PC in order to do this. The good news is that you don't need an internet connection, don't have to pay for iCloud space, or any other shenanigans. All you'll need is enough hard drive space to accommodate the backup.
iTunes is a free download from Apple and comes with OS X.
Initially, to do this, you'll have to physically connect your iPhone or iPad to your Mac or PC using its USB sync cable. You can configure iTunes to allow backups over Wi-Fi, however, which will save you that step in the future.
How to Use iTunes Backup
Connect your iOS device to your Mac or PC using the included sync cable.
Double-click

iTunes

.
You should see an icon for your device appear in the menu bar on the upper left side of the iTunes window. Click on it.
Click

Back Up Now

to begin backing up your iOS device to your computer. If you want to include account passwords, Health and HomeKit data, you'll need to make sure the checkbox entitled

Encrypt iPhone backup

is also checked.
Once the backup is complete, iTunes will show you the backup's date and time where it says

Latest Backups

.
As with iCloud backup, there are a few limitations you should be aware of with iTunes backup. Some information isn't backed up, by design:
Content from iTunes and App Stores, or PDF files downloaded to iBooks.
Imported music synced from iTunes on the computer, videos, books, and photos.
Photos already stored in the cloud via iCloud Photo Library and My Photo Stream.
Touch ID and Apple Pay settings.
Activity, Health, and Keychain data (passwords), unless you use Encrypted Backups (see above).
Again, most of these limitations make sense—you can re-sync the content you need and some stuff needs to be excluded as a matter of security.
Once you're done, iTunes maintains a copy of that backup, which you can restore if you ever need to.
The added benefit from syncing your iPhone or iPad to your Mac or PC using iTunes is that when you back up that Mac or PC, you will also back up the contents from your iPhone or iPad.
What About iOS Backup Apps?
Instead of using iCloud or iTunes, you can use "backup" apps to back up the data on your iOS device. These types of apps can be helpful, but are usually limited to backing up your photos and your contact list. Other information, such as application data, game data, texts, voicemails, etc., is not typically backed up by these non-Apple apps. The most comprehensive way to back up and restore the data on your iPhone is to use either iCloud, or iTunes, or both.
3-2-1 Backup
Ideally, you should use both iCloud backups and periodic computer backups to make sure you have at least two ways to restore your iPhone or your iPad if you need to. And if you're a Backblaze user, all the better. Backblaze backs up the contents of the system directory where your iTunes backups are kept, so if you're using iTunes and Backblaze, you can be sure your iPhone data is safe.
Here's the bottom line when it comes to your mobile device's data: You don't want to take any chances. Make sure to have at least two backups: One local, through iTunes, and one in the cloud—either with iCloud Backup or using Backblaze.
The combination of iCloud backups, iTunes backups, and Backblaze provides you with a foolproof way to keep your mobile data safe and sound. For more on how to keep your data safe, read about the 3-2-1 Backup Strategy, which we think is the best way to make sure your data is safe.
Hopefully this has helped demystify what iCloud Backup and iTunes are doing to keep your mobile data safe, and what else you can do to make sure you're protected. Still confused? Have a question? Or do you use a different strategy that you'd like to share? Let us know in the comments.