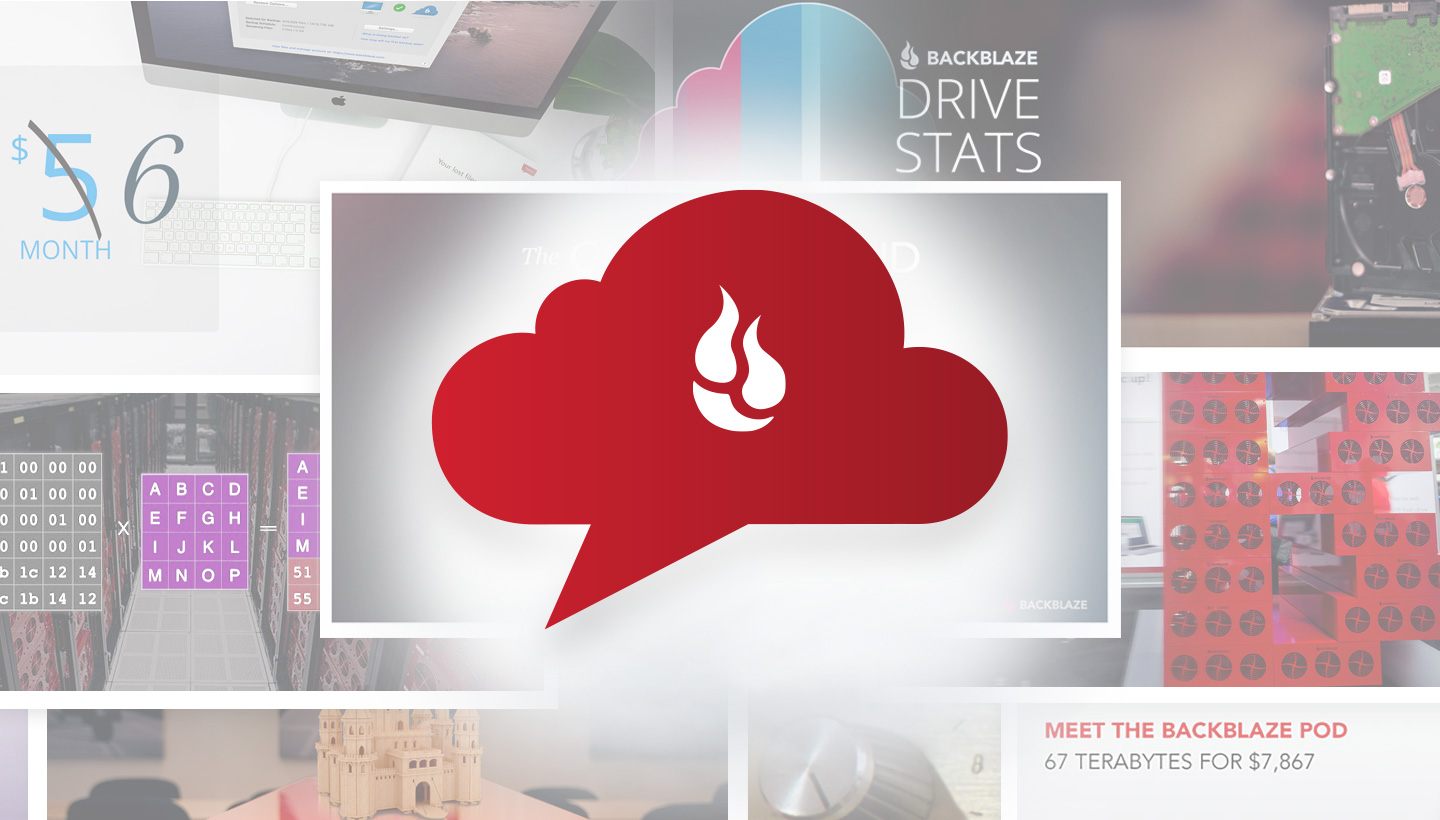 One of the most important questions for a company that's scaling quickly is: how do you scale your culture? After the founders, initial hires are easy, but once you're into triple digits (Backblaze just reached 145), it can be difficult to figure out how to build a community with a shared understanding of your business's evolution.
One way that we tackle this challenge is by assigning required blog reading to many of our new hires. Along with their different logins, personnel forms, and other onboarding information, new members of the Backblaze family receive a collection of blog posts to read so they can get up to speed on the company.
As the new publishing associate, my orientation also featured a lot of reading, and I realized it would be helpful to share my onboarding assignment. After all, there are a lot of new readers coming to the blog these days, and I expect that they might be curious as to what makes Backblaze tick.
So go ahead and read through some, or all of these 10 blog posts, and you'll receive the same education as every new hire at Backblaze does about what makes our company special.
The Backblaze Story in Blog Posts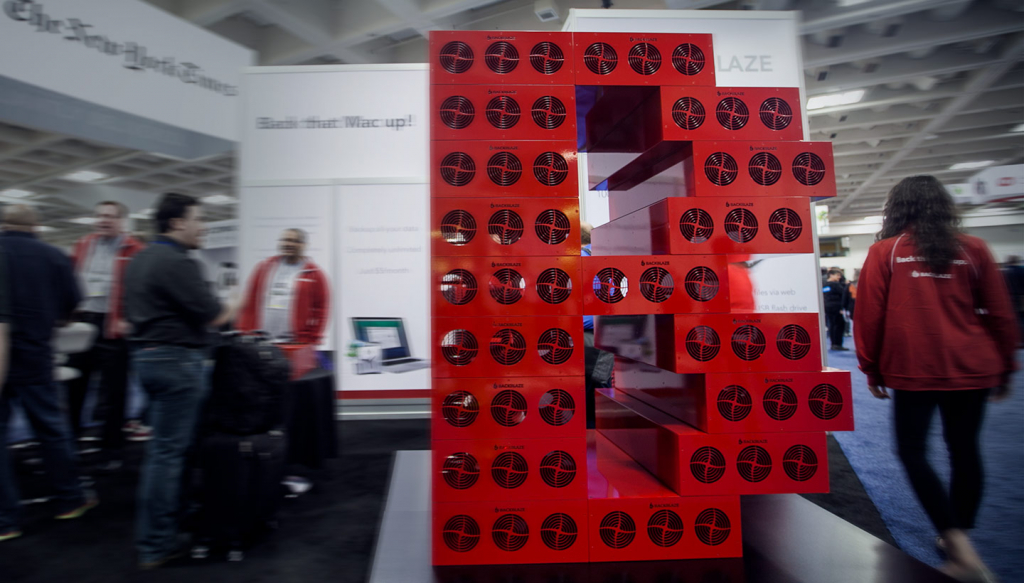 Transparency is one of our most cherished values—if not the most important value of our business. So we ask anyone new to Backblaze to read this post to learn first-hand from our CEO and Co-founder, Gleb Budman, about our guiding philosophy for choosing to publish our designs, statistics, and calculations.

There are always going to be positives and negatives to sharing the inner workings of our business, but for us, building credibility, trust, and awareness has only made our team more excited about transparency. And even though this approach is especially uncommon in the world of cloud storage, we plan to keep open-sourcing our designs and stats because we need the feedback on our products and services to ensure that we continually improve.

This is the second post we typically assign. Where "The Decision on Transparency" is about our values, this post is one of the best examples of our values in action.

When we were first starting out, we couldn't afford the cost of existing cloud storage solutions at our price point, so we had to build our own multi-petabyte storage system that kept costs low. And yet, many people couldn't believe that it was possible to provide unlimited data storage for only $5 a month. The only way we could prove our technology worked was to share it with the world. So we did. The results were incredible, but we won't spoil the surprise.

Another Backblaze value is to be "cleverly unconventional." And our experience during the Thailand drive shortage is a master class in unconventional thinking and doing.

A 2011 flood in Thailand, where the factories that helped produce nearly half of the world's hard drives were located at the time, threatened the global supply chain and cut off Backblaze from affordable drive prices. In order to keep the data centers scaling at the right pace, the team came up with a plan to buy up every hard drive they could get their hands on and shuck the external cases to get to the internal drives. Thanks to the help they received from friends, family, and customers, they managed to pull it off. The rest is blog history.

To solve problems and grow as a company, we've learned to think creatively to access big picture solutions. And, as we move forward, we're always thinking about how we can continue to implement our value of transparency. This post is one in a series that we share with new hires who are particularly interested in how we've weathered the storm of some universal startup issues. As someone who has been with Backblaze since the beginning, Gleb Budman breaks down a range of common roadblocks and gives his insight to other entrepreneurs looking for advice in this series of nine blog posts.

Curious about how Backblaze makes everything actually work? I was too! When it comes to our commitment to open-sourcing, we didn't stop at publishing our Storage Pod design; six years later, we also released Backblaze Reed-Solomon, a Java library for erasure coding. This post is essential onboarding for our staff because, until you understand our approach to Reed-Solomon, you can't understand how our service works. It's not uncommon for managers to "test" new hires on their understanding of this post, which typically leads to some entertaining whiteboard sessions.

We like to share this post with new hires so they know exactly how our Storage Pod hardware and software architecture come together in the data centers. In this post, we published the final piece of the puzzle of our software architecture: the Backblaze Vaults. If you can understand "Petabytes on A Budget," the Reed-Solomon post, and "Backblaze Vaults," well, you might as well send in a resume because you're ready for your interview at Backblaze!

In 2017, we celebrated the one year anniversary of the launch of Backblaze B2 Cloud Storage, but the most common questions we were still receiving was: "How can you afford to offer such reliable cloud storage at such a low price?" So we decided to craft a post about the underlying costs of running our cloud infrastructure, how our storage system keeps our costs low, and what we do to ensure we have sufficient financial and data storage buffer for unpredictable issues. If you're interested in knowing where a dollar you give to Backblaze goes, this post will tell you in detail.

No conversation about cloud storage is complete without an argument about durability, and so this post is a must read for anyone new to our business.

Everyone wants to know, and should know, just how safe their data is with Backblaze. So to put a finer point on that knowledge, we shared that the Backblaze Vaults durability calculated at 11 nines, and we shared how we calculated that number. But what does 11 nines mean, and why is it important? If you've been thinking about how much you miss those super-complex mathematics classes in college or high school, this post is for you.

Backblaze Hard Drive Stats reports are some of the largest data sets on disk drive performance ever to be made available publicly. We also release the raw data that feeds these reports, so that anyone can take a closer look or even recreate the calculations for themselves. We ask new hires to take a look at our stats so they can see the information for themselves, but also so they can see some of the content that has helped us build such an incredible readership. Take a look at one of our most recent reports and let us know what you would do with this information!
Being "fair and good" is another central value for our company. We assign this post to new hires because it shows how we always make our business decisions with our customers' best interests in mind, even when it's tough.
Raising prices is never easy, but almost every business is faced with the decision at some point. Since we've only raised prices once in Backblaze's history, we wanted to share the fairly entertaining story of how it happened, and why it's proven to be a valuable lesson for our team.
Want to Know More About Us?
I hope you've enjoyed reading about Backblaze just as much as I did when I first joined the team. For everyone in our company, sharing our journey has been a fundamental aspect of our approach to improving our products and services throughout the years. Want to learn more about us and the unlimited data backup we offer? Take a look at all of our options for getting started with backing up your data.