To get the latest updates and information
on ALL of the Storage Pod versions.
Click Here
.
At Backblaze, we provide unlimited storage to our customers for only $5 per month, so we had to figure out how to store hundreds of petabytes of customer data in a reliable, scalable way—and keep our costs low. After looking at several overpriced commercial solutions, we decided to build our own custom Backblaze Storage Pods: 67 terabyte 4U servers for $7,867.
What we actually provide for our customers is online backup for home and business online backup for work. However, in this post, we'll share how to make one of these storage pods, and you're welcome to use this design. Our hope is that by sharing, others can benefit and, ultimately, refine this concept and send improvements back to us. Evolving and lowering costs is critical to our continuing success at Backblaze.
Below is a video that shows a 3-D model of the Backblaze Storage Pod. Continue reading to learn the exact details of the design.
You can download the full 3-D model of the Backblaze Storage Pod here.


Backblaze Needs Plenty of Reliable, Cheap Storage
To say that Backblaze needs lots of storage is an understatement. We're a backup service, so our datacenter contains a complete copy of all of our customers' data, plus multiple versions of files that change. In rough terms, every time one of our customers buys a hard drive, Backblaze needs another hard drive. A long time ago we stopped measuring storage in our datacenter in gigabytes or terabytes and started measuring in petabytes.
To get a sense of what this looks like, here is a shot of me deploying new pods in our datacenter. The small stack of six pods in the rack I'm working on contains just under half a petabyte of storage.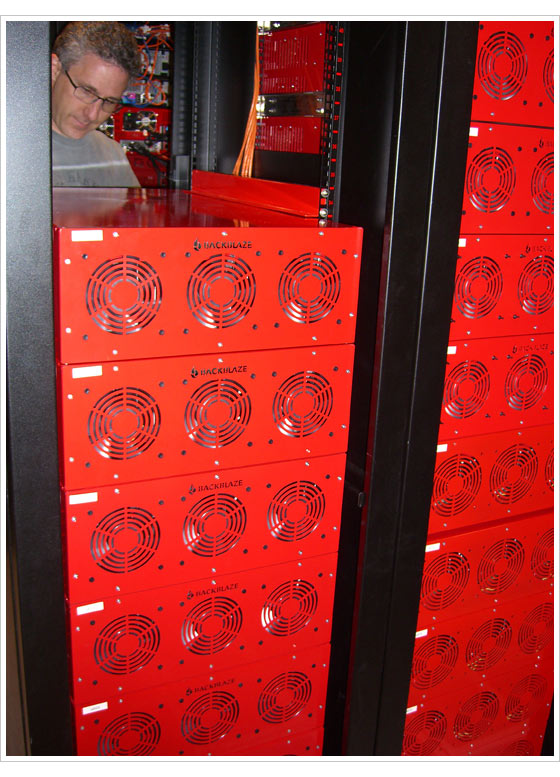 To offer our service at a reasonable price, we need affordable storage at a multi-petabyte scale.