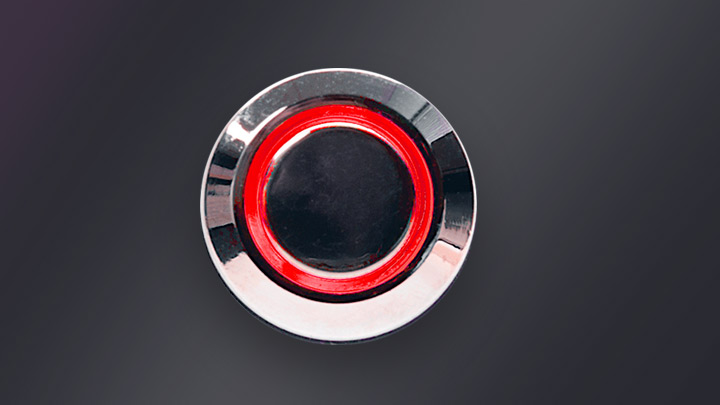 Looking at the image above you can almost hear Hal saying, "I'm sorry, Dave. I'm afraid I can't do that." By coincidence, we heard "I'm afraid I can't do that" any time we suggested to our Storage Pod designers that we replace the on/off switch in our Storage Pods. You know the one: The Frozen CPU model ele-302 on/off switch and cable we paid $24.95 or more for over these past seven years. The switch that helped garner 118 comments from the folks on the Sysadmin subreddit a couple of years ago. The switch whose blue LEDs burn brightly on over 1,200 Backblaze Storage Pods. That switch. I have some news…
Ding Dong the Switch Is Dead
To be clear, you can still buy the ele-302 on/off switch, but we are no longer using this switch in our Storage Pods. We have a new switch, but more on that later. For the moment, let's pay homage to the ele-302.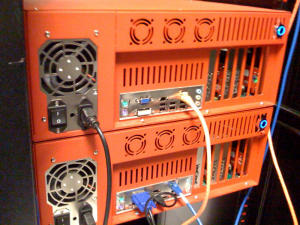 The ele-302 has been with us since the beginning. This picture is of a couple of early, circa 2009, prototype Storage Pods. The hole for the power button in the upper right corner of each Pod was drilled by hand because we forgot to include the hole in the original case design. Filling those hand-crafted holes are ele-302 power buttons.
If you go all the way back to our Storage Pod 1.0 blog post and scroll down to the bottom, you'll see the ele-302 proudly listed there and in every Storage Pod bill of materials since. While you're staring at the Storage Pod 1.0 parts list, you'll notice that every other part listed has been replaced by other parts and/or newer models in subsequent Storage Pod versions. That's right, the ele-302 was the last hold out and now it's gone.
Cue Hal
The image at the top of this blog post is not Hal, but instead it is our new on/off switch. Ladies and gentlemen, let me introduce the Primochill mod/smart Silver Aluminum Momentary Vandal Switch-22mm-Ring Illumination-Red LED, model PSW-SMV22-R-R. Ta-da. OK, so it doesn't quite roll off the tongue like the ele-302, but let's give it a chance. First, it has a cool red ring and we here at Backblaze like red. Second, the list price is only $14.95 and that includes the cable. That's a $10 savings for our next generation Storage Pod. If we continue to save that kind of money, we'll get the price to build one of our Storage Pods under four cents a gigabyte in no time. And it's all part of our ongoing efforts to build reliable, cost efficient cloud storage and pass the savings on to our customers.
Goodbye ele-302
As we said, the ele-302 is still available if you'd like to buy one. We have nothing but nice things to say about it, but from now on we'll be using the Primochill switch—the "Chill-22"—that's the name I'm going to give it. Maybe the folks at Primochill will read this and change the name, but probably not. Join us as we welcome the Chill-22 to the Backblaze family.