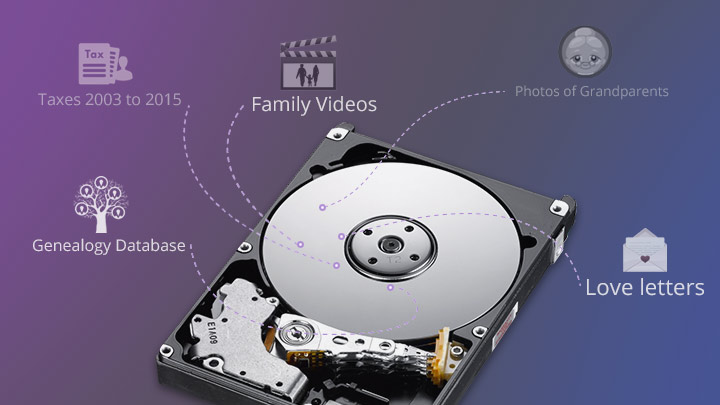 What do I do with a Mac that still has personal data on it? Do I take out the hard drive and smash it? Do I sweep it with a really strong magnet? Well, taking a sledgehammer or projectile weapon to your old machine is certainly one way to make the data irretrievable, and it can be enormously cathartic as long as you follow appropriate safety and disposal protocols. But there are far less destructive ways to make sure your data is gone for good. Let me introduce you to secure erasing.
Make sure you have a backup
Before you get started, you'll want to make sure that any important data on your hard drive has moved somewhere else. OS X's built-in Time Machine backup software is a good start, especially when paired with Backblaze. You can learn more about using Time Machine in our Mac Backup Guide.
With a local backup copy in hand and secure cloud storage, you know your data is always safe no matter what happens.
Once you've verified your data is backed up, roll up your sleeves and get to work. The key is OS X Recovery — a special part of the Mac operating system since OS X 10.7 "Lion."
How to wipe a Mac hard drive
Make sure your Mac is turned off.
Press the power button.
Immediately hold down the command and R keys.
Wait until the Apple logo appears.
Select "Disk Utility" from the OS X Utilities list. Click Continue.
Select the disk you'd like to erase by clicking on it in the sidebar.
Click the Erase button.
Click the Security Options button. (UPDATE: If you have a SSD, see How to Securely Erase a Mac SSD.
The Security Options window includes a slider that enables you to determine how thoroughly you want to erase your hard drive.)

There are four notches to that Security Options slider. "Fastest" is quick but insecure — data could potentially be rebuilt using a file recovery app. Moving that slider to the right introduces progressively more secure erasing. Disk Utility's most secure level erases the information used to access the files on your disk, then writes zeroes across the disk surface seven times, to help remove any trace of what was there. This setting conforms to the DoD 5220.22-M specification.

Once you've selected the level of secure erasing you're comfortable with, click the OK button.
Click the Erase button to begin. Bear in mind that the more secure method you select, the longer it will take. The most secure methods can add hours to the process.
Once it's done, the Mac's hard drive will be clean as a whistle and ready for its next adventure; a fresh installation of OS X, being donated to a relative or a local charity, or just sent to an e-waste facility. Of course you can still drill a hole in your disk or smash it with a sledgehammer if it makes you happy, but now you know how to wipe the data from your old computer with much less ruckus.