Does everyone in your family turn to you to help them fix some tech issue or another? Your uncle ever come to your house in the middle of the day to help him set up his iCloud account on his new iPhone? If the Wi-Fi goes down in the house, are you the first person your family calls before they call their internet provider? If you answered yes to any of these questions, congratulations! You are the family IT department.
Being the family IT admin is a job that you never formally applied for. It just happened over time as you continued to fix all the tech issues that accumulated around the house. If you're looking for ways to best help your family manage their data and backups, this post will share some tips and advice so you can avoid those panicked requests from your parents or grandparents when they can't find that favorite family photo or have trouble getting online.
Getting Started as the Head of the Family IT Department
Although it might feel like you're always on-call to help your family with tech issues, there are a few ways you can set up your family with simple tech solutions even your grandfather will be able to figure out.
How to Back Up Your Digital Life
To start, check out our series of guides to help you protect content across many different platforms—including social media, sync services, and more. This list is always a work in progress—please comment below if you'd like to see another platform covered.
Best Practices for Managing Family IT
As the family IT admin, I've been asked to fix many issues, like devices that won't start up or work properly, slow or interrupted internet connections, and even data loss. There are a few best practices you can follow to help encourage your family members to handle these problems independently, or even set up automated solutions. These best practices include:
Using the 3-2-1 backup strategy.
Keeping systems updated.
Troubleshooting network connectivity issues.
Setting up automated backups and a Group to centralize your family's data backups.
The 3-2-1 Backup Method
While I have fixed a lot of issues, there are some issues that I have not been able to resolve, like retrieving a file on a damaged computer without a backup. Data loss can happen at any moment, from accidentally spilling something on your computer to system upgrades or even just accidental deletion. It's always best to practice backup etiquette with the 3-2-1 method. Using this method, you will have the document saved in three different places—two copies of your data on-site but on different devices, for example, on your computer and an external hard drive, and one copy off-site, for example, in the cloud. In case you lose one, you have two as backup. There is no such thing as a perfect backup system, but the 3-2-1 approach is a great start for the majority of people and businesses, so it's definitely good enough for your great aunt.
Keeping Systems Up-to-date
As the family IT admin, one of the most common issues you'll probably face is a malfunctioning device, or a device that needs to be updated. A straightforward way to get started is by resetting the system—yes, just turn it off and turn it back on again. But the best way to ensure your devices are working properly is to ensure that all system updates have been properly installed. By making sure that all of your family's devices are running on the most recent versions of their software, you can avoid running into problems with apps not working or other issues.
For many devices, running a software update or checking for a new software version is a pretty straightforward process. Apple has made it easy for iOS users—you can set software updates to automatically run in the background while you charge your phone at night. For a PC, you select the Start button, then select Settings > Update & security > Windows Update. Select Advanced Options, and then under "Choose how updates are installed," select Automatic. You can even think about walking your family members through a check for updates so they can handle any issues on their own in the future.
Nowadays, we all use many devices to store and access our data every day. We've created a few guides to help you make sure the data on your phone, computer, and hard drive is backed up or secured for whenever you plan to upgrade.
Troubleshooting Network Connectivity Issues
When you're dealing with a network issue, it can be frustrating because they often feel like they happen at the most inconvenient times. You can be on a call for work and bam! Lost connection. You want to play your PS5 games with friends after a long day at work? Think again, your internet was disconnected. Well, let me walk you through some of my thought process when I want to fix the internet connection.
Check if other devices that are connected to your Wi-Fi are having the same issues.

If not, then you will need to go to your network settings for that device. You can disconnect and reconnect to the Wi-Fi there.
If you are using an Ethernet cable, make sure that it's properly connected.
Most internet providers have a service where you can check if the servers are down in your area. Double check that your home was not hit with an internet outage.
Go directly to the router and hit the reset button. Sometimes restarting helps solve the problem.
Setting Up Automated Data Backups
Typically, our data is scattered across many platforms and many devices. Take that, and multiply it by each member of your family—that's a lot of data that needs to be backed up and secured. I can't just sit and back up my family's files and photos on a daily or weekly basis. Personally, I needed something I could install onto my family's computers and forget about it, all while still knowing that it would back up their data without me constantly monitoring it. And remember, syncing your data is not the same as backing it up.
Backup tools are great for keeping your family's data protected and ensuring your work as the family IT admin is made easier. Look for a simple app that can automate data backups and make them accessible from anywhere via the web or mobile apps.
(Shameless plug) Backblaze Computer Backup does just that. I set it up in minutes on all of my family's computers, and now it just runs in the background of all of our devices.
How to Set Up Groups to Manage Your Family's Backups
One feature that's particularly helpful with using backup tools for protecting your family's device data is centralizing your backups into a group. Groups are the best way to manage your family's backups in one place. With Computer Backup, it's easy to create a Group and add members to your Group.
First, go to your Backblaze account. If you don't have Groups enabled, simply go to your Settings tab and check the box to enable Groups.
Now you can start your first Group. Name it whatever you want—I'm a very simple person so I call mine "Family," but be as creative as you want.
After creating your Group, you can start inviting your family members. You can choose to share a direct link to the group or email them an invitation. Once they get the link, your family members can create an account and install the client on their own computer to start backing up their data.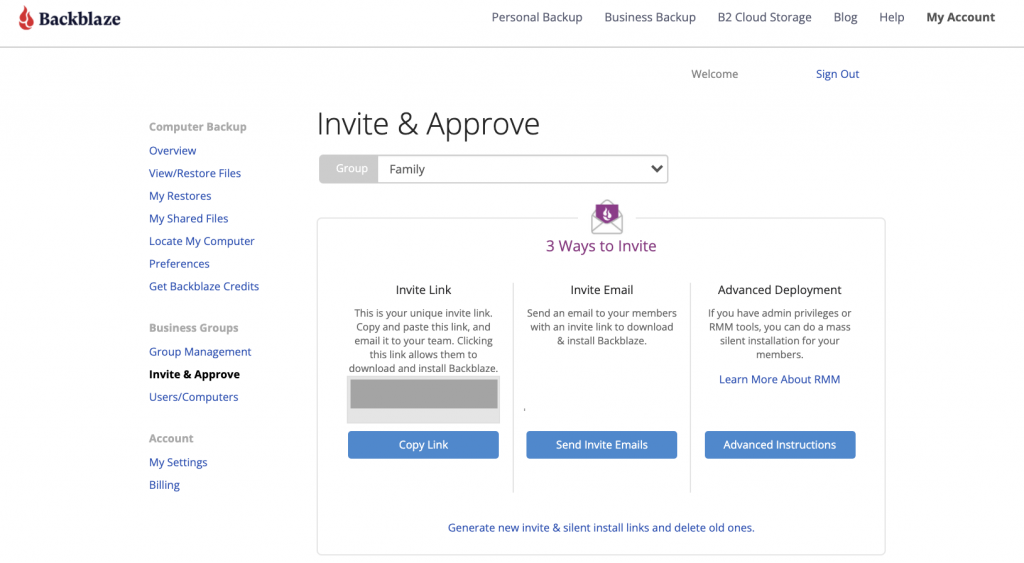 How to Back Up Your Family's Data
Once your family has the Backblaze client installed on their computer, you are set! The scheduling is automatically set to back up continuously, so you don't have to worry if your family's computers are getting backed up. You can sleep in peace now!
You're not alone in being the family IT admin—even though it might not be an official job, we all take the responsibilities seriously because we care about our families. What are some of the technical problems that you have had to solve as the family IT admin? Let us know in the comments.