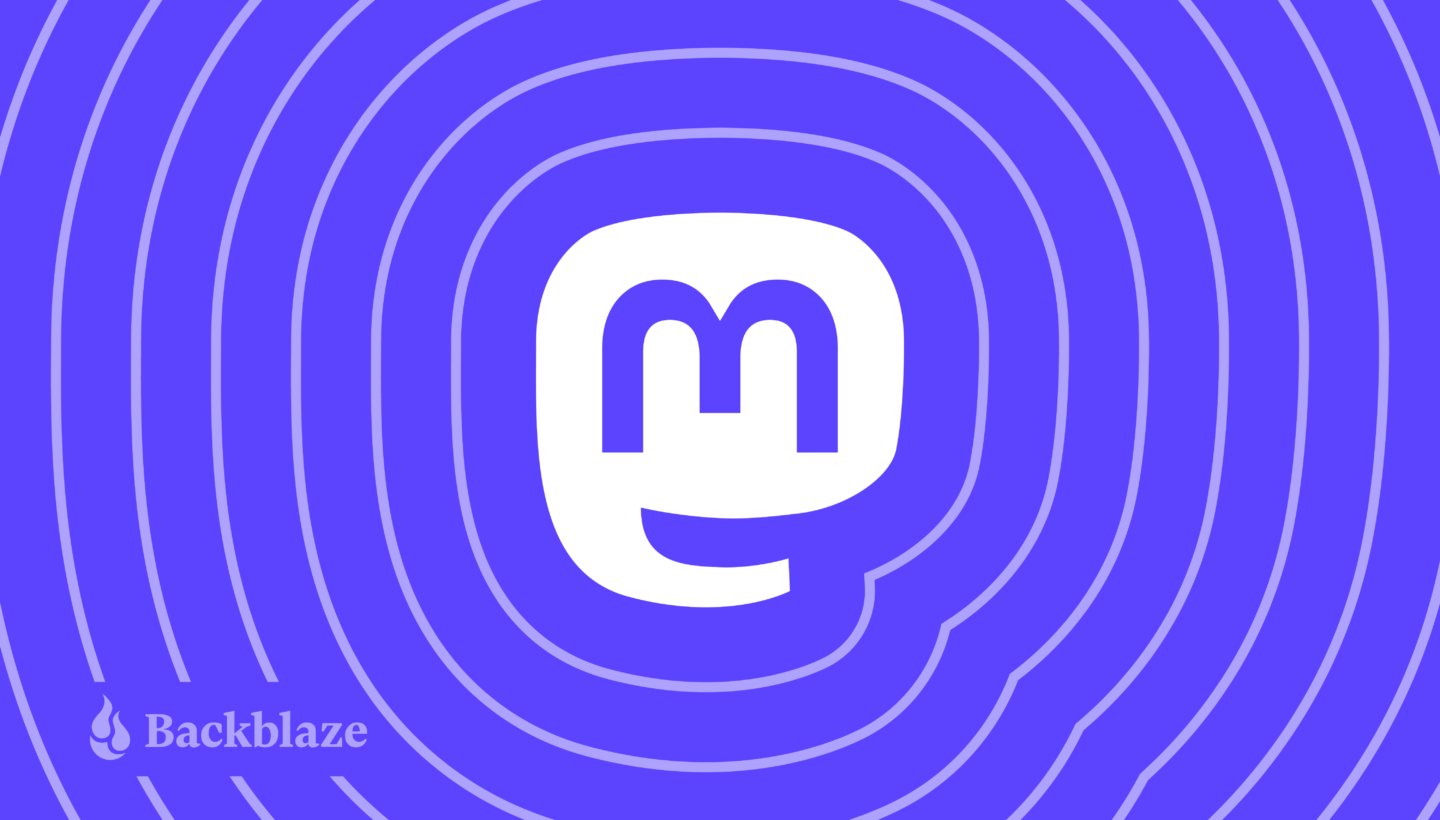 Mastodon: Have you heard of it? As a social media platform, it's unique in that it's free, open-source, and crowdfunded. It doesn't have ads, and it's not owned by a corporation. When you set up an account on Mastodon, you select a server (called an "instance") where your account lives. All of that can sound confusing to your average computer user, though it also makes it a favorite amongst the more tech-savvy users in the world.
The truth of Mastodon's distributed servers is that it doesn't really matter which server you choose to set up on. Since each server talks to every other server (just like email), you'll be able to use the social network just like you would Twitter or any other microblogging platform. You can publish text posts (adorably called "toots") and attach media such as pictures, audio, video, or polls. Mastodon lets you follow friends and discover new ones, and also uses hashtags to find communities or topics you may be interested in.
Also just any other social media site, you'll want to back up all your posts. That's what we're going to talk about today. 
How Mastodon Works: The Nuts and Bolts
There are some people who want to host their own Mastodon server (if that's you, it means that other accounts would be hosted on your server, and you'd be responsible for setting standards to moderate content). In that case, you may want to back up your Mastodon server data to Backblaze B2 Cloud Storage—or even use our always-hot storage to actively run your server like this Mastodon user who kept running out of storage and used Backblaze for a cost-effective storage solution.
Stay tuned: We're planning on writing about this in the future.
But, if you're just using your account like you would on any other social media platform—that is, you're posting, finding friends, sharing cute pictures of dogs, etc.—you'll want to make sure that your posts and memories are protected. There's the normal run of data loss dangers: natural disasters, computer crashes, and so on. But also, since anyone can bring up their own Mastodon server, they can just as easily take them down. In that case, having a backup means that you can easily move your account to another server on the Mastodon platform without losing your toots.
Let's talk about the best way to keep your data backed up with Backblaze Computer Backup.
Download Your Mastodon Data
Like most services that prioritize open sourcing, Mastodon has a fantastic documentation center. If you ever have questions, start there first (that's what we did). To get started with your Mastodon back up, you'll want to download your account information. After you log into your account, navigate to Settings > Export. The screen should look like this: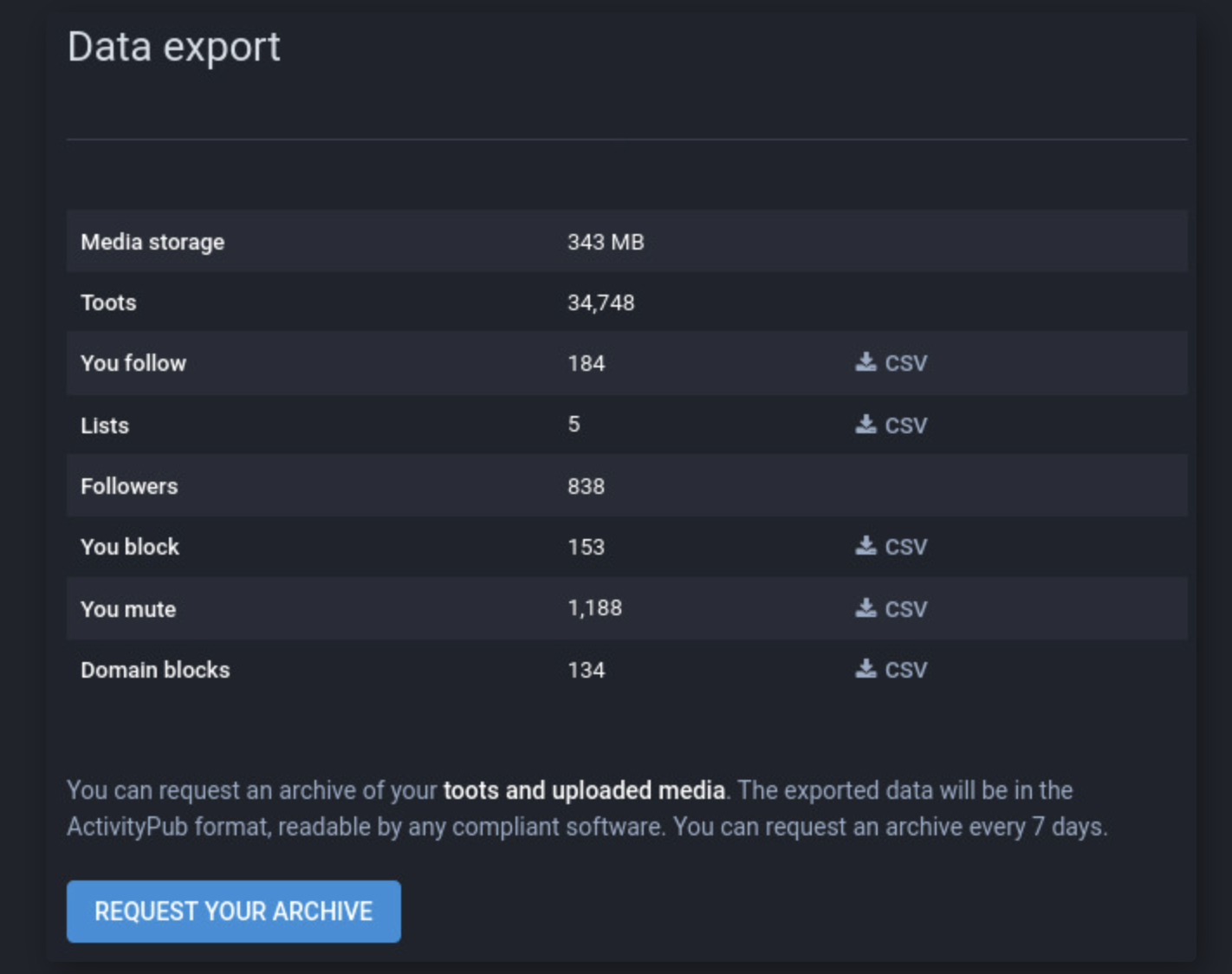 As you can see, there are lots of lists you can download straight from this screen. These include your block lists and mute lists—an excellent feature which means you can maintain your privacy settings if you need to move your account, or open a new account on a different server.
To get your toots as well as any uploaded media, like photos or videos, you simply click the button to request your archive. You can request this archive once every seven days.
Once you have that file, you can either upload a copy of it to Backblaze B2 (which is free for your first 10GB of storage), or, Backblaze Personal Backup (we've got a free trial there too, of course). Backblaze Personal Backup is super easy—just save that file natively on your computer so that it's included in your always-running backup service.
While You're At It…
We've gathered a handful of guides to help you protect your content across many different platforms. We're working on developing this list—please comment below if you'd like to see another platform covered.
Why Back Up Your Mastodon Archive?
It's always smart to protect your data with a 3-2-1 backup strategy. This means that you'll have three copies of your data stored in two different local destinations with one copy kept off-site.
Taking your Mastodon archive file as an example, let's see where those files would live to make sure we satisfy the 3-2-1 backup strategy:
The downloaded copy of your Mastodon archive is saved to your personal computer.
You also back up that archive on your external hard drive.
You have a third copy of the file saved in your Backblaze account.
Especially if you're using a sync service for the files on your computer, sometimes things get modified or deleted accidentally. When that happens, you can restore from the backup copy on your hard drive. If your hard drive crashes for some reason, then you also have another copy you can easily restore from your Backblaze account. Since it lives in the cloud, even if your computer and your hard drive are lost (say, in a natural disaster), you will still have another copy of your data you can use to get back online.
Even better: If you enable Extended Version History on your Backblaze Computer Backup account, you can see older versions of your file. That's useful if you accidentally replace your Mastodon archive and there was something you needed, but got changed. They have the same name, right? It'd be an easy mistake to make and not notice until you need to restore. With Extended Version History, you'd just choose an earlier instance of the file, restore it, and then move that file back to your computer and hard drive.
Mastodon Users Are On Top of Back Up
Of course, you can always go above those minimum standards, as these folks were discussing in this Mastodon thread.

We're not surprised that Mastodon users are talking about their intricate back up systems. Generally speaking, if you're someone who is interested in or uses open-source tech, you know that it can be a double-edged sword. The community is constantly finding and fixing bugs, asking questions, and creating tech. It's exciting and creative, but sometimes you have to do a bit more legwork to make things work well.
So, users on Mastodon know the risks when they choose to host their data on someone else's server, and Mastodon gives you options for how to reconstitute your account if that happens. It's one of the reasons we love Mastodon: they thought about how to back up when they built the platform.
And, because Mastodon is open source, "they" = users who are (often) also contributing to the code. Of course they're having spirited debates about how to make their tech lives better and more secure—and we love to see it!
In Theory, It's Easier to Lose Your Data on Mastodon
We said at the beginning of this article that it really doesn't matter which server ("instance") you choose to host your Mastodon account on—and it doesn't, when you're talking about interacting with the platform as a user.
The thing that is different about Mastodon is that because it runs on distributed servers, Mastodon is (in theory) more vulnerable than other networks to distributed denial of service (DDoS) attacks. If your server gets overloaded, it may result in you losing data.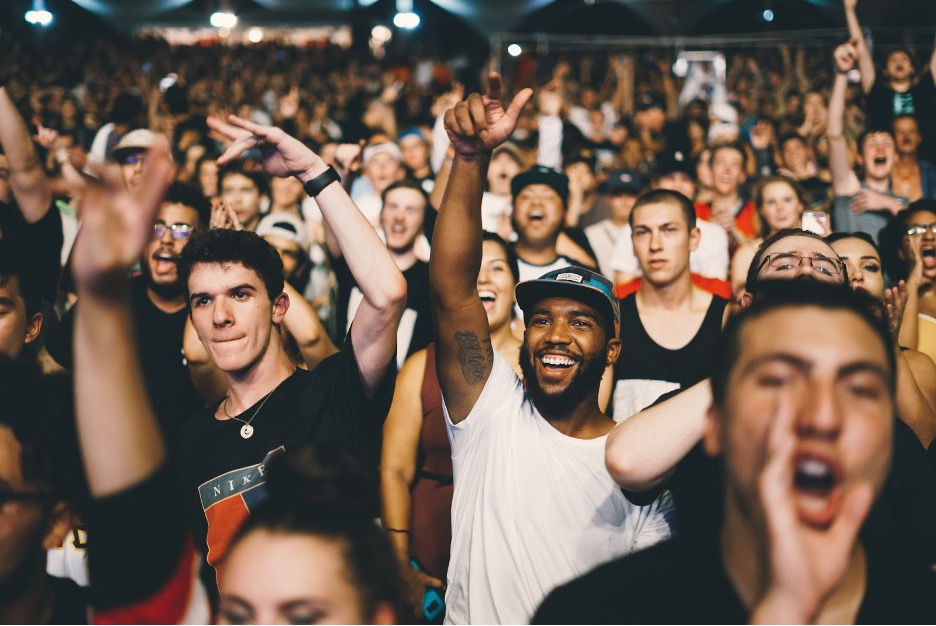 Another thing to take note of is that Mastodon doesn't have automatic updates. As a user, the onus is on you to check GitHub and to update accordingly. Since platform updates are often released to close security vulnerabilities, if you aren't on top of this, you're at risk of losing your data from a cyberattack.
This doesn't mean that Mastodon as a social media site is less safe. In fact, because they automatically set up multi-factor authentication (MFA) and store less of your personal identifiable information, in some ways it's safer than other platforms.
As long as you're regularly backing up your Mastodon archive, you should be totally ("toot-ally"?) covered. Start your free trial with Backblaze Computer Backup, follow the steps we've set out above, and you'll be all set.