A lot of people are talking about ensuring their social data on Twitter is protected for posterity at the moment. So, we thought we'd re-share our guide to backing up and archiving Twitter content for anyone who is interested.
Save your treasured Twitter memories in just a few easy steps. Here's how.
Downloading Your Twitter Data
The first step is to log in to your Twitter account on a web browser. Once logged in, click on the "More" section in the navigation bar. From there, a new navigation bar will appear. You should select the "Settings and Support" dropdown, followed by the "Settings and Privacy" tab to progress.
Under the "Your Account" section, you will find an area labeled "Download an archive of your data." The function of this is pretty self-explanatory, but does lead to a further menu that allows you to request an archive of your Twitter data or Periscope data.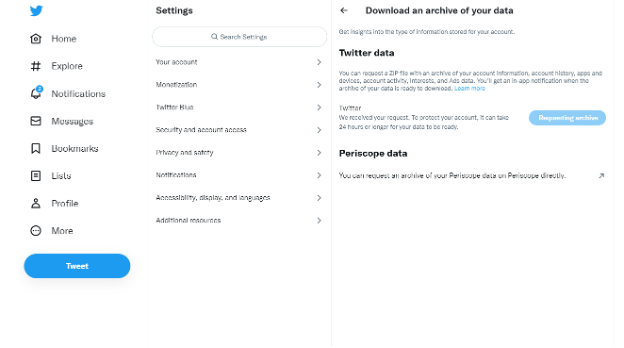 After requesting your archive you will receive a notification with a link when your archive is ready for download. This archive will consist of a ZIP file with data that Twitter has deemed most relevant or useful to you, including DMs, moments, profile media and any media you may have used in your Tweets such as gifs, photos, and videos.
Archive Your Twitter Data for Free
Once you download your Twitter data, you can then save a full archive copy in the cloud on Backblaze B2—for free if it's under 10GB.
Click here to get started with Backblaze B2 Storage Cloud today.
Back Up Your Twitter Data (Not Free, But Super Easy)
In addition to an archive copy, it's important to use a secure backup strategy so all of those Tweets and memories will be preserved and kept safe from accidental deletion, equipment failure, or disasters. This is where a 3-2-1 backup strategy comes in handy. Using a 3-2-1 approach means keeping one copy of your data locally, one copy on a different type of media like an external hard drive, and one off-site (the cloud is a great place to keep it!).
You'll need to manually download your Twitter data periodically, but once you have it on your machine, you can ensure it's backed up with Backblaze Computer Backup—it automatically backs up all of your files, including documents, photos, music, movies, and, yes, all of that Twitter data you downloaded.
Click here to sign up for a 15-day trial of Backblaze Computer Backup, and save those Tweets.
While You're At It…
We've gathered a handful of guides to help you protect social content across many different platforms. We're working on developing this list—please comment below if you'd like to see another platform covered.