Backblaze Storage Pod 027 has been running 24/7/365 storing customer data for the past seven years. Pod 027 has served us well, but now it is time to retire. Pod 027 is one of 20 Backblaze Storage Pods being retired. In this group are version one and version two Storage Pods. They have been removed from service—their drives, motherboard, SATA cards, backplanes, wiring, and power supplies, all removed. What remains is Backblaze history—20 Backblaze Storage Pod chassis that helped launch our company.
It's not time to be sad, Pod 027 and friends are ready for the next phase in their collective life, but what should that be? We've had some ideas. We could sell them, but we're not sure anyone would buy them. We could make another Backblaze "B," but given our tight quarters, having another "B" is a tough sell. We could make them into desks or maybe build a few more baby cribs—all good ideas, but these Pods deserve something special. That's where you come in.
Wanted: Your Ideas
What would you do with your very own Backblaze Storage Pod chassis? Would you use your Storage Pod to house your digital media collection, build a really big bird feeder, or turn a Storage Pod into a work of art inspired by works of Patrick Amoit? No idea is too crazy, cool, or clever, the last thing we want to do is give them to Mel the Metal Guy for scrap.
Storage Pods Available
We currently have 20 Backblaze Storage Pod metal chassis. They are roughly 18" wide, 29" long, and 7" high in size and weigh about 25 lbs or 11.3 kg. They are rolled steel and of course, painted red. They are used, so they have a few scratches and small dents, but they all have the Backblaze front plate. The drives, boards, wires, power supply etc. have been removed.

Why Are They Available?
Backblaze is migrating from standalone Backblaze Storage Pods to Backblaze Vaults. The version one and version two Storage Pods are not vault compatible without a number of physical changes that are not financially practical. Unless you're building your own Backblaze Vault, these Pods will work for you.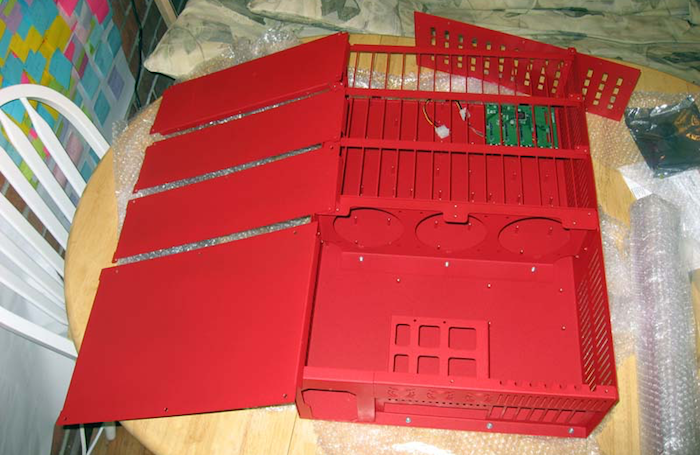 Submitting Your Winning Idea
To submit your idea for what you would do with your very own Storage Pod chassis, go to our Facebook page and post your idea there. Photos along with the submission are encouraged and the liberal use of Photoshop is expected. We'll collect submissions through 11:59 p.m. (Pacific Daylight Time) on June 15, 2015. Late or improperly submitted submissions will not be accepted.
What Happens If You WIN!
Winners will be announced in late June. We'll post the winning ideas on our blog and our Facebook page and we'll contact winners via Facebook. For those winners receiving a Storage Pod, Backblaze will pay for packaging and shipping to you. We'll choose the shipping method and timeframe. Expedited shipping and insurance, if desired, will be at the winner's expense.
What Are You Waiting For?
Over the years, Storage Pod 027 along with the other 19 Storage Pods have done an awesome job storing and restoring data. They've served us well. Here's your chance to make their retirement a memorable experience. Send in your submission today.
In the weeds…
Backblaze reserves the exclusive right to accept or reject submissions for any reason without explanation. Rejected submissions may be removed from the Backblaze Facebook page if deemed inappropriate.
You will not receive compensation for your submission.
Submissions are considered in the public domain.
Submissions may be used by Backblaze for promotional purposes.
Backblaze reserves the exclusive right to select the winning entries.