Network attached storage (NAS) devices are a great way to power up your business or home office setup. You probably invested in your QNAP NAS to do just that. It streamlines collaboration, gives you 24/7 access to your files, and speeds up data recovery.
Unfortunately, while you can store backups on your QNAP NAS for speedy retrieval, backing up to your NAS alone doesn't constitute a true backup strategy. For that, you need to follow the 3-2-1 rule with at least one copy of your data off-site. Storing that copy in the cloud is a great way to protect your data in the event of a major hard drive failure, a ransomware attack, or a natural disaster.
Today, we're explaining how to implement a 3-2-1 backup strategy with your QNAP NAS, sharing some benefits of backing up to the cloud, discussing different options for backing up your QNAP NAS, and providing some practical examples of what you can do by combining cloud storage and your NAS.
QNAP NAS and a 3-2-1 Backup Strategy
The 3-2-1 backup strategy has been around for more than a decade because it's proven its value. Following the 3-2-1 strategy means having three copies of your data, two of which are stored locally but on different media (aka devices), and one stored off-site. The off-site copy is that "in case of emergency, break glass" stopgap you need to truly protect your data.
Your QNAP NAS is a great first step towards completing this strategy. By using it to store backups locally, you have two copies on-site. Backing up your QNAP NAS to the cloud completes the 3-2-1 strategy by serving as your off-site storage.
You could maintain a third copy on another physical device like another NAS, an external drive, or a file server, but keep in mind, backing up to an external destination other than the cloud will require you to physically separate the backup copy. Backing up your QNAP NAS to the cloud means you achieve a 3-2-1 strategy without going out of your way to physically separate the copies.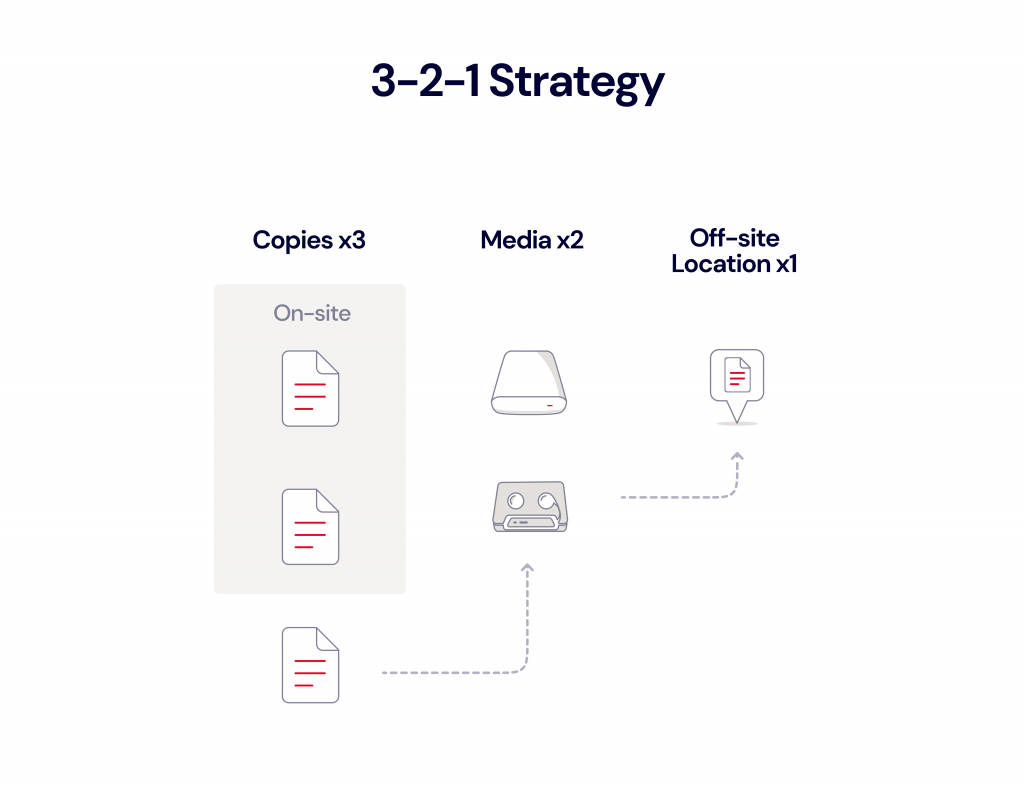 The Benefits of Backing Up Your QNAP NAS to the Cloud
Backing up your QNAP NAS to the cloud gives you a number of additional benefits, including:
Enhanced data protection: This is probably why you bought your QNAP NAS in the first place, but without an off-site backup, your on-site data, including data on your individual workstations and your NAS, is susceptible to data loss. Natural disasters could wipe out your machines, your NAS, and any other backups you might store locally. While QNAP has on-board utilities that allow you to revert to a previous backup, your NAS is still connected to your network and susceptible to ransomware. And finally, the hard drives in your NAS can fail. Because your NAS is likely set up in a RAID configuration, one drive failure might not affect your data. But, while one drive is down, your data is at a higher risk. If another drive were to fail, you could lose data. Keeping on off-site backup in cloud storage helps you avoid this fate.
Accessibility: With your data in the cloud, your backups are accessible from anywhere. If you're away from your desk or office and you need to retrieve a file, you can simply log in to your cloud instance and pull that file down.
Security: Cloud vendors typically protect customer data by encrypting it as it travels to its final destination and/or when it is at rest on the vendors' storage servers. Encryption protocols differ between cloud vendors, so make sure to understand them as you're evaluating cloud providers, especially if you have specific security requirements.
Automation: Your QNAP NAS comes with a built-in backup utility so you can set your cloud backup schedule in advance and avoid human error (like forgetting to back up) in the future.
Scalability: As your data grows, your cloud backups grow with it. With cloud storage, there's no need to invest in or maintain additional hardware to ensure your data is properly backed up.
Options for Backing Up Your QNAP NAS
QNAP offers a few different methods for backing up your NAS, including:
Snapshot: All QNAP devices come with Snapshot built in. Snapshots are essentially images of your complete QNAP NAS at a given point in time. The utility allows you to set a Snapshot schedule so backups are automated. The Snapshots are stored on the same QNAP NAS, but outside the volume. This means Snapshots don't take up space on the volume you use for storing your data. Snapshots enable fast restores, but don't constitute a complete 3-2-1 backup strategy because the data is located in the same physical location. For that, the utility offers the Snapshot Replica feature which enables you to copy your Snapshots to external devices like a remote server, but not the cloud.
Hybrid Backup Sync: Hybrid Backup Sync is QNAP's built-in backup utility for syncing and backing up your NAS to the cloud. It supports multi-version backups and allows you to customize retention settings for version management. QNAP's QuDedup feature deduplicates data, helping you manage your storage footprint. The utility also allows you to manage Time Machine backups for Mac devices.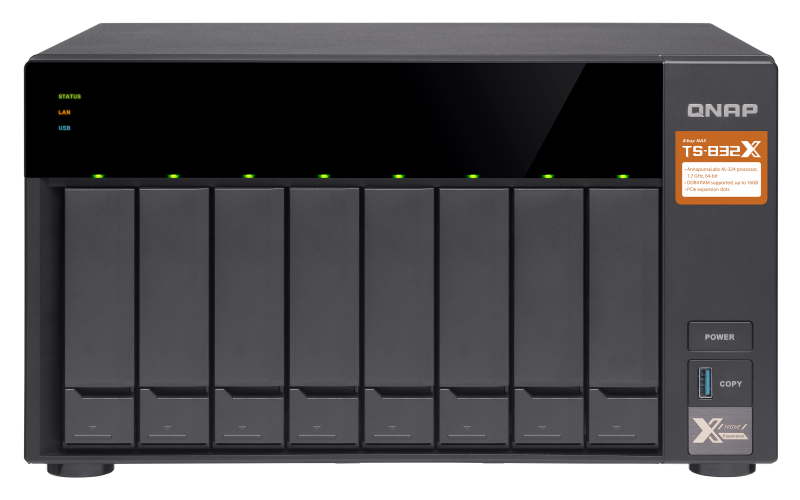 What Can You Do With Cloud Storage and QNAP Hybrid Backup Sync?
The Hybrid Backup Sync app provides you with total control over what gets backed up to the cloud. You can synchronize in the cloud as little or as much as you want. Here are some practical examples of what you can do with Hybrid Backup Sync and cloud storage working together.
1. Sync the Entire Contents of Your QNAP to the Cloud
The QNAP NAS has excellent fault-tolerance—it can continue operating even when individual drive units fail—but nothing in life is foolproof. It pays to be prepared in the event of a catastrophe. Now that you know about the 3-2-1 backup strategy, you know how important it is to make sure that you have a copy of your files in the cloud.
2. Sync Your Most Important Media Files
Using your QNAP to store movies, music, and photos? You've invested untold amounts of time, money, and effort into collecting those media files, so make sure they're safely and securely synced to the cloud with Hybrid Backup Sync.
3. Back Up Time Machine and Other Local Backups
Apple's Time Machine software provides Mac users with reliable local backup, and many Backblaze customers rely on it to provide that crucial first step in making sure their data is secure. QNAP enables the NAS to act as a network-based Time Machine backup. Those Time Machine files can be synced to the cloud, so you can make sure to have Time Machine files to restore from in the event of a critical failure.
If you use Windows or Linux, you can configure the QNAP NAS as the destination for your Windows or Linux local data backup. That, in turn, can be synced to the cloud from the NAS.
Ready to Give It a Try?
Hybrid Backup Sync allows you to choose from any number of cloud storage providers as a backup destination, and Backblaze B2 Cloud Storage is one of them. Check out our videos from Greg Hamer, Senior Technical Evangelist, on how to use Hybrid Backup Sync to back up or sync your data to B2 in under 15 minutes.
If you haven't given cloud storage a try yet, you can get started now, and make sure your NAS is synced or backed up securely to the cloud.