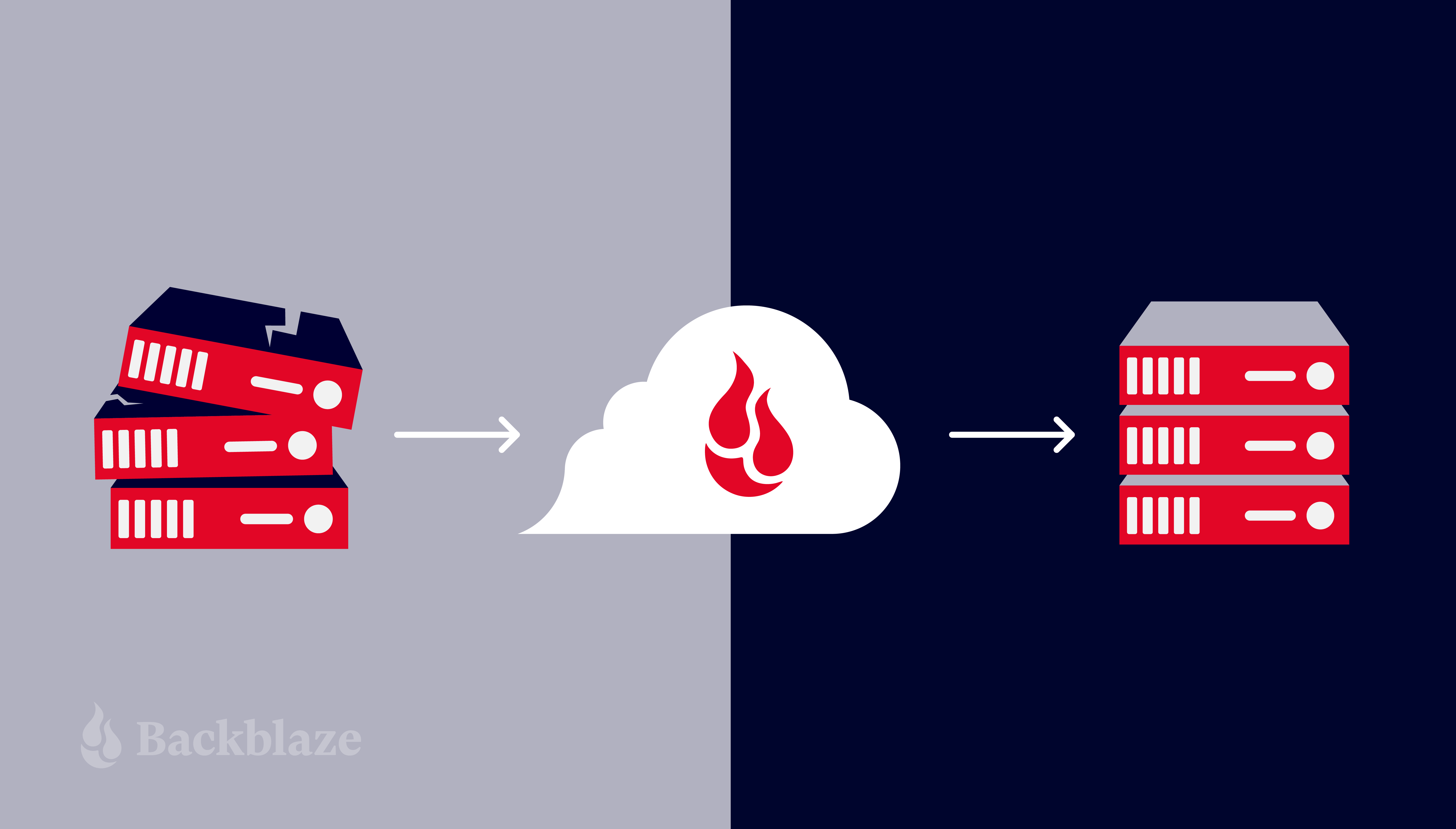 When you're creating or refining your backup strategy, it's important to think ahead to recovery. Hopefully you never have to deal with data loss, but any seasoned IT professional can tell you—whether it's the result of a natural disaster or human error—data loss will happen.
With the ever-present threat of cybercrime and the use of ransomware, it is crucial to develop an effective backup strategy that also considers how quickly data can be recovered. Doing so is a key pillar of increasing your business' cyber resilience: the ability to withstand and protect from cyber threats, but also bounce back quickly after an incident occurs. The key to that effective recovery may lie with bare metal recoveries.
In this guide, we will discuss what bare metal recovery is, its importance, the challenges of its implementation, and how it differs from other methods.
Creating Your Backup Recovery Plan
Your backup plan should be part of a broader disaster recovery (DR) plan that aims to help you minimize downtime and disruption after a disaster event.
A good backup plan starts with, at bare minimum, following the 3-2-1 rule. This involves having at least three copies of your data, two local copies (on-site) and at least one copy off-site. But it doesn't end there. The 3-2-1 rule is evolving, and there are additional considerations around where and how you back up your data.
As part of an overall disaster recovery plan, you should also consider whether to use file and/or image-based backups. This decision will absolutely inform your DR strategy. And it leads to another consideration—understanding how to use bare metal recovery. If you plan to use bare metal recovery (and we'll explain the reasons why you might want to), you'll need to plan for image-based backups.
What Is Bare Metal Backup?
The term "bare metal" means a machine without an operating system (OS) installed on it. Fundamentally, that machine is "just metal"—the parts and pieces that make up a computer or server. A "bare metal backup" is designed so that you can take a machine with nothing else on it and restore it to your normal state of work. That means that the backup data has to contain the operating system (OS), user data, system settings, software, drivers, and applications, as well as all of the files. The terms image-based backups and bare metal backups are often used interchangeably to mean the process of creating backups of entire system data.
Bare metal backup is a favored method by many businesses because it ensures absolutely everything is backed up. This allows the entire system to be restored should a disaster result in total system failure. File-based backup strategies are, of course, very effective when just backing up folders and large media files, but when you're talking about getting people back to work, a lot of man hours go into properly setting up a workstations to interact with internal networks, security protocols, proprietary or specialized software, etc. Since file-based backups do not back up the operating system and its settings, they are almost obsolete in modern IT environments, and operating on a file-based backup strategy can put businesses at significant risk or add downtime in the event of business interruption.
How Does Bare Metal Backup Work?
Bare metal backups allow data to be moved from one physical machine to another, to a virtual server, from a virtual server back to a physical machine, or from a virtual machine to a virtual server—offering a lot of flexibility.
This is the recommended method for backing up preferred system configurations so they can be transferred to other machines. The operating system and its settings can be quickly copied from a machine that is experiencing IT issues or has failing hardware, for example. Additionally, with a bare metal backup, virtual servers can also be set up very quickly instead of configuring the system from scratch.
What is Bare Metal Recovery (BMR) or Bare-Metal Restore?
As the name suggests, bare metal recovery is the process of recovering the bare metal (image-based) backup. By launching a bare metal recovery, a bare metal machine will retrieve its previous operating system, all files, folders, programs, and settings, ensuring the organization can resume operations as quickly as possible.
How Does Bare Metal Recovery Work?
A bare metal recovery (or restore) works by recovering the image of a system that was created during the bare metal backup. The backup software can then reinstate the operating system, settings, and files on a bare metal machine so it is fully functional again.
This type of recovery is typically issued in a disaster situation when a full server recovery is required, or when hardware has failed.
Why Is BMR Important?
The importance of BMR is dependent on an organization's recovery time objective (RTO), the metric for measuring how quickly IT infrastructure can return online following a data disaster. The need for high-speed recovery, which in most cases is a necessity, means many businesses use bare metal recovery as part of their backup recovery plan.
If an OS becomes corrupted or damaged and you do not have a sufficient recovery plan in place, then the time needed to reinstall it, update it, and apply patches can result in significant downtime. BMR allows a server to be completely restored on a bare metal machine to its exact settings and configured simply and quickly.
Another key factor for choosing BMR is to protect against cybercrime. If your IT team can pinpoint the time when a system was infected with malware or ransomware, then a restore can be executed to wipe the machine clean of any threats and remove the source of infection, effectively rolling the system back to a time when everything was running smoothly.
BMR's flexibility also means that it can be used to restore a physical or virtual machine, or simply as a method of cloning machines for easier deployment in the future.
The key advantages of bare metal recovery (BMR) are:
Speed: BMR offers faster recovery speeds than if you had to reinstall your OS and run updates and patches. It restores every system element to its exact state as when it was backed up, from the layout of desktop icons to the latest software updates and patches—you do not have to rebuild it step by step.
Security: If a system is subjected to a ransomware attack or any other type of malware or virus, a bare metal restore allows you to safely erase an entire machine or system and restore from a backup created before the attack.
Simplicity: Bare metal recovery can be executed without installing any additional software on the bare machine.
BMR: Some Caveats
Like any backup and recovery method, some IT environments may be more suitable for BMR than others, and there are some caveats that an organization should be aware of before implementing such a strategy.
First, bare metal recovery can experience issues if the restore is being executed on a machine with dissimilar hardware. The reason for this is that the original operating system copy needs to load the correct drivers to match the machine's hardware. Therefore, if there is no match, then the system will not boot.
Fortunately, Backblaze Partner integrations, like MSP360, have features that allow you to restore to dissimilar hardware with no issues. This is a key feature to look for when considering BMR solutions. Otherwise, you have to seek out a new machine that has the same hardware as the corrupted machine.
Second, there may be a reason for not wanting to run BMR, such as a minor data accident when a simple file/folder restore is more practical, taking less time to achieve the desired results. A bare metal recovery strategy is recommended when a full machine needs to be restored, so it is advised to include several different options in your backup recovery plan to cover all scenarios.
Bare Metal Recovery in the Cloud
An on-premises disaster disrupts business operations and can have catastrophic implications for your bottom line. And, if you're unable to run your preferred backup software, performing a bare metal recovery may not even be an option. Backblaze has created a solution that draws data from Veeam Backup & Replication backups stored in Backblaze B2 Cloud Storage to quickly bring up an orchestrated combination of on-demand servers, firewalls, networking, storage, and other infrastructure in phoenixNAP's bare metal cloud servers. This Instant Business Recovery (IBR) solution includes fully-managed, affordable 24/7 disaster recovery support from Backblaze's managed service provider partner specializing in disaster recovery as a service (DRaaS).
IBR allows your business to spin up your entire environment, including the data from your Backblaze B2 backups, in the cloud. With this active DR site in the cloud, you can keep business operations running while restoring your on-premises systems. Recovery is initiated via a simple web form or phone call. Instant Business Recovery protects your business in the case of on-premises disaster for a fraction of the cost of typical managed DRaaS solutions. As you build out your business continuity plan, you should absolutely consider how to sustain your business in the case of damage to your local infrastructure; Instant Business Recovery allows you to begin recovering your servers in minutes to ensure you meet your RTO.
BMR and Cloud Storage
Bare metal backup and recovery should be a key part of any DR strategy. From moving operating systems and files from one physical machine to another, to transferring image-based backups from a virtual machine to a virtual server, it's a tool that makes sense as part of any IT admin's toolbox.
Your next question is where to store your bare metal backups, and cloud storage makes good sense. Even if you're already keeping your backups off-site, it's important for them to be geographically distanced in case your entire area experiences a natural disaster or outage. That takes more than just backing up to the cloud, really—it's important to know where your cloud storage provider stores their data for both compliance standards, speed of content delivery (if that's a concern), and to ensure that you're not unintentionally storing your off-site backup close to home.
Remember that these are critical backups you'll need in a disaster scenario, so consider recovery time and expense when choosing a cloud storage provider. While it may seem more economical to use cold storage, it comes with long recovery times and high fees to recover quickly. Using always-hot cloud storage is imperative, both for speed and to avoid an additional expense in the form of a bill for egress fees after you've recovered from a cyberattack.
Host Your Bare Metal Backups in Backblaze B2 Cloud Storage
Backblaze B2 Cloud Storage provides S3 compatible, Object Lock-capable hot storage for one-fifth the cost of AWS and other public clouds—with no trade-off in performance.
Get started today, and contact us to support a customized proof of concept (PoC) for datasets of more than 50TB.