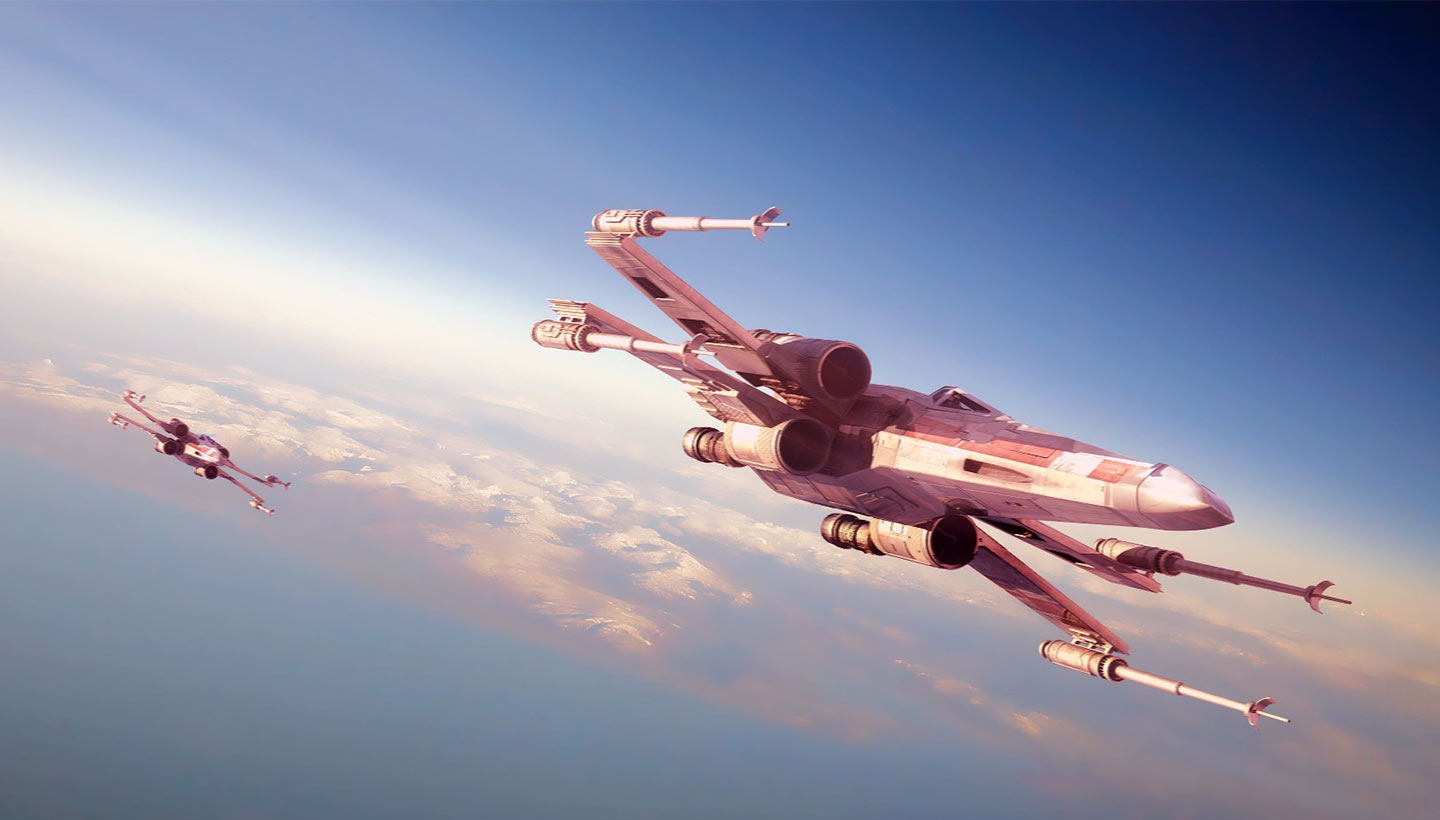 Last week Backblaze made the exciting announcement that through partnerships with Packet and ServerCentral, cloud computing is available to Backblaze B2 Cloud Storage customers.
Those of you familiar with cloud computing will understand the significance of this news. We are now offering the least expensive cloud storage + cloud computing available anywhere. You no longer have to submit to the lock-in tactics and exorbitant prices charged by the other big players in the cloud services biz.
As Robin Harris wrote in ZDNet about last week's computing partners announcement, Cloud Empire: Meet the Rebel Alliance.
We understand that some of our cloud backup and storage customers might be unfamiliar with cloud computing. Backblaze made its name in cloud backup and object storage, and that's what our customers know us for. In response to customers requests, we've directly connected our B2 cloud object storage with cloud compute providers. This adds the ability to use and run programs on data once it's in the B2 cloud, opening up a world of new uses for B2. Just some of the possibilities include media transcoding and rendering, web hosting, application development and testing, business analytics, disaster recovery, on-demand computing capacity (cloud bursting), AI, and mobile and IoT applications.
The world has been moving to a multi-cloud / hybrid cloud world, and customers are looking for more choices than those offered by the existing cloud players. Our B2 compute partnerships build on our mission to offer cloud storage that's astonishingly easy and low-cost. They enable our customers to move into a more flexible and affordable cloud services ecosystem that provides a greater variety of choices and costs far less. We believe we are helping to fulfill the promise of the internet by allowing customers to choose the best-of-breed services from the best vendors.
If You're Not Familiar with Cloud Computing, Here's a Quick Overview
Cloud computing is another component of cloud services, like object storage, that replicates in the cloud a basic function of a computer system. Think of services that operate in a cloud as an infinitely scalable version of what happens on your desktop computer. In your desktop computer you have computing/processing (CPU), fast storage (like an SSD), data storage (like your disk drive), and memory (RAM). Their counterparts in the cloud are computing (CPU), block storage (fast storage), object storage (data storage), and processing memory (RAM).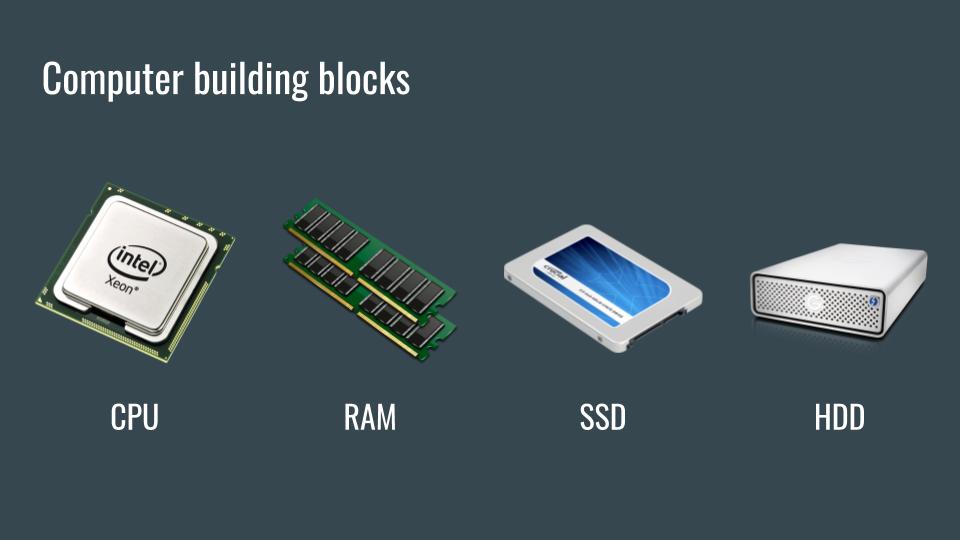 CPU, RAM, fast internal storage, and a hard drive are the basic building blocks of a computer
They also are the basic building blocks of cloud computing
Some customers require only some of these services, such as cloud storage. B2 as a standalone service has proven to be an outstanding solution for those customers interested in backing up or archiving data. There are many customers that would like additional capabilities, such as performing operations on that data once it's in the cloud. They need object storage combined with computing.
With the just announced compute partnerships, Backblaze is able to offer computing services to anyone using B2. A direct connection between Backblaze's and our partners' data centers means that our customers can process data stored in B2 with high speed, low latency, and zero data transfer costs.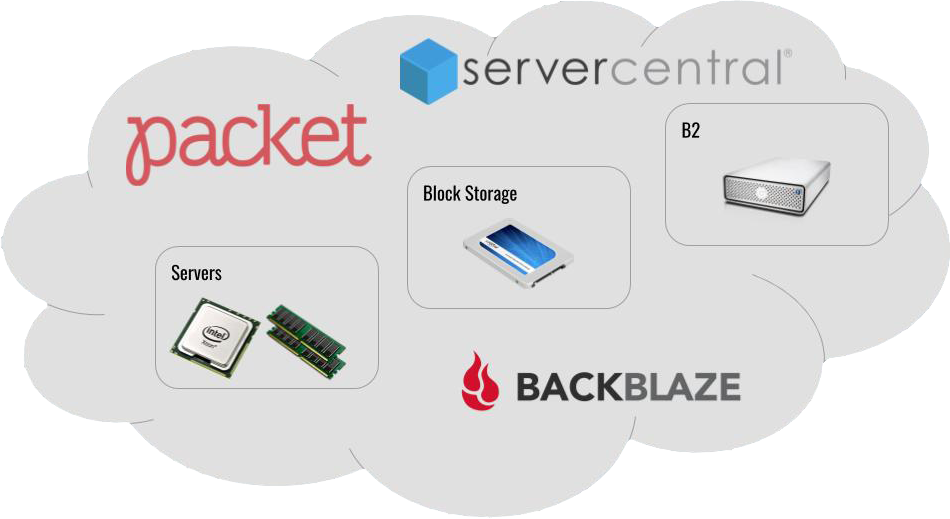 Cloud service providers package up CPU, storage, and memory into services that you can rent on an hourly basis
You can scale up and down and add or remove services as you need them
How Does Computing + B2 Work?
Those wanting to use B2 with computing will need to sign up for accounts with Backblaze and either Packet or ServerCentral. Packet customers need only select "SJC1" as their region and then get started. The process is also simple for ServerCentral customers — they just need to register with a ServerCentral account rep.
The direct connection between B2 and our compute partners means customers will experience very low latency (less than 10ms) between services. Even better, all data transfers between B2 and the compute partner are free. When combined with Backblaze B2, customers can obtain cloud computing services for as little as 50% of the cost of Amazon's Elastic Compute Cloud (EC2).
Opening Up the Cloud "Walled Garden"
Traditionally, cloud vendors charge fees for customers to move data outside the "walled garden" of that particular vendor. These fees reach upwards of $0.12 per gigabyte (GB) for data egress. This large fee for customers accessing their own data restricts users from using a multi-cloud approach and taking advantage of less expensive or better performing options. With free transfers between B2 and Packet or ServerCentral, customers now have a predictable, scalable solution for computing and data storage while avoiding vendor lock in. Dropbox made waves when they saved $75 million by migrating off of AWS. Adding computing to B2 helps anyone interested in moving some or all of their computing off of AWS and thereby cutting their AWS bill by 50% or more.
What are the Advantages of Cloud Storage + Computing?
Using computing and storage in the cloud provide a number of advantages over using in-house resources.
You don't have to purchase the actual hardware, software licenses, and provide space and IT resources for the systems.
Cloud computing is available with just a few minutes notice and you only pay for whatever period of time you need. You avoid having additional hardware on your balance sheet.
Resources are in the cloud and can provide online services to customers, mobile users, and partners located anywhere in the world.
You can isolate the work on these systems from your normal production environment, making them ideal for testing and trying out new applications and development projects.
Computing resources scale when you need them to, providing temporary or ongoing extra resources for expected or unexpected demand.
They can provide redundant and failover services when and if your primary systems are unavailable for whatever reason.
Where Can I Learn More?
We encourage B2 customers to explore the options available at our partner sites, Packet and ServerCentral. They are happy to help customers understand what services are available and how to get started.
We are excited to see what you build! And please tell us in the comments what you are doing or have planned with B2 + computing.
P.S. May the force be with all of us!