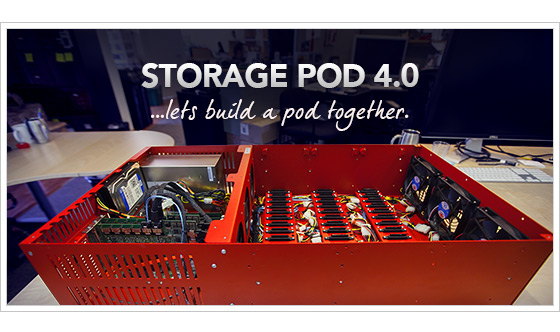 To get the latest updates and information
on ALL of the Storage Pod versions.
Click Here
.
For the first time since the original Storage Pod, Backblaze is announcing a completely redesigned approach with the introduction of the first "direct wire" Storage Pod. This new Storage Pod performs four times faster, is simpler to assemble, and delivers our lowest cost per gigabyte of data storage yet. And, once again, it's open source.
The Original Storage Pod
In order to provide unlimited online backup for $5 per month when Backblaze first started in 2007, we needed to figure out the least expensive way to "attach a hard drive to the Internet." This meant cost-efficiently attaching as many drives as possible to a single motherboard. We tried USB hubs, daisy-chaining Firewire, and various other approaches. In the end, we found one that worked: port multiplier backplanes.
We used these port multipliers to design a system with 9 five-drive NAS backplanes that connected via 3 SATA cards to the motherboard. The results were incredibly dense storage, currently 180TB in a 4U rack, from off the shelf consumer commodity parts. This design has served us through Storage Pod versions 1.0, 2.0, and 3.0, and today stores 100 petabytes of customer data in the Backblaze cloud.
However, the port multiplier backplanes had three key issues:
They were one of the least reliable hardware components,
When they had an issue, they affected 5 drives at once, and
They were not completely a commodity part, thus making them somewhat difficult to buy (especially for someone building a single Storage Pod on their own.)
The New Storage Pod Design

Fast forward nearly 5 years as we introduce Storage Pod 4.0 and a completely new way of attaching 45 drives to the motherboard. The 5-drive backplanes are gone, replaced by individual direct wire SATA/Power connectors. In concert with this we replaced the three 4-port SATA cards with two high performance 40-port HighPoint Rocket 750 cards delivering SATA 3 throughput. Simpler to build and maintain, and seriously fast.