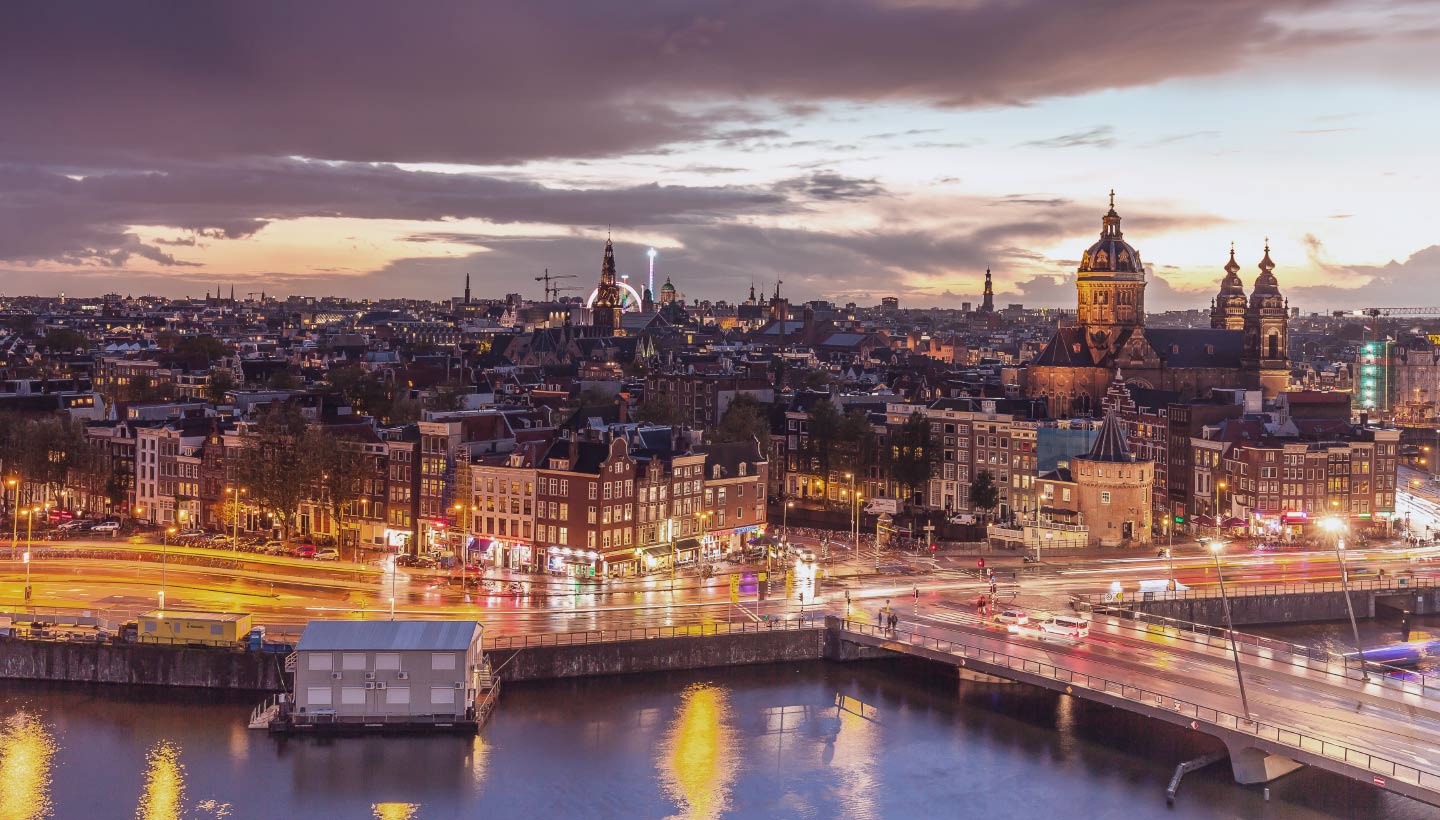 This is the first in a series of posts cataloging our search across Europe for the site of our fourth data center.
Big news: Our first European data center, in Amsterdam, is open and accepting customer data!
This is our fourth data center (DC) location and the first outside of the western United States. As longtime readers know, we have two DCs in the Sacramento, California area and one in the Phoenix, Arizona area. As part of this launch, we are also introducing the concept of regions.
When creating a Backblaze account, customers can choose whether that account's data will be stored in the EU Central or US West region. The choice made at account creation time will dictate where all of that account's data is stored, regardless of product choice (Computer Backup or B2 Cloud Storage). For customers wanting to store data in multiple regions, please read this knowledge base article on how to control multiple Backblaze accounts using our (free) Groups feature.
Whether you choose EU Central or US West, your pricing for our products will be unchanged:
For B2 Cloud Storage — it's $0.005/GB/Month. For comparison, storing your data in Amazon S3's Ireland region will cost ~4.5x more
For Computer Backup — $60/Year/Computer is the yearly cost of our industry leading, unlimited data backup for desktops/laptops
Later this week we will be publishing more details on the process we undertook to get to this launch. Here's a sneak preview:
Wednesday, August 28: Getting Ready to Go (to Europe). How do you even begin to think about opening a DC that isn't within any definition of driving distance? For the vast majority of companies on the planet, simply figuring out how to get started is a massive undertaking. We'll be sharing a little more on how we thought about our requirements, gathered information, and the importance of NATO in the whole equation.
Thursday, August 29: The Great European (Non) Vacation. With all the requirements done, research gathered, and preliminary negotiations held, there comes a time when you need to jump on a plane and go meet your potential partners. For John & Chris, that meant 10 data center tours in 72 hours across three countries — not exactly a relaxing summer holiday, but vitally important!
Friday, August 30: Making a Decision. After an extensive search, we are very pleased to have found our partner in Interxion! We'll share a little more about the process of narrowing down the final group of candidates and selecting our newest partner.
New Data Center FAQs:
Q: Does the new DC mean Backblaze has multi-region storage?
A: Yes, by leveraging our Groups functionality. When creating an account, users choose where their data will be stored. The default option will store data in US West, but to choose EU Central, simply select that option in the pull-down menu.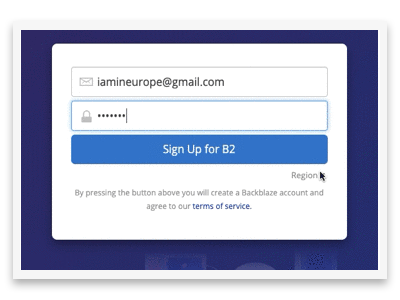 If you create a new account with EU Central selected and have an existing account that's in US West, you can put both of them in a Group, and manage them from there! Learn more about that in our Knowledge Base article.
Q: I'm an existing customer and want to move my data to Europe. How do I do that?
A: At this time, we do not support moving existing data within Backblaze regions. While it is something on our roadmap to support, we do not have an estimated release date for that functionality. However, any customer can create a new account and upload data to Europe. Customers with multiple accounts can administer those accounts via our Groups feature. For more details on how to do that, please see this Knowledge Base article. Existing customers can create a new account in the EU Central region and then upload data to it; they can then either keep or delete the previous Backblaze account in US West.
Q: Finally! I've been waiting for this and am ready to get started. Can I use your rapid ingest device, the B2 Fireball?
A: Yes! However, as of the publication of this post, all Fireballs will ship back to one of our U.S. facilities for secure upload (regardless of account location). By the end of the year, we hope to offer Fireball support natively in Europe (so a Fireball with a European customer's data will never leave the EU).
Q: Does this mean that my data will never leave the EU?
A: Any data uploaded by the customer does not leave the region it was uploaded to unless at the explicit direction of the customer. For example, restores and snapshots of data stored in Europe can be downloaded directly from Europe. However, customers requesting an encrypted hard drive with their data on it will have that drive prepared from a secure U.S. location. In addition, certain metadata about customer accounts (e.g. email address for your account) reside in the U.S. For more information on our privacy practices, please read our Privacy Policy.
Q: What are my payment options?
A: All payments to Backblaze are made in U.S. dollars. To get started, you can enter your credit card within your account.
Q: What's next?
A: We're actively working on region selection for individual B2 Buckets (instead of Backblaze region selection on an account basis), which should open up a lot more interesting workflows! For example, customers who want can create geographic redundancy for data within one B2 account (and for those who don't want to set that up, they can sleep well knowing that Backblaze durability calculated at 11 nines).
We like to develop the features and functionality that our customers want. The decision to open up a data center in Europe is directly related to customer interest. If you have requests or questions, please feel free to put them in the comment section below.