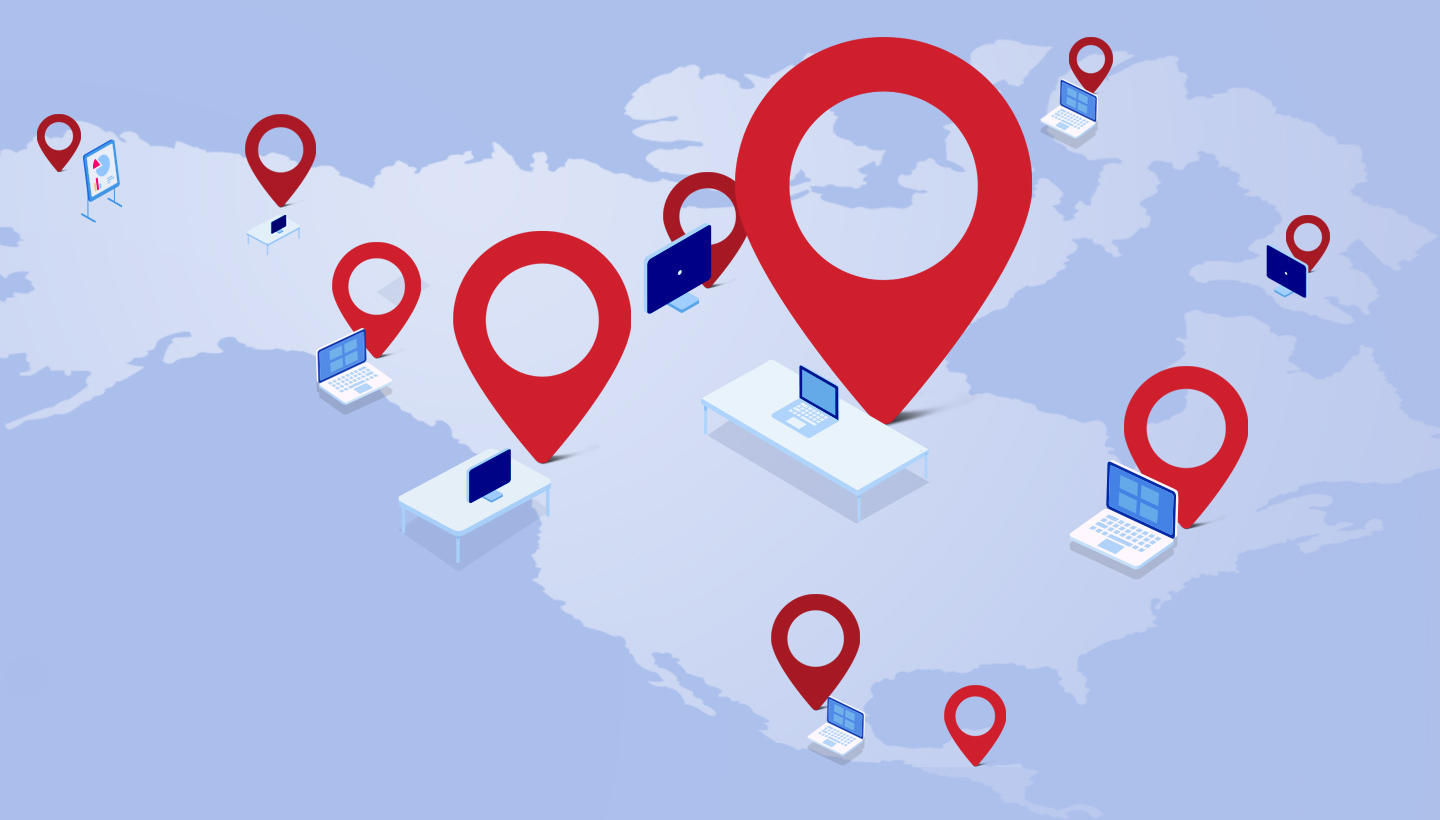 In early March of this year, Backblaze made the decision to require all employees who could work from home to do so. As various shelter-in-place orders were issued, the vast majority of the country quickly became a workforce working remotely. Now, with a couple of months of work from home behind us, and the indefinite future ahead, we're all seeing that going to work will probably look a bit different for us for some time to come.
Many people have been working from home with the assumption that they'd be back in the office by fall. While some businesses move forward with reopening, many companies are beginning to consider allowing most of their employees to work remotely on a regular basis. There's also the potential for future shelter-in-place orders that might require us to keep working from home. All this means that remote work is becoming a new norm rather than an unexpected but short-lived trend.
If you're someone who has just been "making it work" from home, then you probably haven't had a moment to think about creating a productive space for yourself. Now's the time to adjust your setup to optimize your ability to work from home.
Practical Tips for Remote Work
Some of the previous posts in our Digital Nomads series highlight people who have already optimized their remote work setup. They're experts in working from home or in very remote locations, but many other people aren't yet. So, we've put together a few tips gathered from our remote team, including advice from professionals who already had experience working remotely prior to this year for improving your work from home setup.
Optimize Your Home Office
One of the first things you'll want to consider is where you're working. For many of us, our homes aren't set up for productivity because we're used to going into an office. At home, it might feel a bit more difficult to concentrate on work when distractions, space adjustments, and new routines need to be managed. Some people have room in their homes to build out a home office, while people with less space might want to focus on a few items that will help them feel more productive.
For many people, working means sitting at their desk for extended periods of time. That makes a comfortable chair particularly important for sustaining focus. If you liked the chair you used in your office, consider reaching out to your office administrator to find out the exact make or model. Aeron chairs are also a good option that provide ergonomic support and customizable options. Aeron chairs tend to be expensive, but Staples also offers quality chairs for a range of budgets.
You can also look at reviews of office chairs from Wirecutter to learn about the range in types of features to look for in a good chair, even if you end up picking one outside of their recommendations. For example, all you might need to make your desk chair feel most comfortable is a new set of wheels, like these SunnieDog ergonomic office chair wheels.
A chair may not be the only adjustment you might need to make to your home office. Standing desks are a good option for anyone who doesn't want to do much sitting. The most popular standing desks among our team are Jarvis, Uplift, and IKEA Bekant. Jarvis and Uplift even offer custom options.
Minimize Distractions
Many people are experiencing a lot of distractions while working from home. In the office, we don't usually have kids running around, or pets who want to go on walks, or roommates who also have to share the new living room-turned-conference room. It could make all the difference in your ability to productively work from home to adjust your environment in a way that minimizes distractions.
Our team and the Digital Nomads we've profiled all recommend developing a space for work. For some, that simply means clearing the kitchen table every morning to start the day…and "breaking down" the office to end the work day and unplug.
The important thing to remember is to be mindful of the space that makes you feel most productive. That could mean creating a separate space entirely for work, claiming a corner in a room of your home as a quiet zone, or growing a jungle of house plants in your living room—do what's best for you! Set up your space in the best way for you to be able to focus on your work.
Keep Your Data Secure
Something that's easy to take for granted at work is data security. We imagine that the files that we use at work stay at work. But nowadays, we're taking our work outside of the office. Working remotely means that as individuals, we gain more responsibility for the security of those files.
If this has been the first time you've worked outside the office, you might still be getting used to using the same security guidelines at home as you would in the office. Being outside your office network may mean you have more passwords and logins to juggle than ever before. Using a password manager like BitWarden, 1Password, or LastPass can help to stay organized while protecting your work projects. You can also read our guide to preventing ransomware attacks that could compromise all of your work data.
Be Sure to Have a Backup Plan
Speaking of protecting your data, backing up is just as important for your work as it is with your personal files. And if you're already using Backblaze to protect your personal data, why not ease your mind about your work files, too?
If you're part of a team that works off of a shared drive or cloud sync service like Google Drive or Microsoft OneDrive, then having a backup of your files is all the more important considering sync doesn't secure them. (If you're not sure about the difference between cloud sync vs. cloud backup, you can read our handy guide, here.) For distributed teams, Backblaze Business Backup extends our Computer Backup product and adds a number of Admin controls (and other features tailored for disrupted workflows). There is no incremental charge for the extra functionality. Here's a primer on all of the different options available to you.
Communicate with Your Team
While working from home, it's hard to communicate with team members you don't see face-to-face every day. Remote work puts an emphasis on an individual environment, so it can make it more difficult to find time in busy schedules to schedule a meeting or a quick call about a project.
Thankfully, technology can bridge some of those gaps. In place of in-person meetings, most people now hold video calls. And while a comfortable setup for your home office is one thing, upgrading your video setup could make all the difference in connecting with your team over frequent video meetings. We put together a guide with expert advice from TV studio professionals to up your video conferencing game.
Many organizations also use direct messaging applications like Slack so that employees can reach each other quickly and casually without the need for email or a call. Connecting Slack with your calendar automatically shows co-workers whether you're free to talk or busy in a meeting. It's the virtual equivalent of seeing that someone's stepped away from their desk.
Besides adapting to new methods of communication, we're still dealing with some pre-existing opportunities to enhance productivity. Some of us on the Publishing team suffer from "browser tab proliferation" but we use bookmarking tools and browser extensions that help group and manage tabs. Pocket and Session Buddy are popular options that can help organize some of the content you access often or want to save for later.
Work From Anywhere
In a sense, we can all be Digital Nomads now given more opportunities to take our work remotely. In our previous posts in this series, we've interviewed professionals in our team, like Senior System Administrator Elliott, and professionals in other fields, like Chris, Producer and Director at Fin Films, to learn more about their experiences with working outside of a traditional office setting.
This year, a lot has changed, including the fact that there are even more people who are redefining the ways they do their jobs. We'd love to hear your best tips for working remotely in the comments below.