The Digital Nomads Series
In this blog series, we explore how you can master the nomadic life — whether for a long weekend, an extended working vacation, or maybe even the rest of your career. We profile professionals we've met who are stretching the boundaries of what (and where) an office can be, and glean lessons along the way to help you to follow in their footsteps. In our first post in the series, we provided practical tips for working on the road. In this edition, we profile our very own Elliott Sims, Senior Sysadmin, who successfully completes his work for Backblaze while he and his wife and dog travel the country.
---
How does a Backblaze Senior Systems Administrator manage to look after Backblaze's network and computer systems while working remotely? He does it by planning ahead to ensure a solid connection to our network at every destination and having multiple options to make sure he's never without a connection.
As a Senior Sysadmin, Elliott is responsible for doing whatever it takes to keep Backblaze's services up and running. That ranges from network and Ansible (an IT automation tool) configuration to working with engineering to triage problems or design future systems. Elliott describes his job as a mixture of fixing what's broken and ensuring that things are less likely to break in the future.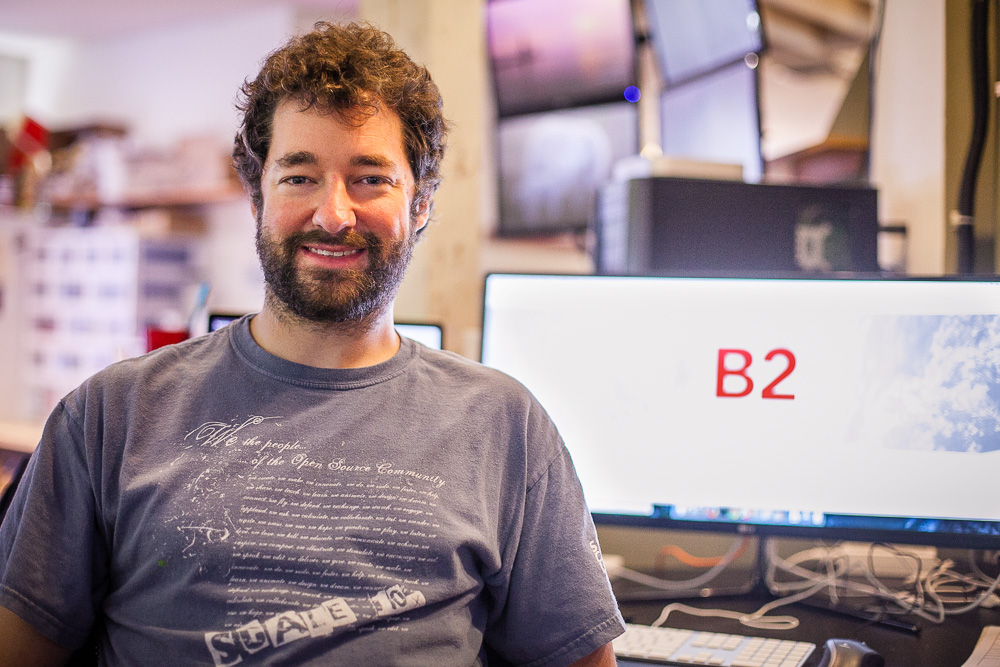 Tenacious planning comes naturally to Elliott. It's why he's in his position: he enjoys technical challenges that might deter others, like fixing systems that fail in complicated and hard-to-track-down ways. Previous to Backblaze, Elliott worked for EDS/HP as a systems administrator and later for Facebook as a site reliability engineer and operations engineer. He made the move to Backblaze after he decided he wanted to work with a smaller team. The idea of working for a company that offered a useful service to people outside of the Silicon Valley bubble, where many companies only offer services to one another, was especially appealing.
Elliott and his wife, Robin, got the travel bug during their month-long honeymoon. They didn't like dealing with unfamiliar hotel rooms and beds and the many places that don't accept dogs (there was no way they were leaving Stitch behind), so they made the decision to bring their home with them on their travels. In July 2018, they purchased a 19′ Escape trailer RV.
Elliott admits that his choice of vehicles reflects his operations mentality: He wants to stay many steps ahead of what can go wrong in any situation. The Escape travel trailer is solidly built out of two pieces of molded fiberglass, which presents fewer seams where water could leak in. It also is equipped with lithium batteries that last longer and charge faster than other options, which is essential for someone who is using the RV as a mobile office.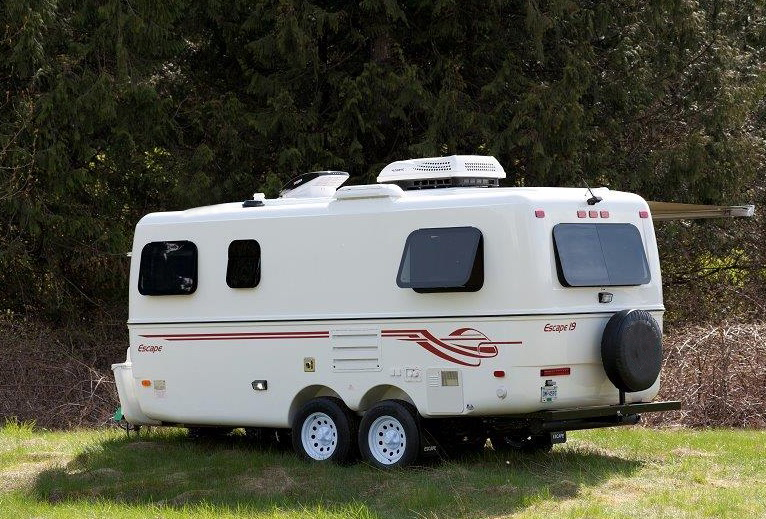 Shortly after acquiring the Escape, Elliott and Robin made a commitment to live one year on the road. After six months, they realized that a year would not be long enough. Just one month in Washington, D.C. was clearly insufficient for them to get the know the area as well as they wanted. They changed their plans and resolved to stay on the road indefinitely.
How a Sysadmin Works Remotely
While most companies might not like the idea of a Senior Sysadmin working away from the office, Backblaze didn't blink. And why would we? Through good planning, Elliott is rarely out of touch with the crew back in San Mateo and in our data centers, and at least once a quarter he visits us in San Mateo along with the rest of the remote Backblaze team. The rest of the time he's on his own and makes it work despite the varying quality and availability of broadband he encounters on his travels.
Elliott's Setup
Planning ahead means that Elliott knows what kind of broadband to expect at his next destination. It needs to be reliable and fast, as he'll be working from that location for a number of days.
His first choice for a reliable broadband connection is Wi-Fi, but that's not always available or sufficiently fast, so he has backup options that include multiple cellular plans and devices. When Wi-Fi doesn't work for him, he can turn to one of his cellular routers or even tether his computer to his phone.
Wi-Fi
For Wi-Fi, Elliott uses a directional antenna on his Ubiquiti router to reach access points. He has learned that most of the time the limiting factor isn't the range to the access point but the backhaul from the WiFi access point to the internet — frequently it just can't handle the bandwidth required. He explains that public Wi-Fi in urban areas typically has a better backhaul, but unfortunately places like restaurants and cafes often block VPN and SSH, which makes using it for work difficult.
Cellular
When he started out, Elliott had cellular plans with both AT&T and Verizon through resellers. But after a couple of weeks, the AT&T plan suddenly stopped working and Elliott couldn't reach the reseller for help. His other plan on Verizon worked OK, but at the same time as AT&T quit on him, Verizon dropped from 4G down to 3G and stayed there. Unfortunately, 3G is being replaced with 4G in many areas, so that limited this options. To add insult to injury, it turned out that the Verizon plan was tied to a specific router, which Elliott had left at home in favor of a dual-SIM unit he was using. Topping it all off was the fact that all of this happened in the middle of nowhere along US-50 in Nevada.
There weren't any local retail options Elliott could turn to for a fix. He made do for a time with the fair-to-poor RV park Wi-Fi and tethering his laptop to his phone, but cellular gets expensive and Wi-Fi goes downhill fast around 5 p.m. when all the RVers fire up their favorite movie streaming service. Elliott made the decision to turn to the only carrier he knew of with a viable and unlimited plan at that particular moment, T-Mobile. When he reached the next town he signed up for T-Mobile and added that SIM in the router.
Failure is Not an Option — Plan C
As we said earlier, Elliott's job at Backblaze is making sure that essential data center systems are always working, no matter what. So, we can expect that just Wi-Fi and multiple cellular plans wouldn't be enough to satisfy Elliott. That's why he also has a Plan C in his connectivity toolbox. This plan involves tethering his laptop to his phone. It works, but is expensive at $10/GB and doesn't have the coverage of Verizon or AT&T.
Plan C takes advantage of Google Fi, a MVNO (mobile virtual network operator) that can switch between cellular and Wi-Fi services depending on what's available, even including less known cell service providers like Commnet, which Elliott encountered while visiting the Grand Canyon.
When he doesn't have Wi-Fi and can't make a cellular connection from his dual-SIM cellular router, Elliott can tether his laptop to his phone and use one of the carriers that aren't Verizon or AT&T. Elliott says he hasn't fallen back to tethering much due to the high cost, but he's glad it's there if everything else fails.
Security and Backup
Living on the road can increase the risk of loss through accident or theft, so Elliott follows strict practices for keeping both his personal and business data safe. Unfortunately, RVs are made of lightweight materials and there's little one can do to keep a determined thief out. Unlike a house, it's possible for someone to just hitch the entire thing up and drive away with it. Consequently, Elliott has to rely primarily on digital security. His laptop is secured with full disk encryption using Apple's FileVault. All communication he does for work is over VPN, SSL, or SSH, which ensures end-to-end encryption.
Being a Backblaze employee, Elliott is on top of keeping everything on his laptop backed up to the Backblaze cloud — especially important with all the uncertainties of traveling. He makes heavy use of both Backblaze Computer Backup and B2 Cloud Storage for securing work and his and Robin's personal files while on the road.
Work Desk
Elliott also has to make the most of limited space in his 19′ RV. The ergonomics of the dinette table were a problem early on, but Elliott settled on using an Apple keyboard he could prop in his lap and a trackball that fits better on the table instead of his usual mouse. A cushion brings the trackball up to a comfortable height. Elliott has an external USB3 monitor, but the limited table space available makes it impractical to use regularly.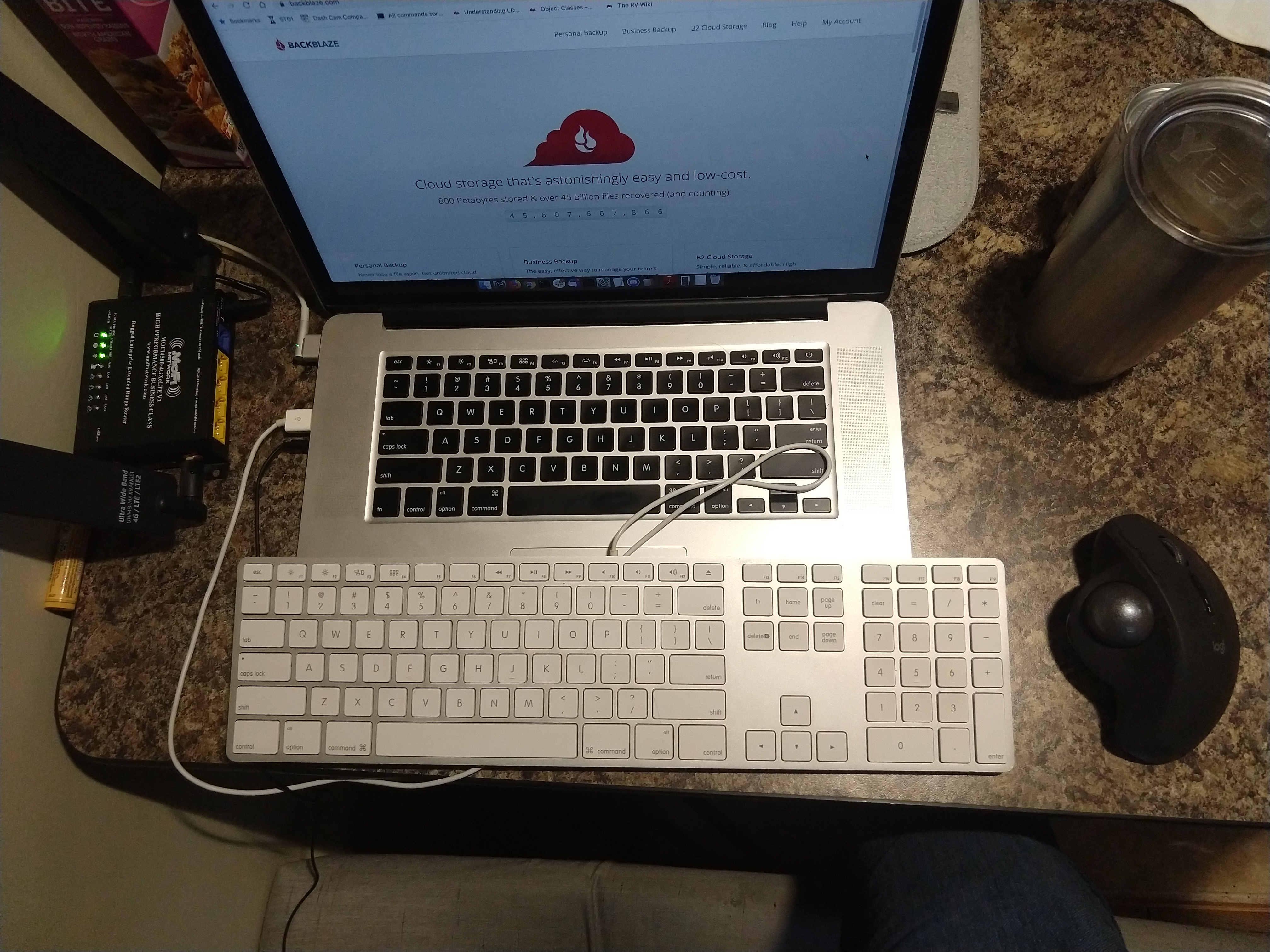 Power
Elliott's power setup for the RV is extensive — no surprise. He has solar panels on the RV roof, a charger/inverter, lithium batteries, and monitoring systems for the solar systems and the interior temperature.
These systems aren't just to enable remote computing and living comfort. They want to be able to leave Stitch in the RV for a couple of hours while they shop or go to a movie and not have to worry about the heat. They also want to have the option to camp out in a friend's driveway for a few days and run everything off a normal 15A outlet (which their inverter/charger's hybrid mode is great for). The setup also comes in handy when Elliott has to spend the day working from a rest stop with no plugins, or on occasions when the RV campground's electrical systems strain to keep up with air conditioners running in unusually hot weather.
The two 180W solar panels are the maximum that Elliott could fit on the roof of their small, 19′ trailer. He says that solar tech has improved since then, and he could bump the panels up to 2x200W, but much more than that would be challenging. It's plenty of power most of the time according to Elliott, but on high-power-usage days or during overcast winter days, it's not quite enough. He says he'd probably double it if he could.
The 5x100Ah lithium iron phosphate batteries were chosen because they are significantly more power-dense than lead-acids, and basically it was the only way he could cram enough energy capacity into the small space that was available. They're pretty expensive, though. In theory, the much longer cycle life should make up for it over time, Elliott believes.
Elliott likes his Victron MultiPlus inverter/charger. It's a high-power true sine wave inverter and high-current charger in one, but the current limiting and hybrid modes are where it really stands out. He can tell it to limit the amount of power it's pulling from the power hookup by not charging the batteries, or even set it to pull supplemental power from the batteries when needed. This lets him do things like run a long extension cord to a shared 15A outlet and pull only 9A max while still running an air conditioner. Elliott says that will eat into the battery charge a little on really hot days, but usually the A/C cycles off enough that it can keep pace or close to it. The solar setup also helps a little bit in those situations.
Elliott's battery monitor and solar controller are also from Victron, and he can keep an eye on them from his phone via Bluetooth with their app.
Elliott rigged a nice little system to monitor the temperature for when Stitch is left in the RV. It's a Raspberry Pi Zero W with a small temperature sensor that's hardwired in with a 12V->5V converter and reports data to Amazon Cloudwatch via the hardwired mobile router. He has graphing set up on a free Grafana account. The total monthly cost? — $0. He was hoping to also report data from the Victron gear via Bluetooth, but it turns out that although Victron uses standardized protocols for the wired stuff, their Bluetooth communication is proprietary.
The Adventure Continues
So far, Elliott, Robin, and Stitch have traveled about 8,600 miles and visited 22 U.S. states. Along the way, they've especially enjoyed Washington, D.C., the Rockies, and Tahoe. While in Phoenix, they made a stop in the parking lot of Backblaze's data center, where Elliott was able to work for a while in the data center office, which let him spread out a little bit from the RV's dining table.
After traveling back and forth across the country, Robin and Elliott decided that the 19′ Escape trailer is just not big enough, so they're planning to upgrade to a 25′ Bigfoot trailer. That will give them not just more interior room, but a separate shower instead of a shower/toilet combination they currently have to endure. They'll also gain the ability to walk around the bed, and the trailer will have bigger water and waste tanks. The bigger tanks will provide more flexibility for where they stay as they won't have to find tank dump facilities as frequently.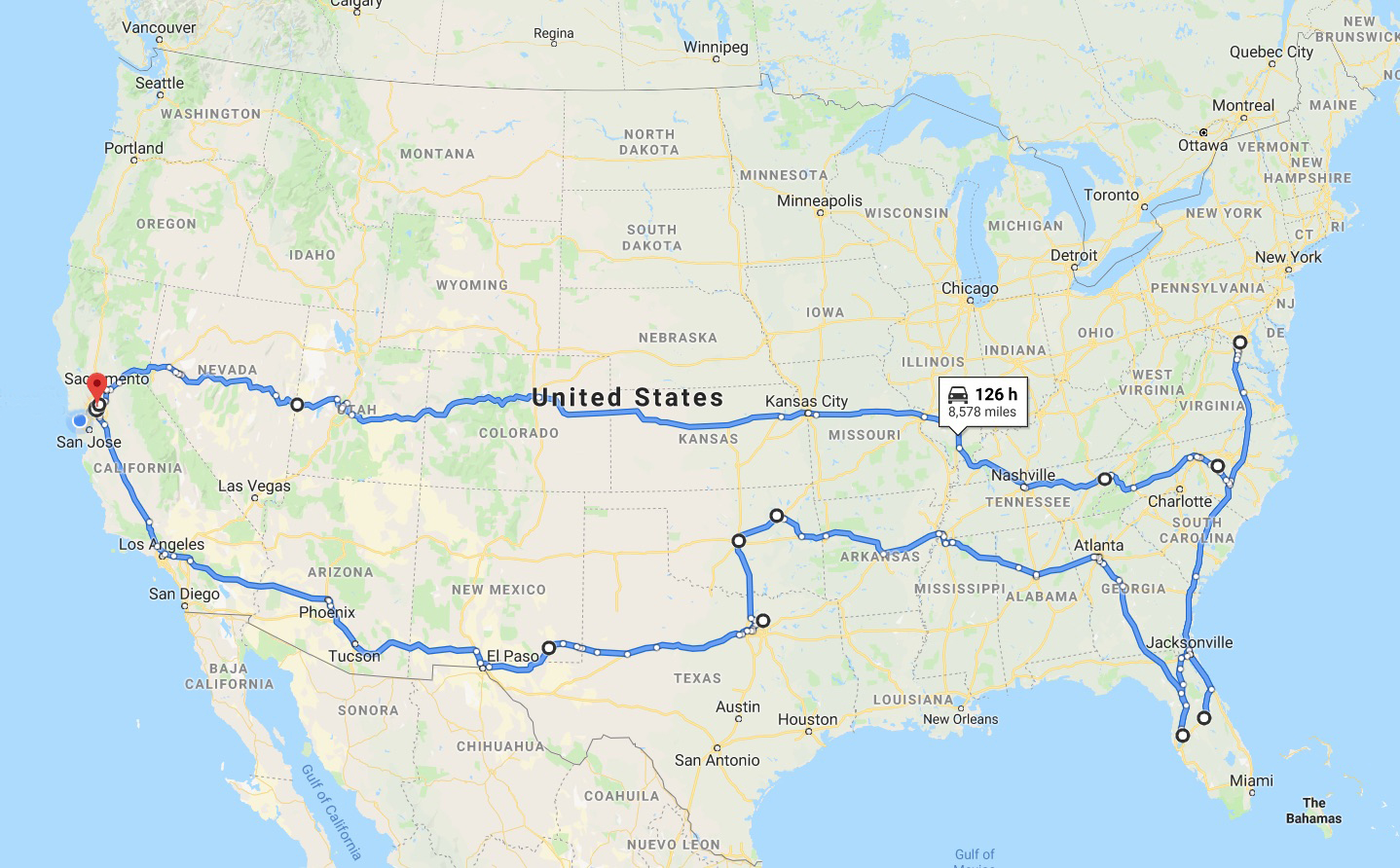 The traveling trio are currently in California, not that far from Backblaze's main office in San Mateo. They won't stay put for long, however. Future travel plans include heading for the Denver area to visit Robin's family. Robin will continue to handle a lot of the long haul driving, while Elliott gets the urban driving duties. They definitely want to see more of the Washington, D.C. area, and plan to visit Banff in the Canadian province of Alberta, and maybe Mexico sometime in the future.
Wherever they are, they'll always be in close touch with Backblaze and we're glad of that, because we depend on Elliott's skills in keeping our systems running smoothly 24/7.
We'd Love to Hear Your Digital Nomad Stories
If you consider yourself a digital nomad and have an interesting story about using Backblaze Cloud Backup or B2 Cloud Storage from the road (or wherever), we'd love to hear about it, and perhaps feature your story on the blog. Tell us what you've been doing on the road at mailbag@backblaze.com.
You can view all the posts in this series on the Digital Nomads page in our Blog Archives.