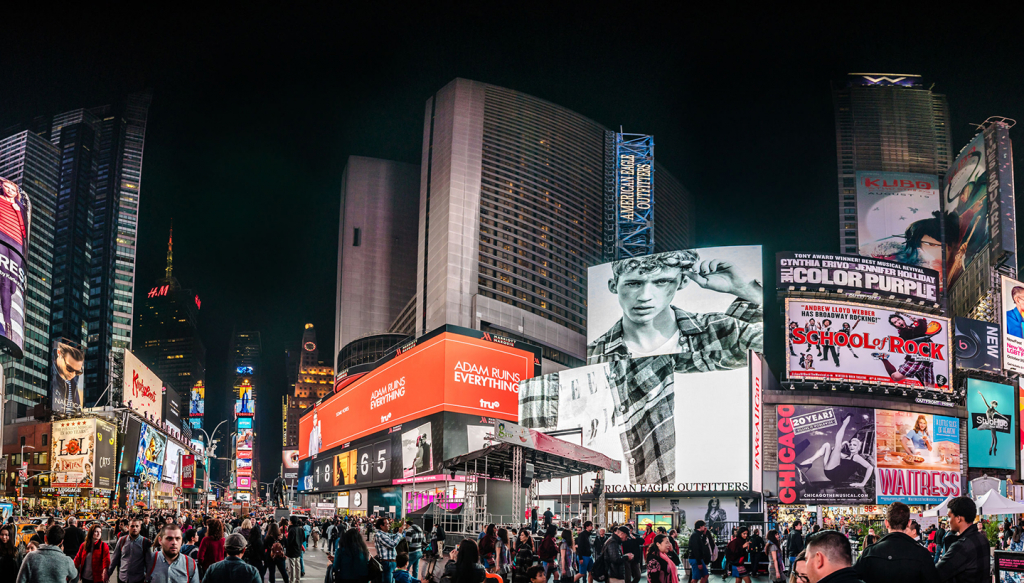 Start spreading the news, we're leaving next week.
We're going to be a part of it, NAB New York!
Did you know that NAB Show — the premiere technology expo for media & entertainment held every year in Las Vegas — also offers a fall show in New York City? They do. And yes, we'll be there. We couldn't turn down an event in the media capital of the nation, if not the world.
New York City is home to the Big Four broadcast networks, and is a global center for newspaper, book, and magazine publishing, the music industry, independent filmmaking, and online media. That makes New York a great place to visit existing customers and to meet new ones.
New York Customers That
♥

Backblaze

A number of New York-based creative agencies are B2 customers, including Baron & Baron, the agency that's the driving force behind some of the world's most celebrated luxury fashion and beauty brands. Our creative director and co-founder, Casey, got a big kick out of laying out their case study. It's not every day that he gets to work with eye-catching imagery from the likes of Coach, Dior, and Armani. But that's just one agency of many long-term B2 customers based in New York City. That's not surprising since seven of the top eight global advertising agencies are headquartered in NYC. (Cue the theme music to Mad Men.)

New York City is also ground central for the growing number of online media companies, from online-only news outlets like Huffpost, Business Insider, Vox, and Vice, to digital-first brands and online instructional sites like B2 customer Panna Cooking. Being digital natives, it's no surprise that online media companies have been quick to adopt cloud storage.

Finally, one-third of all American independent films are produced in New York City. (Don't tell Hollywood!) At NAB New York we will be debuting a new case study for a documentary filmmaker whose craft has him riding the waves all over the world. Watching his films, you can almost feel the spray on your face and the waves beneath your feet.
Visit Backblaze at NAB New York
If you'll be in New York on October 16-17, please stop by our booth #N756 at the Javits Center. We'll be celebrating 10 years of our Backblaze Storage Pod, so we'll have our latest pod in our booth for you to get up close and personal with one of Silicon Valley's first open-source hardware projects. If you want to spend more time exploring how B2 could fit into your workflow, our calendars are open for you to schedule an appointment and we'll have a special gift waiting for you.
Our distributor PVT will also offer live demos across the aisle in their booth #N757, showing B2 in action with integrated workflow applications from Archiware and iconik. You can also visit other integrated application partners at their own booths, including CatDV #N660, EditShare #N345, Facilis #N136, FileCatalyst #N159, GB Labs #N359, and GrayMeta #N1120.
Finally, if you don't have a pass to the show, register using our code NY9776 and the expo hall, on-floor sessions, and select networking events are completely FREE.
Only in New York
Top Picks

from Backblaze Staff

Of course, a trip to New York City isn't all business. The Backblaze folks attending the show make a point of carving out time for some of their favorite things you can only experience in New York. And we'd like to share some of our faves with you.

Nilay Patel, Vice President of Sales
When Nilay can squeeze it in, he heads to the Upper East Side for a real gentleman's haircut at Paul Molé barber shop, New York City's first. After that, he'll be ready to stroll in style down the High Line park and up to the rooftop bar at the Standard Hotel.

Terry LoBianco, Director of Sales
Terry feels inspired by the grand architecture of New York City, and Grand Central Terminal's Beaux Arts design is among her favorites. Her plan is to stop in for cocktails at the Campbell Bar inside the station. She'll be having a Manhattan of course!

Skip Levens, Director of Product Marketing
I don't know if it qualifies as traditional New York pizza, but Skip is salivating just remembering the pizza the team had at Tappo Thin Crust Pizza last year. Like a good native Californian, Skip craves the salads at Tappo too. And after he tears down our booth, he hopes to catch the opening of the Chelsea Film Festival that's a hop, skip, and a jump from Javits.

Elton Carneiro, Director of Partnerships
Poor Elton. He's been craving Goa-style food at Bombay Bread Bar. But alas, celebrity Chef Floyd Cardoz closed up shop just two weeks before his arrival. He's crossing his fingers that it will reopen somewhere else in the city. Anyone know? If not, Elton will have to wait for a trip to Mumbai.

Vincent Montez, Business Development Representative
Vincent was quick to report that the Flat Iron Room was his top pick. His dream is to splurge for the pricey Ultimate Japanese whisky flight, but given his budget, he'll probably settle on the more reasonably priced and geographically appropriate New York flight.

Pavithra Hari, Senior Sales Engineer
Pavithra has it all planned. First she'll hit the Halal Guys original food truck on 53rd & 6th, then take the subway to the Empire State Building for the long elevator ride to the top. She's well aware that there's a Halal Guys restaurant a few blocks from Backblaze headquarters, but it's just not the same.

Patrick Thomas, Head of Publishing
Leave it to Patrick to find the most healthy and introspective activities of the team: jogging on the Hudson River Greenway, sipping Japanese matcha tea at Ippodo, and if he's lucky, catching an event at the New York City Poetry Society.

Janet Lafleur, Senior Product Marketing Manager
Sadly, Janet won't be joining the crew in New York this year — someone has to hold down the fort. But she already has a plan for NAB New York 2020: jazz and soul food at Red Rooster in Harlem. Red Rooster comes highly recommended by Shaneika, a Backblaze account executive and native New Yorker. The seafood jambalaya will have to wait.