Spending all day on Twitter and Reddit shouldn't really be a job, but here we are. With every organization from a local coffee shop to multi-billion dollar enterprise having a social media presence, community and social media management has become not only a job, but a career path that tens of thousands of people have adopted in the last two decades.
Many still question the value, if any, of KPIs (key performance indicators) for tracking social media, and the overall return on investment of a dedicated social media presence. With that in mind, I wanted to share why Backblaze continues to invest in maintaining strong community and social relationships.
Having a strong social presence has not only helped us build a community of fans and advocates, it also has driven serious bottom-line growth, playing a large part in helping us achieve nearly 50% growth and an ARR of over $30M.
Spoilers — Key Takeaways
In this post I'll discuss the takeaways below and dive in to two case-studies where bringing all these together helped Backblaze navigate some tricky situations (more on those below):
Social media can be fickle. Finding the right balance for your brand between being funny, informative, and helpful can be hard but it is paramount if you want to cultivate the right kind of audience and community.
Empathy is important, especially if you provide social tech support — people writing into support are usually not having a great day. Very few of our support tickets are simple praise (and when they are, we share them with the whole company). Being empathetic can help craft your responses in a way that does not put your customers on the defensive, and even if you can't help them, being understanding of their situation goes a long way in helping them feel heard.
Do not use standard answers. As much as I can, I try to use hand-crafted, artisanal responses for every person that writes in. Even if you get a flurry of similar questions that require the same steps to solve (say there's an outage, or there's a popular blog post that yields identical questions), addressing people by their names and individualizing responses helps immensely and puts a more approachable face on your company.
Some days are going to be bad: not all news is good news. Sometimes there will be a particularly bad day on the horizon that you see coming and start dreading. Know that it'll pass and get yourself mentally prepared for the onslaught. Sometimes knowing that there will be controversy will help you craft your messaging in advance. Try to think through the edge cases and if you don't have a good answer, tell people that you'll find one and get back to them.
Follow up. If you are in the middle of a busy day, try to get to everyone within a few hours. If you cannot, flag them and reply later. You want people to have warm and fuzzies when they think about you. Hearing back from you on social, even a day later, can absolutely have that effect. Making sure no one falls through the cracks helps people feel heard and a part of your community, and shows that community members are valued.
Backblaze's Social Philosophy — Branding First, KPIs Last
Contrary to popular belief, Backblaze is not a large organization (though we keep staffing up, check out our backblaze.com/jobs page!) Our social media team consists of an army of one, Yev (me), and a few folks on staff who also have logins and can act as backups in case I go on vacation. It's good to have backups.
How did I get involved with the social side of Backblaze? I joined Backblaze in 2011 as part of our Customer Support team. Natasha, a former contractor (and now one of our product marketers) ran our social media efforts — essentially responding to questions and posting new blog entries and interesting tidbits. A few months into the job I took over the outbound social media posts for the company from Natasha, and a little while later took over both aspects of our social channels. Natasha still helps out as one of the people on the social backup rotation.
My philosophy on social and community stems from my strong belief in customer service. I've always encouraged having a support aspect to our social channels, which means being communicative when we have issues and often handling simple support cases before referring folks to our customer support team. Since backup and data storage are serious business, every opportunity to offer support is a good one. Twitter, Reddit, Facebook, and other platforms can also act as an early detection canary when people are having issues. That said, I try to avoid debugging issues in a public forum and have found that a lot of people prefer a relevant knowledge base link or a shortcut over going into details about their computer on Twitter. Being receptive to people on different social platforms and giving them individualized answers shows that real people are paying attention to them and that they're not just talking to a brick wall. I consider these efforts to help customers less about customer support and more about brand-building, but ultimately, it's just the kind of company that we want Backblaze to be.
Is There Value in Measuring Social Media KPIs?
We've historically focused our social efforts more on the brand than on KPIs for several reasons. A common mistake people make is to view social media as just another direct response channel. While social can certainly drive traffic and sales, it has the potential to be far more important for overall business growth and brand building. Focusing too narrowly on direct response KPIs not only undervalues social's overall benefit but can also move focus onto the wrong activities.
That said, KPIs are not entirely worthless. Some of the most common KPIs include: clicks, views, mentions, trackable purchases, as well as a host of other more narrowly focused engagement metrics. While it's great to have tracking and to know how many folks are purchasing as a result of your social activities, using those metrics as the sole arbiter of whether or not your social strategy is working is, I believe, a bit short-sighted. Plus, if you're a shrewd social media manager, you can easily manipulate the KPIs. Need to goose your click numbers for the month? Here come the brand-relevant kitten gifs, but how is that good for your business? What's ultimately good for your business is getting people to recommend you.
The Real Value of Social Media
Apparently, there are Mac users out there who do *not* use Backblaze for their online backups. Wild.

— Todd Vaziri (@tvaziri) November 11, 2018
Social proof is one of the single biggest influencers on a customer's purchase decision. Regardless of whether your product is consumer-focused or enterprise-driven, your social channels are building out your community. That building of community, in turn, builds brand awareness and positive vibes. The better the community and social interactions are with your company, the more your message gets amplified. When things are good that means recommending your service, and when things are bad it means that they'll be more willing to give you the benefit of the doubt.
Your social channels' worth is hard to measure day to day, but don't listen to people who say it can't be measured at all. Measuring growth takes understanding what your goals are and whether your community can help attain them. You can start to see the benefits when people in various online places stand up for you, or field questions on your behalf in public forums (bonus points if they field them correctly). All those things mean you are doing a good job of educating your fans. Having customers and fans who help get your point across is a wonderful thing, and as I go into a bit later, can lead directly to revenue.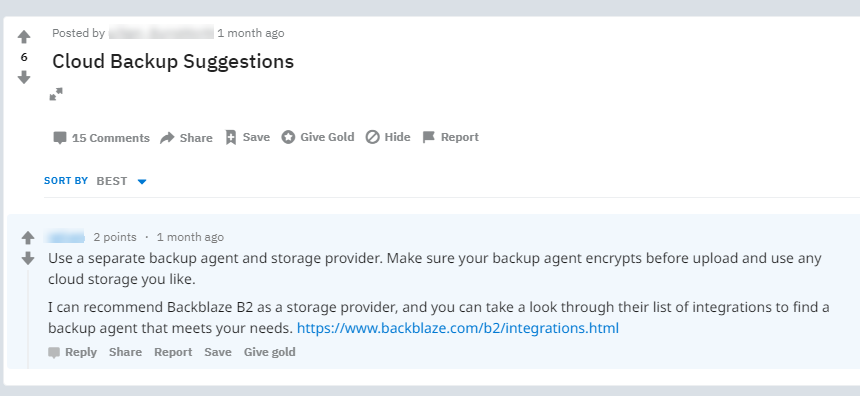 Reddit Recommendations
Unsolicited Twitter Recommendations Are Great
Insight #1
Focus on the customer impact and business results, then determine the right metrics for your business, knowing there may not be any. A branding-first approach of using social media as an extension of your support organization can make customers happier and can reduce complaints. The fewer help tickets coming in, the more kudos you get from your support team (and it lowers your operating expenses). Plus, being outwardly communicative and having quick response times can ease the customer's anxiety in times of stress. If you can successfully do all that, it can lead to customers who are truly brand advocates and are more likely to amplify your message, recommending you, or giving you the benefit of the doubt.
My Daily Social Media Tools
I've covered the importance of engaging community and the strategy we take to make sure those community needs are met. That still leaves the question of how to actually do it. To that end, I'd like to take you through a typical day of mine.
My day starts by checking Twitter. It is the most real-time firehose of information and can act as a harbinger for how the day is going to go. I use the Fenix app on my phone to separate my personal account from my work account. All the Backblaze tweets go to Fenix, while my personal Twitter is tied to the default app. This separation helps prevent me from accidentally posting to the corporate stream. The other benefit is that the notifications become separate so I know whether to investigate quickly if it's a Fenix notification, or let it slide for a personal one. Once Twitter has been scanned, I respond to the people who need help, either by sending them a helpful link or routing them to our support team.
When I arrive in the office, TweetDeck takes over. If you've never seen it, to some it looks a bit overwhelming. There is a series of columns, each one keeping track of separate lookups and keywords. I have streams set to follow @Backblaze, the term "Backblaze," and some of the hashtags that we use frequently. It's also a great way to see what competitors are up to, and see if you can add any helpful information to conversations that might be about your organization (e.g. someone is considering you and your competitors and is asking for opinions). An additional benefit is that you can gauge the general sentiment that customers have towards you. If most of the tweets mentioning your competitors are positive, that's great and you have some work to do in making sure you're thought of in the same way. If most of the mentions are negative, that can be a great time to jump in and try to win some people over, especially if their issue is with something that you excel in — just be nice.
While TweetDeck acts as a general firehose for Twitter, it can't monitor what's happening elsewhere in cyberspace. For that, I use Mention. It's essentially an aggregator for the mentions that your keywords receive all over the internet. It is pretty close to real-time, only lagging by a few minutes. There are more robust tools available (Hootsuite, Sprout Social, and Buffer are all good robust tools), but for the money, Mention does a great job finding keywords from social media sites, blogs, news articles, and forums. It's a great way to get an overview of where your organization was mentioned, and even has some analytics tools to help you parse through it all and see where and how folks are talking about you.

Mentions Over Time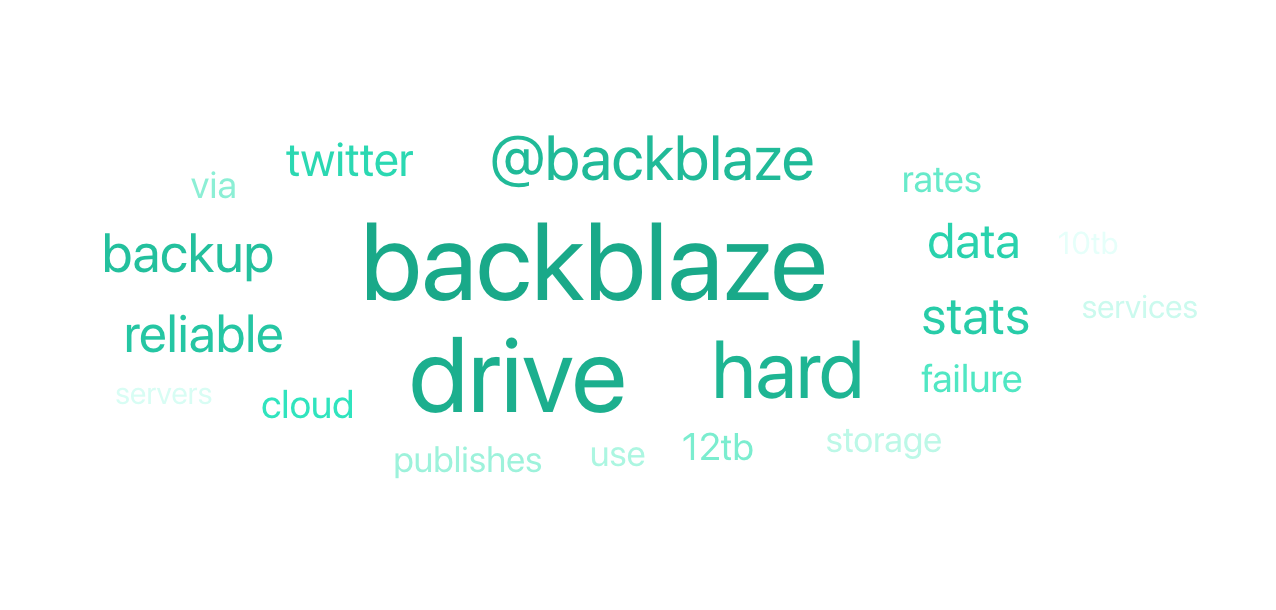 Hard Drive Stats Word Cloud
Thoughts on Twitter
More than any other social media platform, Twitter has become the place where people go when they have an issue, need information, or just want to ask a question. Being responsive and making sure each person is responded to builds a rapport with your followers and encourages a sense of community. Having a temporary unplanned outage? Make sure you tweet it so that folks know you're on top of it and they aren't feeling left out of the loop. Have a new feature to announce? Let the masses know so they can update to the latest and greatest version. Getting questions about your service? Respond quickly and with relevant information. Someone taking out their frustration on you? Respond with compassion and empathy; make sure they understand that you have heard their feedback and that it's understood, even if there is nothing you can do.
This leads to a more cohesive community where no one feels left out and everyone feels like they're a part of the group. If someone is having a bad day and takes it out on you, that's the perfect time to try and bring them in for a soft landing. Very few people ever reach out to Customer Support because they're having the best day ever. For the customer where something has gone wrong, the way that you treat them dictates how the community at large will view your brand and company. Being empathetic does not have any downsides in these cases and builds trust over time.
Insight #2
One of the reasons I use multiple services to track mentions is to make sure that people don't fall through the cracks. It's important that folks are responded to when they write us with a question or frustration. Even if the interaction with us is not positive, the goal is to make sure everyone feels heard. That helps establish the positive brand and good vibes I am trying to cultivate and results in brand amplification and customer lead recommendations.
Where Social Fits In At Backblaze
Venture capital backed companies tend to be built around hypergrowth, spending money to acquire customers while honing the product and finding their niche. In the almost thirteen years Backblaze has been around, we've raised less than $3M. We're funded by our own operations; this is known as being a bootstrapped company. Being bootstrapped brings with it a lot of benefits, like the freedom to make our own decisions, but it does also mean we can't spend a lot of money buying Facebook ads, much less buying radio and TV time. So we have to be creative with how we attract people and keep them happy once we earn their business. We want the Backblaze brand to reflect our culture: transparent, empathetic, and efficient. Compared to our competition, we believe that offers a unique and different proposition to people deciding where they want to store their data. Not only that, but those beliefs also reflect who we are as people.
To attract customers and educate the masses without breaking the bank, we focused on writing interesting blog posts, open-sourcing technology, and being generally available to our customers. Being available is what we think truly sets us apart from the competition. For us, availability and being social means being good internet citizens, responding to hails from around the web, and joining in on conversations about the industry. That means going to where folks are talking about us and sharing some of our insights, like our hard drive stats posts. All of that, plus listening to our customers when making product decisions (like adding much-requested file sharing in version 5.0), helps move the product forward while bringing our customers along for the ride.
One of the tangible side benefits of being present on other platforms is that sometimes being involved in the conversation elsewhere can help stave off support tickets before they enter our system. We have a great Customer Support department and they handle all of our tickets in-house, so being able to head off potential issues on other platforms where currently and possibly future customers are chatting, not only helps us stay engaged in the conversation, but can also reduce the number of tickets coming in.
Insight #3
Community building is paramount. What is community? For me, it means any place where Backblaze is mentioned and anyone who engages with our company. Perception being reality, your company will be judged by its public actions. For better or worse, mindshare on the internet is driven by social interactions. Those interactions have to be genuine and not just lip-service with canned missives written by lawyers. While sometimes review is necessary, honest conversation in real-time is the standard I strive for. A company that does not invest in some form of social presence is actively not investing in its brand.
The Social Media Strategy
The strategy for our social efforts is simple: stay engaged. There's a literal time component to this — we try to respond quickly, ideally within a few hours. Responding quickly is great, but if you're responding fast with an automated message, you risk infuriating your customers. Ideally the response is quick and has relevant information. How do you maintain relevance? You do it by sending out useful, topical, or interesting tidbits that are industry related, and by participating in the comments wherever they come up. If you aren't sure of the right answer or don't have the necessary information at your fingertips, reply and let them know that you'll work on getting them the right answer — then follow up.
Participation is one of our most important tactics. If you aren't shy of wading into the comments, whether they be positive or negative, the community learns to ask questions and expects to receive answers. That, in turn, leads to trust, which is immeasurably important.
That's especially true when something goes awry, for example when an Adobe issue ate some Backblaze files, or if you want to capitalize on an opportunity, as when we were able to move quickly and gain customers when CrashPlan's exit of the consumer business was announced. Backblaze is in the data storage business, which makes it important to strike a balance between being funny, informative, and helpful. It's difficult, but relentless participation is paramount for cultivating the kind of community you want your brand to have.
I am lucky enough to have the latitude to make decisions about what to explore and expand upon in public forums. That means that if something is happening in real-time, I don't have to wait for an hour and a half to get approval about what I can and cannot say. This isn't all improv (though I did do that in high school). We create this environment by having honest internal conversations that assume we are going to be discussing things with our customers. We are constantly calibrating and communicating so that when things happen in real-time we can react quickly. Do mistakes happen? Sometimes they do, but the benefits of being able to move quickly in an informed way have thus far outweighed any downsides we occasionally see.
Another thing to consider is that there are a lot of SaaS companies offering ready-made community platforms that allow you to manage your own online community. Platforms such as Vanilla, Chaordix, and CMNTY all help brands build and design their own online spaces. I've found that in general, these are great for large companies with huge brand awareness, and while Backblaze is large, I do not need such robust tools (not yet anyway). Instead I look for where people are discussing Backblaze already and join the conversations there. Places like Reddit, HackerNews, Twitter, Facebook, MangoLassi, SpiceWorks, and the comments sections of blogs or articles, are all places where Backblaze gets mentioned. Jumping into those conversations provides for a more natural flow and proves to folks that we really are paying attention, instead of letting the news come to us.
Insight #4
Think there isn't much community in your B2B space or that joining one isn't a big deal? If there is no community, or no one talking about your product, then there's no market. If there's no market, you should start polishing your resume. As long as your business has customers, there's likely a community element as well. The trick is to find where they congregate, or if no such place exists, create one. Once established, work with your team to come up with guidelines for communication that will free you up should the need to move quickly arises.
Bringing It All Together: Tales of Disaster and Making Lemonade
We've had a lot of interesting experiences that have played out on social media over the years, and I'll give two real-world examples of how being transparent, empathetic, and efficient has helped us navigate those events.
Adobe Deletes Data — Transparency and Legwork
In February of 2016, Adobe introduced a bug into their Creative Cloud program that deleted data. Specifically, files were deleted from the user's root directory. Backblaze has a file, .bzvol, that we place on every one of our customers' hard drives to keep track of the drive and whether it is plugged in or not. If we detect that the .bzvol file is no longer on the computer, we display a pop-up, asking folks to contact support. On the evening of February 10th, 2016, we started receiving a lot of tickets related to disappearing .bzvol files. Twitter also started to light up with people posting screenshots of the pop-up and asking what was going on. While all this happened, I was at a conference and was able to stay plugged into our internal conversations via Slack while we tried to figure out what was happening.
We caught a break the next morning. Our designer and co-founder, Casey, got hit with the error. Our lead Mac developer ran over to his desk, grabbed his logs, and started digging to see what the cause was. The only thing out of the ordinary was that Adobe Creative Cloud software had updated about an hour before he got hit with this error, so we were off to the races chasing things down.
Throughout this whole ordeal we had been tweeting updates and letting people know how they could fix the .bzvol issue. Once we realized that it was tied to Creative Cloud, we communicated that it was not a bug, but that Backblaze was simply a piece of software affected by the Adobe issue. Why was that? It turned out that the files Creative Cloud was deleting were the first files alphabetically found in the root directory. Because .bzvol is a hidden file that started with a b, odds were pretty good that if you had Backblaze installed, our .bzvol would be the file that was deleted and the resulting error would alert you of the problem. Backblaze was serving as a canary for a larger problem happening on machines everywhere.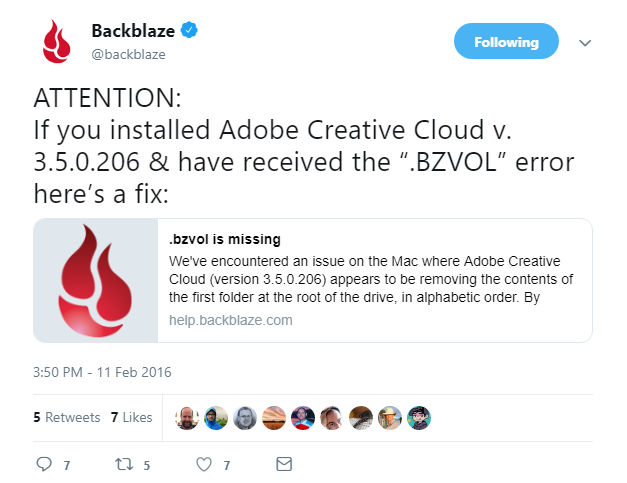 Adobe Twitter Warnings
We also realized that it wasn't just Backblaze customers experiencing this. Anyone using Creative Cloud would be affected. They just might not have known their files were deleted silently, since they wouldn't get the .bzvol pop-up that our customers got.
As the week wore on, our social and support channels were blowing up. We started creating and tweeting videos of how the issue was manifesting and how people could avoid it, and we contacted Adobe with our videos, trying to explain to them what was going on.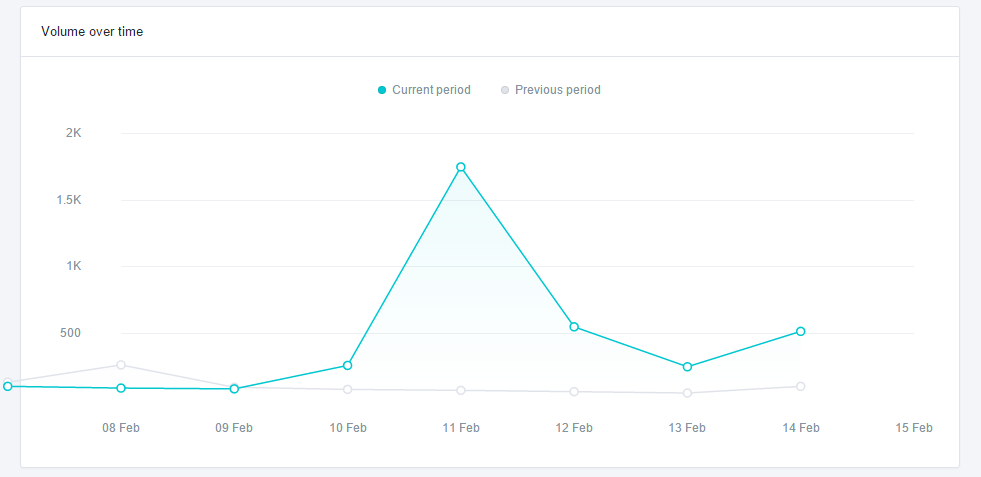 Spike In Mentions
Mentions Around Adobe
What did we gain by being proactive and communicative? By February 14th, Adobe had both acknowledged and fixed the issue, releasing an update that wouldn't silently delete data. We even got a mention in their FAQ on the subject. Plus, because we are lucky enough to have active followers who pay attention to what we post, they were gracious enough to help us spread the message more quickly. In the end we gained the appreciation of our customers and blog readers. While that's not necessarily a monetary victory, it did reinforce the core strengths of our brand: transparency, empathy, and efficiency. The comments on that post confirmed that we did the right thing by being communicative.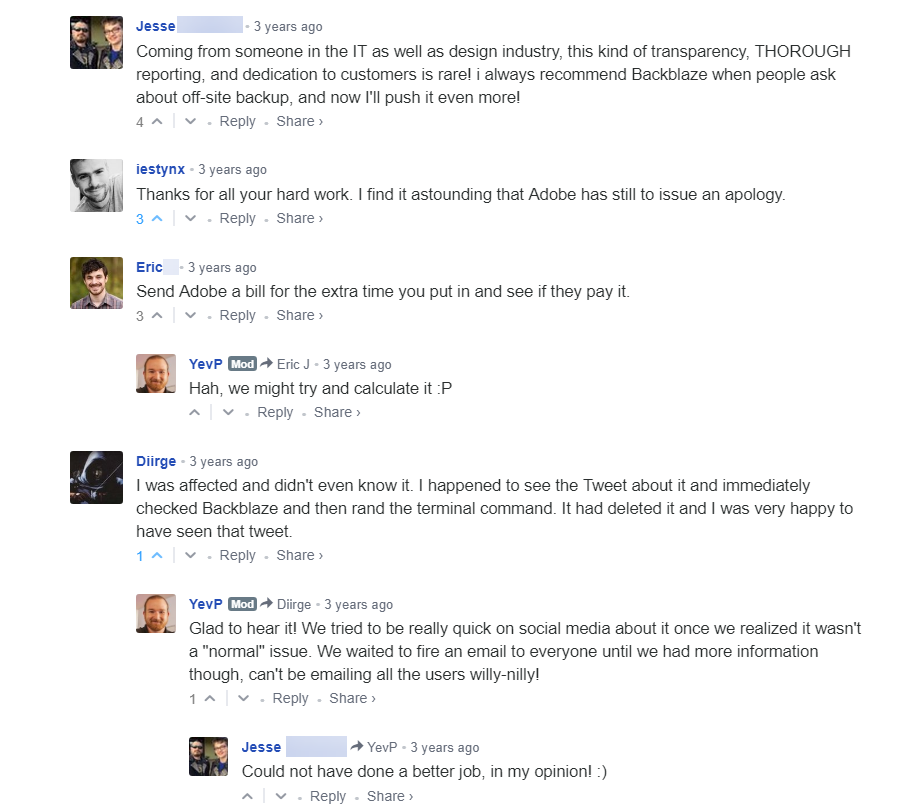 Community Response On The Blog
CrashPlan's Exits Consumer — A Strong Community Drives Your Business
On August 22nd, 2017, CrashPlan announced the end of their consumer backup service, shifting focus to their enterprise and SMB offerings. This was rather shocking news to us since CrashPlan was our largest competitor in the online backup space and one that we would send folks to when we weren't a good fit for their particular need. The news broke early in the morning and our team started to scramble, brainstorming on how we could put ourselves in the best position possible for all of the CrashPlan refugees who were waking up to news of their online backup service going away.
To their credit, CrashPlan tried to communicate with their customers, giving them a couple different options, including a discounted first-year rate with a competitor. We had to move quickly if we wanted to win over some of the people who were going to start looking for alternatives. We did the only thing that made sense: we wrote a blog post.
Within hours of the announcement, we were able to write and publish our post, an Invitation for CrashPlan Customers. It reaffirmed our commitment to unlimited online backup for consumers (something that we see less and less of as tiered and complicated services sprout up) and listed the reasons we thought we'd be a good match for individuals who had used CrashPlan in the past. The initial post highlighted some of our favorite features, the reasons why people love us, and touched on the difference between syncing and backup. We felt that last part was important because we had seen a few tweets that morning of people stating "well at least I have Dropbox" and we wanted to make sure they were aware of the differences before making a possibly costly mistake.

CrashPlan Blog Post Readership
The blog post was widely circulated almost immediately, with over 60,000 people reading it in the first month (it still receives hundreds of visits per day). Once the blog post was rolling we got to work on the next phase of our plan. Phase two was putting the blog post front and center on our computer backup website, creating FAQs based on common questions we were seeing, and writing a guide on how to migrate data from CrashPlan. We also added the ability for folks to create a reminder for themselves once their existing CrashPlan license was started expiring, with instructions on migrating.
While phase two was proceeding, I was hard at work on the social. It was my job to stoke the fire while being respectful. That meant not piling on and being a good community steward by sharing the CrashPlan post and our Version 5.0 release notes (fortuitously released a few weeks prior), which touted faster backup speeds and file sharing. While Twitter was heating up, I was also actively involved in threads on HackerNews and Reddit. Backblaze's CTO Brian Wilson and I were hard at work making sure that anyone who had questions on the web was responded to.
It's important to be gracious to your competitors. There's always someone on the other end of the screen and it was paramount to remember that while we were having a good day, others were having a bad day. To that end, I sent an edible arrangement that day to CrashPlan's support team, because I knew what it felt like to be having a horrible day in the court of public opinion. Again, we're all on the same team: get people's data backed up. I was later told that the gesture was greatly appreciated.
The following are some examples of my Twitter efforts trying to attract customers, having fun, but also being gracious:
What was the benefit? We've seen almost a 2x increase in the number of sign-ups that we get for our computer backup service. Not only that, but it has also helped drive almost 50% annual revenue growth this year.
In time sensitive situations, being agile, efficient, and having the ability to execute surgically on a series of tasks can have tremendous impact on the overall business. It's all about catching the wave at the right time. I'm lucky enough to have the latitude to make decisions about how best to approach things when in the thick of it. That lets me move quickly without having to go up the chain and wait a long time for approvals, which helps the conversation flow more naturally and allows me to stay engaged.
Insight #5
Here's some advice on competition — it's important not to pile on. When competitors are having a bad day, attempting to pour gasoline on their fire is considered distasteful and will likely not be taken well by your community. It's one thing to see and interact with people mentioning or asking questions about you in the comments. It's entirely different to rub a competitor's nose in the dirt. Being a jerk online is not only mean but reflects poorly on a company's brand. Remember that on the other end of every computer is a person who has to deal with their own corporate and social fallout. Treat them the way you'd want to be treated in a crisis situation. We're all in this together.
Fin
Congratulations on making it to the end! I hope this post was not just verbose, but also helpful. Do you have any social media tips or tricks that have helped you grow your brand? Have questions about our approach? Let's chat below in the comments!