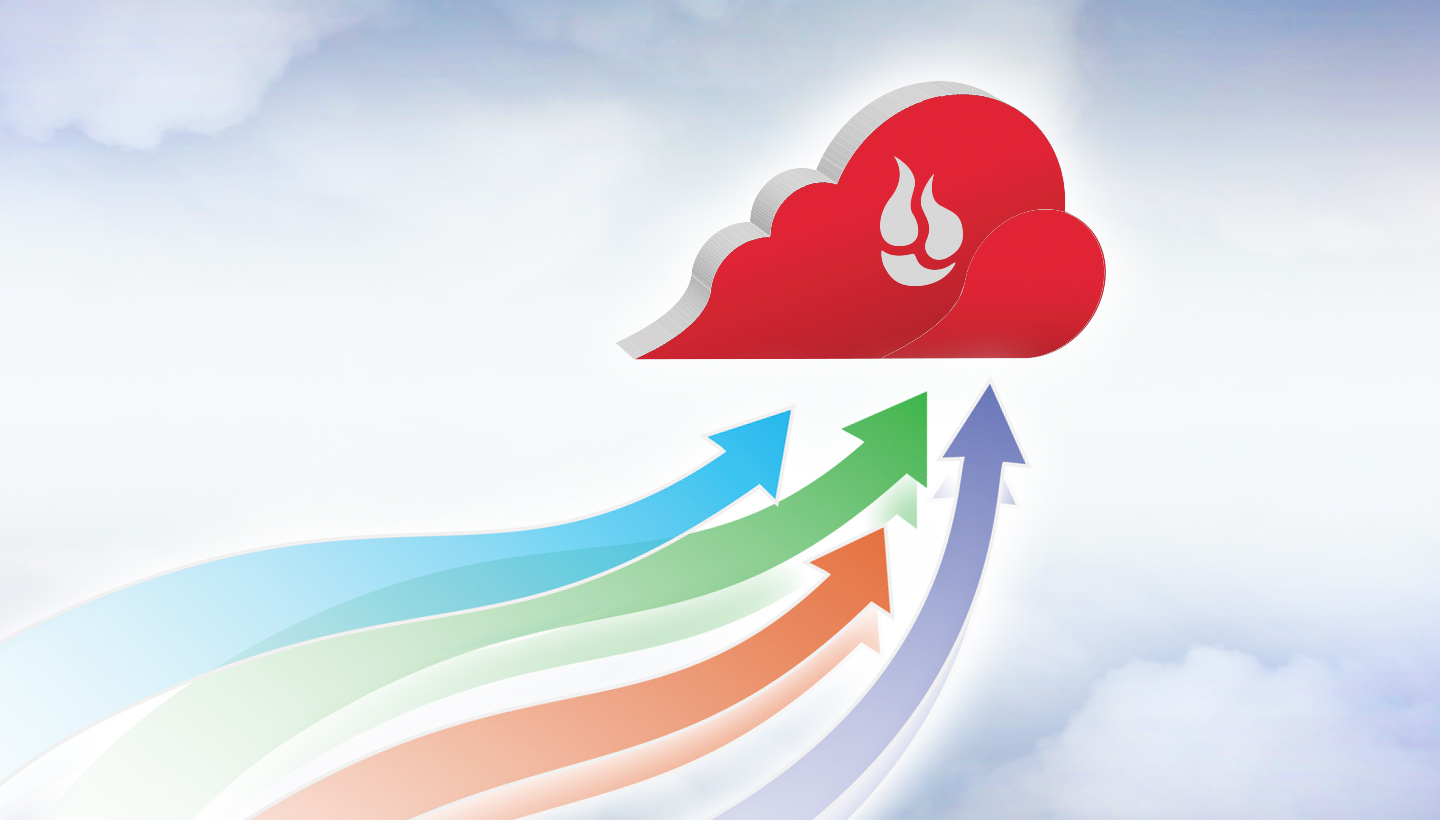 Editor's Note:
This post was updated to reflect the latest storage capacity and network speed information for the
Backblaze Fireball
.
Getting started with cloud storage is easy. You can sign up for an account in seconds, and in minutes you can have directories full of files from your latest project in your cloud account, accessible to you and anyone you want to share the files with. If you have dozens or even hundreds of terabytes of data already, however, uploading it all into your cloud storage bucket, or transferring it there from another cloud service will take a bit of careful planning.
Six Rapid Data Ingestion Tools for Moving Files to the Cloud
Thankfully, whether you're looking to transfer a significant amount of data from your on-premises solution to the cloud, or you'd like to escape the grips of a cloud storage provider like Amazon S3 without breaking your budget, Backblaze has worked hard to ensure you have any number of pathways to, from, and around the cloud. We've gathered six of our favorite services and partnerships for transferring or migrating your data.
For Additional Information:
This post is one of a series in lieu of this year's NAB conference, which was recently cancelled. The content here accompanies a series of webinars outlining cloud-storage based solutions for data-heavy workflows. You can view all of the
webinars on demand at the Backblaze Cloud University
.
Quick and Affordable Uploads to the Cloud with the Fireball
Many of our customers have used our Backblaze Fireball rapid ingest service to migrate large data sets from their on-premises environments into Backblaze cloud storage quickly, affordably, and securely.
How it works: we send you a Backblaze Fireball, a 96TB hard drive array with 10GigE connectivity. You copy files to the Fireball directly or through a data transfer tool of your choice. (Backup, sync, and archive tools are great for that.) Once you're done, return the Fireball to Backblaze and we'll securely upload the files to your Backblaze B2 Cloud Storage account inside one of our data centers. Fireball service is priced at $550 per 30-day rental, which gives you a comfortable window of time to load your data.
This service has proved to be a customer favorite because even with high speed internet connections, it can take months to transfer data sets to the cloud. Fireball can get you up and running in weeks. For example, after KLRU—the PBS affiliate in Austin, Texas—completed their digital restoration project of more than four decades of Austin City Limits shows, they used the Fireball to efficiently load the entire 40 terabyte video library into B2 Cloud Storage.
Similarly, creative agency Baron & Baron jump-started their entrance into cloud backups with the Fireball. Using Archiware, they created full backups of all of their servers into Fireballs, which were then uploaded securely into their B2 account much quicker than if they'd backed up over their internet connection.
As popular as the Fireball is, not all of our customers use it to get started. Some don't have dozens of terabytes to upload at once. Others have access to high-speed internet connections, or their content wasn't organized enough to justify renting a Fireball for a single bulk upload to the cloud. These customers opted for other pathways to migrate their data into the cloud that we'll outline below.
No Rush? Try Internet Transfers with Cyberduck and Transmit 5
If you don't have a huge digital library to upload or don't generate terabytes of data every day, your existing internet connection may be sufficient for your transfer. And with the right tools you won't have to wait too long. B2 Cloud Storage is integrated with two tools—Cyberduck and Transmit 5—that use multi-threading to transfer large files much faster.
Cyberduck runs on both macOS and Windows. It's open-source, free software, but their team of volunteers will gladly accept donations to help them develop, maintain, and distribute it.
Transmit 5 by Panic runs on macOS. You can try it out for free for seven days or keep it forever for $45 per license. Volume discounts are available.
If you want to learn more about how multi-threading makes this speed boost possible, you can read more about the basics of threading here. The short version is that before transmission, large files are broken into chunks that are simultaneously transferred across multiple threads, then recompiled after transmission is complete. If you're transferring video, high-resolution photos, or other large files, these file transfer tools are well-worth the effort of installing them, and more than worth their inexpensive cost.
One Backblaze media customer took this approach for migrating their decades-old digital archive to the cloud. They started by backing up their active projects to the cloud to protect against far-too-often accidental deletions. Then, in the background, they gradually copied their archive of finished projects and raw footage from on-premises storage to the cloud. The complete archive migration took months to finish, but that was acceptable given their ability to maintain their copies on existing on-premises storage during the process.
Boost Large File Transfers with FileCatalyst
If your existing internet bandwidth is sufficient for your day-to-day needs, but you occasionally need to transfer high volumes of data quickly—for example, after videotaping a weekend conference—look to fast file transport solutions like FileCatalyst.
FileCatalyst accelerates file transfers between remote locations even when there is high network latency or packet loss—in other words, when the connection is unreliable and weak—allowing you to send at speeds up to 10Gbps. Optimized for large data sets, its proprietary technologies include UDP-based protocol that's much faster than standard TCP (the other main protocol computers use to communicate over the internet).
As a software-only solution, FileCatalyst doesn't require customers to add special hardware or make bandwidth upgrades. Service starts at $300/month, and is available as a month-to-month subscription with no additional data transfer charges or bandwidth caps. Consumption pricing and perpetual license pricing are also available.
FileCatalyst has been integrated with Backblaze cloud storage for two years and is a solution we recommend to customers who need to transfer data on the order of 10 terabytes or more per day. With this solution you can get all the footage from that weekend conference transferred and available to editors come Monday morning.
Pay-As-You-Go with MASV Fast File Transfer
MASV is a recent Backblaze integration that also offers fast file transfer services, but on a pay-as-you-go basis. MASV runs in your web browser, so you don't need to download and install any software. This simplicity makes MASV perfect for delivering content to and from clients who would rather login and drag-and-drop files than download software and train their team.
Have you ever struggled with keeping content for collaborative teams organized? With MASV, you can provide a simple Portals page where contributors can upload huge media files and share across the team members without requiring direct access to the project's cloud storage buckets. MASV not only moves the large files faster, but also makes it easier for contributors to get started, and reduces the risk of disruption. And MASV's pay-as-you-go 25 cents/GB pricing means you only pay for what the team actually uses. A free 7-day trial lets you test it out.
Smart Applications for a "Hybrid Cloud" Approach with iconik
Knowing that their customers increasingly are keeping their data on different types of storage simultaneously, some vendors are building their applications to access and manage data wherever it's stored, whether on-premises or in the cloud.
B2 Cloud Storage is integrated with iconik, a media asset management (MAM) platform that was designed with this hybrid cloud approach in mind. With iconik, all your assets appear in the same visual interface, regardless of where they're stored. The cloud-based MAM generates and stores proxies or thumbnails in the cloud, but keeps full-resolution files in their original location. iconik downloads the full-resolution files to the user only when needed.
This hybrid cloud is great when you want the flexibility of the cloud, but want to migrate there in stages. As we've noted above, it can take time to move everything to the cloud and it's easier for people to do it on their own schedule. According to their recent Media Stats Report, iconik customers are making good use of this flexibility, with 53% of iconik-managed assets stored in the cloud and 47% stored on-premises.
Backblaze customer Fin Films took this approach when they moved to the cloud. Owner Chris Aguilar was painfully aware of how vulnerable content on aging hard drives can be; he had to pay a drive reconstruction team to salvage footage before. So, Fin Films uploaded their most irreplaceable content to B2 cloud storage first, then began gradually moving other content.
As they were migrating content to their new cloud archive, Fin Films rolled out iconik to manage their assets better. iconik's "bring your own storage" approach meant that they didn't have to pull down their content from Backblaze and upload it to iconik. And iconik's pay-as-you-use-it pricing allowed Chris Aguilar to add collaborators on the fly, and share his content quickly by adding view-only licenses at no charge. Pricing for iconik starts at $250/month for a small team.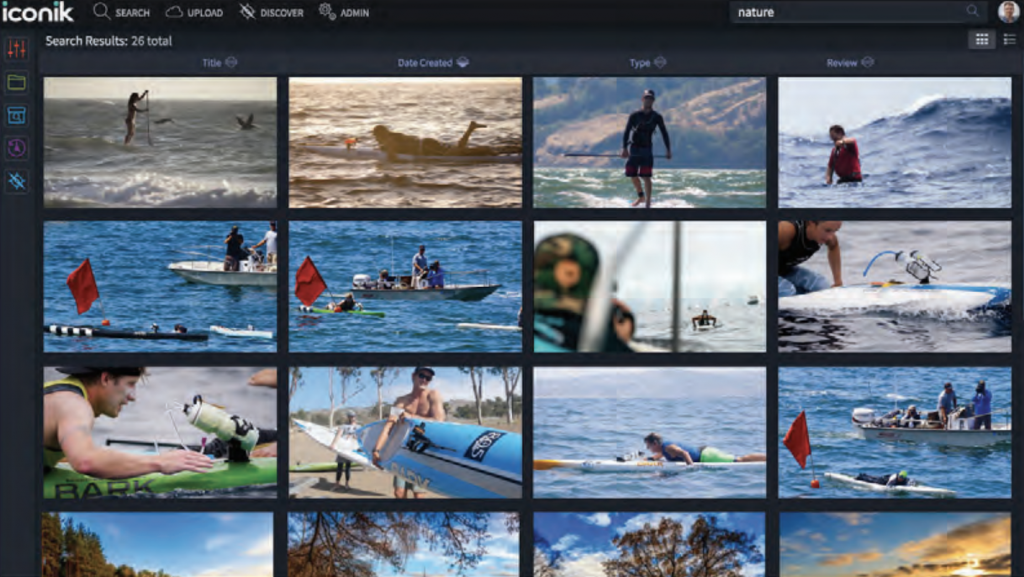 Move from Cloud to Cloud with Flexify.IO
Sometimes the difficulty isn't getting data into the cloud, it's moving data from one cloud service to another. Transferring your data from one cloud storage service to another isn't as easy or inexpensive as you might hope. Cloud providers offer different capabilities and more significantly, dramatically different pricing. As is true with moving your household, hiring experts to do the job can save you a lot of time and stress. Enter Flexify.IO.
Flexify.IO offers cloud data migration services that simplify moving or copying your data between cloud storage providers. The service ensures maximum throughput by using cloud internet connections, as opposed to your local internet bandwidth, and eliminates downtime during migration. And it's now fully integrated with Backblaze cloud storage, with special pricing for migrating data from AWS to Backblaze.
Video production company AK Productions recently used Flexify.IO to move their video content to B2 Cloud Storage from Google Cloud Storage. They had found their Google cloud service took hours to manage—time they couldn't afford to spend while growing their business. They were also worried about the privacy of their clients' important data on Google.
Partnering with Flexify.IO, Backblaze successfully migrated 12 terabytes of data stored on Google Cloud to B2 Cloud Storage in 12 hours. Transferring that amount of data via standard business connections can take weeks, months, or even longer. AK Productions was able to achieve all of this with no disruption to their project workflows. Even with the cost of egress fees from Google, the business will break even and start realizing significant cost savings in approximately six months.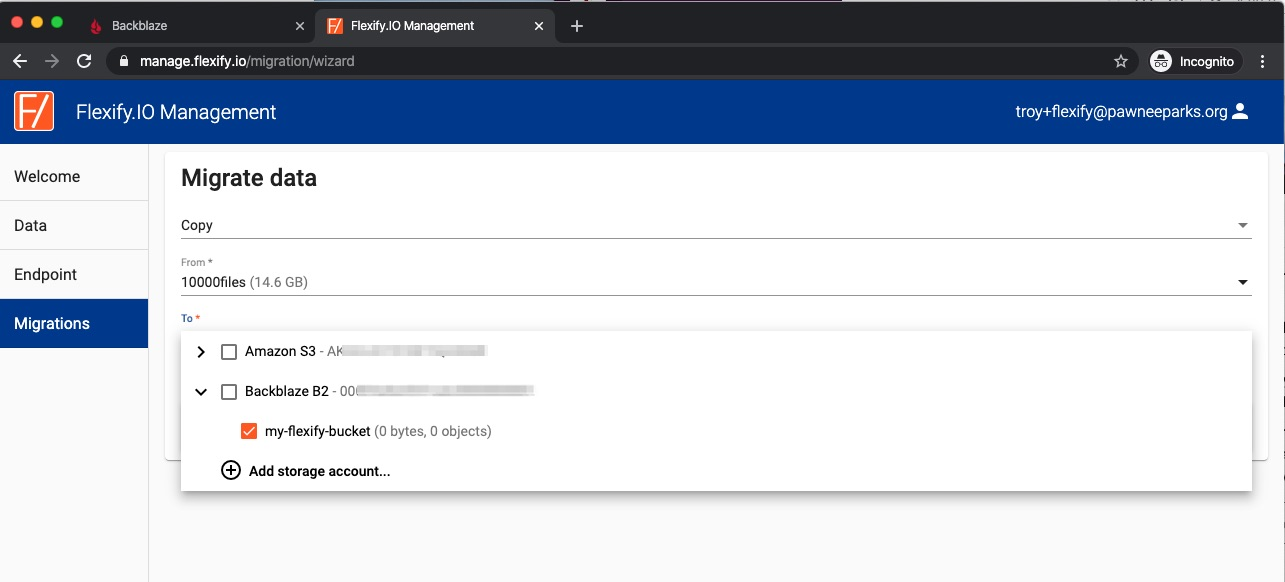 If you'd like to learn more about seamless data migration using Flexify.IO, please join us for our upcoming webinar about this solution on April 6.
So Many Choices for So Many Pathways to the Cloud
We know choosing the right path to the cloud for your organization when there are so many choices can be difficult. For that reason, we've created the Backblaze Cloud University, a series of on demand webinars covering media workflows.