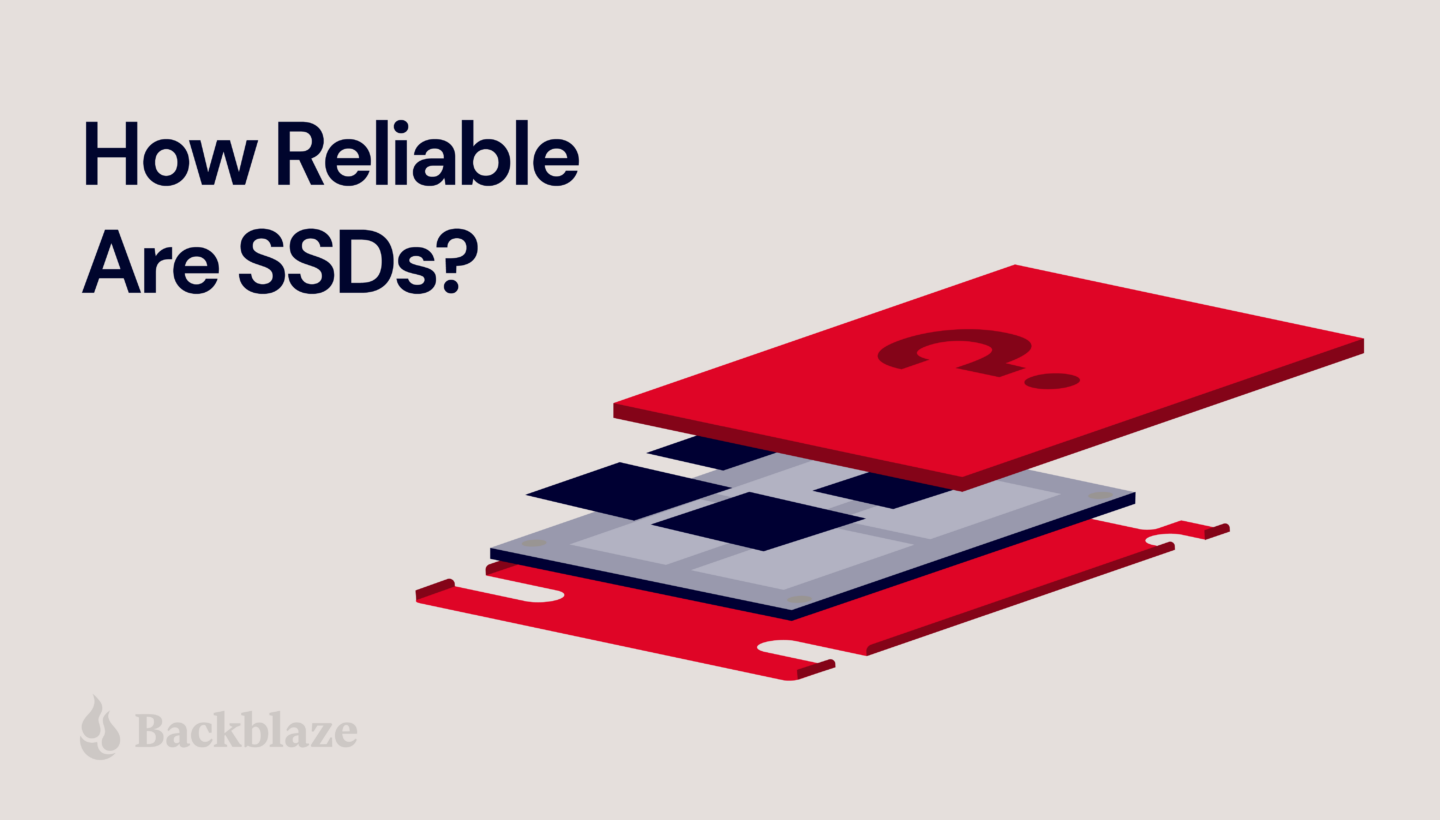 What's not to love about solid state drives (SSDs)? They are faster than conventional hard disk drives (HDDs), more compact, have no moving parts, use less electricity, and can withstand more shocks and vibration than conventional magnetic platter disks. And, they are becoming available in larger and larger capacities while their cost comes down.
In this post we're going to consider the issue of SSD reliability. We'll take a closer look at:
SSD tech.
SSD storage memory.
Reliability factors.
Signs of SSD failure.
So, how reliable is an SSD? Let's dig in.
Backing Up Is Great To Do
Of course, as a data storage and backup company, you know what we're going to say right off. We always recommend that no matter which storage medium you use, you should always have a backup copy of your data. Even if the disk is reliable and in good condition, it won't do you any good if your computer is stolen, consumed by a flood, or lost in a fire or other act of nature. We recommend using a 3-2-1 backup strategy to safeguard your data.
SSD Tech
Almost all types of today's SSDs use NAND flash memory. NAND isn't an acronym like a lot of computer terms. Instead, it's a name that's derived from its logic gate called "NOT AND." (For the curious, a NAND gate is a logic gate that produces an output that is false only if all its inputs are true.)
Flash (the term following NAND) refers to a non-volatile solid state memory that retains data even when the power source is removed. NAND storage has specific properties that affect how long it will last. When data (a 1 or a 0) is written to a NAND cell (also known as programming), the data must be erased before new data can be written to that same cell. When writing and erasing a NAND cell, electrons are sent through an insulator and back, and the insulator starts to wear. Eventually, the insulator wears to the point where it may have difficulty keeping the electrons in their correct (programmed) location, which makes it increasingly more difficult to determine if the electrons are where they should be and to indicate the correct value (1 or 0) of the cell.
This means that flash type memory cells can only be reliably programmed and erased a given number of times. This is measured in programmed/erase cycles, more commonly known as P/E cycles.
P/E cycles are an important measurement of SSD reliability, but there are other factors that are important to consider as well including TBW (terabytes written) and MTBF (mean time between failures). Here are a few definitions to help keep everything straight:
Programmed/Erase Cycles (P/E Cycles)
A solid-state storage program-erase cycle is a sequence of events in which data is written to a solid-state NAND flash memory cell, then erased, and then rewritten. How many P/E cycles a SSD can endure varies with the technology used, somewhere between 500 to 100,000 P/E cycles.
Terabytes Written (TBW)
Terabytes written is the total amount of data that can be written to an SSD before it is likely to fail. For example, here are the TBW warranties for the popular Samsung V-NAND SSD 870 EVO:
250GB model: 150TBW
500GB model: 300TBW
1TB model: 600TBW
2TB model: 1,200TBW
4TB model: 2,400TBW
All of these models are warrantied for five years or TBW, whichever comes first.
Mean Time Between Failures (MTBF)
MTBF is a measure of how reliable a hardware product or component is over its expected lifetime. For most components, the measure is typically in thousands or even tens of thousands of hours between failures. For example, an HDD may have a mean time between failures of 300,000 hours, while an SSD might have 1.5 million hours.
The SSD manufacturer will have these specifications available for their products and they can help you understand how long your drive can be expected to last and whether a particular drive is suited to your application.
Be careful when reviewing the specifications though, as they don't mean your particular SSD will last so many hours. What it means is, given a sample set of that model of SSD, errors will occur at a certain rate. A 1.2 million hour MTBF means that if the drive is used at an average of 8 hours a day, a sample size of 1,000 SSDs would be expected to have one failure every 150 days, or about twice a year.
SSD Storage Memory
An SSD has storage memory, also known as NAND flash, to store the data. There are currently five different NAND cell technologies as noted below.
SLC (Single Level Cell): One Bit Per Cell
The first type of storage. With one bit per cell, storage is fast and wear is minimal. On the downside, this is expensive for the space used; that is, the physical size of the SSD form factor used.
MLC (Multi-Level Cell): Two Bits Per Cell
Next came MLC stores with two bits per cell. This basically doubled the amount of storage and lowered the cost for a given form factor, but was slower as it was necessary to distinguish between the two bits in a given cell.
TLC (Triple Level Cell): Three Bits Per Cell
The trend continued with TLC where three bits are stored per cell. This advancement had two interesting consequences. First, the unit cost started to be appealing to most audiences. While still two to three times as expensive as a comparable hard drive, a TLC-based SSD was affordable. Second, the TLC technology hastened the introduction of caching within the SSD, as the unaided read/write speeds had dipped to near those of a hard drive.
QLC (Quad Level Cell): Four Bits Per Cell
The current "standard," QLC stores four bits per cell. This increases storage density yet again, lowers the price even more, and, with caching improvements, continues to deliver superior speed. On the downside, the drive can wear out sooner, especially as it fills up.
3D NAND
In the previous technologies the cells are side by side in a single layer. In 3D NAND, the cells are stacked. This improves storage density and speed, but increases the manufacturing cost and lowers endurance over time.
Other than the marketing hype currently around 3D NAND, you may never know which storage technology the SSD is using. In general SLC and MLC are faster and last longer, but are limited to the amount of space, while the TLC and QLC technologies can store data at a lower cost, but may be slower—not that you'll notice. The 3D NAND technology is a great choice, but be prepared to pay more.
SSD Reliability Factors to Consider
Regardless of the memory technology employed, SSDs don't have moving parts such as actuator arms and spinning platters like hard drives. That's one reason why SSDs can withstand accidental drops and other shocks, vibration, extreme temperatures, and magnetic fields better than HDDs. Add to that their small size and lower power consumption, and the idea of replacing HDDs with SSDs could be worth the time and effort.
That said, you might ask if there are different performance and reliability criteria you should use depending on whether the SSD will be used in a home desktop computer, a data center, or an exploration vehicle on Mars. To help you out, SSD manufacturers are increasingly marketing SSDs for specific workloads such as write-intensive, read-intensive, or mixed-use. What that means is that some vendors allow the customer to select the optimal level of endurance and capacity for a particular SSD. For instance, an enterprise user with a high-transaction database might opt for a higher number of drive writes at the expense of capacity. Or, a user operating a database that does infrequent writes might choose a lower drive writes number and a higher capacity. By doing this, the manufacturers are hiding the complexity embedded in the technology like storage NAND (SLC, MLC, etc), caching, and so on. That said, it does make it easier to match your requirements to the best type of SSD.
Signs of SSD Failure
SSDs will eventually fail, but there usually are advance warnings of when that's going to happen. You've likely encountered the dreaded clicking sound that emanates from a dying HDD. An SSD has no moving parts, so you won't get an audible warning that an SSD is about to fail. You should be paying attention to a number of indicators that your SSD is nearing its end of life, and take action by replacing that drive with a new one.
1) Errors Involving Bad Blocks
Much like bad sectors on HDDs, there are bad blocks on SSDs. This is typically a scenario where the computer attempts to read or save a file, but it takes an unusually long time and ends in failure, so the system eventually gives up with an error message.
2) Files Cannot Be Read or Written
There are two ways in which a bad block can affect your files. First, the system detects the bad block while writing data to the drive, and thus refuses to write data, or second, the system detects the bad block after the data has been written, and thus refuses to read that data.
3) The File System Needs Repair
Getting an error message on your screen can happen simply because the computer was not shut down properly, but it also could be a sign of an SSD developing bad blocks or other problems.
4) Crashing During Boot
A crash during the computer boot is a sign that your drive could be developing a problem. You should make sure you have a current backup of all your data before it gets worse and the drive fails completely.
5) The Drive Becomes Read-Only
Your drive might refuse to write any more data to disk and can only read data. Fortunately, you can still get your data off the disk.
So, How Reliable is an SSD?
Let's break down the reliability of SSDs into three questions to start:
Question 1: How long can we reasonably expect an SSD to last?
Answer: An SSD should ideally last as long as its manufacturer expects it to last (e.g. five years), provided that the use of the drive is not excessive for the technology it employs (e.g. using a QLC in an application with a high number of writes). Consult the manufacturer's recommendations to ensure that how you're using the SSD matches its best use.
Here at Backblaze we use SSDs for many different applications. The one use case we have rigorous reliability data for is as boot drives in our storage servers. This cohort of drives does more than boot these servers; they also write, store, read, and delete log files of various types recorded by the storage servers on a daily basis. The 2022 Drive Stats Review: SSD Edition illuminates the reliability of the drive models we use for this purpose.
Question 2: Do SSDs fail faster than HDDs?
Answer: There are many variables in comparing the reliability of HDDs and SSDs, the primary one being how they are used. In the SSD Drive Stats report noted above, we compared SSD and HDD boot drives as they performed the same function in the same types of systems, storage servers. While it seems in the first three years or so the different drives are similar in their failure curves, the curves separate after four years, with the HDDs failing at a higher rate. So far the SSDs have maintained a 1% or less Annualized Failure Rate (AFR) through the first four years.
SSD users are far more likely to replace their storage drive because they're ready to upgrade to a newer technology, higher capacity, or faster drive, than having to replace the drive due to a short lifespan. Under normal use we can expect an SSD to last years. If you replace your computer every three years, as most users do, then you probably needn't worry about whether your SSD will last as long as your computer. What's important is whether the SSD will be sufficiently reliable that you won't lose your data during its lifetime.
Question 3: Are SSDs good for long-term storage?
Answer: SSDs, like hard drives, are meant to be used. An external drive stuffed into a closet for a couple of years is never a good thing, and it doesn't matter whether it is an SSD or HDD inside. The evidence of whether an SSD will fare better than a HDD in such a circumstance is anecdotal at best. Still, it is better to use an external drive as a backup of your computer as part of your backup plan—just don't make it your only backup.
Summary
It's good to understand how the different SSD technologies affect their reliability, and whether it's worth it to spend extra money for SLC over MLC or QLC. However, unless you're using an SSD in a specialized application with more writes than reads as we described above, just selecting a good quality SSD from a reputable manufacturer should be enough to make you feel confident that your SSD will have a useful life span.
Keep an eye out for any signs of failure or bad sectors, and, of course, be sure to have a solid backup plan no matter what type of drive you're using.
div class="abstract" style="line-height: 1.8; margin: 24px 12px; padding: 24px 12px 10px 12px;">
Read More About SSDs
You might be interested in another post in the SSD 101 series, SSD 101: How to Upgrade Your Computer With an SSD.