Peace of mind comes from knowing your data is backed up. But how do you know your backup is safe? Step one is to have a strategy. Step two is to have storage that can stand up to abuse. Step three is to make sure the data is safely off-site. Combining a battle-ready hard drive with cloud backup like Backblaze makes your backup bulletproof.
Develop and Test Your Backup Strategy
The 3-2-1 backup strategy is a great way to stay protected. Make sure to keep your data in three spots. The first copy is your live version, on your computer's hard drive. The second one is your local backup. For that, you can use a hard drive connected to the computer, or a file server or network attached storage (NAS) device. The third is a copy kept safely off-site.
The 3-2-1 strategy means that if anything happens to your equipment or your facility or home, your data remains safe. Backblaze is a key part of that strategy because we store your data securely in the cloud. No matter what happens to your local gear, having a copy in the cloud means you're able to recover.
Once you've developed a good cloud backup strategy, it's also vitally important to test your backups. You want to make sure the data you're sending to the cloud is actually what you want and what you need, and you want to do that before you have a problem. Get into the habit of periodically testing your backups to make sure they're working right.
Use the Right Drive
There are lots of external drives out there. You can even build your own without too much trouble (Heck, you can even build one of our Storage Pods if you'd like.). The sky's the limit. It's really up to you based on your budget, your needs, and the technical requirements of the computer you're backing up.
Sometimes you need extra insurance to make sure your gear still works no matter what happens. Here are some drives that are great for backing up that all sport extra durability features. Water, dust, and dropping can all ruin a hard drive in an instant, but these hold up. Some of them can even withstand fire and direct submersion for long periods.
LaCie Rugged
If you're looking for an external hard drive that's portable and designed to take a beating, have a look at LaCie's Rugged storage line. LaCie calls the drive "all-terrain protection." The drive enclosure is water-resistant up to two meters, and it's shock-mounted to protect the delicate hard drive mechanism (an SSD version is available if you want even faster performance with fewer moving parts). LaCie makes a RAID version and produces USB 3.0 and Thunderbolt variants, compatible with Windows and Mac. The orange color makes it hard to lose, even if it makes the drive look a bit like a whitewater raft. Expect to pay $100 or more depending on storage capacity and interface.
Adata HD710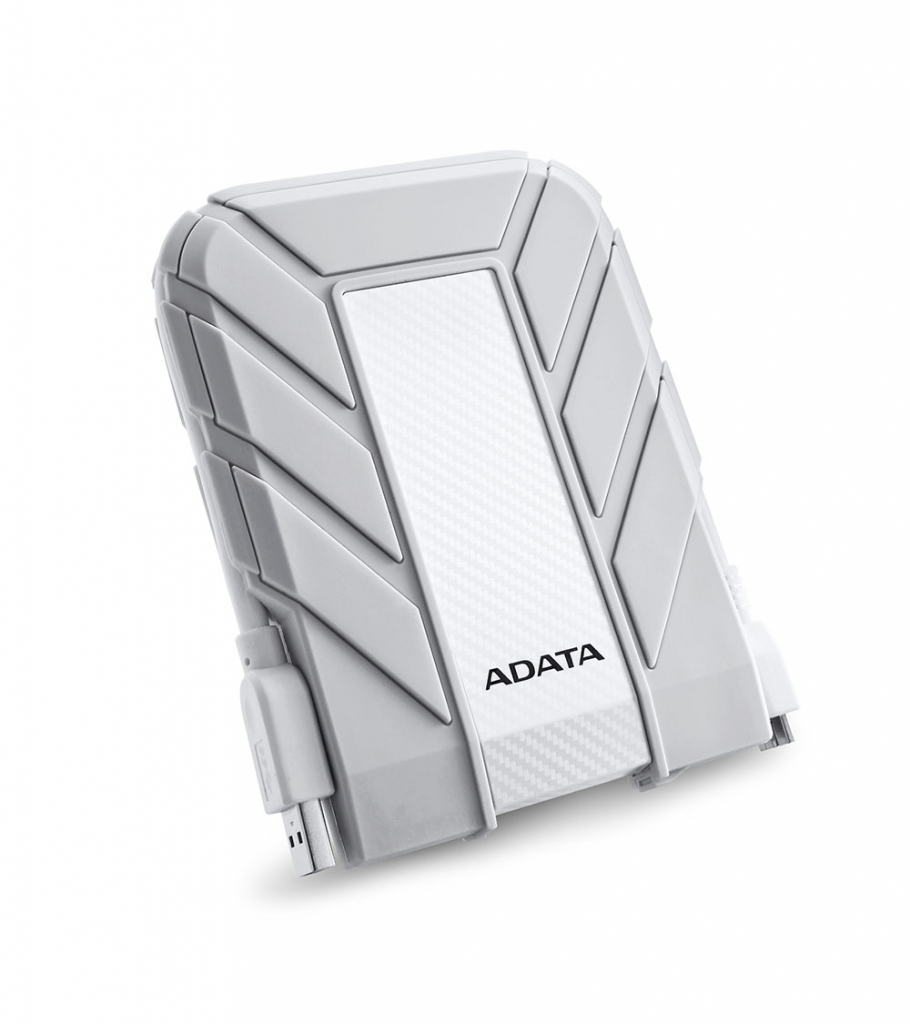 Adata's HD710 is a USB 3.0-equipped external portable drive sporting water and dust resistance. It's IP68-certified, which means the drive can handle water up to 1.5 meters deep for up to 30 minutes. The tough silicone case is equipped with military-grade shock resistance and even comes in different colors. An integrated USB cable wraps around an exterior slot so there are no external cables to lose. It's available in 500GB, 1TB and 2TB capacities starting at about $60.
Transcend StoreJet M Series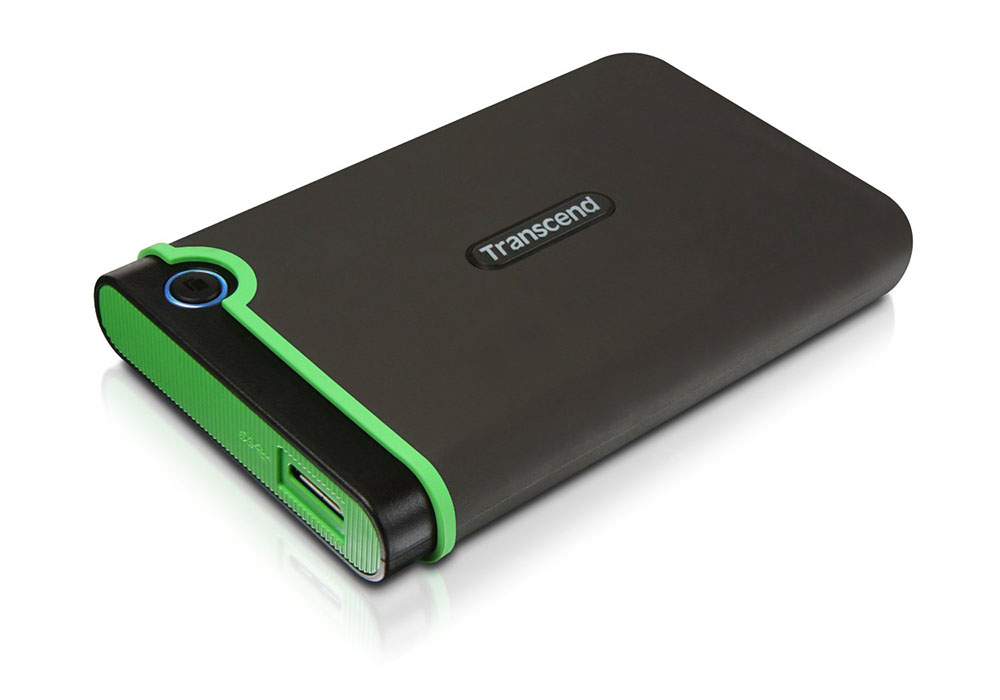 Transcend's StoreJet M series encases a 2.5 inch internal hard disk drive in a rubber case layered with a three-stage anti-shock protection system. It's not waterproof or water-resistant, but it does offer military-grade drop proofing, so it can take a beating in your bag or backpack and still work. Transcend makes versions in USB 3 and USB-C, so you can hook it up to the newest devices from Apple and other computer makers. They also include software on there that helps manage file and folder encryption and one-touch backup. The M3 starts at under $70 for a 500GB model.
G-Technology G-Drive ev ATC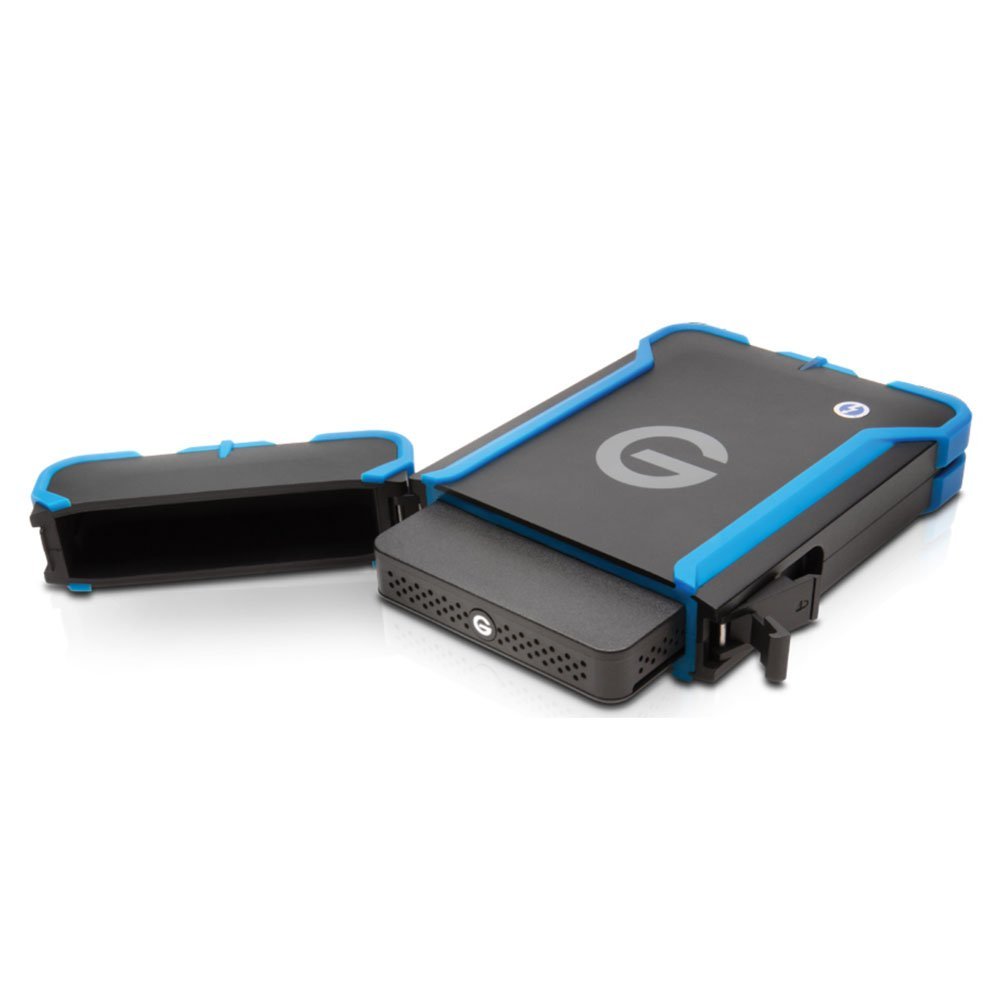 G-Technology builds a lot of great RAID storage solutions and other stuff; they've tapped into the "all-terrain" drive market with a line of external portable hard drives with the G-Drive ev ATC. These drives can handle a two meter drop onto concrete and are water-resistant too (G-Tech says you can drop one into a foot of water for up to 30 seconds with no ill effects). A USB 3.0 drive with 1 TB of storage will set you back $130. G-Tech makes a version with Thunderbolt too.
ioSafe Rugged Portable
If money is no object and you absolutely want to make sure your data stays protected, ioSafe's Rugged Portable is the way to go. The Rugged Portable is billed as "an aircraft black box for mobile data," and ioSafe isn't joking: Drop it up to 20 feet, immerse it in up to 30 feet of water for three days, and drop a car on it—it's protected from being crushed by up to 5,000 pounds. ioSafe even offers data recovery services if something goes wrong (something you won't need, of course, if you data is backed up off-site). Of course, you pay for this protection—dearly—with a 500GB SSD-equipped drive starting at $650.
ioSafe NAS
If you're looking for a NAS setup that can go through hell and keep working, ioSafe's 216 NAS is just the ticket. This thing is as close to actually bulletproof storage that I've been able to find.
Fireproof: Blast the 216 with up to 1550 degree (Fahrenheit) heat. Waterproof: Immerse it in fresh or salt water for up to three days, at a depth of 10 feet. What's more, it's a two-drive RAID system, so you can configure a mirrored RAID for maximum drive redundancy. You can populate it with your own drives for about $660; otherwise expect to drop about $900 for a 2TB system with prices running up from there.
What's more, the 216 is powered by Synology's DSM software. As we reported over the summer, Synology supports our Backblaze B2 Cloud Storage service. That means you can sync the contents of your ioSafe 216 in the cloud, and you can save money doing it compared to other cloud services, too!
If the 216 seems like overkill, or you'd like direct-attached USB storage that works with our original backup service, ioSafe offers the Solo G3 with very similar protection starting at $300.
Back Up Early and Often
There are even ruggedized USB thumb sticks, if you're looking for ultraportable solid state storage. So check around—you'll find plenty of options to suit any budgetary requirement.
Just remember that no single storage system is infallible. A ruggedized hard drive makes sense if you're working in extreme conditions, but it's no substitute for a complete backup strategy that includes keeping your data off-site for safekeeping.
Have questions about any of these recommendations? Need more info? Have your own bulletproof backup recommendations? Share them with me in the comments.