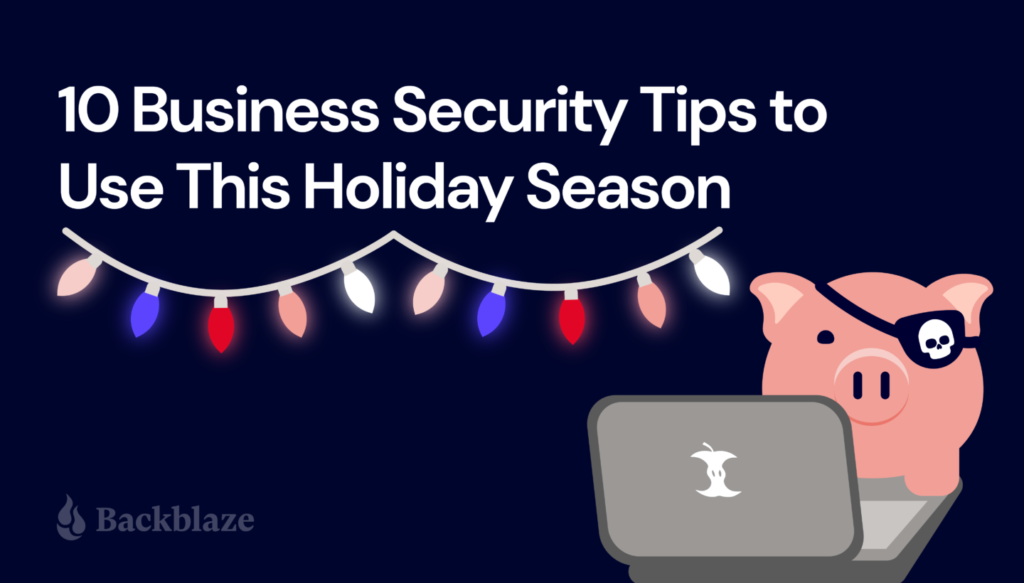 'Tis the season—for ransomware attacks that is. The Federal Bureau of Investigation (FBI) and the Cybersecurity and Infrastructure Security Agency (CISA) observed increases in cyber attacks on weekends and holidays. Several of the largest ransomware attacks in 2021 happened over holiday weekends, including Mother's Day, Memorial Day, and the Fourth of July. This tactic may be attractive because it gives cyber attackers a head start to map networks and propagate ransomware throughout networks when organizations are at limited capacity.
The reason for this is simple: one of the easiest and most effective ways for bad actors to gain access to secure networks is by targeting the people who use them through phishing attacks and other social engineering techniques. Employees are already behind the eight ball so to speak, as email volume can increase up to 100x during the holiday season. Add to the equation that businesses often have increased workloads with fewer folks in office, or even office closures, and you have an ideal environment for a ransomware attack.
Phew! Aren't we supposed to be celebrating this time of year? Absolutely. So, let's talk about ten things you can do to help protect your business from cyberattacks and organized crime during the holiday season.
Get the Ransomware Ebook
There's never been a better time to strengthen your ransomware defenses. Get our comprehensive guide to defending your business against ransomware this holiday season.
10 Security Tips for Your Business This Holiday Season
1. Update Your Tech
Teams should ensure that systems are up to date and that any new patches are tested and applied as soon as they are released, no matter how busy the company is at this time. This is, of course, important for your core applications, but don't forget cell phones and web browsers. Additionally, personnel should be assigned to monitor alerts remotely when the business is closed or workers are out of the office so that critical patches aren't delayed.
2. Review Your Company Security Policy With All of Your Employees
All businesses should review company security policies as the holiday season approaches. Ensure that all employees understand the importance of keeping access credentials private, know how to spot cybercrime, and know what to do if a crime happens. Whether your staff is in-office or remote, all employees should be up to date on security policies and special holiday circumstances.
3. Conduct Phishing Simulation Training
Another important step that organizations can take to ensure security over the holidays is to conduct phishing simulation training at the beginning of the season, and ideally on a monthly basis. This kind of training gives employees a chance to practice their ability to identify malicious links and attachments without a real threat looming. It's a good opportunity to teach workers not to share login information with anyone over email and the importance of verifying emails.
4. Then, Make Sure Recommended Measures Are Set Up, Especially MFA
Multifactor authentication (MFA) fatigue happens when workers get tired of logging in and out with an authenticator app, push notification, or with a text message—but it's one of the single best tools in your security arsenal. During the holidays, workers might be busier than usual, and therefore, more frustrated by MFA requirements. But, MFA is crucial for keeping your business safe from ransomware and domain denial of service (DDoS) attacks.
5. Have an Offline Backup
It's easy to forget, in our ever-more-connected world, that taking business data offline is one of the best protections you can offer. You still need to have a process to make sure those offline backups are regularly updated, so set a cadence. But, particularly with your business-critical data, offline backups represent a last line of defense that can make all the difference.  
6. Adjust Property Access Privileges
You might be surprised to know that physical security is a cybercrime prevention tool as well. Doors and devices should be the most highly protected areas of your space. Before the holidays, be sure to do a thorough review of your business' access privileges so that no one has more access than is necessary to perform their duties. And, before shutting down for a much-needed break, check all exterior doors, windows, and other entry points to ensure they are fully secured. Don't forget to update any automated systems to keep everything locked down before your return to work.
7. Don't Advertise That You Will Be Closed
It's common practice to alert customers when your business will be closed so that you can avoid any inconvenience. However, this practice could put your business at risk during times of the year when the crime rate is elevated, including the holiday season. Instead of posting signage or on social media declaring that no one will be in the building for a certain period, it's better to use an automated voice or email response to alert customers of your closing. This way, crime opportunists will be less tempted.
8. Check In on Your Backup Strategy
For years, the industry standard was the 3-2-1 backup strategy. A 3-2-1 strategy means having at least three total copies of your data, two of which are local but on different media, and at least one off-site copy (in the cloud). These days, the 3-2-1 backup strategy is table stakes: still necessary, but there are now even more advanced approaches. Consider a cyber resilience stance for your company.
9. Consider Cyber Insurance
Cyber insurance adoption rates are hard to track, but all data points to an increase in businesses getting coverage. Cyber insurance can cover everything from forensic post-breach reviews to litigation expenses. It also forces us all to review security policies and bring everything up to industry best practices.
10. Test Your Disaster Recovery Strategy
If you don't have a disaster recovery strategy, this is the time to create one. If you do have one, this is also a great time to put it to the test. You should know going into the holidays that you can respond quickly and effectively should your company suffer a security breach.
Protecting Business Data During the Holidays
Here's the secret eleventh tip: The best thing you can do for your security is, ironically, the same thing that cyber criminals do—to treat your employees as humans. Studies have shown that one the long-term costs of ransomware is actually employee stress. We can't expect humans to be perfect, and a learning-based (versus punitive) approach will help you in two ways: you'll be setting up processes with the real world in mind, and your employees won't feel disincentivized to report incidents early and improve when they make mistakes in training (or even in the real world).
While it may be impossible to prevent all instances of data theft and cybercrime from happening, there are steps that companies can take to protect themselves. So, train, prepare, back up your data, and then celebrate knowing that you've done what you can.