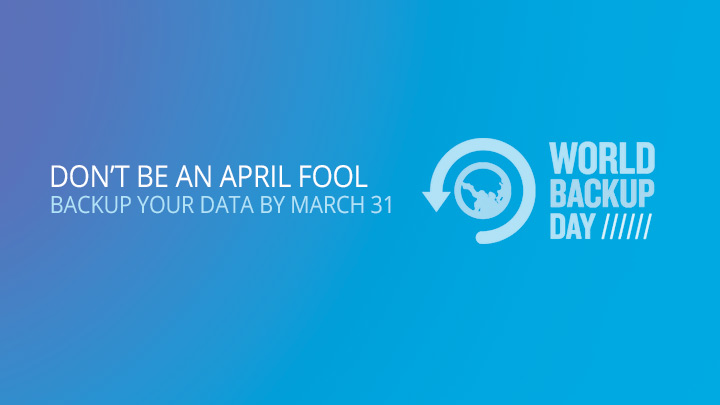 Happy World Backup Day! Are you backed up? If not, you should be!
OK, World Backup Day may not have the same popularity as Christmas or even Arbor Day, but it's a great occasion to remind you to check your backup. Find some time today to check your backup, and make sure that your files are safe.
New Threats Abound
These days you can never be too careful. Even when you back up regularly, you can run into problems that will stop you in your tracks, like malware. Malware is a growing problem on Macs and Windows PCs alike, and even if you're using "defender" software to protect yourself, new exploits are being discovered all the time.
Malware infection symptoms range from the annoying—browser redirects, crashes and slowdowns—to the downright extortionate, like our own Elli's recent experience with ransomware, software that hijacked her computer, encrypted files, and demanded money to make them useable again.
Some companies have had to pay thousands of dollars to overcome ransomware problems, but Elli didn't have to, because Elli was protected with a recent Backblaze backup.
Trust But Verify
If you're already backing up your computer, terrific. If you have some time during World Backup Day, please take a look at your backup and make sure the files you need are where they're supposed to be.
Nothing is more useless than a backup system that's in place but isn't doing its job. And nothing is more frustrating than running into an occasion where you need a backed up file, only to find out that it's not there. So try not to get caught in that situation.
With Backblaze, you're only usually a click or two away from confirmation that your files are backed up. What's more, you can check or restore files from your web browser or using our iOS or Android apps.
Are you using Backblaze or other ways to back up your Mac or PC? If so, we've assembled some great tips about how to test your backups to make sure that your data is safe and sound.
Don't Be an April Fool
Almost a third of us have never backed up our computer. That's way too many! If you're among that group, now is a really good time to make sure your files are safe.
There are a multitude of ways to do that, including Backblaze. If you need help to make sure you've got everything saved, we can help. Check our computer backup guide to get instructions about how to back up your computer.
World Backup Day is just one day a year, but your backups should be happening all the time. Make sure that your files are safe and sound and ready for retrieval if and when you need them.
Backblaze provides you with unlimited backup for your computer for just $5 per month. Isn't it worth it for the peace of mind? Try it for free with a 15-day trial, and see what Backblaze can do for you.