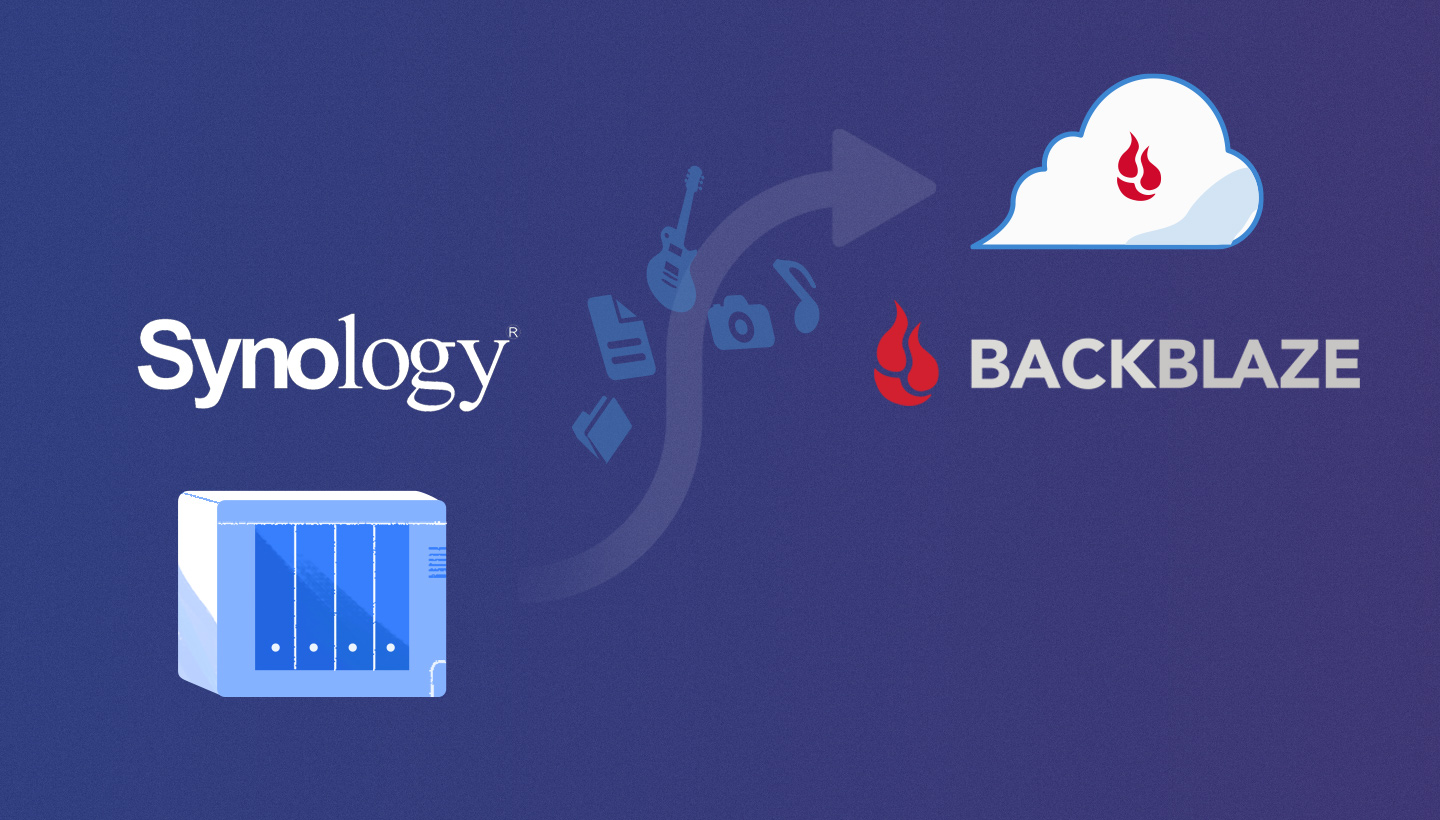 Most teams use their Synology NAS device primarily as a common space to store active data. It's helpful for collaboration and cuts down on the amount of storage you need to buy for each employee in a media workflow. But if your teams are geographically dispersed, a NAS device at each location will also allow you to sync specific folders across offices and protect the data in them with more reliable and non-duplicative workflows. By setting up an integrated cloud storage tier and using Synology Drive ShareSync, Cloud Sync, and Hyper Backup—all free tools that come with the purchase of your NAS device—you can improve your collaboration capabilities further, and simplify and strengthen data protection for your NAS.
Drive ShareSync: Synchronizes folders and files across linked NAS devices.
Cloud Sync: Copies files to cloud storage automatically as they're created or changed.
Hyper Backup: Backs up file and systems data to local or cloud storage.
Taken together, these tools, paired with a reasonable and reliable cloud storage, will grow your remote collaboration capacity while better protecting your data. Properly architected, they can make sharing and protecting large files easy, efficient, and secure for internal production, while also making it all look effortless for external clients' approval and final delivery.
We'll break out how it all works in the sections below. If you have questions, please reach out in the comments, or contact us.
If you're more of a visual learner, our
Cloud University
series also offers an
on-demand webinar
featuring a demo laboratory showing how to set up cross-office collaboration on a Synology NAS. Otherwise, read on.
Synchronizing Two or More NAS Devices With Synology Drive ShareSync
Moving media files to a NAS is a great first step towards easier sharing and ensuring that everyone on the team is working on the correct version of any given project. But taking an additional step to also sync folders across multiple NAS devices guarantees that each file is only transferred between sites once, instead of every time a team member accesses the file. This is also a way to reduce network traffic and share large media files that would otherwise require more time and resources.
With Synology Drive ShareSync, you can also choose which specific folders to sync, like folders with corporate brand images or folders for projects which team members across different offices are working on. You also have the option between a one-way and two-way sync, and Synology Drive ShareSync automatically filters out temporary files so that they're not replicated from primary to secondary.
Backing Up and Archiving Media Files With Synology Cloud Sync and Cloud Storage
With Cloud Sync, another tool included with your Synology NAS, you can make a copy of your media files to a cloud storage bucket as soon as they are ingested into the NAS. For creative agencies and corporate video groups that work with high volumes of video and images, syncing data to the cloud on ingest protects the data while it's active and sets up an easy way to archive it once the project is complete. Here's how it works:
1. After a multiple day video or photo shoot, upload the source media files to your Synology NAS. When new media files are found on the NAS, Synology Cloud Sync makes a copy of them to cloud storage.

2. While the team works on the project, the copies of the media files in the cloud storage bucket serve as a backup in case a file is accidentally deleted or corrupted on the NAS.

3. Once the team completes the project, you can switch off Synology Cloud Sync for just that folder, then delete the raw footage files from the NAS. This allows you to free up storage space for a new project.

4. The video and photo files remain in the bucket for the long term, serving as archive copies for future use or when a client returns for another project.
Using Cloud Sync for Content Review With External Clients
Cloud Sync can also be used to simplify and speed up the editorial review process with clients. Emailing media files like videos and high-res images to external approvers is generally not feasible due to size, and setting up and maintaining FTP servers can be time consuming for you and complicated or confusing for your clients. It's not an elegant way to put your best creative work in front of them. To simplify the process, create content review folders for each client, generate a link to a ZIP file in a bucket, and share the link with them via email.
Protecting Your NAS Data With Synology Hyper Backup and Backblaze B2
Last, but not least, Synology Hyper Backup can also be configured to do weekly full backups and daily incremental backups of all your NAS data to your cloud storage bucket. Disks can crash and valuable files can be deleted or corrupted, so ensuring you have complete data protection is an essential step in your storage infrastructure.
Hyper Backup will allow you to back up files, folders, and other settings to another destination (like cloud storage) according to a schedule. It also offers flexible retention settings, which allow you to restore an entire shared folder from different points in time. You can learn about how to set it up using this Knowledge Base article.
With Hyper Backup, you gain more control over setting up and managing weekly and daily backups to cloud storage. You can:
Encrypt files before transferring them, so that your data will be stored as encrypted files.
Choose to only encrypt files during the transfer process.
Enable an integrity check to confirm that files were backed up correctly and can be successfully restored.
Set integrity checks to run at specific frequencies and times.
Human error is often the inspiration to reach for a backup, but ransomware attacks are on the rise, and a strategy of recycle and rotation practices alongside file encryption helps backups remain unreachable by a ransomware infection. Hyper Backup allows for targeted backup approaches, like saving hourly versions from the previous 24 hours of work, daily versions from the previous month of work, and weekly versions from older than one month. You choose what makes the most sense for your work. You can also set a maximum number of versions if there's a certain cap you don't want to exceed. Not only do these smart recycle and rotation practices manage your backups to help protect your organization against ransomware, but they can also reduce storage costs.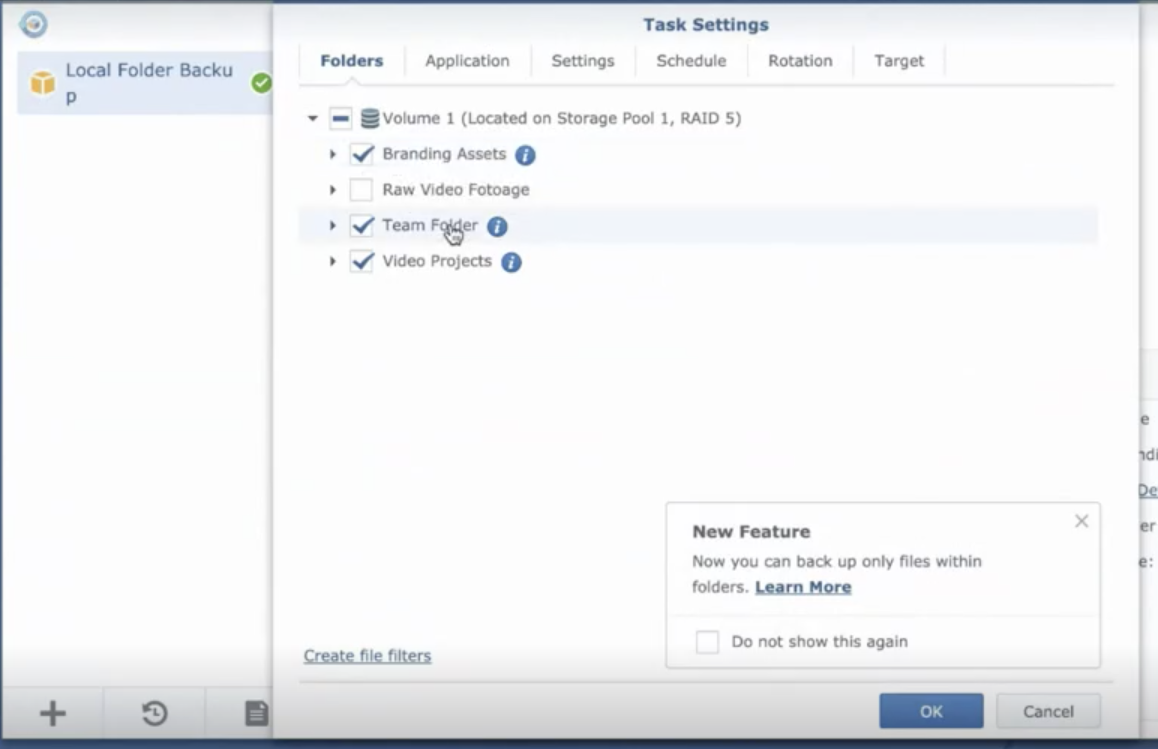 Set Up Multi-site File Exchange With Synology NAS and Cloud Storage
To learn more about how you can set up your Synology NAS with cloud storage to implement a collaboration and data protection solution like this, one of our solutions engineers recently crafted a guide outlining how to do so with our cloud storage solution.
At the end of the day, collaboration is the soul of much creative work, and orienting your system to make the nuts and bolts of collaboration invisible to the creatives themselves, while ensuring all their content is fully protected, will set your team up for the greatest success. Synology NAS, its impressive built-in software suite, and cloud storage can help you get there.