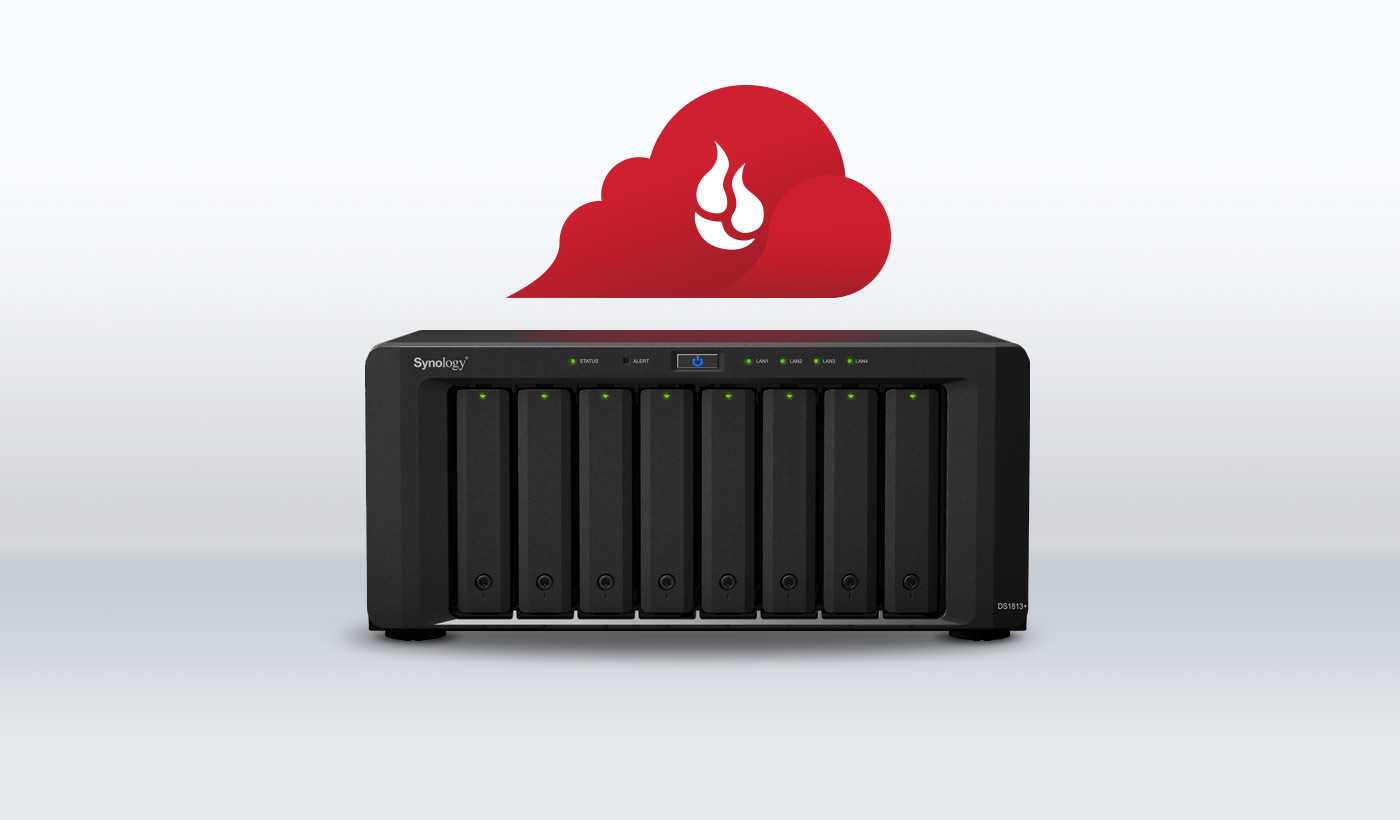 Editor's note: This post was updated from the original (published in 2016) to reflect current information regarding Hyper Backup and a new webinar available on-demand.
Using Synology and Backblaze together provides you with an unbeatable cloud sync or backup solution for your DiskStation. Even better, because Backblaze B2 Cloud Storage is one of the most affordable ways to store your data in the cloud, using it to back up your Synology NAS will save you money every time you sync or backup—up to 75% compared to Amazon S3, Microsoft Azure, and Google Cloud.
To help you take advantage of these benefits, we're sharing a step by step guide on connecting your Synology NAS to Backblaze B2. We're also including information about how to use Hyper Backup with the Backblaze S3 Compatible API. If you're not currently a Backblaze B2 customer, you can learn more about B2 Cloud Storage here and sign up for a free account.
How to Set Up Synology Cloud Sync with Backblaze B2
To set up your DiskStation with Backblaze B2 sync support, you'll need access to your Backblaze B2 account. You'll also need your Backblaze B2 Application Key ID, Application Key, and bucket name—all of which are available when you log in to Backblaze. Finally, you'll need the Cloud Sync application installed on your DiskStation. Once you're ready, you can follow these steps:
Open the DiskStation Management interface in your web browser.
Install Cloud Sync v2.1.0 or later from the Package Center, if it's not already installed.
Click on the Main Menu.
Click on Cloud Sync.
Click the + button to create a new connection to Backblaze B2.
Select Backblaze B2 from the list of cloud providers.

Enter the Application Key ID, Application Key, and bucket name you'll be using for the sync. This Application Key needs to have full read/write permissions for the bucket or section of the bucket the Synology will access. The bucket is the container that holds the DiskStation files you'd like to sync.

Select the folder on the DiskStation you'd like to sync.
Click next. Confirm the task settings and the DiskStation will begin to sync to Backblaze B2.
Task settings let you specify the folder you're uploading, and lets you prevent the DiskStation and Backblaze B2 from syncing specific files or subdirectories. You can create exclusions for specific file types, too, as well as file names.
Using Hyper Backup with Backblaze B2
With the launch of the Backblaze S3 Compatible API, Synology DiskStation users can also take advantage of the Hyper Backup app on their DiskStation. Hyper Backup offers a true backup solution for Synology owners that includes features like data deduplication, incremental backups, and backup rotation policies. A quickstart guide for setting up Hyper Backup with the S3 Compatible API can be found in our Knowledge Base.
What You Can Do With Backblaze B2, Cloud Sync, and Hyper Backup
The Cloud Sync app provides you with total control over what gets backed up to Backblaze B2—you can synchronize in the cloud as little or as much as you want. If you're not sure if you're looking for backup or sync, you can read about the differences between them in this post. Here are some practical examples of what you can do with Cloud Sync, Hyper Backup, and Backblaze B2 working together.
Sync or Backup the Entire Contents of Your DiskStation to the Cloud
The DiskStation has excellent fault-tolerance—it can continue operating even when individual drive units fail—but nothing in life is foolproof. It pays to be prepared in the event of a catastrophe. If you follow our 3-2-1 backup strategy, you know how important it is to make sure that you have a copy of your files in the cloud.
Sync or Backup Your Most Important Media Files
Using your DiskStation to store videos, music, and photos? You've invested untold amounts of time, money, and effort into collecting those media files, so make sure they're safely and securely synced to the cloud with DiskStation Cloud Sync or Hyper Backup with Backblaze B2.
Back Up Time Machine
Apple's Time Machine software provides Mac users with reliable local backup, and many of our customers rely on it to provide that crucial first step in making sure their data is secure. For years, customers have asked us for a way to back up Time Machine data, and now we can deliver.
Synology enables the DiskStation to act as a network-based Time Machine backup. Those Time Machine files can be synced to the cloud, so you can make sure to have Time Machine files to restore from in the event of a critical failure.
Learn More
As a part of our Cloud University series, we teamed up with Synology to host a webinar that walks users through configuring Cloud Sync and Hyper Backup in multi-office scenarios. The webinar is available on-demand here.
Why Backblaze B2 Cloud Storage?
B2 Cloud Storage is the best value in cloud storage. Our cost to store data in the cloud is up to 75% less than the competition. You can see for yourself with our Backblaze B2 Cost Calculator.
If you haven't given B2 Cloud Storage a try yet, now is the time. You can get started with B2 Cloud Storage and your Synology DiskStation right now, and make sure your NAS is synced or backed up securely to the cloud.