Editor's note: This post has been updated since it was last published in 2020 to provide more information on Synology NAS backups.
If you're using a Synology NAS for your small business or home office setup, chances are your data is important to you. You probably invested in the NAS to enable easier collaboration and access, speed up restores, make files available 24/7, and achieve a level of redundancy you didn't have before. Your Synology DiskStation definitely gives you all of those benefits, but your NAS alone doesn't fully protect your data from things like a natural disaster, a ransomware attack, or a major hard drive failure (And drives do fail. All the time.) In short, you can store backups on a NAS for easy access, but a NAS itself does not constitute a true backup strategy.
For true protection, you need to implement a 3-2-1 backup strategy that incorporates your NAS with at least one off-site copy—and backing up to the cloud is a great way to do just that.
In this post, we'll explain how to achieve a 3-2-1 backup strategy, share some of the benefits of backing up to cloud storage, outline different options for backing up your DiskStation, and give some practical examples of what you can do by pairing your NAS with cloud storage.
Synology NAS and a 3-2-1 Backup Strategy
The 3-2-1 backup strategy is simple and time tested. It means having at least three total copies of your data, two of which are local but on different mediums (read: devices), and at least one copy off-site.
If you are using your Synology NAS to connect and back up computers on your network, that's the first step—you have two local copies of your data on different mediums. When you back your Synology NAS up to the cloud, that completes the strategy with one copy off-site.
Synology also gives you a number of ways to achieve additional backups, should you need or want to. You can:
Back up to the same Synology NAS by creating a multi-version local copy. Backing up to the same NAS enables speedy restores, however your data is still at risk of hard drive failure. It's also co-located with your production data, putting it at risk of disaster. Having a copy off-site reduces this risk.
Back up to an external destination. Synology offers a few different options for backing up to an external destination, including another Synology NAS, a file server, or a USB device, and each has pros and cons. If you recently upgraded to a new DiskStation, your old NAS is an option for storing an additional copy of your data, should you want to. Backing up to a file server is another option, but it will take up more storage space for caching than backing up to another DiskStation. Finally, backing up to a USB device has some advantages—the format of your data is readable, so you can plug the USB in anywhere and access your data. However, USB backup won't back up applications or system files, and it's a manual process rather than automated process.
Keep in mind, backing up to an external destination will require you to physically separate the backup copy. Backing up your DiskStation to the cloud means you achieve a 3-2-1 strategy without going out of your way to physically separate the copies.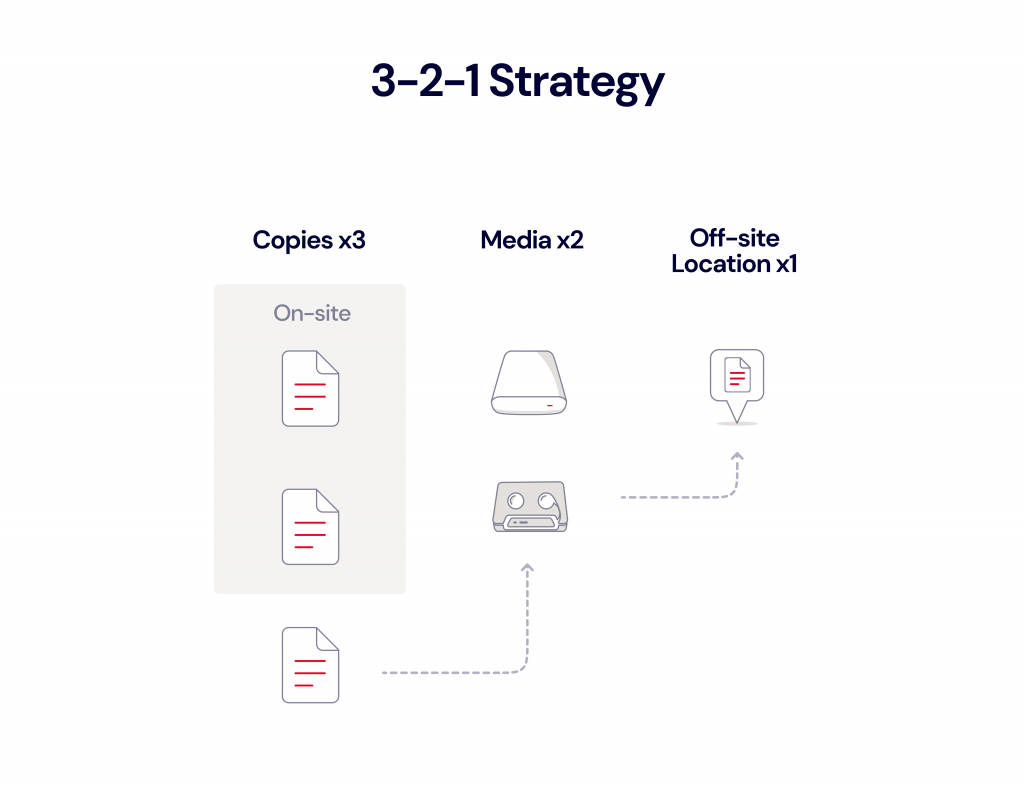 The Benefits of Backing Up Your Synology DiskStation to the Cloud
Backing up your Synology NAS to the cloud gives you a number of advantages, including:
Avoiding data loss: Obviously, this is first and foremost. Without an off-site backup, your on-site data, including data on your individual workstations and your NAS, is susceptible to things like floods, tornadoes, hurricanes, and wildfires. Because the NAS is always connected to your machines, it's at risk of infection from ransomware attacks. And finally, the hard drives in your NAS can fail. Because your NAS is likely set up in a RAID, one drive failure might not affect your data. But, while one drive is down, your data is at a higher risk. If another drive were to fail, you could lose data. Keeping on off-site backup in cloud storage helps you avoid this fate.
Accessibility: With your data in the cloud, your backups are accessible from anywhere. If you're away from your desk or office and you need to retrieve a file, you can simply log in to your cloud instance and pull that file down.
Security: Cloud vendors typically protect customer data by encrypting it as it travels to its final destination and/or when it is at rest on the vendors' storage servers. Encryption protocols differ between cloud vendors, so make sure to understand them as you're evaluating cloud providers, especially if you have specific security requirements.
Automation: Your Synology NAS comes with a built-in backup utility so you can set your cloud backup schedule in advance and move on.
Scalability: As your data grows, your cloud backups grow with it. With cloud storage, there's no need to invest in or maintain additional hardware to ensure your data is properly backed up.
Options for Backing Up Your Synology NAS
Synology offers a few different methods for backing up your NAS, including:
Hyper Backup
Snapshot Replication
USB Copy
Hyper Backup: Hyper Backup is Synology's built-in backup utility. It enables you to back up not just data stored on your NAS, but also applications and system configurations. It offers incremental backups to help you manage your storage footprint. After your initial backup, using incremental backups means only files that have been changed will be updated. It also offers cross-file deduplication to help you further manage your storage footprint and avoid duplicates. Hyper Backup allows you to back up to external devices as well as cloud services.
In addition to Hyper Backup, Synology also offers Cloud Sync, enabling you to seamlessly sync files with your cloud instance. This is a great tool for collaboration, but keep in mind—sync is not the same as backup. Cloud Sync does not support application and system configuration file backups, and it only keeps the current version of your files. If someone accidentally deletes that file, it's gone. If you're not sure if you're looking for backup or sync, you can read about the differences between them in this post.
Snapshot Replication: If your Synology model supports the Btrfs file system, using Snapshot Replication for on-site backups is a bit faster both on the backup side and the restore side than Hyper Backup. Snapshot Replication allows you to back up to the same Synology NAS or another Synology NAS, but not to the cloud.
USB Copy: USB Copy only copies your data, not applications or system configuration files. It does not support cross-file deduplication, so you might end up with duplicate copies of your files. Additionally, this method is manual, and will require you to be responsible for regular backups as opposed to automating them with Hyper Backup.
What You Can Do With Cloud Sync, Hyper Backup, and Cloud Storage
Using Hyper Backup and Cloud Sync together provides you with total control over what gets backed up to cloud storage—you can synchronize in the cloud as little or as much as you want. Here are some practical examples of what you can do with Cloud Sync, Hyper Backup, and cloud storage working together.
Sync or Back Up the Entire Contents of Your DiskStation to the Cloud
The DiskStation has excellent fault-tolerance—it can continue operating even when individual drive units fail—but nothing in life is foolproof. It pays to be prepared in the event of a catastrophe by syncing and backing up your entire DiskStation to cloud storage.
Sync or Back Up Your Most Important Media Files
Using your DiskStation to store videos, music, and photos? You've invested untold amounts of time, money, and effort into collecting those media files, so make sure they're safely and securely synced to the cloud with DiskStation Cloud Sync or Hyper Backup with cloud storage.
Back Up Time Machine
Apple's Time Machine software provides Mac users with reliable local backup, and many rely on it to provide that crucial first step in making sure their data is secure.
Synology enables the DiskStation to act as a network-based Time Machine backup. Those Time Machine files can be synced to the cloud, so you can make sure to have Time Machine files to restore from in the event of a critical failure.
Learn More
As a part of our Cloud University series, we teamed up with Synology to host a webinar that walks users through configuring Cloud Sync and Hyper Backup in multi-office scenarios. The webinar is available on-demand here.
Ready to Give It a Try?
Hyper Backup allows you to choose from any number of cloud storage providers as a backup destination, and Backblaze B2 Cloud Storage is one of them.
If you haven't given cloud storage a try yet, you can get started now, and make sure your NAS is synced or backed up securely to the cloud. The first 10GB are free.