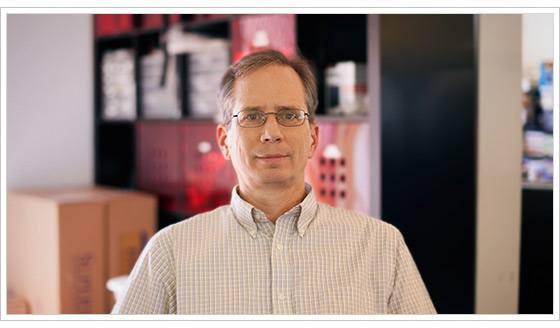 I'm very excited to announce that Brian Beach has joined Backblaze to continue innovating on our cloud storage.
Brian was a 15-year veteran of TiVo, having joined the company when there were just a handful of people and no commercial product. He helped architect and develop both the TiVo box that millions of customers have in their homes and the cloud system that enabled cost-efficient and reliable streaming of shows. Brian Beach was TiVo's VP of R&D and Principal Engineer, pushing forward large architectural projects and leading teams of engineers.
Brian Beach joins Backblaze as a Distinguished Engineer.
To enable a completely unlimited online backup service for just $5/month, Backblaze had to build an entire cloud storage system, including server hardware (Storage Pods) and highly automated and scalable cloud storage software. Brian Beach will work to further build out this system as we scale to hundreds of petabytes and exabytes.
Read the full press release here: "15-Year TiVo Veteran Joins Backblaze."
Get to know Brian Beach a bit better:
Do your kids get TiVo's for each of their birthdays?
Not exactly. While I was at TiVo, our family got TiVo prototypes while still under development. TiVo believes that the best testing is from employees' families, so that when something isn't working they feel the pain. I definitely felt the pain when one of the weekly take-home software builds didn't work. "Dad, the TiVo's broken again!" "Dad, why can't I watch my show?" Now that I've left TiVo, I'm back to paying for service, and using released software. It works a lot better.
How did you become Backblaze's first external customer?
I've always been a little paranoid about backing up computers. Back when Backblaze was started, I was pretty good about backing up my data once a month or so to CDs, but not very good at keeping a recent copy offsite in case the house burned down. When I heard from Brian Wilson that he was starting Backblaze and that it was ready for customers, I jumped on it. I've been a customer ever since. So far, I've been lucky and haven't needed to restore files from Backblaze. It does give me peace of mind knowing that even if all my disk drives at home explode, my data is still safe.
Why do you live in Indiana?
Nine years ago my wife and I decided we were tired of the congestion in the Bay Area and moved from Santa Cruz to Columbus, Indiana. For me it means telecommuting, but with modern tools that's not a problem. The rush hour traffic here lasts about 10 minutes, and means you have to wait one extra cycle at the main traffic light.
A city of 40,000 people is just the right size for me. It's big enough that there's always something interesting going on, and I love being able to go out to eat, go to a movie, or whatever, without having to worry about traffic or crowds. When I go downtown, I always run into somebody I know.
Where is the craziest place you've traveled?
I haven't been to that many crazy places, but I have been to a lot of them on a motorcycle, which some people might think is crazy. I've been to Europe several times and toured on a motorcycle, usually in the Alps. I guess the craziest place was Croatia about ten years ago. The country was just starting to recover from civil war, and still had bullet-ridden buildings, and warnings not to leave well-traveled areas because of land mines.
What are your hobbies?
I like bicycling. Ever since I was 18, I've been riding regularly—usually a couple of times a week. Being outside in the fresh air, getting exercise, and having some time just to myself gives me time to think. I usually find that when I'm stuck on a problem at work, if I get away from the computer and go out riding, the answer will come to me. When there's snow on the ground, biking is less appealing. Then I switch to skiing. There's a nice ski slope an hour from my house, and my wife and I have season tickets this year.
My other hobby is singing. I started ten years ago when I signed up for a music theory class at Cabrillo College. I figured it was a lot like math, so it would be easy. What I didn't realize is that it required singing in class. For a person not used to the spotlight, I found it really hard. But, once I got started, I loved it. I'm now singing baritone with the Columbus Indiana Philharmonic Chorus.