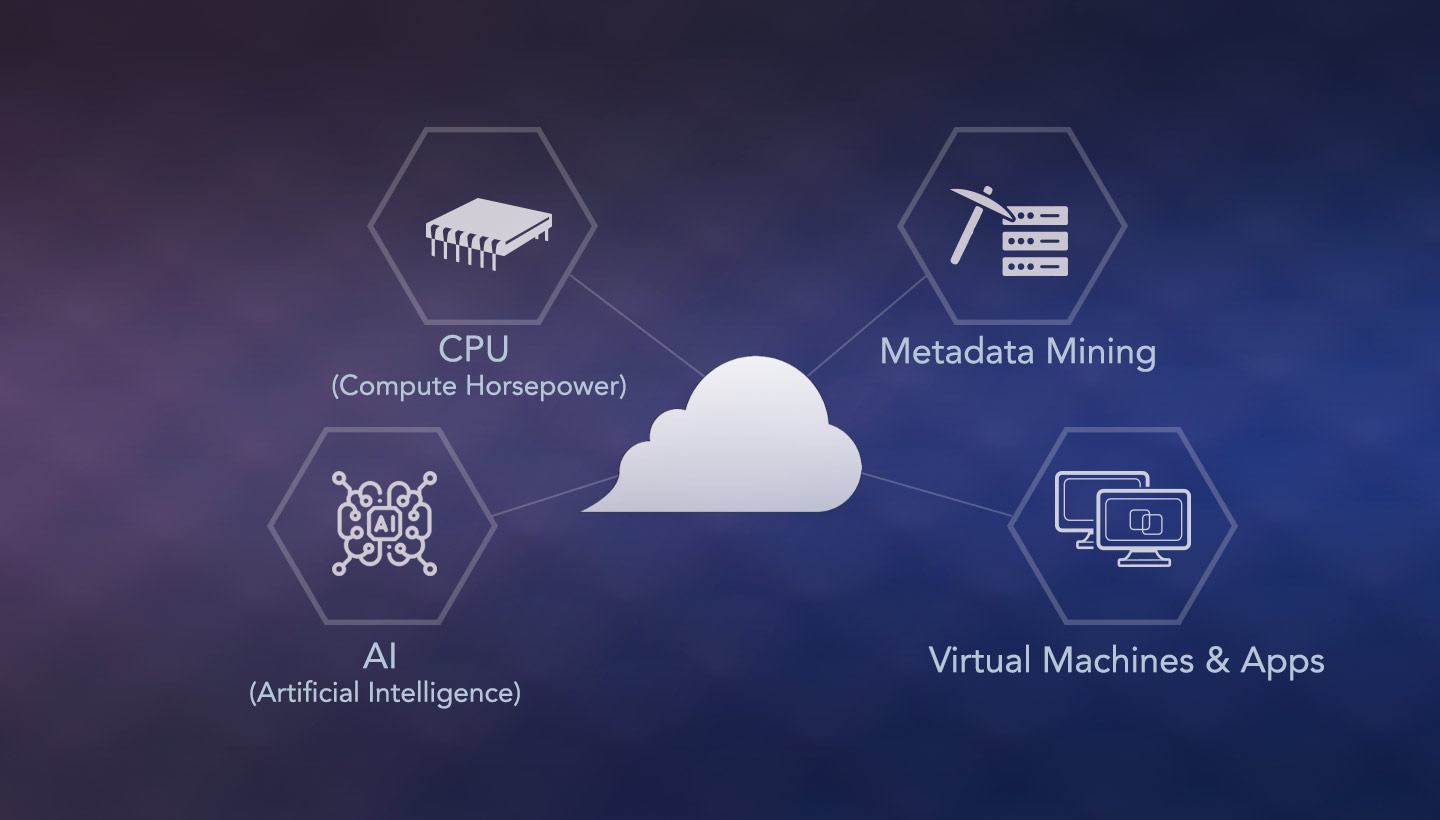 Modern Storage Workflows in the Age of Cloud, Part Two
In Modern Storage Workflows in the Age of Cloud, Part One, we introduced a powerful maxim to guide content creators (anyone involved in video or rich media production) in choosing storage for the different parts of their content creation workflows:
Choose the storage that best fits each workflow step.
It's true that every video production environment is different, with different needs, and the ideal solution for an independent studio of a few people is different than the solution for a 50-seat post-production house. But the goal of everyone in the business of creative storytelling is to tell stories and let your vision and craft shine through. Anything that makes that job more complicated and more frustrating keeps you from doing your best work.
Given how prevalent, useful, and inexpensive cloud technologies are, almost every team today is rapidly finding they can jettison whole classes of storage that are complicating their workflow and instead focus on two main types of storage:
Fast, shared production storage to support editing for content creation teams (with no need to oversize or overspend)
Active, durable, and inexpensive cloud storage that lets you move all of your content in one protected, accessible place—your cloud-enabled content backplane
It turns out there's another benefit unlocked when your content backplane is cloud enabled, and it's closely tied to another production maxim:
Organizing content in a single, well managed repository makes that content more valuable as you use it.
When all content is in a single place, well-managed and accessible, content gets discovered faster and used more. Over time it will pick up more metadata, with sharper and more refined tags. A richer context is built around the tags, making it more likely that the content you already have will get repurposed for new projects.
Later, when you come across a large content repository to acquire, or contemplate a digitization or preservation project, you know you can bring it into the same content management system you've already refined, concentrating and increasing value further still.
Having more content that grows increasingly valuable over time becomes a monetization engine for licensing, content personalization, and OTT delivery.
You might think that these benefits already present a myriad of new possibilities, but cloud technologies are ready to accelerate the benefits even further.
Cloud Benefits: Pay as You Need It, Scalability, and Burstability
It's worth recapping the familiar cost-based benefits of the cloud: 1) pay only for the resources you actually use, and only as long as you need them, and, 2) let the provider shoulder the expense of infrastructure support, maintenance, and continuous improvement of the service.
The cost savings from the cloud are obvious, but the scalability and flexibility of the cloud should be weighted strongly when comparing using the cloud versus handling infrastructure yourself. If you were responsible for a large server and storage system, how would you cope with a business doubling every quarter, or merging with another team for a big project?
Too many production houses end up disrupting their production workflow (and their revenue) when they are forced to beef up servers and storage capability to meet new production demands. Cloud computing and cloud storage offer a better solution. It's possible to instantly bring on new capacity and capability, even when the need is unexpected.
Cloud Delivered Compute Horsepower on Demand
Let's consider the example of a common task like transcoding content and embedding a watermark. You need to process 3,600 frames of a two hour movie to resize the frame and add a watermark, and that compute workload takes 100 minutes and ties up a single server.
You could adapt that workflow to the cloud by pulling high resolution frames from cloud storage, feed them to 10 cloud servers in parallel, and complete the same job in 10 minutes. Another option is to spin up 100 servers and get the job done in one minute.
The cloud provides the flexibility to cut workflow steps that used to take hours down to minutes by adding the compute horsepower that's needed for the job, then turn it off when it's no longer needed. You don't need to worry about planning ahead or paying for ongoing maintenance. In short, compute adapts to your workflow rather than the other way around, which empowers you to make workflow choices that instead prioritize the creative need.
Your Workflow Applications Are Moving to the Cloud, Too
More and more of the applications used for content creation and management are moving to the cloud, as well. Modern web browsers are gaining astonishing new capabilities and there is less need for dedicated application servers accompanying storage.
What's important is that the application helps you in the creative process, not the mechanics of how the application is served. Increasingly, this functionality is delivered by virtual machines that can be spun up by the thousands as needed or by cloud applications that are customized for each customer's specific needs.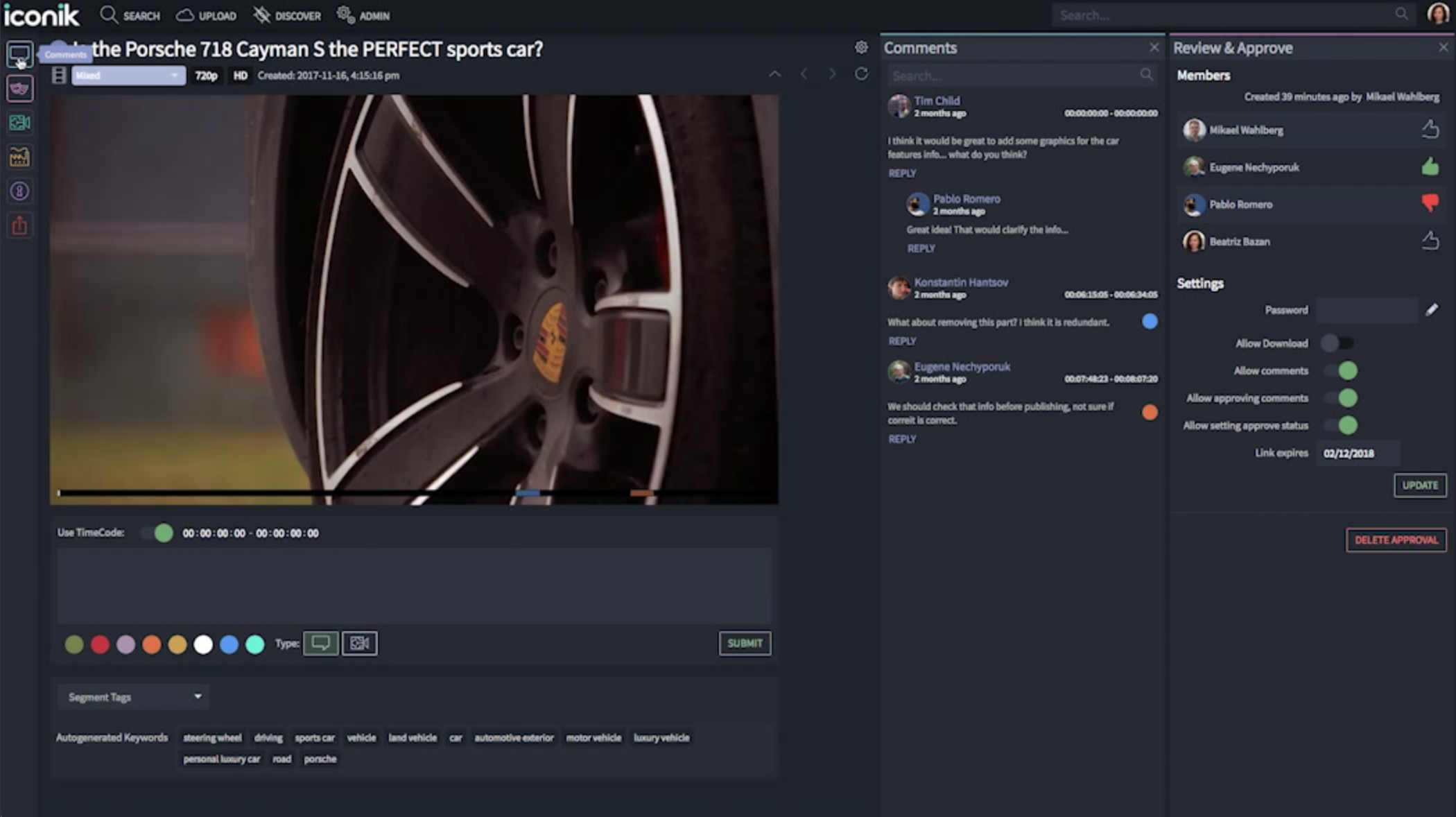 An example of a cloud-delivered workflow application—iconik asset discovery and project collaboration
iconik is one example of such a service. iconik delivers cloud-based asset management and project collaboration as a service. Instead of dedicated servers and storage in your data center, each customer has their own unique installation of iconik's service that's ready in minutes from first signup. The installation is exclusive to your organization and tailored to your needs. The result is a workflow utilizing virtual machines, compute, and storage that matches your workflow with just the resources you need. The resources are instantly available whenever or wherever your team is using the system, and consume no compute or storage resources when they are not.
Here's an example. A video file can be pumped from Backblaze B2 to the iconik application running on a cloud compute instance. The proxies and asset metadata are stored in one place and available to every user. This approach is scalable to as many assets and productions you can throw at it, or as many people as are collaborating on the project.
The service is continuously upgraded and updated with new features and improvements as they become available, without the delay of rolling out enhancements and patches to different customers and locations.
Given the advantages of the cloud, we can expect that more steps in the creative production workflow that currently rely on dedicated on-site servers will move to the highly agile and adaptable environment offered by the cloud.
The Next Evolution—AI Becomes Content-Aware
Having your content library in a single content backplane in the cloud provides another benefit: ready access to a host of artificial intelligence (AI) tools.
Examples of AI Tools That Can Improve Creative Production Workflows:
Text to speech transcription
Language translation
Object recognition and tagging
Celebrity recognition
Brand use recognition
Colorization
High resolution conversion
Image stabilization
Sound correction
AI tools can be viewed as compute workers that develop processing rules by training for a desired result on a data set. An AI tool can be trained by having it process millions of images until it can tell the difference between sky and grass, or pick out a car in a frame of video. Once such a tool has been trained, it provides an inexpensive way to add valuable metadata to content, letting you find, for example, every video clip across your entire library that has sky, or grass, or a car in it. Text keywords with an associated timecode can be automatically added to aid in quickly zeroing in on a specific section of a long video clip. That's something that's not practical for a human content technician over thousands of files, but is easy, repeatable, and scalable for an AI tool.
Let AI Breathe New Life into Existing Content
AI tools can breathe new life in older content and intelligently clean up older format source video by removing film scratches or upresing content to today's higher resolution formats. They can be valuable for digital restoration and preservation projects, too. With AI tools and source content in the cloud, it's now possible to give new life to analog source footage. Digitize it, let AI clean it up, and you'll get fresh, monetizable assets in your library.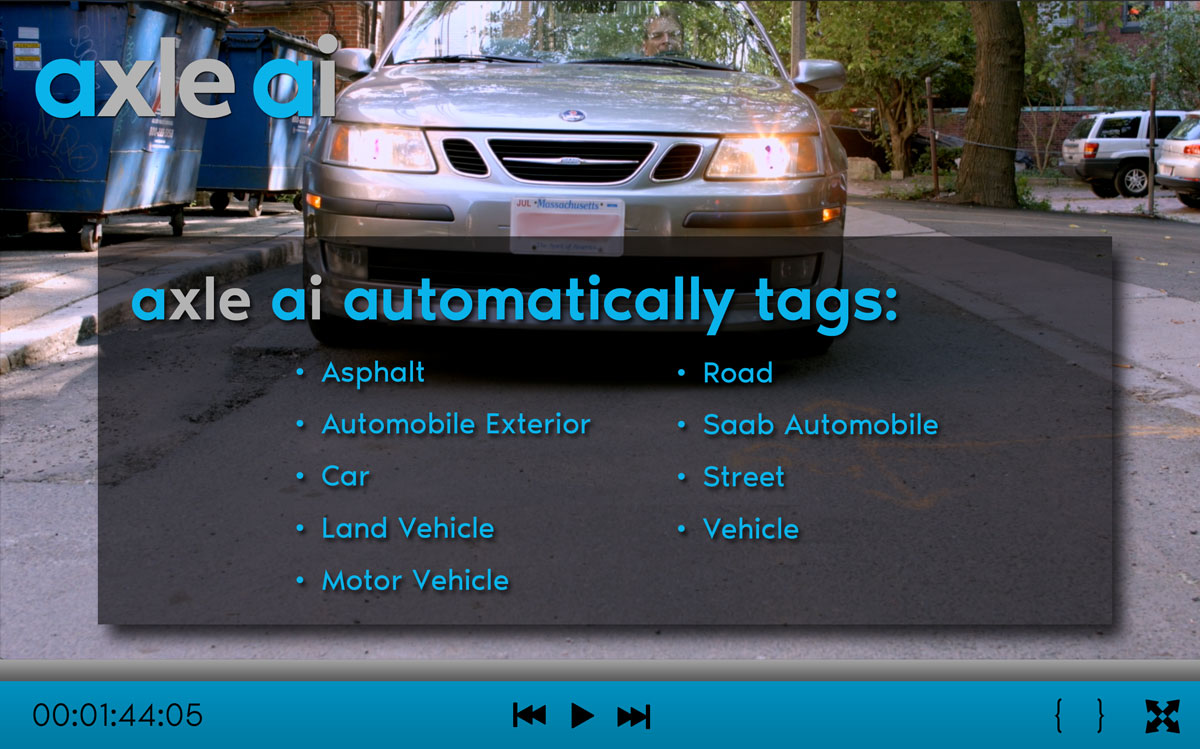 An example of the time-synched tags that can be generated with an AI tool
Many workflow tools, such as asset and collaboration tools, can use AI tools for speech transcription or smart object recognition, which brings additional capabilities. axle.ai, for example, can connect with a visual search tool to highlight an object in the frame like a wine bottle, letting you subsequently find every shot of a wine bottle across your entire library.
Visual search for brands and products also is possible. Just highlight a brand logo and find every clip where the camera panned over that logo. It's smart enough to gets results even when only part of the logo is shown.
We've barely touched on the many tools that can be applied to content on ingest or content already in place. Whichever way they're applied, they can deliver on the promise of making your workflows more efficient and powerful, and your content more valuable.
All Together Now
Taken together, these trends are great news for creatives. They can serve your creative vision by making your workflow more agile and more efficient. Cloud-enabled technologies enable you to focus on adding value and repurposing content in fresh new ways, resulting in new audiences and better monetization.
By placing your content in a cloud content backplane, and taking advantage of applications as a service, including the latest AI tools, it becomes possible to continually grow your content collection while increasing its value—a desirable outcome for any creative production enterprise.
If you could focus only on delivering great creative content, and had a host of AI tools to automatically make your content more valuable, what would you do?
If you're interested in learning more about cloud-enabled workflow solutions, visit our
Cloud University
page, where we've created a series of webinars available on-demand with over a dozen partners.