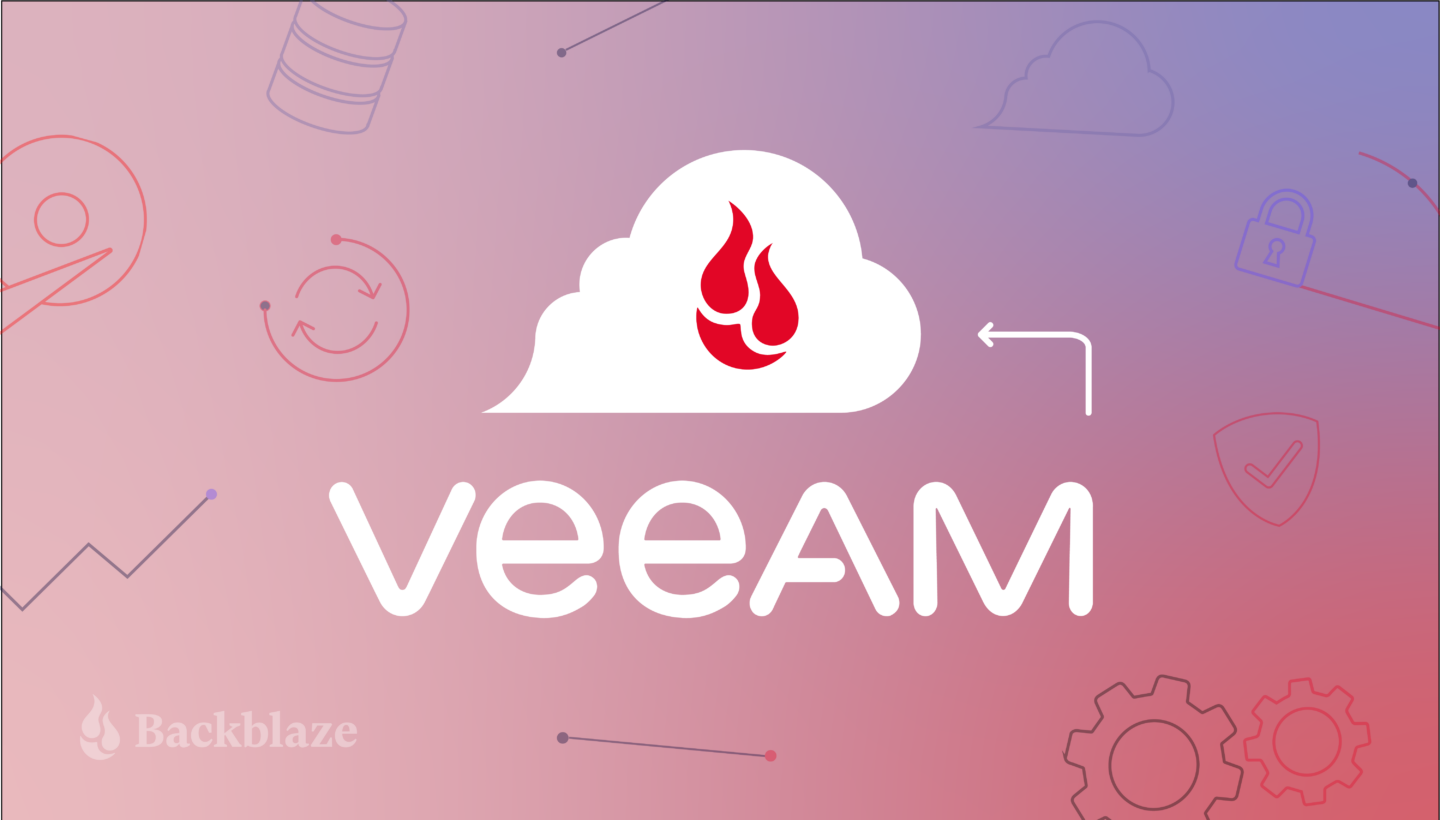 If you already use Veeam, you're probably familiar with using object storage, typically in the cloud, as your secondary repository using Veeam's Scale-Out Backup Repository (SOBR). But Veeam v12, released on February 14, 2023, introduced a new direct-to-object storage feature that expands the way enterprises can use cloud storage and on-premises object storage for data protection.
Today, I'm talking through some specific use cases as well as the benefits of the direct-to-object storage feature, including fortifying your 3-2-1 backup strategy, ensuring your business is optimizing your cloud storage, and improving cyber resilience.
The Basics of Veeam's Direct-to-Object Storage
Veeam's v12 release added the direct-to-object storage feature that allows you to add object storage as a primary backup repository. This object storage can be an on-premises object storage system like Pure Storage or Cloudian or a cloud object storage provider like Backblaze B2 Cloud Storage's S3 compatible storage. You can configure the job to run as often as you would like, set your retention policy, and configure all the other settings that Veeam Backup & Replication provides.
Prior to v12, you had to use Veeam's SOBR to save data to cloud object storage. Setting up the SOBR requires you to first add a local storage component, called your Performance Tier, as a primary backup repository. You can then add a Capacity Tier where you can copy backups to cloud object storage via the SOBR. Your Capacity Tier can be used for redundancy and disaster recovery (DR) purposes, or older backups can be completely off-loaded to cloud storage to free up space on your local storage component.
The diagram below shows how both the SOBR and direct-to-object storage methods work. As you can see, with the direct-to-object feature, you no longer have to first land your backups in the Performance Tier before sending them to cloud storage.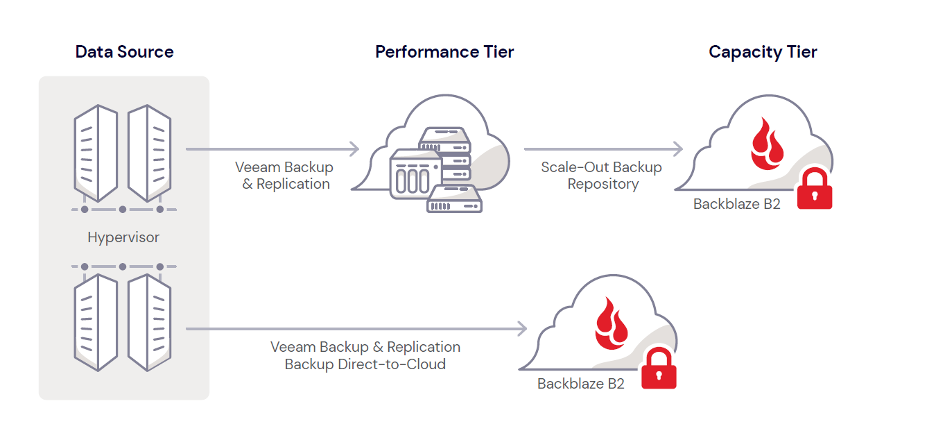 Why Use Cloud Object Storage With Veeam?
On-premises object storage systems can be a great resource for storing data locally and achieving the fastest recoveries, but they're expensive especially if you're maintaining capacity to store multiple copies of your data, and they're still vulnerable to on-site disasters like fire, flood, or tornado. Cloud storage allows you to keep a backup copy in an off-site, geographically distanced location for DR purposes.
Additionally, while local storage will provide the fastest recovery time objective (RTO), cloud object storage can be effective in the case of an on-premises disaster as it serves the dual purpose of protecting your data and being off-site.
To be clear, the addition of direct-to-object storage doesn't mean you should immediately abandon your SOBR jobs or your on-premises devices. The direct-to-object storage feature gives you more options and flexibility, and there are a few specific use cases where it works particularly well, which I'll get into later.
How to Use Veeam's Direct-to-Object Storage Feature
With v12, you can now use Veeam's direct-to-object storage feature in the Performance Tier, the Capacity Tier, or both. To understand how to use the direct-to-object storage feature to its full potential, you need to understand the implications of using object storage in your different tiers. I'll walk through what that means.
Using Object Storage in Veeam's Performance Tier
In earlier versions of Veeam's backup software, the SOBR required the Performance Tier to be an on-premises storage device like a network attached storage (NAS) device. V12 changed that. You can now use an on-premises system or object storage, including cloud storage, as your Performance Tier.
So, why would you want to use cloud object storage, specifically Backblaze B2, as your Performance Tier?
Scalability: With cloud object storage as your Performance Tier, you no longer have to worry about running out of storage space on your local device.
Immutability: By enabling immutability on your Veeam console and in your Backblaze B2 account (using Object Lock), you can prevent your backups from being corrupted by a ransomware network attack like they might be if your Performance Tier was a local NAS.
Security: By setting cloud storage as your Performance Tier in the SOBR, you remove the threat of your backups being affected by a local disaster. With your backups safely protected off-site and geographically distanced from your primary business location, you can rest assured they are safe even if your business is affected by a natural disaster.
Understandably, some IT professionals prefer to keep on-premises copies of their backups because they offer the shortest RTO, but for many organizations, the pros of using cloud storage in the Performance Tier can outweigh the slightly longer RTO.
Using Object Storage in the Performance AND Capacity Tiers
If you're concerned about overreliance on cloud storage but also feeling eager to eliminate often unwieldy, expensive, space-consuming physical local storage appliances, consider that Veeam v12 allows you to set cloud object storage as both your Performance and Capacity tier, which could add redundancy to ease your worries.
For instance, you could follow this approach:
Create a Backblaze B2 Bucket in one region and set that as your primary repository using the SOBR.
Send your Backup Jobs to that bucket (and make it immutable) as often as you would like.
Create a second Backblaze B2 account with a bucket in a different region, and set it as your secondary repository.
Create Backup Copy Jobs to replicate your data to that second region for added redundancy.
This may ease your concerns about using the cloud as the sole location for your backup data, as having two copies of your data—in geographically disparate regions—satisfies the 3-2-1 rule (since, even though you're using one cloud storage service, the two backup copies of your data are kept in different locations.
Setting Up Veeam's Direct-to-Object Storage Feature with Backblaze
For a comprehensive walk-through of setting up Veeam's Direct-to-Object Storage feature with Backblaze B2 Cloud Storage, follow the steps in this tutorial video:
Use Cases for Veeam's Direct-to-Object Storage Feature
Now that you know how to use Veeam's direct-to-object storage feature, you might be wondering what it's best suited to do. There are a few use cases where Veeam's direct-to-object storage feature really shines, including:
In remote offices
For NAS backup
For end-to-end immutability
For Veeam Cloud and Service Providers (VCSP)
Using Direct-to-Object Storage in Remote Offices
The new functionality works well to support distributed and remote work environments.
Veeam had the ability to back up remote offices in v11, but it was unwieldy. When you wanted to back up the remote office, you had to back up the remote office to the main office, where the primary on-premises instance of Veeam Backup & Replication is installed, then use the SOBR to copy the remote office's data to the cloud. This two-step process puts a strain on the main office network. With direct-to-object storage, you can still use a SOBR for the main office, and remote offices with smaller IT footprints (i.e. no on-premises device on which to create a Performance Tier) can send backups directly to the cloud.
If the remote office ever closes or suffers a local disaster, you can bring up its virtual machines (VMs) at the main office and get back in business quickly.
Using Direct-to-Object Storage for NAS Backup
NAS devices are often used as the Performance Tier for backups in the SOBR, and a business using a NAS may be just as likely to be storing its production data on the same NAS. For instance, a video production company might store its data on a NAS because it likes how easily a NAS incorporates into its workflows. Or a remote office branch may be using a NAS to store its data and make it easily accessible to the employees at that location.
With v11 and earlier versions, your production NAS had to be backed up to a Performance Tier and then to the cloud. And, with many Veeam users utilizing a NAS as their Performance Tier, this meant you had a NAS backing up to …another NAS, which made no sense.
For media and entertainment professionals in the field or IT administrators at remote offices, having to back up the production NAS to the main office (wherever that is located) before sending it to the cloud was inconvenient and unwieldy.
With v12, your production NAS can be backed up directly to the cloud using Veeam's direct-to-object storage feature.
Direct-to-Object Storage for End-to-End Immutability
As I mentioned, previous versions of Veeam required you to use local storage like a NAS as the Performance Tier in your SOBR, but that left your data vulnerable to security attacks. Now, with direct-to-object storage functionality, you can achieve an end-to-end immutability. Here's how:
In the SOBR, designate an on-premises appliance that supports immutability as your primary repository (Performance Tier). Cloudian and Pure Storage are popular names to consider here.
Set cloud storage like Backblaze B2 as your secondary repository (Capacity Tier).
Enable Object Lock for immutability in your Backblaze B2 account and set the date of your lock.
With this setup, you check a lot of boxes:
You fulfill a 3-2-1 backup strategy.
Both your local data and your off-site data are protected from deletion, encryption, or modification.
Your infrastructure is provisioned for the fastest RTO with your local storage.
You've also fully protected your data—including your local copy—from a ransomware attack.
Direct-to-Object Storage for VCSPs
The direct-to-object storage feature also works well for VCSPs. It changes how VCSPs use Cloud Connect, Veeam's offering for service partners. A VCSP can send customer backups straight to the cloud instead of first sending them to the VCSP's own systems.
Veeam V12 and Cyber Resiliency
When it comes to protecting your data, ultimately, you want to make the decision that best meets your business continuity and cyber resilience requirements. That means ensuring you not only have a sound backup strategy, but that you also consider what your data restoration process will look like during an active security incident (because a security incident is more likely to happen than not).
Veeam's direct-to-object storage feature gives you more options for establishing a backup strategy that meets your RTO and DR requirements while also staying within your budget and allowing you to use the most optimal and preferred kind of storage for your use case.