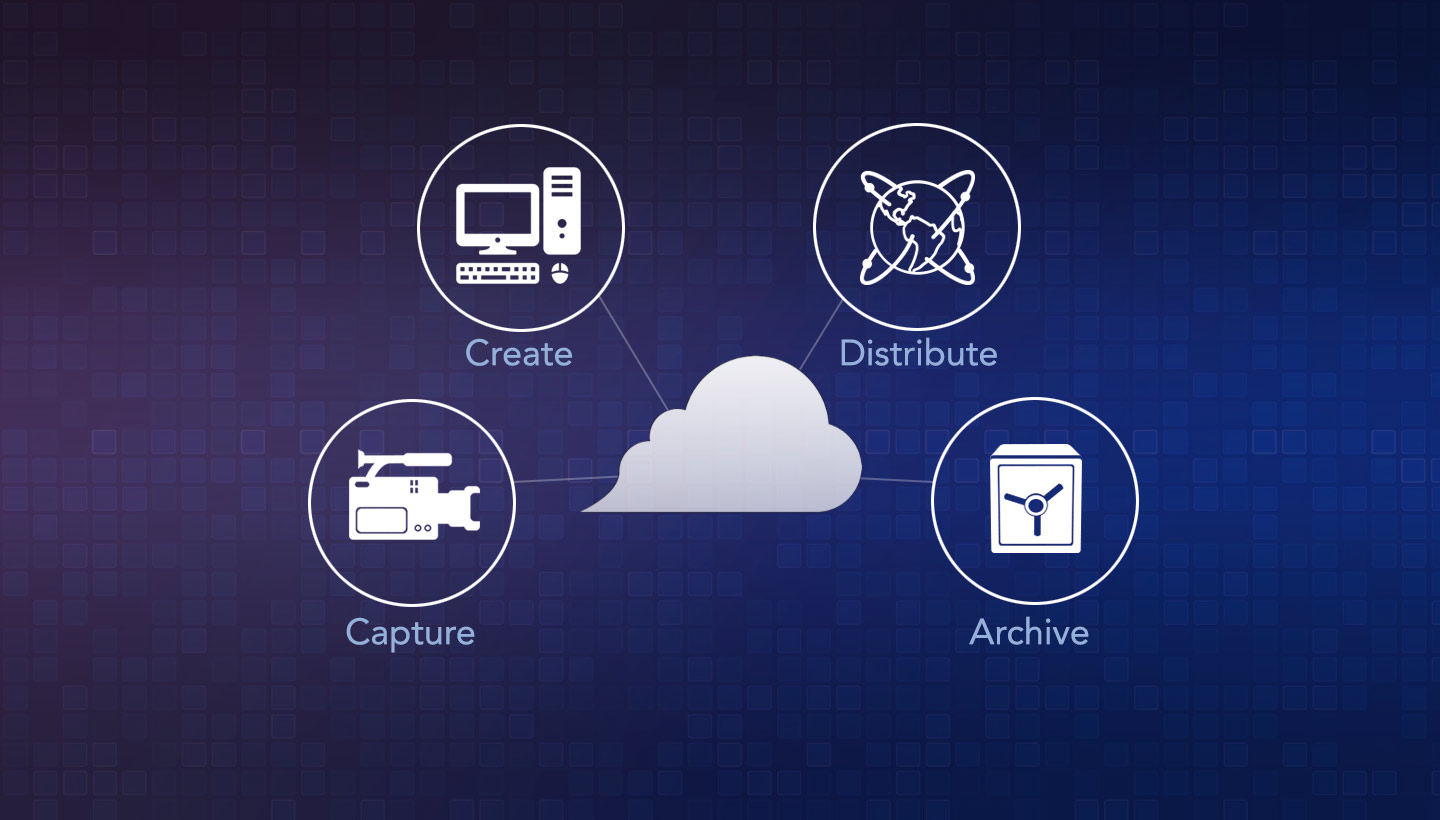 Ever since commercial cloud services were launched over 12 years ago, media and entertainment professionals have debated how and where cloud services best fit in their workflows. Archive and delivery were seen as the most natural fits. But complete, that is, end-to-end cloud workflows were seen as improbable due to the network bandwidth required to edit full-resolution content. Now, with new cloud-oriented creative tools on the market, cloud is now playing a role at every step of creative workflows.
Of course, it's one thing to talk about complete cloud workflows and it's another thing to show how the cloud has transformed an actual customer's workflow from end-to-end. But that's exactly what healthcare content provider Everwell did by building a streamlined work-from-anywhere workflow with cloud storage and cloud-delivered asset management. The best part was that rolling out the new cloud workflow was just as painless as it was transformative for their business.
Where On-Site Asset Management Fails: Scaling Up and Remote Access
Everwell was founded on the idea that millions of TVs in medical office lobbies and waiting rooms could deliver compelling, well-produced healthcare educational content. Hospitals, medical groups, and medical practitioners that sign up with Everwell receive media players pre-loaded with an extensive library of Everwell's educational videos along with software that allows each practice to customize the service with their own information.
As the number of subscribers and demand for their content grew, Everwell COO Loren Goldfarb realized that their production workflow needed to adapt quickly or they wouldn't be able to scale their business to meet growth. The production workflow was centered around an on-site media asset management (MAM) server with on-site storage that had served them well for several years. But as the volume of raw footage grew and the file sizes increased from HD to 4K, their MAM struggled to keep up with production deadlines.
At the same time, Everwell's content producers and editors needed to work more efficiently from remote locations. Having to travel to the main production office to check content into the media asset manager became a critical bottleneck. Their existing MAM was designed for teams working in a single location, and remote team members struggled to maintain access to it. And the off-site team members and Everwell's IT support staff were spending far too much time managing VPNs and firewall access.
Workarounds Were Putting Their Content Library at Risk
Given the pain of a distributed team trying to use systems designed for a single office, it was no surprise that off-site producers resorted to shipping hard drives directly to editors, bypassing the asset management system altogether. Content was extremely vulnerable to loss while being shipped around on hard drives. And making editorial changes to content afterward without direct access to the original source files wasn't practical. Content was becoming increasingly disorganized and hard for users to find or repurpose. Goldfarb knew that installing servers and storage at every remote production site was not an option.
What Goldfarb needed was an asset management solution that could keep productions moving smoothly and content organized and protected, even with remote producers and editors, so that his team could stay focused on creating content. He soon realized that most available MAMs weren't built for that.
Everwell's distributed workflow
A Cloud-Based MAM Designed for the Complete Workflow
After reviewing and rejecting several vendors on his own, Goldfarb met with Jason Perr of Workflow Intelligence Nexus. Jason proposed a complete cloud workflow solution with iconik for asset management and Backblaze B2 Cloud Storage for cloud storage. Built by established MAM provider Cantemo, iconik takes an entirely new approach by delivering asset management with integrated workflow tools as an on-demand service. With iconik, everything is available through a web browser.
Jason helped Everwell migrate existing content, then deploy a complete, cloud-based production system. Remote producers can easily ingest content into iconik, making it immediately available to other team members anywhere on the planet. As soon as content is added, iconik's cloud-based compute resources capture the files' asset metadata, generate proxies, then seamlessly store both the proxies and full-resolution content to the cloud. What's more, iconik provides in-the-cloud processing for advanced metadata extraction and other artificial intelligence (AI) analysis to enrich assets and allow intelligent searching across the entire content library.
Another critical iconik feature for Everwell is the support for cloud-based proxy editing. Proxies stored in the cloud can be pulled directly into Adobe Premiere, allowing editors to work on their local machine with lower resolution proxies, rather than having every editor download the full-resolution content and generate their own proxy. After the proxy editing is complete, full-resolution sequences are rendered using the full-resolution originals stored in Backblaze B2 and then returned to the cloud. iconik also offers cloud-based compute resources that can perform quality checks, transcoding, and other processing its customers need to prepare the content for delivery.
Cloud Storage That Goes Beyond Archive
Working behind the scenes, cloud storage seamlessly supports the iconik asset management system, hosting and delivering proxy and full-resolution content while keeping it instantly available for editing, metadata extraction, and AI or other processing. And because cloud storage is built with object storage instead of RAID, it offers the extreme durability needed to keep valuable content highly protected with the infinite scalability needed to grow capacity on demand.
Backblaze B2's combination of data integrity, dramatically lower pricing than other leading cloud storage options, and full integration with iconik made it an obvious choice for Everwell. With B2 Cloud Storage, they no longer have to pay for, or manage, on-site production storage servers, tape, or disk-based archives—all their assets are securely stored in the cloud.
This was the seamless, real-time solution that Goldfarb had envisioned, with all of the benefits of a truly cloud-delivered and cloud-enabled solution. Both iconik and Backblaze services can be scaled up in minutes and the pricing is transparent and affordable. He doesn't pay for services or storage he doesn't use and he was able to phase out his on-site servers.
Migrating Existing Content Archive to the Cloud
Everwell's next challenge was migrating their enormous content library of raw material and existing asset metadata without impacting production. With Jason of Workflow Intelligence Nexus guiding them, they signed up for the Backblaze Fireball, the rapid ingest service that avoids time-consuming internet transfers by delivering content directly to their cloud-based iconik library.
As part of the service, we sent Everwell the 70TB Backblaze Fireball. Everwell connected it to their local network and copied archived content onto it. Meanwhile, Workflow Intelligence Nexus and Everwell's team exported the metadata records from their existing asset manager and with a migration tool from Workflow Intelligence Nexus, they automatically created new placeholder records in iconik with all of that metadata.
Everwell then shipped the Backblaze Fireball back to the Backblaze data center where all of the content was securely uploaded to their Backblaze B2 account. iconik then scanned and identified the content and linked it to the existing iconik records. The result was an extremely fast migration of an existing content archive to a new cloud-based MAM that was immediately ready for production work.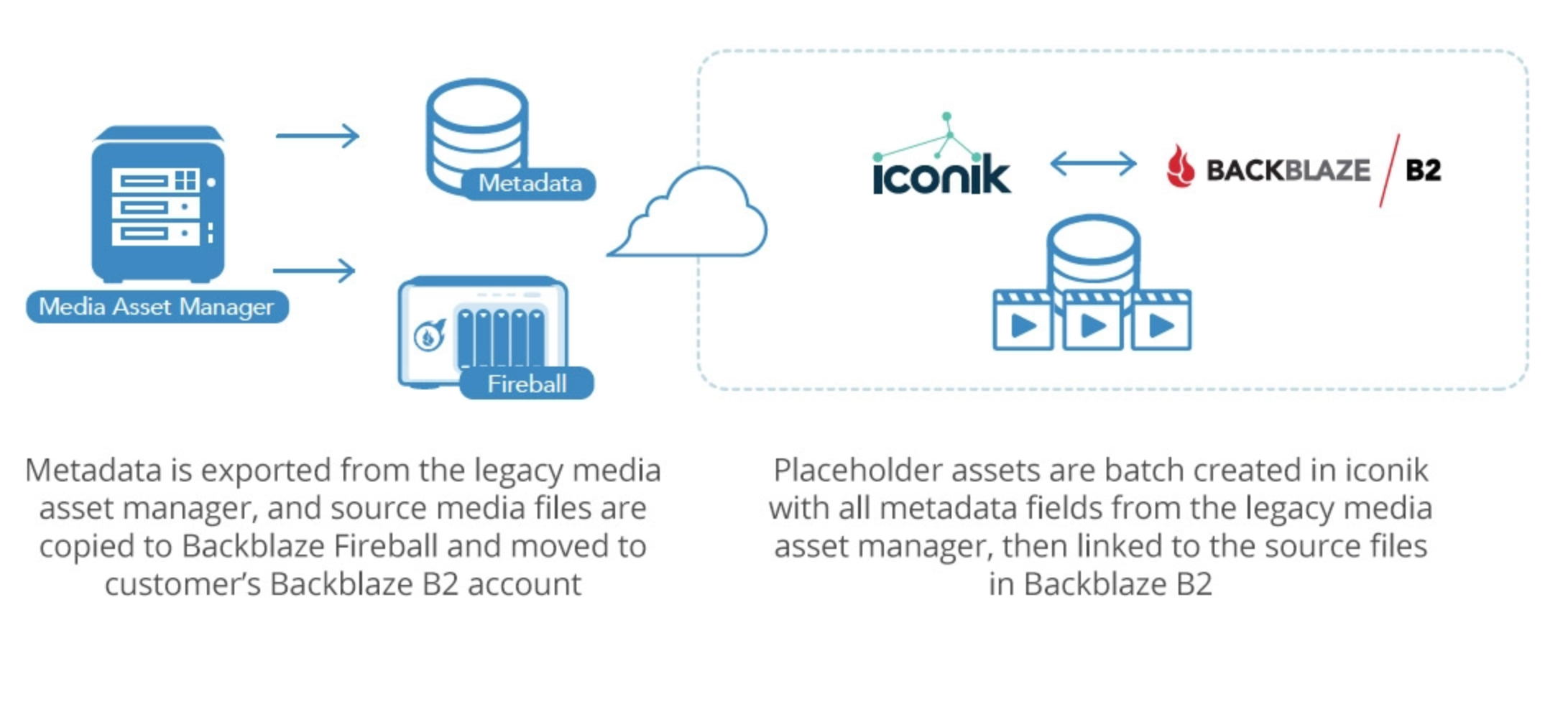 Everwell's media ingest workflow
Cloud Simplicity and Efficiency, With Growth for the Future
With a cloud-based asset management and storage solution in place, production teams like Everwell's can have creative freedom and add significant new capabilities. They can be free to add new editors and producers on the fly and at a moment's notice, and let them ingest new content from any location and use a single interface to keep track of every project in their expanding asset library.
Production teams can use new AI-powered discovery tools to find content quickly and can always access the original raw source files to create new videos at any time. And they'll have more time to add new features to their service and take on new productions and customers when they wish.
Best of all for Goldfarb, he's now free to grow Everwell's production operations as fast as possible without having to worry about running out of storage, managing servers, negotiating expensive maintenance contracts, or paying for staff to run it all. Their workflow is more nimble, their workforce is more productive, and Goldfarb finally has the modern cloud-delivered production he's always wanted.
•  •  •
We invite you to view our demo on integrating iconik with Backblaze B2, Three Steps to Making Your Cloud Media Archive "Active" With iconik and Backblaze B2.
If you're interested in learning more about cloud-enabled workflow solutions, visit our
Cloud University
page, where we've created a series of webinars available on-demand with over a dozen partners.