When the COVID-19 pandemic forced many of us to shelter in place at home, it seemed like a good opportunity to learn news things: Baking sourdough bread, sure! Tackling 2000 piece puzzles, great. Hosting virtual birthday parties on Zoom for three dozen family members? Got it! It was fun (mostly), but it quickly became clear that what seemed like a pause was actually the beginning of a whole new way of living and doing business.
And for anyone responsible for media workflows, turning to online learning during this time quickly became a clear requirement. The NAB Show, the media and entertainment industry's huge show every April, cancelled their live event in Las Vegas and rebirthed it as an online experience a month later.
During normal times, this show was everyone in the industry's opportunity to learn what the newest essential solutions for their workflow might be. In 2020, this wasn't possible, despite the fact that learning how to use cloud-based tools to enable work is no longer a long-term strategic "hope for"—it's a must-have.
After the cancellation of trade shows and other in-person events, our marketing and sales teams got together to decide how they could reach our NAB audience in the absence of face-to-face discussions at our booth on the NAB Show floor. The answer was Cloud University: an ongoing series of webinars highlighting powerful, cloud-enabled workflow solutions built with over a dozen partners, including ProMAX, CatDV, Cloudflare, iconik, and more. This series of free courses features live demos, tips, and best practices on topics like remote collaboration, content delivery, cloud migration, and workflow automation, with more to come each week.
You can always head to our Cloud University page to stay up to date with the latest classes, but we'll include digests of past classes here, as well as callouts to additional information that might be useful to you, and some key takeaways to scan so you can tell what webinar might be most effective for you.
We hope to see you at our next online class, and of course, if there's anything you'd like us to cover at Cloud University, don't hesitate to say so in the comments!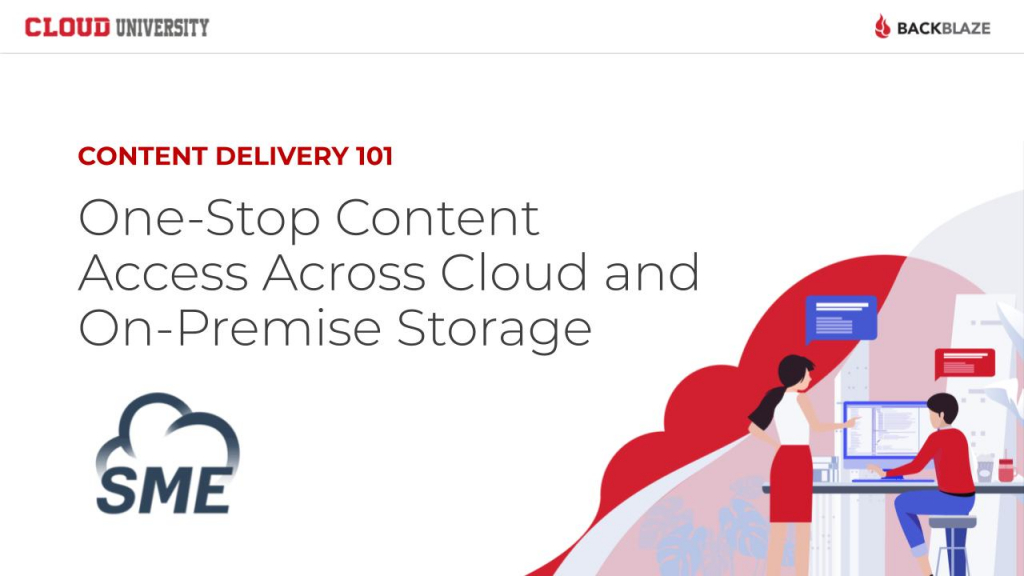 FILE-SHARING 101: One-Stop Content Access Across Cloud & On-Premise Storage with Storage Made Easy
Is it difficult or impossible for all your users to search and access content stored in different locations on different technologies? Attend this webinar to learn how to:
Create a 'single pane of glass' view of content across cloud and on-premise storage
Deliver seamless collaboration and secure file-sharing across your entire organization
Move files faster between different storage types and locations
Easily build rules and enforce policies through automated workflow actions
---
PANEL DISCUSSION: Real-World Lessons for the New Normal with APT, Youngevity and axle.ai
The global pandemic means far more than paused production – it signals a new era of mandatory workflow flexibility and resiliency. How are media pros adapting? Attend this discussion with American Public Television, Youngevity, and axle.ai to learn:
Immediate actions taken—what worked, what didn't—including some surprises
'No regrets' operational changes that will serve long after the pandemic is gone
How to think about tools and technologies for uninterrupted creation and distribution
---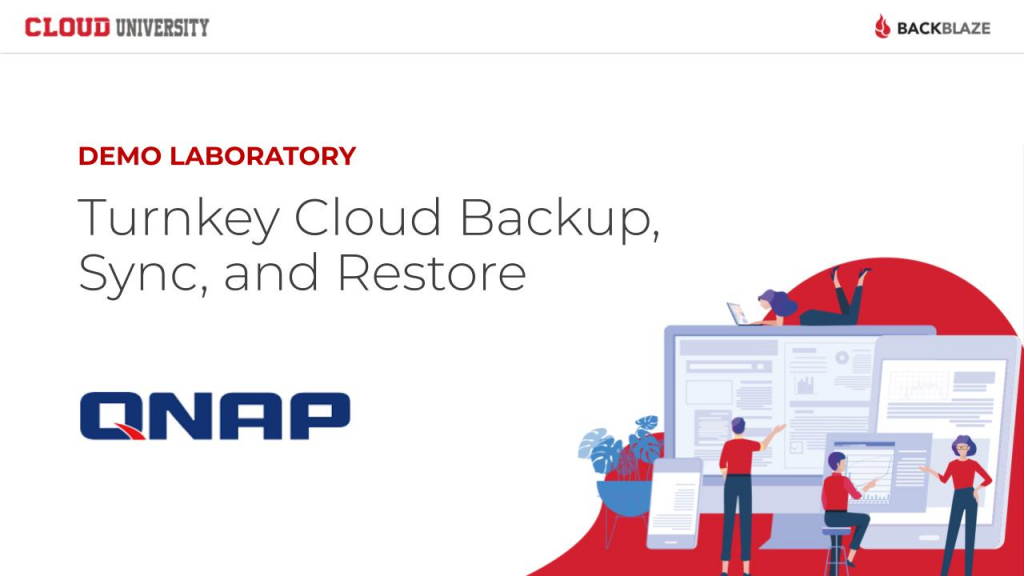 DEMO LABORATORY: Turnkey Cloud Backup, Sync, and Restore with QNAP NAS
Want your NAS to do more than just store content? A NAS solution with built-in data protection tools can safeguard your content, too. Join this live demo and learn how to:
Determine when to use backup vs. sync functions based on your workflow
Enable your users to restore files and folders without any IT support
Deploy a hybrid cloud—for the best of local and off-premise storage—in minutes
Select the right NAS solution for your environment
---
CONTENT MONETIZATION 101: Unlock More Revenue from Existing Content with GrayMeta
How can you monetize content quicker by discovering information hidden inside your media files? Attend this webinar to learn how to:
Use machine learning and AI to extract metadata from content scattered across SAN, NAS, and cloud storage
Uncover actionable insights from words, sounds, faces, and logos detected in video and other assets
Build time-saving workflows that identify, move, and transform content automatically
Make your content monetization workflow more efficient to shorten time to revenue
---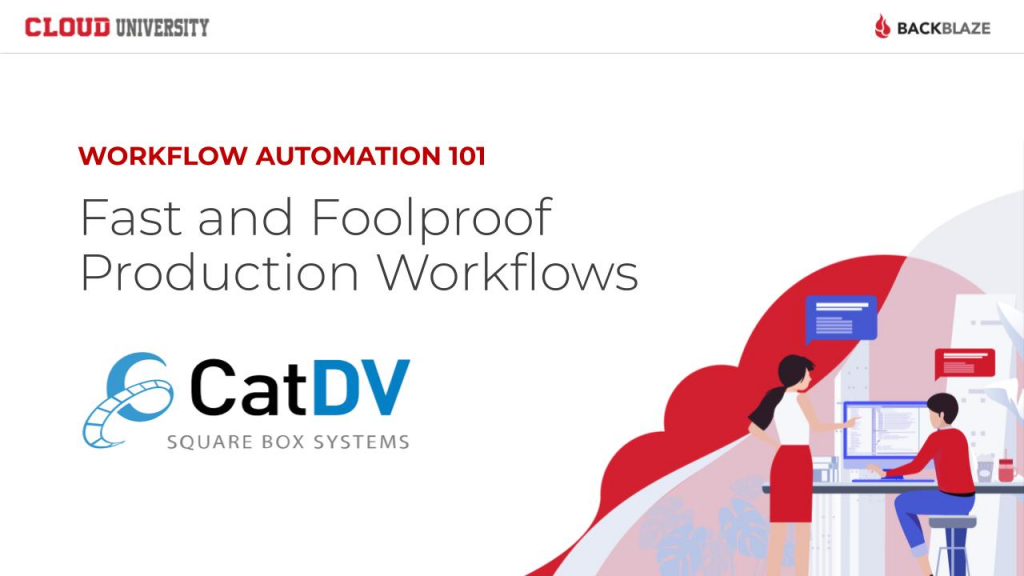 WORKFLOW AUTOMATION 101: Fast and Foolproof Production Workflows with CatDV
How much faster could you finish projects if your workflow adapted to new demands without costly, time-consuming development? Attend this event to learn how you can automate:
High-volume ingest and content processing using cloud compute and storage
Proxy creation, custom tagging, and metadata extraction without undue compute costs
Transcode and upload of files to playout servers as soon as clips are marked "approved"
Review and approval process, and delivery to platforms like YouTube or Vimeo
---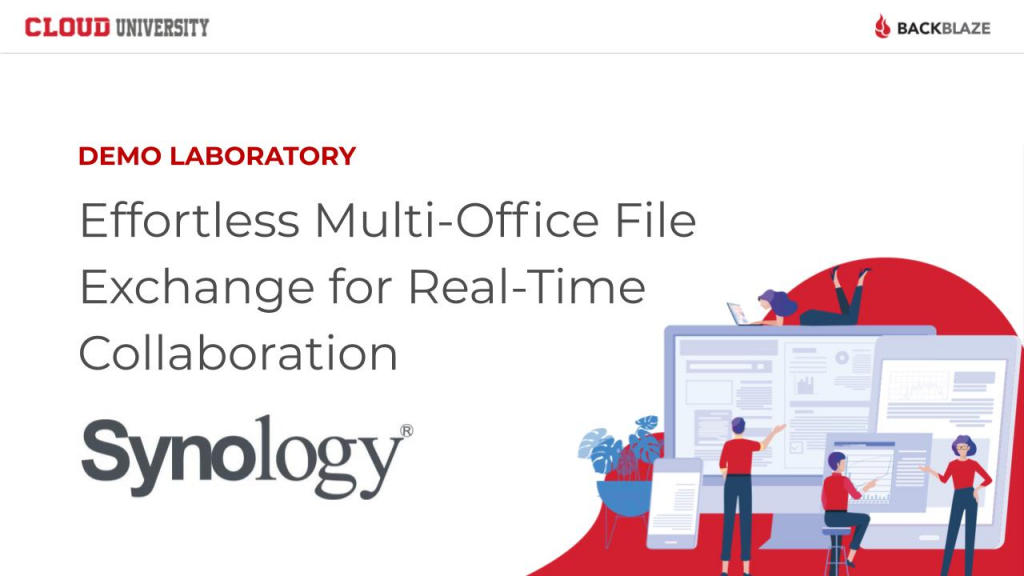 DEMO LABORATORY: Effortless Multi-Office File Exchange for Real-Time Collaboration with Synology
How much easier would your life be if your team members at different sites could share large files efficiently, with everything protected in the cloud? Attend this live demo to learn how to:
Set up cross-office collaboration with faster, simpler local access
Reduce bandwidth consumption by syncing files on multiple NAS devices just once
Generate shared links, files, or folders to deliver content to external clients
Efficiently and easily backup and sync all your NAS devices to the cloud
---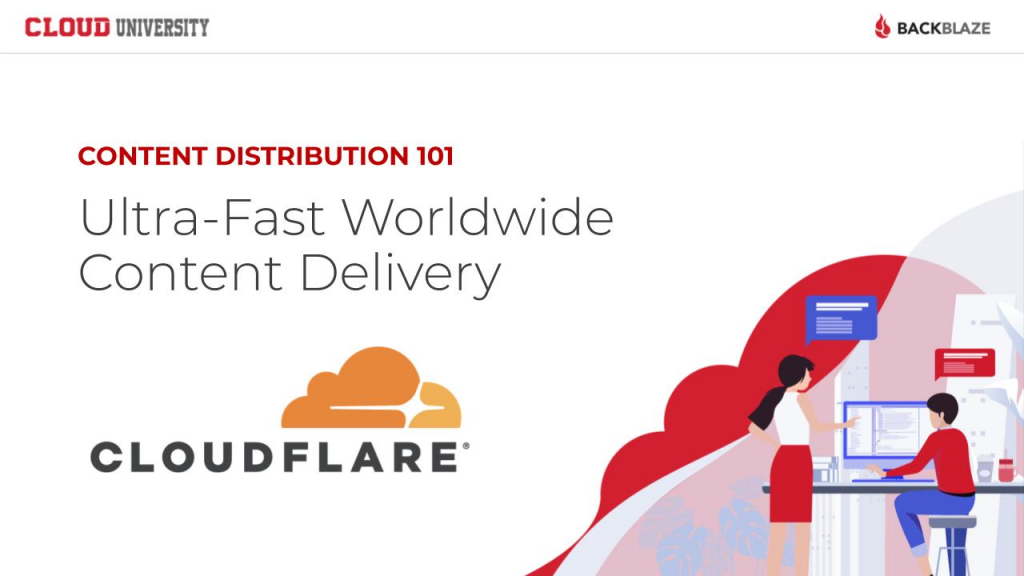 CONTENT DISTRIBUTION 101: Ultra-Fast Worldwide Content Delivery with Cloudflare
Are you ready to take your content worldwide? You, too, can have a simple, fast, incredibly cost effective solution for your website or content service up and running in minutes. Attend this event to learn how to:
Improve end-user experience with global caching and optimization
Eliminate egress fees for content movement
Compare cost savings of Backblaze and Cloudflare vs. S3 and Cloudfront
Quickly build a pilot workflow at no cost
---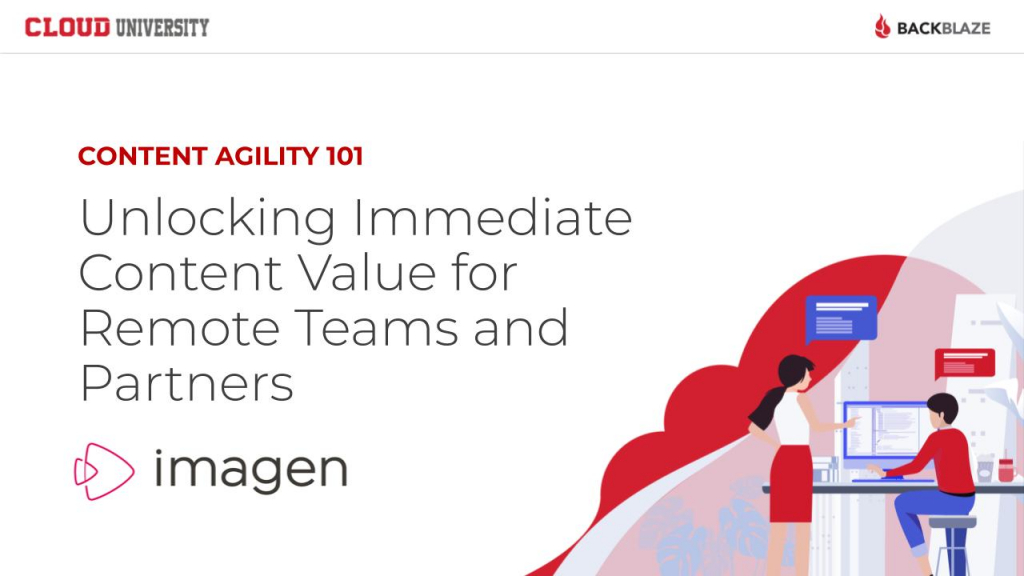 CONTENT AGILITY 101: Unlocking Immediate Content Value for Remote Teams & Partners with Imagen
Do you need to unlock value in your existing assets and keep your remote teams productive? You can watch this recording to learn:
How broadcaster, sports, and corporate video creative teams can manage, distribute, and deliver content remotely
How Imagen's monetization and delivery features integrate with Backblaze B2 Cloud Storage
How a sports video customer quickly pivoted from live events using existing content
How Carleton College deployed a student content solution in only five days
---
REMOTE PRODUCTION 101: Full-Resolution Editing Environments for Distributed Teams with ProMax
Do your video editing teams need to work remotely on short notice, without sacrificing access to content stored on the main shared system? Watch this class to learn how you can:
Rapidly deploy remote content servers that deliver full-resolution content to editors
Keep remote and main studio content in sync, even with limited remote bandwidth
Protect the entire content library and add flexible content delivery with cloud storage
Reintegrate the remote environments back into the main shared system, ready to deploy to the next site
---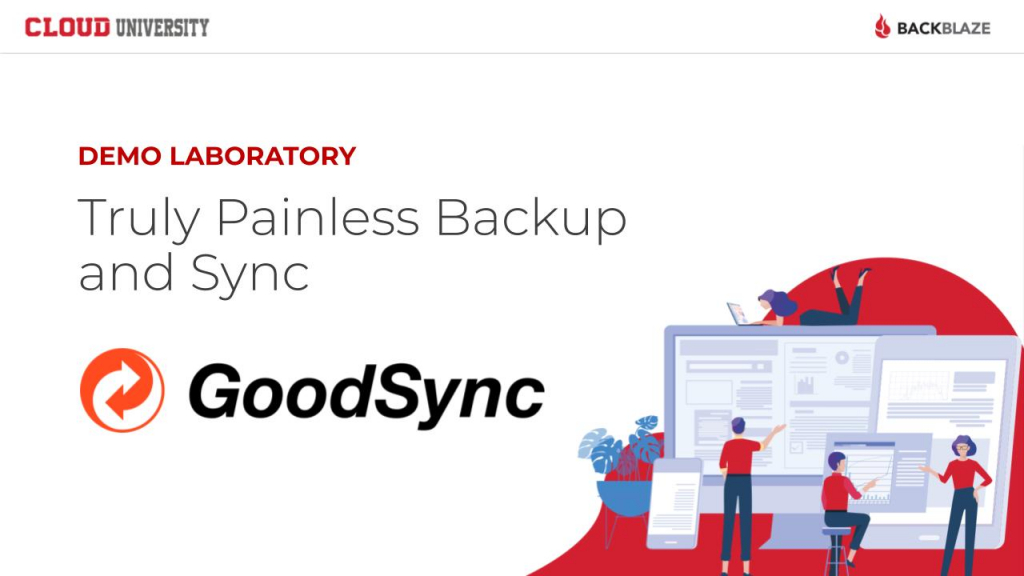 DEMO LABORATORY: Truly Painless Backup and Sync with Goodsync
Do you need rock-solid backup and synchronization of your critical systems and high-value folders, but aren't sure where to start? Watch this class to learn how to set up reliable backup and sync in minutes, and pick up best practices along the way. Topics covered include:
Goodsync overview for Mac, Windows, Linux, and NAS systems
One minute setup—configuring Goodsync with Backblaze B2 Cloud Storage
Five different ways to initiate backup and synchronization jobs
Best practices with real-world examples from our customers
---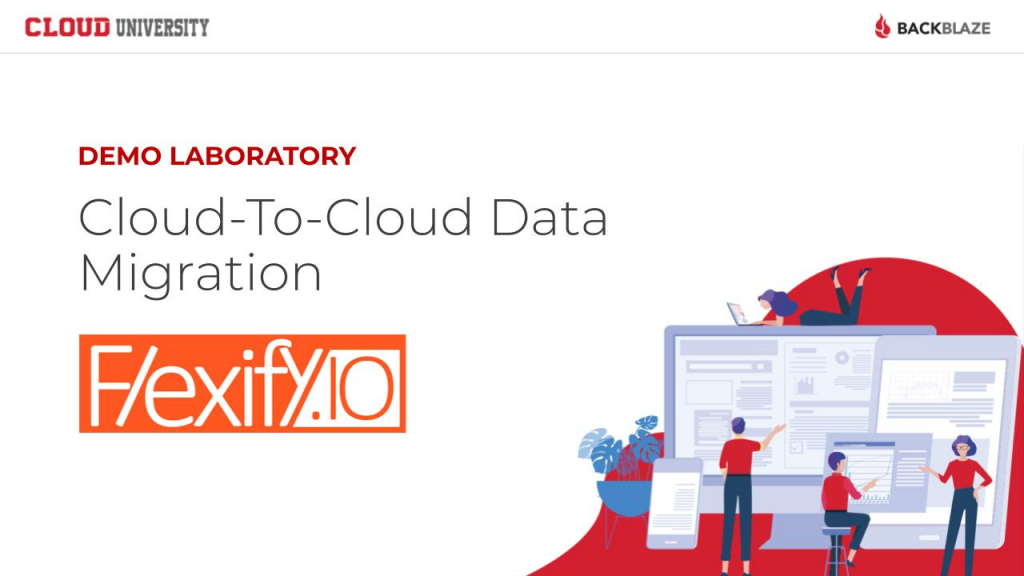 DEMO LABORATORY: Cloud-to-Cloud Data Migration with Flexify.IO
Want your cloud storage spending to go farther for you, but concerned about the cost or complexity of moving between clouds? Fear not. In this class, you'll learn how Flexify.IO and Backblaze can help you:
Easily and inexpensively transfer data from one cloud provider to another
Eliminate downtime during cloud-to-cloud migration
Choose the right cloud storage to meet your workflow needs
---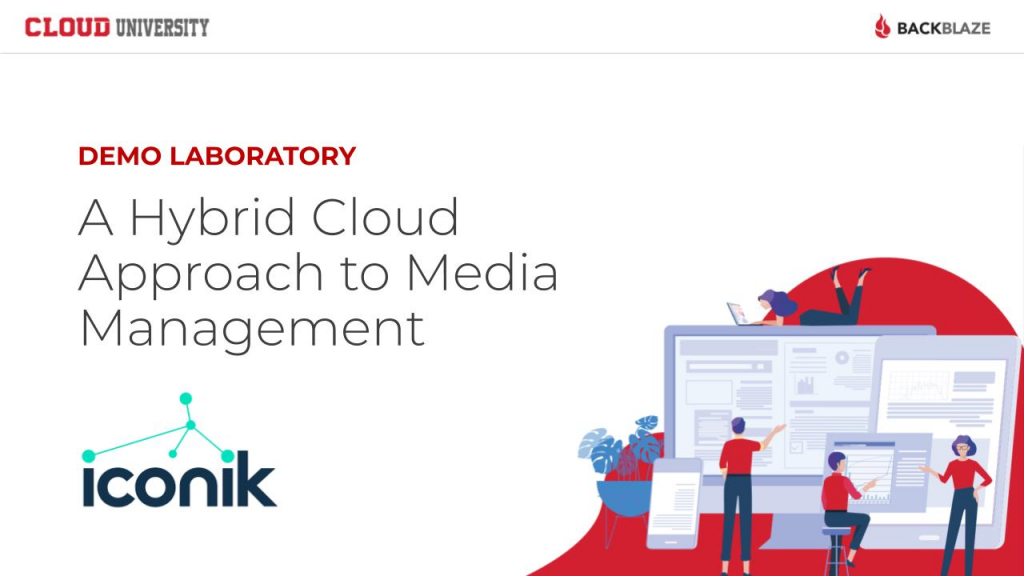 DEMO LABORATORY: A Hybrid Cloud Approach to Media Management with iconik
In their move toward cloud workflows, content owners are looking for solutions that manage content stored on-premises seamlessly with content in the cloud. Backblaze partner iconik built their smart media management system with this hybrid cloud approach in mind. With iconik, you don't have to wait for all your content to be in the cloud before you and your creative team can take advantage of their cloud-based platform. In this class, iconik expert Mike Szumlinski details how you can:
Get started with cloud-based media management without migrating any content
Search and preview all your content from any device, anywhere
Add collaborators on the fly, including view-only licenses at no charge
Instantly ingest content stored in Backblaze B2 Cloud Storage into iconik
---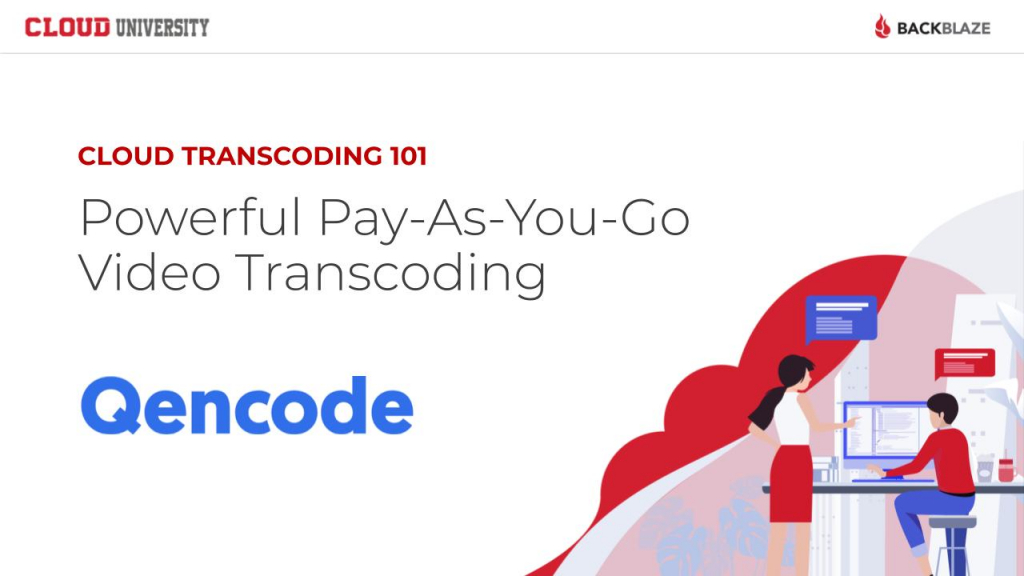 CLOUD TRANSCODING 101: Powerful Pay-As-You-Go Video Transcoding with Qencode
How could more compact transcoding help your customers load and playback videos faster, and help your bottom line too? Attend this event and learn how you can:
Optimize your video files for fast load times on low bandwidth connections
Cut content library storage and CDN costs by reducing file sizes
Get the highest video quality possible at low bitrates, automatically
---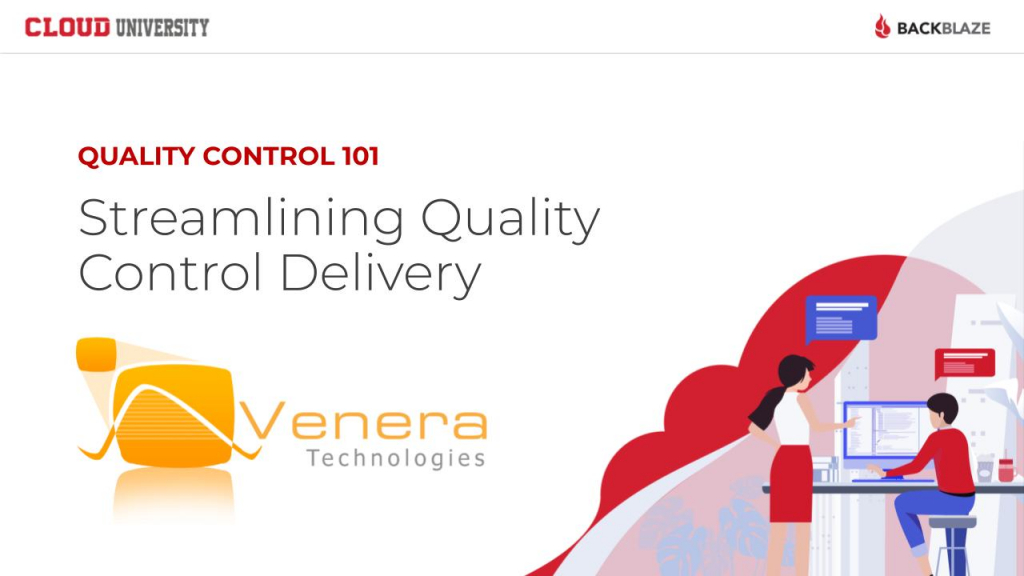 QUALITY CONTROL 101: Streamlining Quality Control Delivery with Venera Technologies
How, if at all, does quality control (QC) help you deliver more, better, and faster? QC might sound scary or boring, yet a cloud-based solution can instantly and automatically flag errors, adjust formatting for changing delivery standards, and more. Attend this webinar to learn how to:
Choose a QC strategy that works for your whole team
Use QC tools to flag content errors in even the fastest-paced workflow
Adopt best practices for efficiency in rising and falling workloads
---
SOLUTION DEEP DIVE: Tapping the Power of Cloud Copy and Sync with Rclone
Rclone is the powerful, free open-source tool at the heart of many copy, sync, and cloud migration workflows. Join rclone's creator to go deep on using its simple command line interface to:
Optimize your copy/sync in line with best practices
Mirror storage for security without adding complexity
Transfer data reliably despite limited bandwidth and/or intermittent connection
---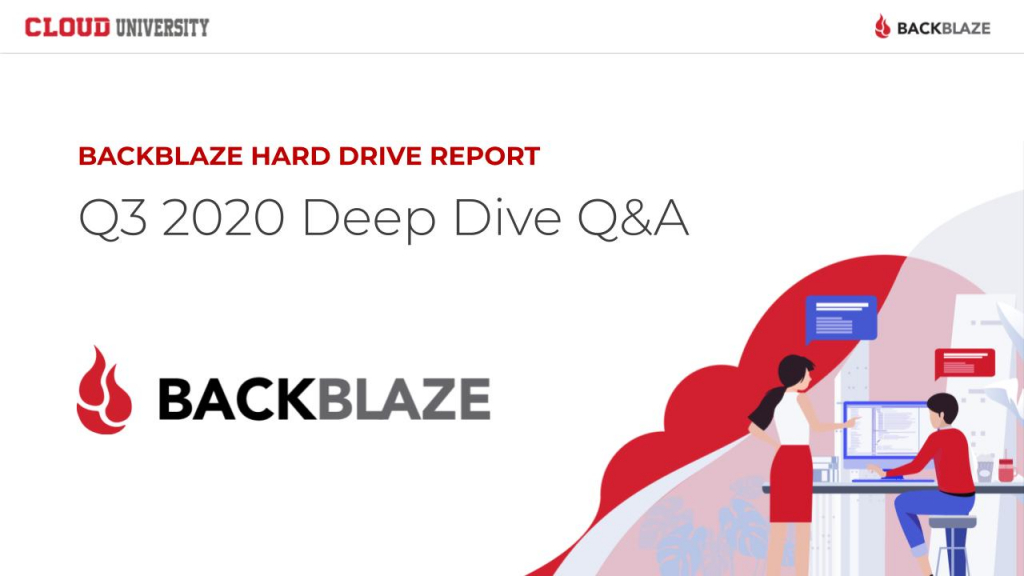 HARD DRIVE STATS 101: Backblaze Hard Drive Report: Q3 2020 Deep Dive Q&A
The newest report published October 20 is based on over 153,727 spinning hard drives. Author Andy Klein will be on hand to answer your range of questions and give insights on requested topics such as:
Emerging trends from Q3 2020
Key metrics such as Drive Days and Annualized Failure Rate
How to download and compile the raw data for your own reports
---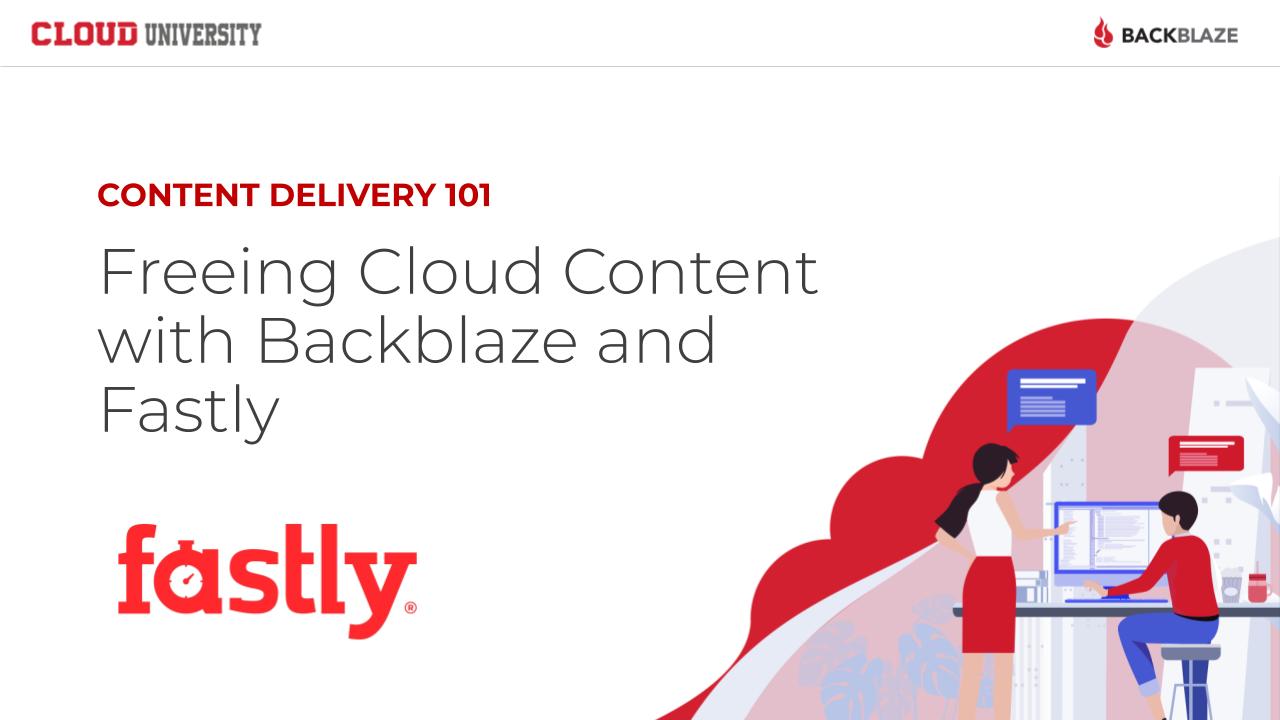 CONTENT DELIVERY 101: Freeing Cloud Content With Backblaze and Fastly
Do you see your site or service's growth hindered by the unnecessary costs and complexities of a closed platform? Are you unsure how to make a change with zero user-impact? Join this live talk to learn:
How to avoid commonly limiting content storage and platform issues
How to design and architecture best practices to deliver a scalable, cost-effective solution
How to transform storage content dynamically and deliver it faster globally
How to serve content resiliently while executing change and storage migration