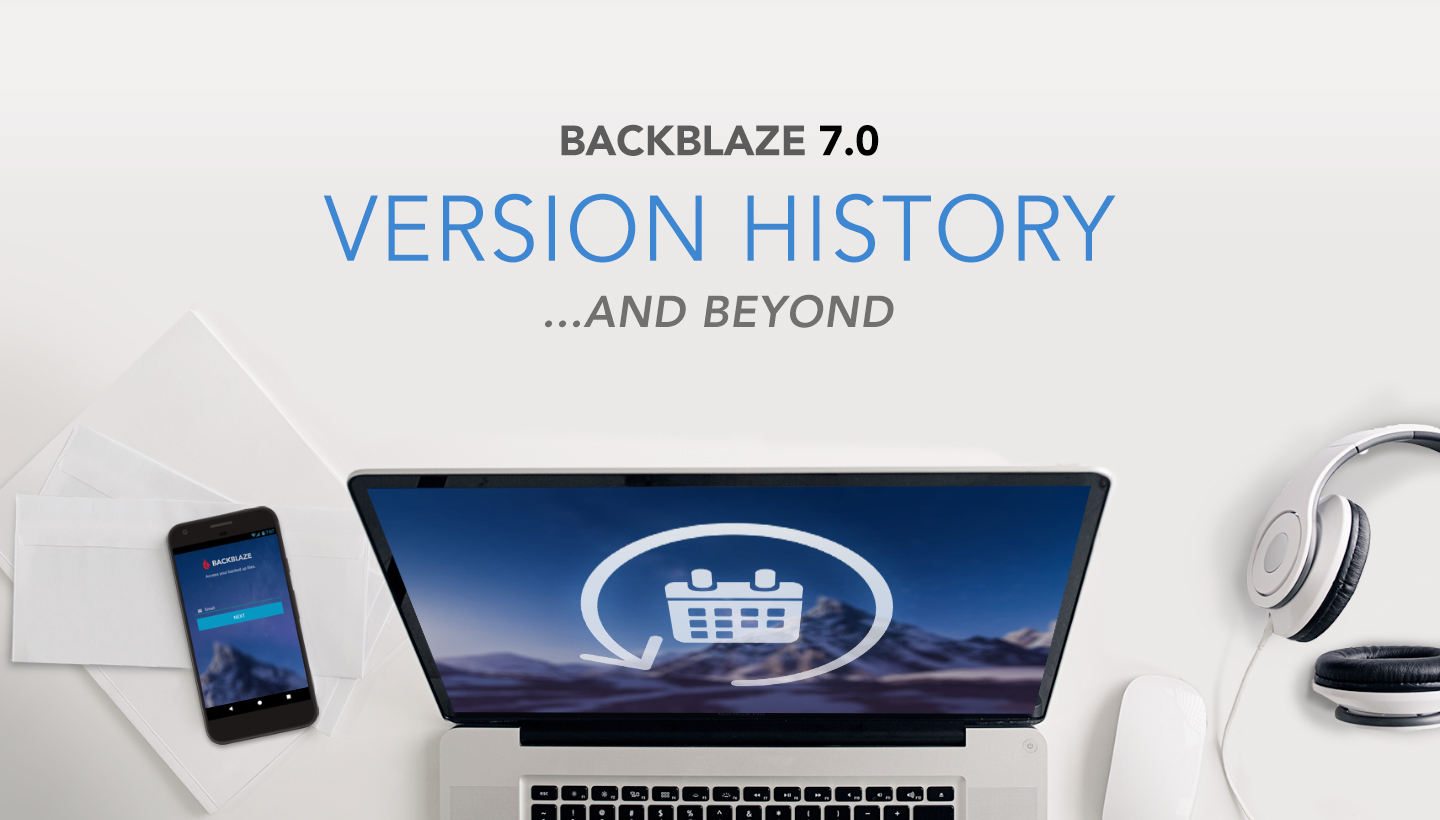 Announcing Backblaze Cloud Backup 7.0: The Version History and Beyond Release!
This release for consumers and businesses adds one of our most requested enhancements for our Backblaze Cloud Backup service: the ability to keep updated, changed, and even deleted files in your backups forever by extending version history. In addition, we've made our Windows and Mac apps even better, updated our Single Sign-on (SSO) support, added more account security options, became Catalina-ready, and increased the functionality of our iOS and Android mobile apps. These changes are awesome and we're sure you'll love them!
Have you ever deleted a file by mistake or accidentally saved over an important bit of work? Backblaze has always kept a 30-day version history of your backed up files to help in situations like these, but today we're giving you the option to extend your version history to one year or forever. This new functionality is available on the Overview page for Computer Backup, and the Groups Management page if you are using Backblaze Groups! Backblaze v7.0 is required to use Version History. Learn more about versions and extending Version History.
30-Day Version History
All Backblaze computer backup accounts have 30-Day Version History included with their backup license. That means you can go back in time for 30 days and retrieve old versions of your files or even files that you've deleted.
1-Year Version History
Extending your Version History from 30 days to one year means that all versions of your files that are backed up — whether you've updated, changed, or fully deleted them from your computer — will remain in your Backblaze backup for one year after being modified or deleted from your device. Extending your Version History to one year is an additional $2 per month and is charged based on your license type (monthly, yearly, or 2-year). As always, any charges will be prorated to match up with your license renewal date.
Forever Version History
Extending your Version History from 30 days or one year to forever means that Backblaze will never remove files from your Backblaze backup whether you've updated, changed, or fully deleted them from your computer, or not. Extending Version History to forever is similar to one year, at an additional $2 per month (prorated to your license plan type) plus $0.005/GB/month for versions modified on your computer more than one year ago.
This is a great new feature for people who want increased peace of mind. To learn more about Version History, pricing, and examples of how to restore, please visit the Version History FAQ.
MacOS and Windows Application Updates
More Efficient Performance For Uploads
We've changed the way that Backblaze transmits large files on your machine by reworking how we group and break apart files for upload. The maximum packet size has increased from 30 MB to 100 MB. This allows the app to transmit data more efficiently by better leveraging threading, which also smoothes out upload performance, reduces sensitivity to latency, and leads to smaller data structures.
Single Sign-On Updates for Backblaze Groups
We added support for Microsoft's Office 365 in Backblaze Groups, and have made SSO updates to the Inherit Backup State feature so that it supports SSO-enabled accounts. This means that you can now sign into Backblaze using your Office 365 credentials, similar to using Google's SSO.
Higher Resolution For Easier Viewing of Information
We updated the way our installers and applications look on higher-resolution displays, making for a more delightful viewer experience!
Windows Only
An OpenSSL issue was causing problems on Intel's Apollo Lake chipset, but we've developed a workaround. Apollo Lake is a lower-end chipset, so not many customers were seeing issues, but now computers using Apollo Lake will work as intended.
MacOS Only
We've added support for MacOS Catalina and improved some MacOS system messages. MacOS provides some great new features for the Mac and we've changed some of our app's behavior to better fit Catalina. In Catalina, Apple is now requiring apps to ask for permission more frequently, and since Backblaze is a backup application, we require a lot of permissions. Thus you may notice more system messages when installing Backblaze on the new OS.
Of Note: Backblaze Restores
In order to implement the Version History features, we had to change the way our restore page handled dates. This may not seem like a big deal, but we had a date drop-down menu where you could select the time frames you wanted to restore from. Well, if you have 1-Year or Forever Version History, you can't have an infinitely scrolling drop-down menu, so we implemented a datepicker to help with selection. You can now more easily choose the dates and times that you'd like to restore your files from.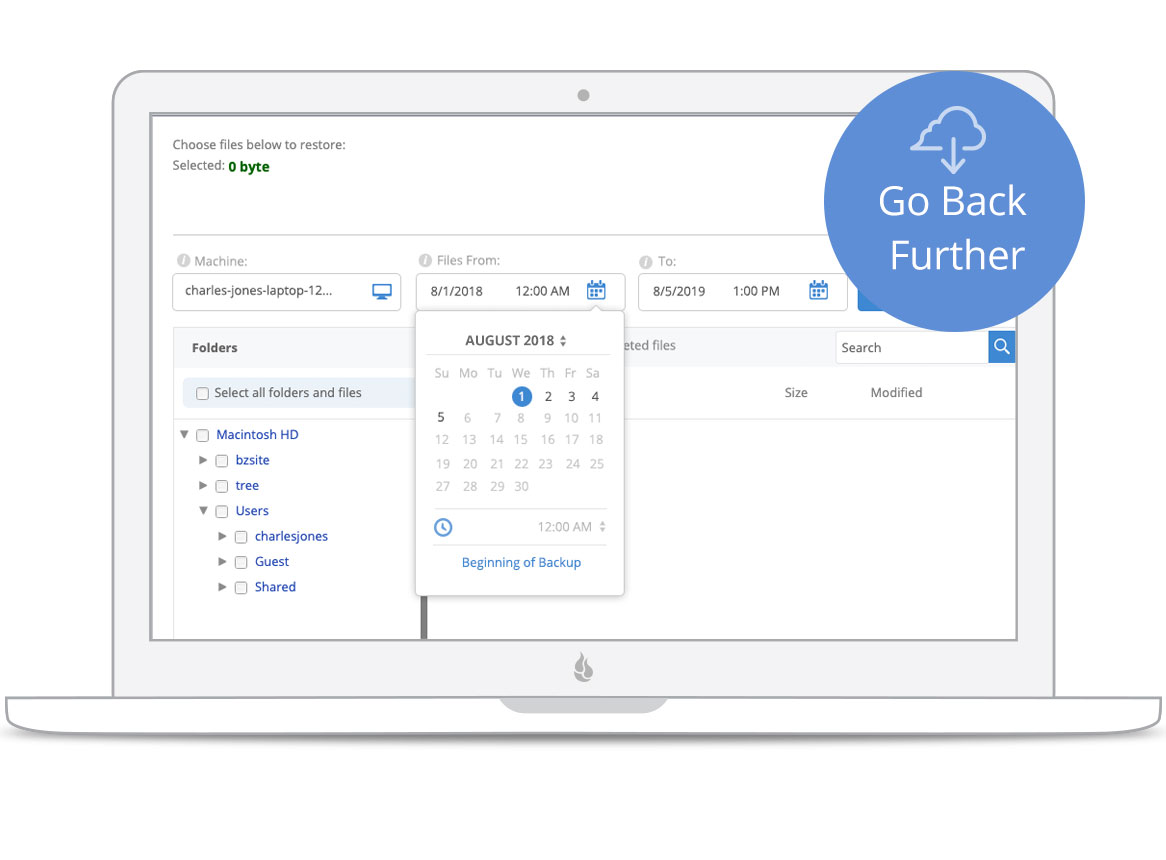 Backblaze 7.0 Available: October 8th, 2019
We will be slowly auto updating all users in the coming weeks. To update now:
This version is now the default download on www.backblaze.com.
Want to Learn More? Join Us on October 15th, 2019 at 11 a.m. PT
Want to learn more? Join Yev on a webinar where he'll go over version 7.0 features and answer viewer questions. The webinar will be available on BrightTalk (registration is required) and you can sign up by visiting the Backblaze BrightTALK channel.