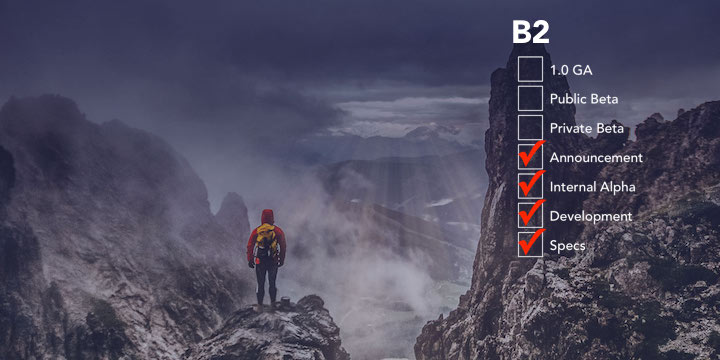 On Tuesday, the 22nd, Backblaze announced Backblaze B2 Cloud Storage to the world. The response has been amazing. The Backblaze B2 announcement was covered by many leading tech sites including TechCrunch, Fortune, The Next Web and many more. We reached the #1 spot on HackerNews and we were also #1 on the sysadmin subreddit. We also had several thousand people sign up on the private beta waitlist. Tuesday was a long day for everyone here—but it was fun.
Current Status
In case you missed the announcement, B2 Cloud Storage is a new product in the Backblaze family. Right now, the various features and capabilities of Backblaze B2 are being tested by Backblaze employees, including folks from our Customer Service, Operations, and Marketing departments.
Speaking of the Marketing department, if you are a regular reader of this blog or are active on social media, you know Yev, our social media maven. He's been the primary marketing person putting Backblaze B2 through its paces by using the web interface to store and retrieve files.
In true Yev style, the first file he uploaded was uniquely Yev. It was a photo of—well, you'll just have to find out for yourself. Tweet "Hey @Backblaze, what was awesome @YevP wearing? #BackblazeB2 #yevinred" to find out. Yev in red is waiting.
Storage Developer Conference
Gleb, our CEO, introduced B2 Cloud Storage to the storage community when he presented "Learnings From Nearly a Decade of Building Low-Cost Cloud Storage" at the Storage Developer Conference in Santa Clara. He introduced everyone there to B2 Cloud Storage and then went on to provide some insights we've gained in designing, building, and profitably utilizing 150 petabytes of cloud storage.
You can check out a video of the Gleb's presentation being hosted on the BrightTALK network. You will need to have, or create, a BrightTALK account to watch the video. If you just want to see the slides, you can view them below.
How Long Will You Have to Wait on the Backblaze B2 Wait List?
After Yev and the rest of the Backblaze folks get done, we will begin inviting people from the Backblaze B2 private beta waitlist. We will start out slow with a few individuals getting the first invites. That should happen in the next couple of weeks. With several thousand people in the queue it will take some time to invite everyone. Please be patient as everyone on the list should get their chance to use either the private or the public beta.
Thanks
This has been a great week. We want to thank everyone who signed up on the beta waitlist. We also want to thank all the people who wrote articles and blog posts about B2 Cloud Storage. Finally, we'd like to thank everyone who took the time to read and often comment on the B2 Cloud Storage blog post and on social media. We tried to answer as many questions as we could, but if you're still curious, you can check out the Backblaze B2 documentation we have online for more information.
With the Backblaze B2 announcement behind us, its time to get B2 Cloud Storage ready for the first round of private beta users—challenge accepted.