Spoiler alert: At the end of this post, we announce our Cloud to Cloud Migration program—an offer to pay the transfer costs for customers that want to migrate their data from Amazon S3 to Backblaze B2 Cloud Storage. Yup, we're so confident in our service that we'll pay for you to save 75% of your cloud storage bill. If you want to stop reading and start saving: Click here.
On May 4th, we released the beta version of our Backblaze S3 Compatible APIs. It was our most requested feature, so we knew it was something our customers wanted. But what we've seen has been simply incredible—thousands of customers uploading petabytes of data to Backblaze B2 Cloud Storage. Today, we're moving those S3 Compatible APIs out of beta and into general availability (GA), as we continue to remove the barriers that are keeping your data locked within the cloud oligarchy.
Not Just Compatible, VERY Compatible
At Backblaze, we take great pride in our track record of enduring innovation. Whether it's our Storage Pod, Reed-Solomon erasure coding, or our S3 Compatible APIs, when we release something to the public, our sense of craftsmanship demands that it should just work.
By moving our S3 Compatible APIs into GA, we're announcing that you can expect a bug free, highly functional, and stable experience.
Our functionality and associated infrastructure is fully ready for global, exabyte scale business. Nick Craig-Wood, the founder of rclone, put it well. Our Backblaze S3 compatible layer is not just compatible—according to him, it's "Very compatible."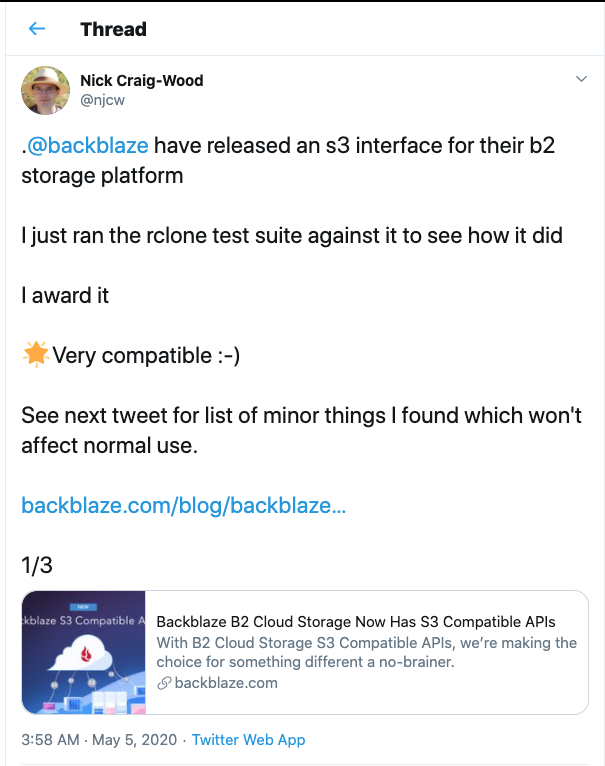 "Very Compatible" Means It Works with Your Workflows
The testing suites are helpful, but what matters most is the actual experience customers are having. During the beta period, more than 1,000 unique S3-compatible tools were used by customers to interact with our new Backblaze S3 compatible layer. We know this because of something called a user agent—an identifier that tells our servers what tool is being used to upload data. Our monitoring looks at the system as a whole as well as at user agents to make sure things are performing as planned. And everything is going smoothly!
Tools like MSP360 (formerly CloudBerry Lab), MinIO, and Synology are among the third parties that had pre-existing integrations with Backblaze but now also have customers uploading through our S3 Compatible APIs. Perhaps more notably, customers brought a wide variety of tools that we had not previously seen upload data to Backblaze. User agents from Commvault, Cohesity, and Veeam all register now in our internal reporting. As do many AWS SDKs and even AWS Lambda.
The recurring theme? Customers can point their existing workflows and tools at Backblaze B2 and not miss a beat.
What It Means for Our Customers
During our beta period, we've seen literally thousands of success stories. One of our favorites comes from a company called CloudSpot—a software as a service platform offering photographers the easiest way to share their work online.
CloudSpot's storage infrastructure is a critical component of both their product and P&L. But, with his company scaling, CEO Gavin Wade realized that his data (and company) were captive to Amazon S3. As CloudSpot grew, his storage related costs threatened to turn his business upside down.
With over 700TB stored and data transfer fees starting at 9 cents/GB, Gavin felt stuck inside of Amazon. He had to start cutting back valued functionality for his customers simply because the AWS pricing was untenable.
With B2 Cloud Storage—which is one-fourth of the cost of Amazon S3—Gavin has slashed his cloud bill, freeing up cash for critical investments in his business and team. After seeing a seamless transition for his active workflows, he migrated over 700TB from Amazon S3 to B2 Cloud Storage in less than six days. Most importantly, there was no service disruption.
"With Backblaze, we have a system for scaling infinitely. It lowers our breakeven customer volume while increasing our margins, so we can reinvest back into the business. My investors are happy. I'm happy. It feels incredible."

—Gavin Wade, Founder & CEO, CloudSpot
The CloudSpot story is a good one, but it's just one of the many from our beta period. Customers are tired of being taxed to use their data and need a platform that will not punish them for scaling. We're grateful that these customers are migrating to Backblaze and have accelerated the month over month growth rate of B2 Cloud Storage by more than 25%. Today, we'd like to encourage you to join those that have liberated their data while significantly reducing their costs.
Transcend the Cloud Oligarchy: Backblaze Will Pay for You to Move Your Data
People want storage that will empower their business and they want a provider that doesn't try to hide fine print or surprise fees. With our S3 Compatible APIs now generally available, they can have both, all while knowing that their tools and workflows will seamlessly integrate with Backblaze B2.
But customers still need a solution for the excessive fees the cloud oligarchy charges for migrating to a cloud that is better for the customer's business.
Today, we're proud to remove the last obstacle between you and shaving 75% off your cloud storage costs: Cloud to Cloud Migration.
And for customers that don't want to commit to storing it for 12 months? No problem, you can still use our service to directly transfer your data from Amazon S3 to Backblaze B2 for 4 cents/GB. By month three, your storage savings will have paid for the migration.
And if you're interested in trying Backblaze first? Creating an account is free, your first 10GB of storage are free, and there's never been a better time to start.
Thanks to all the people, companies, and partners that helped make the beta period such a success. We are excited about what the future holds and are glad that you are coming with us.