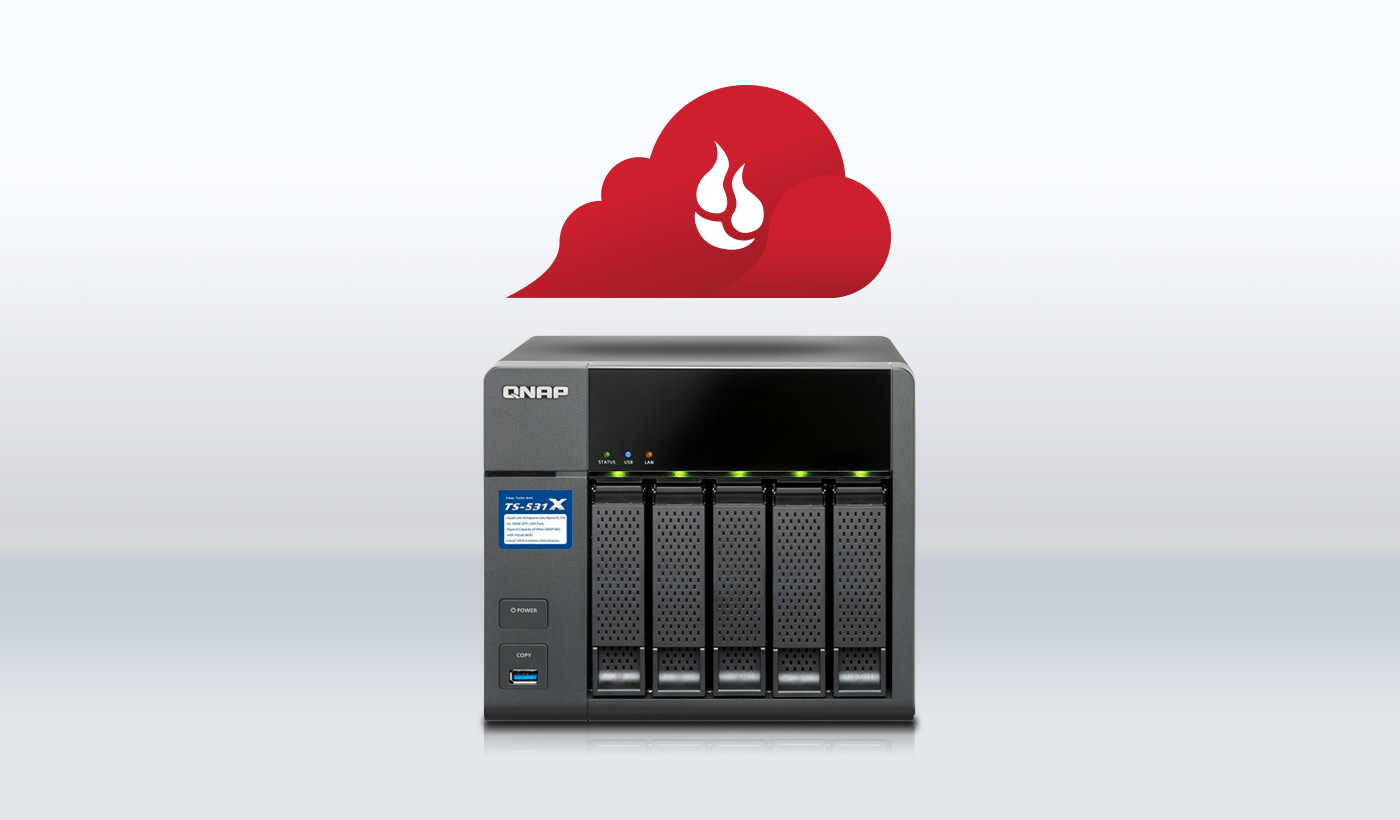 In this post:
What is a NAS?
NAS capabilities
Three examples of common media workflows using a NAS
Top five benefits of using NAS for photography and videography
The camera might be firmly entrenched at the top of the list of essential equipment for digital photographers and videographers, but a strong contender for next on the list has to be network-attached storage (NAS).
A big reason for the popularity of NAS is that it's one device that can do so many things that are needed in a digital media management workflow. Most importantly, NAS systems offer storage larger than any single hard drive, let you centralize photo storage, protect your files with backups and data storage virtualization (e.g. RAID), allow you to access files from anywhere, integrate with many media editing apps, and securely share media with coworkers and clients. And that's just the beginning of the wide range of capabilities of NAS. It's not surprising that NAS has become a standard and powerful data management hub serving the media professional.
This post is an overview of how NAS can fit into the professional or serious amateur photo and video workflow and some of the benefits you can receive from adding a NAS.
Essential NAS Capabilities
Storage Flexibility
Firstly, NAS is a data storage device. It connects to your computer, office, and the internet, and supports loading and retrieving data from multiple computers in both local and remote locations.
The number of drives available for data storage is determined by how many bays the NAS has. As larger and faster disk drives become available, a NAS can be upgraded with larger drives to increase capacity, or multiple NAS can be used together. Solid-state drives (SSDs) can be used in a NAS for primary storage or as a cache to speed up data access.
Data Protection and Redundancy
NAS can be used for either primary or secondary local data storage. Whichever it is, it's important to have an off-site backup of that data, as well, to provide redundancy in case of accident, or in the event of a hardware or software problem. That off-site backup can be drives stored in another location, or more commonly these days, the cloud. The most popular NAS systems typically offer built-in tools to automatically sync files on your NAS to offsite cloud storage, and many also have app stores with backup and many other types of applications, as well.
Data is typically stored on the NAS using some form of error checking and virtual storage system, typically RAID 5 or RAID 6, to keep your data available even if one of the internal hard drives fail. However, if NAS is the only backup you have, and a drive fails, it can take quite a while to recover that data from a RAID device, and the delay only gets longer as drives increase in size. Avoiding this delay is the motivation for many to keep a redundant copy in the cloud so that it's possible to access the files immediately even before the RAID has completed its recovery.
If your primary data files are on an editing workstation, the NAS can be your local backup to make sure you keep your originals safe from accidental changes or loss. In some common editing workflows, the raw files are stored on the NAS and lower-resolution, smaller proxies are used for offline editing on the workstation — also called non-destructive or non-linear editing. Once edits are completed, the changes are written back to the NAS. Some applications, including Lightroom, maintain a catalog of files that is separate from the working files and is stored on the editing workstation. This catalog should be routinely backed up locally and remotely to protect it, as well.
The data on the NAS also can be protected with automated data backups or snapshots that protect data in case of loss, or to retrieve an earlier version of a file. A particularly effective plan is to schedule off-hours backups to the cloud to complete the off-site component of the recommended 3-2-1 backup strategy.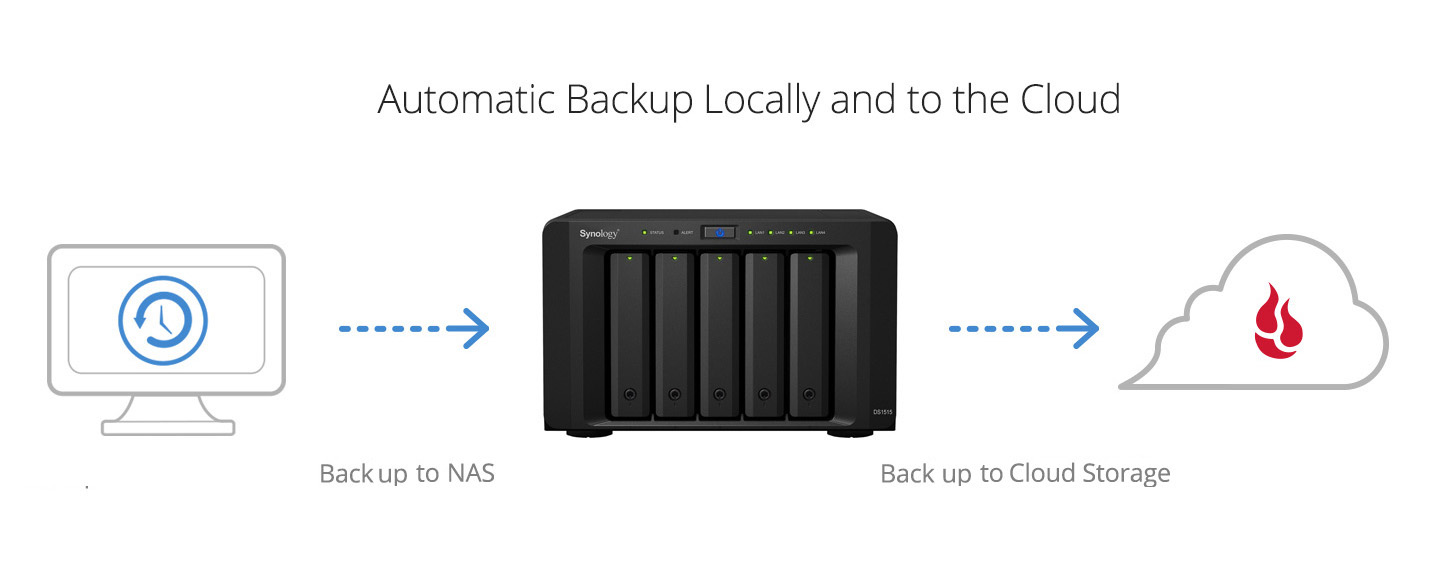 Data Accessibility and Sharing
Data can be loaded onto the NAS directly through a USB or SD card slot, if available, or through any device available via the local network or internet. Another possibility is to have a directory/folder on a local computer that automatically syncs any files dropped there to the NAS.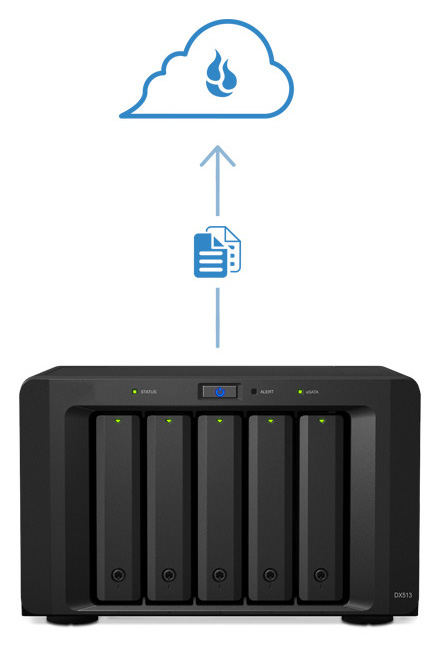 Once on the NAS, files can be shared with coworkers, clients, family, and friends. The NAS can be accessed via the internet from anywhere, so you can easily share work in progress or final media presentations. Access can be configured by file, directory/folder, group, or by settings in the particular application you are using. NAS can be set up with a different user and permission structure than your computer(s), making it easy to grant access to particular folders, and keeping the security separate from however local computers are set up. With proper credentials, a wide range of mobile apps or a web browser can be used to access the data on the NAS.
Media Editing Integration
It's common for those using applications such as Adobe Lightroom to keep the original media on the NAS and work on a proxy on the local computer. This speeds up the workflow and protects the original media files. Similarly, for video, some devices are fast enough to support NLE (non-linear editing), and therefore support using the NAS for source and production media but allow editing without changing the source files. Popular apps that support NLE include Adobe Premiere, Apple Final Cut Pro X, and Avid Media Composer.
Flexibility and Apps
NAS from Synology, QNAP, FreeNAS/TrueNAS, Morro Bay, and others offer a wide range of apps that extend the functionality of the device. You can easily turn a NAS into a media server that streams audio and video content to TVs and other devices on your network. You can set up a NAS to automatically perform backups of your computers, or configure that NAS as a file server, a web server, or even a telephone system. Some home offices and small businesses have even completely replaced office servers with NAS.
Examples of Common Media Workflows Using a NAS
The following are three examples of how a NAS device can fit into a media production workflow.
Example One — A Home Studio
NAS is a great choice for a home studio that needs additional data storage, file sharing, cloud backup, and secure remote access. NAS is a better choice than using directly-attached storage because it can have separate security than local computers and is accessible both locally and via the internet even when individual workstations might be turned off or disconnected.
NAS can provide centralized backup using common backup apps, including Time Machine and ChronoSync on Mac, or Backup and Restore and File History on Windows.
To back up to the cloud, major NAS providers, including Synology, QNAP, Morro Data, and FreeNAS/TrueNAS include apps that can automatically back up NAS data to Backblaze B2 Cloud Storage or other destinations on the schedule of your choice.
Example Two — A Distributed Media Company with Remote Staff
The connectivity of NAS makes it an ideal hub for a distributed business. It provides a central location for files that can be reliably protected with RAID, backups, and access security, yet available to any authorized staff person no matter where they are located. Professional presentations are easy to do with a range of apps and integrations available for NAS. Clients can be given controlled access to review drafts and final proofs, as well.
Example Three — Using NAS with Photo/Video Editing Applications
Many media pros have turned to NAS for storing their ever-growing photos and video data files. Frequently, these users will optimize their workstation for the editing or cataloging application of their choice using fast central and graphics processors, SSD drives, and large amounts of RAM, and offload the data files to the NAS.
While Adobe Lightroom requires that its catalog be kept on a local or attached drive, the working files can be stored elsewhere. Some users have adopted the digital negative (DNG) for working files, which avoids having to manage sidecar (XMP) files. XMP files are stored alongside the RAW files and record edits for file formats that don't support saving that information natively, such as proprietary camera RAW files, including CRW, CR2, NEF, ORF, and so on.
With the right software and hardware, NAS also can play well in a shared video editing environment, enabling centralized storage of data with controlled access, file security, and supporting other functions such as video transcoding.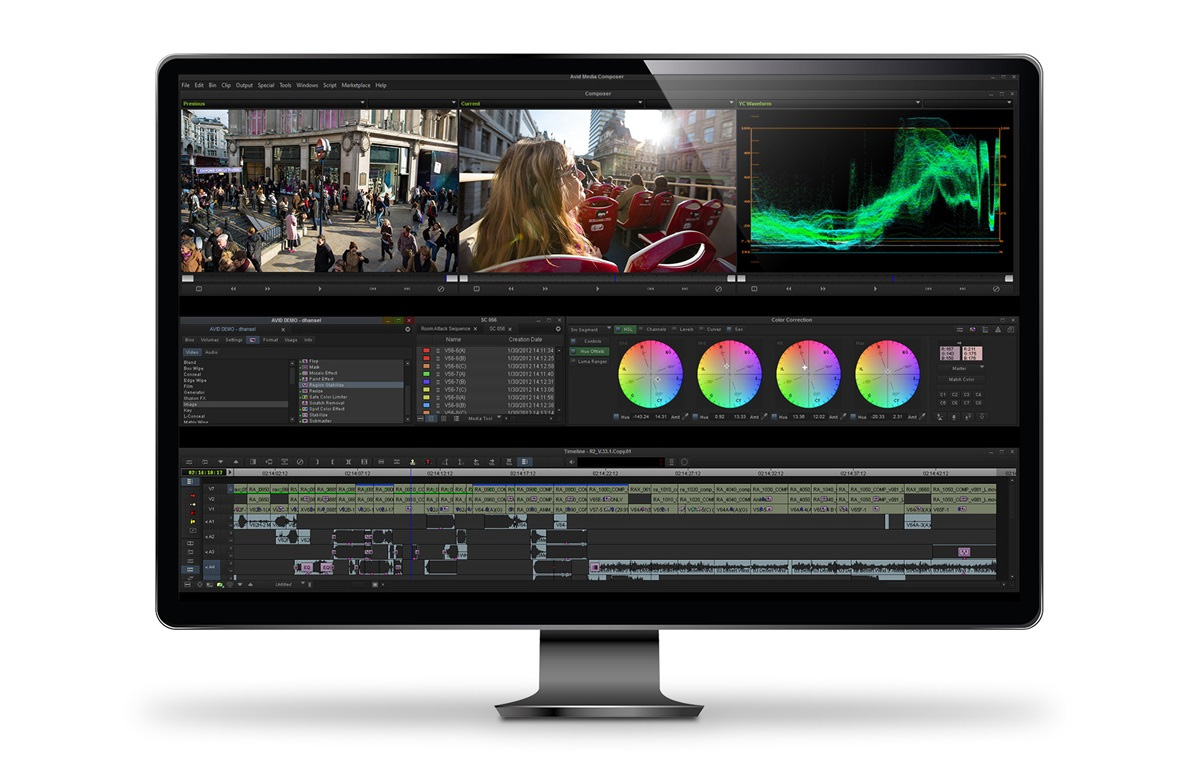 Top 5 Benefits of Using NAS for Photography and Videography
To recap, here are the top five benefits of adding NAS to your media workflow.
Flexible and expandable storage — fast, expandable and grows with your needs
Data protection — provides local file redundancy as well as an automated backup gateway to the cloud
Data accessibility and sharing — functions as a central media hub with internet connectivity and access control
Integration with media editing tools — works with editing and cataloging apps for photo and video
Flexibility and apps — NAS can perform many of the tasks once reserved for servers, with a wide range of apps to extend its capabilities
To learn more about what NAS can do for you, take a look at the posts on our blog on specific NAS devices from Synology, QNAP, FreeNAS/TrueNAS, and Morro Data, and about how to use NAS for photo and video storage. You'll also find more information about how to connect NAS to the cloud. You can quickly find all posts on the NAS topic on our blog by following the NAS tag.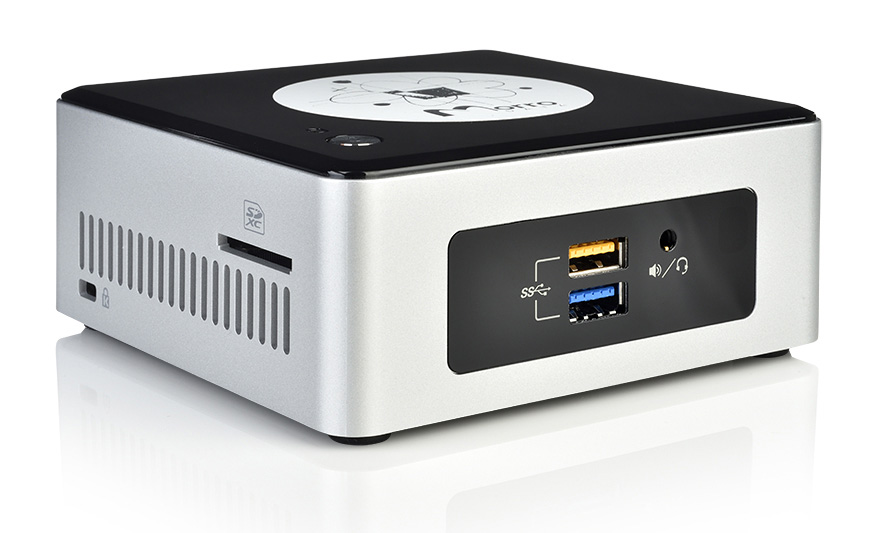 How Are You Using NAS?
Do you have experience using NAS in a photo or video workflow? We'd love to hear about your experiences in the comments.
•  •  •
Note: This post originally appeared on Lensrentals.com on 10/25/18.