Integrate MSP360 Managed Backup Service with Backblaze B2
Integrate MSP360 Managed Backup Service with Backblaze B2
---
Share feedback
Thanks for sharing your feedback!
You can use Backblaze B2 Cloud Storage with MSP360 Managed Backup Service (MBS) to automate your server backups and secure them offsite.
You can also view the following video guide that walks you through how to back up multiple servers and manage them in a single pane of glass using MSP360's Managed Backup platform and Backblaze B2.
If you are interested in backing up a single server, see the MSP360 CloudBerry Backup guide.
Set Up Your Backblaze B2 Account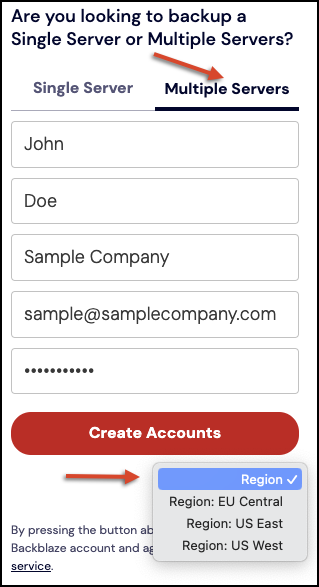 To create a Backblaze B2 account, click here and click Start Now with MSP360.
Select Multiple Servers.
Enter your first name and your last name.
Enter the email address and password for your Backblaze B2 account.
In the Region dropdown menu, select a region in which to store your data.
Click Create Accounts.
Your Backblaze B2 account is created, and your MSP360 MBS account is created.
Click Skip the Quickstart Guide & Take Me to My Backblaze Account.
Create an Application Key
You will create a Backblaze B2 bucket within the CloudBerry application. When that is complete, Object Lock is automatically enabled on the bucket.
Application keys control access to your Backblaze B2 Cloud Storage account and the buckets that are contained in your account.
Sign in to your Backblaze account.
In the left navigation menu under Account, click Application Keys.
Click Add a New Application Key, and enter an app key name.
You cannot search an app key by this name; therefore, app key names are not required to be globally unique.
In the Allow Access to Bucket(s) dropdown menu, select All or a specific bucket.
Select your access type (for example, Read and Write).
Select the optional Allow List All Bucket Names checkbox (required for the Backblaze B2 S3-compatible API List Buckets operation).
Click Create New Key, and note the resulting keyID and applicationKey values.
Note
When you create a new app key, the response contains the actual key string, for example N2Zug0evLcHDlh_L0Z0AJhiGGdY. You can always find the keyID on this page, but for security, the applicationKey appears only once. Make sure you copy and securely save this value elsewhere.
Download and Install MSP360 MBS
After you complete the setup procedure, you receive an email message that contains your credentials for the MBS web interface.
Sign in to the MBS web interface using your MBS credentials that you received in the email message.
In the Getting Started screen, select Servers and Workstations.
Select the installation package for your system, and click Download Build.
Click the .exe file to download the backup agent.
Use the CloudBerry Backup wizard to install the CloudBerry client, and click Finish.
After you install the client, the MBS web interface automatically detects the software and displays the Storage Account screen.
Set Up Your MSP360 MBS Account
After you set up your Backblaze B2 and MSP360 MBS accounts, you can use your application key and key ID to back up your servers using the MBS web interface.
On the Storage Account screen, enter the following information and click Next:

Bucket name (A globally unique bucket name)
Key ID/ Account ID (Your Backblaze B2 key ID)
Application Key (Your Backblaze B2 application key)

On the Backup Source screen, select File as your backup type and select the files and folders that contain the data that you want to back up.
Click Next.

Note

If you want to perform an image-based backup, see

this article

for more information.

Choose whether to receive notifications pertaining to backups, and click Run Backup.
The MSP360 MBS dashboard appears, and your backup runs automatically.
Change Your Password
Backblaze recommends that you change your MSP360 MBS password to something more secure.
On the MSP360 MBS dashboard, select Organization and select Users.
Click the user account named user.
Click Change Password.
---
---