Integrate MSP360 CloudBerry Backup with Backblaze B2
Integrate MSP360 CloudBerry Backup with Backblaze B2
---
Share feedback
Thanks for sharing your feedback!
With Backblaze B2 Cloud Storage and MSP360 CloudBerry, you can automate your server backups and secure them offsite. This guide walks you through the required steps to set up MSP360 CloudBerry Backup on a single server.
You can also view this video tutorial that walks you through backing up a single server using MSP360's CloudBerry Backup software and Backblaze B2.
If you are interested in managing multiple servers, see the MSP360 Managed Backup Service guide.
Set Up Your
Backblaze B2

Account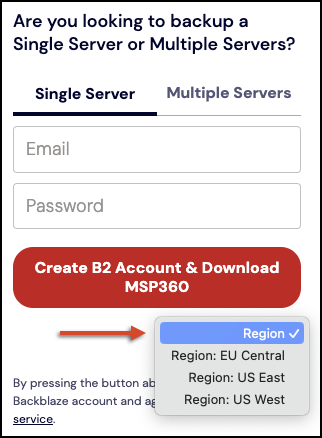 To create a

Backblaze B2

account, click here and click Start Now with MSP360.
Select Single Server.
Enter the email address and password for your

Backblaze B2

account.
In the Region drop-down menu, select a region in which to store your data.
Click Create B2 Account & Download MSP360.
Your

Backblaze B2

account is created and the download for the

MSP360 CloudBerry Backup

client is automatically initiated.
Click I'm Ready to Get Started. Take Me to My Backblaze Account.
Note
You may be prompted to sign in to your newly created
Backblaze B2
account.
Create an Application Key
Application keys control access to your Backblaze B2 Cloud Storage account and the buckets that are contained in your account.
Sign in to your Backblaze account.
In the left navigation menu under Account, click Application Keys.
Click Add a New Application Key, and enter an app key name.
You cannot search an app key by this name; therefore, app key names are not required to be globally unique.
In the Allow Access to Bucket(s) dropdown menu, select All or a specific bucket.
Select your access type (for example, Read and Write).
Select the optional Allow List All Bucket Names checkbox (required for the Backblaze B2 S3-compatible API List Buckets operation).
Click Create New Key, and note the resulting keyID and applicationKey values.
Note
When you create a new app key, the response contains the actual key string, for example N2Zug0evLcHDlh_L0Z0AJhiGGdY. You can always find the keyID on this page, but for security, the applicationKey appears only once. Make sure you copy and securely save this value elsewhere.
Install
MSP360 CloudBerry Backup

Client
Double-click the CloudBerryBackup.exe file that you downloaded earlier, and click Next.
Select your destination folder where you want to install the

MSP360 CloudBerry Backup

client, and click Install.
After the

MSP360 CloudBerry Backup

is successfully installed, ensure that the Run CloudBerry Backup option is selected and click Finish.
On the main application interface, click Files in the upper navigation menu.
Create a Storage Account
In the Create Backup Plan Wizard, click Next.
To upload data into the

Backblaze B2

cloud, click Add new Storage Account.
Click Backblaze B2.
This guide uses the Backblaze B2 option for the Native API, but you can also chooseBackblaze B2 (S3 Compatible) to use the S3-Compatible API.
Enter a Display name, for example, Backblaze B2.
Enter the

app key

credentials that you created earlier.
Specify a bucket on your Backblaze B2 account.

If you have an existing bucket, select that bucket in the Bucket name drop-down menu.
If you do not have an existing bucket, click Create New Bucket in the Bucket name drop-down menu and select an auto-populated bucket name or enter a globally unique bucket name.

If applicable, select Allow to enable Object Lock on your bucket.
Click OK, and click Next.
Create a Backup Plan
You can select multiple options for your backup plan, but this guide uses default settings.
Enter a name for your new backup plan, and click Next.
Select applicable Advanced Options, and click Next.
Select the drives that you want to back up, and click Next.
You can expand each drive to view the folders in a drive if you do not want to back up the entire drive.
Enable or disable the following options, if applicable, and click Next after each selection.

Filters
Compression and Encryption
Backup Consistency Check
Backup Plan Schedule
Retention Policy (

Backblaze

recommends that you determine your retention policy requirements before you move forward.)
Object Lock, if you enable Grandfather-Father-Son (GFS) backups (The lock lasts for the duration of the backups: weekly, monthly, or yearly.)
Pre/Post Actions
Notifications and Logging (You must specify an email address if you choose to enable notification emails.)

Review your backup plan summary, and click Next to create the backup plan.
Click Finish.
Note
If you did not set up a schedule for this backup plan, you must manually start the backup.
---
Was this article helpful?
---
---